Wood, being a natural building material, has been growing in flavour with Architects, Developers, Contractors and Hospitality Professionals. But, some of the biggest challenges in the use of wood in buildings include the price, availability, standardised/caliberated quality and a concern that it should be 'certified wood' meaning that the wood should have it's origins in 'sustainable forests'. Canadian Wood (FII India) addresses all of these challenges.
Canadian Wood On 'Certified Wood'
If you are a building industry professional interested in 'Certified Wood', than the upcoming webinar being organised by Canadian Wood could be the right forum for you. Appropriately titled, 'CERTIFIED WOOD FROM SUSTAINABLY MANAGED FORESTS', this webinar will be conducted on November 6, 2020 at 11.30 a.m (IST). The webinar will deliver essential information and specifications on areas of interest for Architects, Developers, Furniture Manufacturers and Contractors.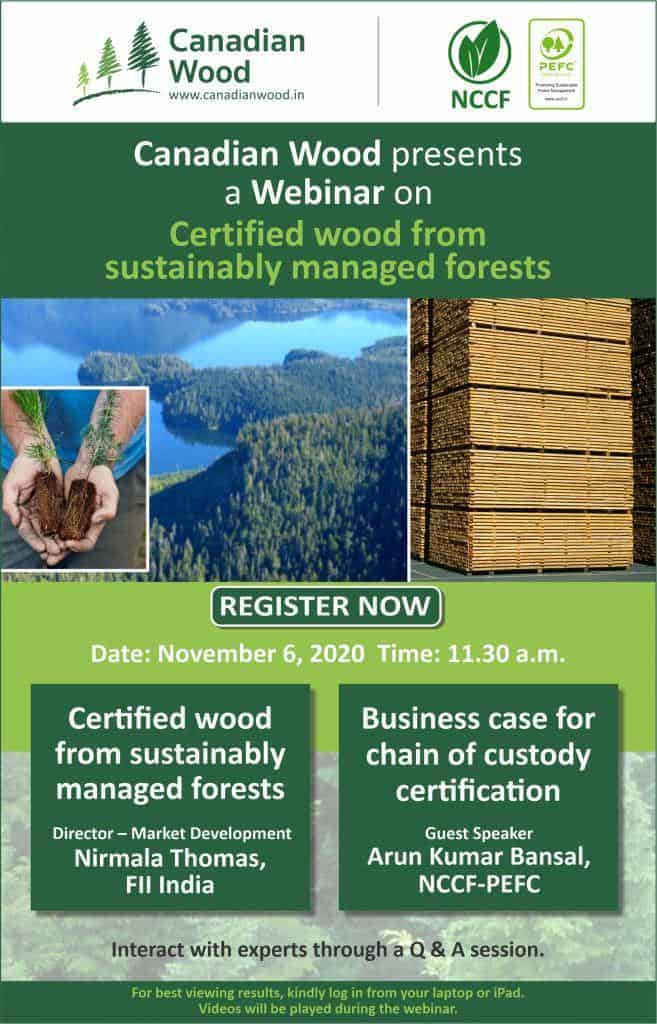 The Speakers And Content
Talking about the format, the webinar will include two key presentations. The first presentation titled 'Certified Wood From Sustainably Managed Forests' by Ms.Nirmala Thomas, Director – Market Development, FII India will include in-depth information on the rigorous sustainable forestry management practices in British Columbia (B.C.) that ensure that every piece of Canadian lumber is legally sourced, seasoned, sized, graded and almost ready-to-use when it arrives in India.
This will be followed by an exclusive presentation by Guest Speaker Mr.Arun Kumar Bansal, Chairperson PCA WG NCCF (NCCF-PEFC). An extremely knowledgeable speaker and an industry honorary, Mr.Bansal will elaborate on the intensive mechanism of chain of custody and certifications that can help ensure the traceability of wood material from a certified forest to any point along the supply chain.
Register Here:
To know more about the webinar, Call +91-22-49221608, or Register at: https://zoom.us/webinar/register/WN_xlufLwppQHGNTExfo-cgKQ)
Globally, wood in structural applications has been growing. In India, Canadian Wood works closely with Architects, Developers, Contractors, and Hospitality Professionals and extends technical support by suggesting appropriate species and grades most suitable to the type of construction chosen or preferred, i.e. T&G (Tongue & Groove), WFC (Wood Frame Construction), posts-and-beams or even hybrid in tandem with local stone/bricks. It also conducts educational seminars and training workshops that help create awareness about its wood species, specific applications, and appropriate methods of use.
Canadian Wood has been actively promoting 'building with wood' in India through five legally sourced species from the sustainably managed forests of B.C. namely, Spruce-pine-fir, Western hemlock, Douglas-fir, Yellow cedar and Western red cedar. 
FII India, better known as 'Canadian Wood', is a crown agency of the government of British Columbia (B.C.) with a mandate to promote B.C. forest products in the offshore markets. As one of the largest producers of softwood in the world, B.C. Canada's lumber products are used in a wide range of applications around the world. Canadian wood species are admired for their aesthetic appeal and are well-known for natural properties such as strength and durability. From planting forests to harvesting and manufacturing lumber products, the forest sector in B.C. is a sophisticated and interconnected network involving sustainable forest management and wood processing.
[vvsmustread]