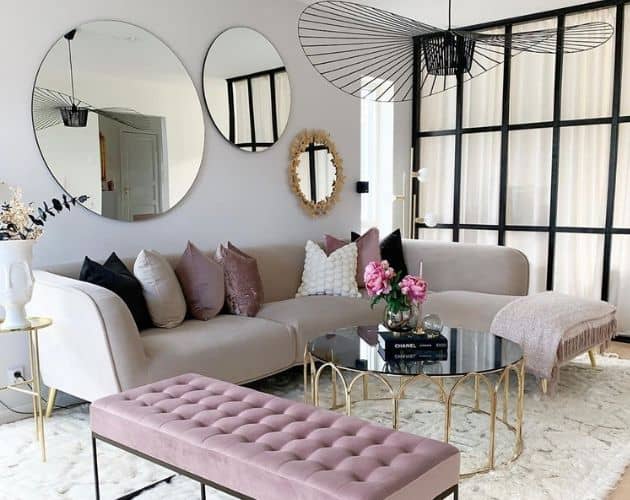 A new year, a fresh start. With 2020 fast approaching, it's time for an annual design trends wrap-up, where we look at the new trends on the horizon and the ones to be left behind for now. These interior design trends are carefully chosen based on an in-depth understanding of the customer purchase behavior and the collective cultural influence prevailing in the industry.
Here are a few tips to revamp your home:
Focus room – Living room:
Choice of wall paint – Accent Walls out | Even Colour tone in: A single dramatic-coloured or a wallpaper-ed accent wall, that was everyone's favorite this year, is on its way out in 2020. It's time to bring back one colour or pattern that you love and splash it across your room. This will lend to a sense of uniformity for your room, can be both dramatic or zen-like restful and give you the freedom to accessorize it as per your choice.
Accessorizing – Perfection is out | Personalization is in: People are slowly opting out of investing in 'brand new', furniture and decor for a picture-perfect living room. Instead, living spaces will be designed and accessorized with a combination of old & new decor items which resonate with their personalities. From dusting out souvenirs from your childhood or polishing that vintage lamp from your parents attic and adding it to your passionate collection (Hard Rock cafe pins to boarding passes to salt and pepper shakers) and putting all of this front and centre in a way that personalizes your space, living in spaces that we can truly call our own is totally in.
Furniture Selection – Full pieces are out | Mix-matching is in : With the new decade coming in it is time to say goodbye to buying out full living sets for your spaces, i.e.: a 3-seater, it's matching 2-seater and it's single seater. Spend a little time to understand if you prefer a focus sofa or couch, then depending on the space and layout of your room, add a 2 seater and/ or a wing/ accent chair with one common aspect and keeping the others different : colour (but within a family of a colour or within the colour pyramid or complementary or contrasting colours), material (wood, metal, acrylic), textures (leather, leatherette, fabric), shapes and sizes.
Bringing the outdoors in – Faux plants out | Biophilic design in: This nature-centric trend emphasizing the relationship between humankind and nature is known as 'biophilia'. These include natural, organic resources – such as using natural materials such as wood and stone, lots of natural light, daylight & ventilation and celebrating plants inside your living spaces. While plants are certainly a central part of this trend, you could also decorate your living room with as many organic materials as possible and do away with the faux plants.
Furnishing – Wooden Carved Furniture is out | Full cover fabric or leather finishes are in: It might have been fabulous in the 70s to the 90s, but in 2020, avoid heavy, wooden-carved furniture. There are still loyalists to this style, but if you're living in Urban India with it's smaller apartments compared to the more palatial homes you grew up in, ditch transporting this to your pad : it typically makes a smaller apartment room look crowded and dated. Instead, the trend of non-traditional sofa shapes with full cover fabric or leather finishes that are designed for conversation and hosting guests, are catching on.
Focus room – Kitchen:
Kitchen countertops – Granite countertops are out | Quartz countertop is in: In recent years, Granite became the top choice for kitchen counters due to its durability and versatility. However, 2019 witnessed a granite overload, often appearing in the mass application of dark granite in flooring, in addition to kitchen countertops. Today, accents tend to be more effective, and a minimalist modern aesthetic with lighter materials such as Quartz for your main kitchen workspace is a trendier option, with many customers looking to open up (both visually and practically), their kitchens as part of their common areas.
Kitchen Storage: Open shelving is out| Practical space-saving is in: Open shelving was a popular trend due to the creativity and uniqueness it brings to a kitchen. Many people liked to display their collections of crockery, glassware and artefacts, to our However, the primary concern for busy homemakers and career professionals today, remains the 'dust' and maintenance factor which adds to their workload. To counter this issue, installation of a custom-designed modular kitchen with innovative space-saving solutions can work wonders. It not only declutters your kitchen, but is also an effective option to address your storage woes.
Multi-functional spaces – Formal separation spaces out | Open kitchens in: With tighter floor plans and the battle for FAR, FSI and super built-up area being waged, a space-crunch within an apartment is a common issue being witnessed in city homes. As a response to this, builders increasingly rely on the trend of open kitchens to declutter the common areas and create a more open workflow. While an open kitchen setup has its disadvantages in the non-separation of the actual business of cooking w.r.t. the smells and noise from the rest of the home, it can lend a spacious façade to the living/ dining construct and also allows you to cook and entertain your guests at the same time (be warned of creating a mess though… there's nowhere to hide!)
Colour pop – All white kitchens are out | Bold colours is in: Even though the neutral colour palette exudes class and elegance, we need to leave this trend behind in 2019 and move on to a brighter 2020. You may choose from a wide range of bold and bright colours to brighten up your cooking experience. This is the space we spend time in each and everyday, and a kitchen is built first for it's inhabitants, not for guests. Make the space your own by celebrating a favourite warm colour that excites you and allows you translate that brightness to your food. For the all-white kitchen lovers, you can bring in the colour you (secretly) love to the inside of the cabinet for a dazzling effect.
Focus room – Bedroom:
The above article has been authored by Ms. Gita Ramanan, CEO , Design Cafe.