The walls in any interior space are a focal point and speak a design language that reflects the personality of the homeowners. Since every room has distinct characteristics, there is no 'one wall design fits all' in terms of walls too. Thus, from brick to wood and from tile to PVC paneling, a plethora of wall design options are available.
Walls are the perfect companion to your furnishings and interior design accessories.
Not only are they more durable and cost-effective, but they also amplify the aesthetics of your interior like no other. Moreover, the interior wall designs prove to be vibrant, to say the least, and they are exquisite and economical too.
It seems we are all a bit tired of the boring, lifeless white plasterboard. Modern homes with an accent wall are the latest development in the cladding category. Thus, it is a design trend that does not seem to lose its charm.
Whether you wish to enhance and add value to an apartment, loft, or private residence, it is time to let the walls shine through. The color and style of walls can make a big difference in the overall appeal of the space. Moreover, walls add a fair amount of artistic and imaginative depth and give you the liberty to go as subtle or dramatic as you want.
Choosing the right wall design and the right material for it can sometimes be overwhelming.
In that case, refer to this article to find various wall materials to decorate your walls and also, get inspirational ideas to incorporate into your home.
To summarize, this article guides you through various interior wall designs with reference to the wall material.
Tile Wall Designs
Wall tiles are an eclectic masterpiece that has defined the very foundation of art. Offering a wide range inspired by timeless shapes, forms, and patterns, wall tiles can change the entire look and feel of your house.
Tile is a great option to adorn your walls. Moreover, it is a unique combination of style, strength, and durability.
Tile walls are particularly easy to clean and maintain. The dust and stains can be cleaned in a minimal time with the help of any rug. Moreover, they have a polished finish. Therefore, its surface looks bright and smooth making the room look put together at all hours.
Also, tile walls offer excellent durability as most of them do not wear out or break easily and are suitable for heavy traffic areas.
Here are a few ways in which you can incorporate wall tiles in your homes:-
Tile Wall Design #1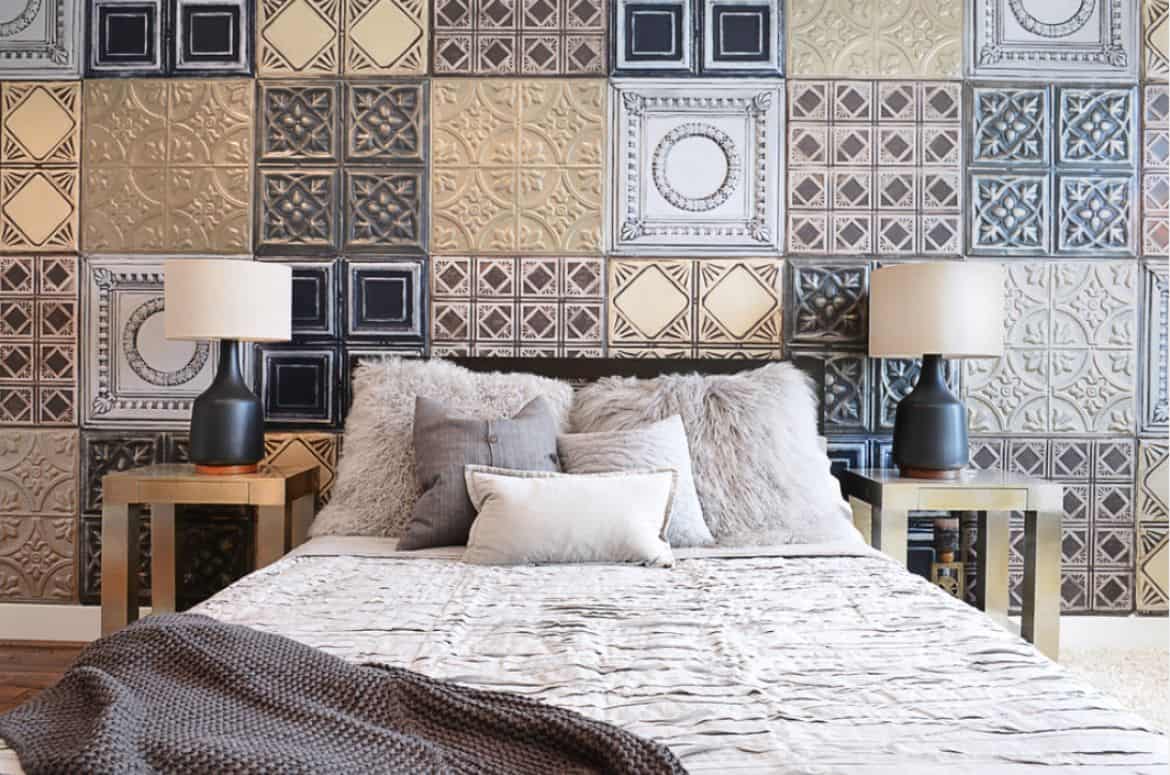 Image Source: Pinterest
Since embossed and textured, this tile wall becomes the center of attraction in your bedroom without making it too overwhelming.
Tile Wall Design #2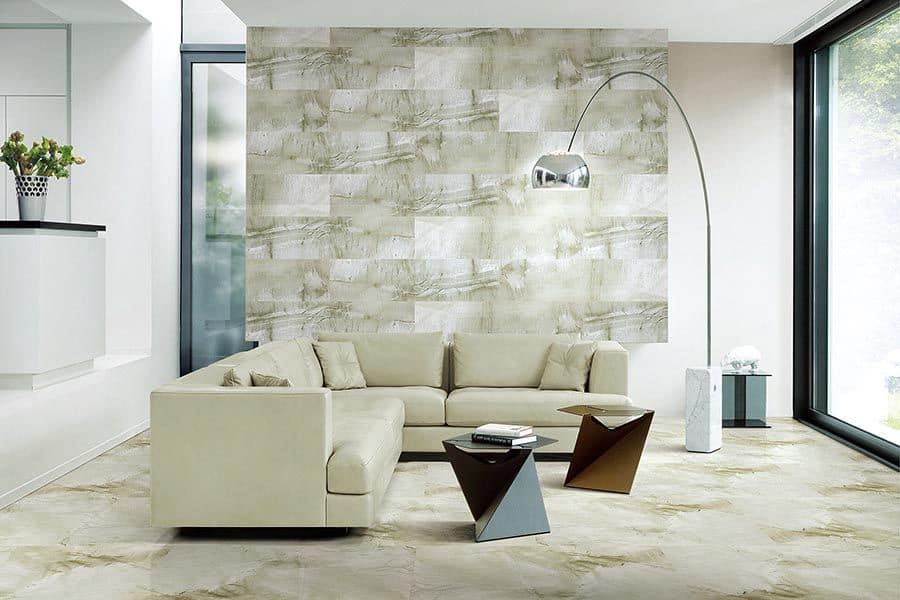 Image Source: Pinterest
So, go for this wall design for a modernist space idea.
Tile Wall Design #3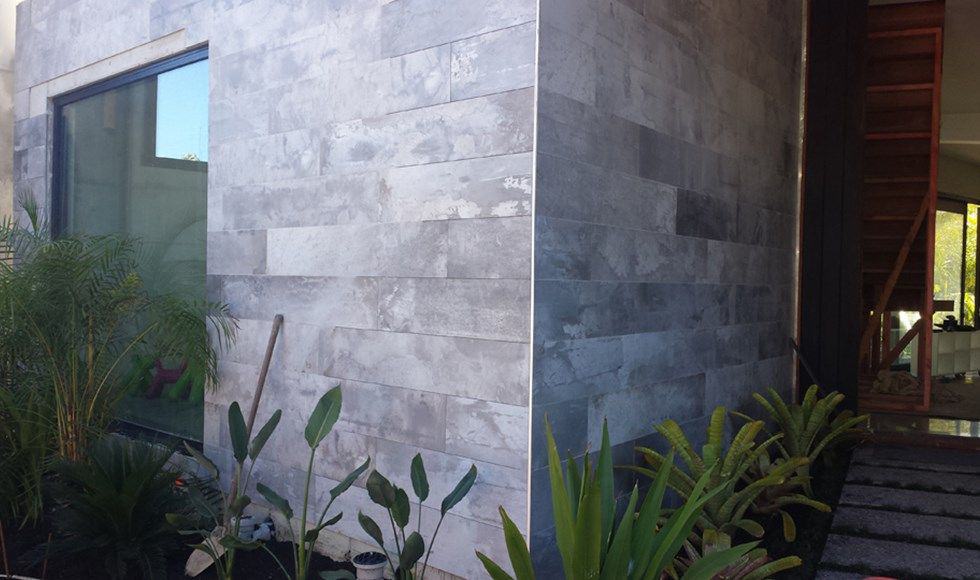 Image Source: Pinterest
This natural stone tile wall represents the lovely pairing of modern design with classic texture.
Tile Wall Design #4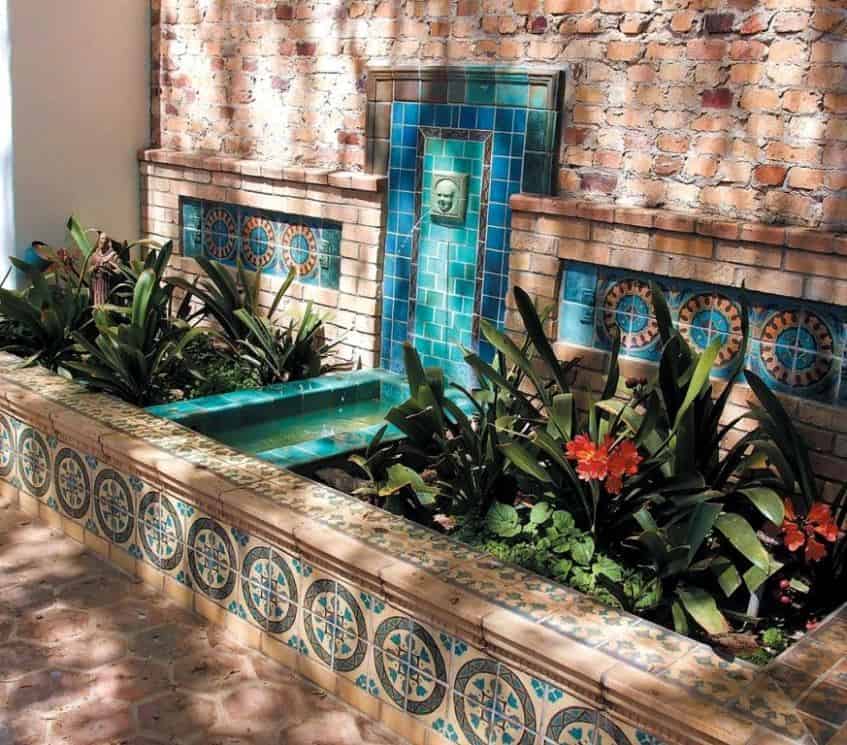 Image Source: Pinterest
This arrangement gives you a fair idea of how to work naked bricks and colorful tiles together to create a work of art.
Tile Wall Design #5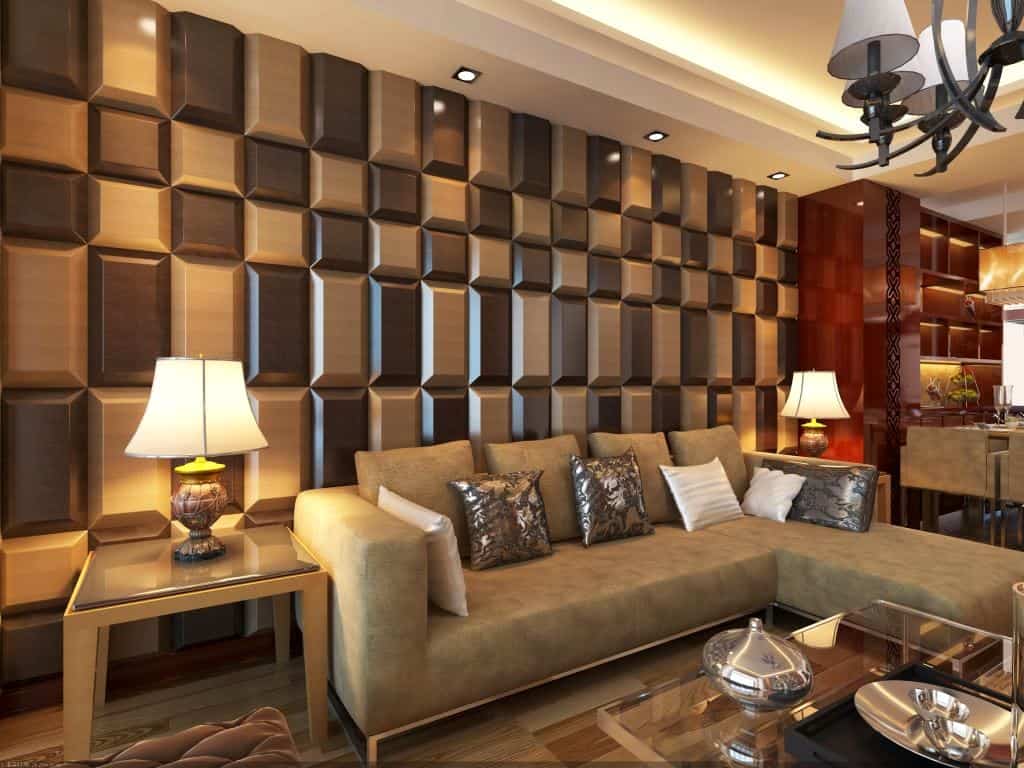 Image Source: Art 3D
Perhaps one of the most iconic ways to incorporate tiles in your living space is by opting for 3D tiles.
Wood Wall Designs
Wood is an excellent way to add dimension to the walls. Adding a feature wall to showcase the key elements of personal preference, acts as an eye-catcher.
Wood wall designs offer a natural uniqueness with their tough texture, rugged edges, and less symmetrical lines.
Also, it adds to the warm and comforting atmosphere of your abode.
An accent wood wall is the reflection of your taste and personality and an ultimate standalone element that adds value to your home.
Easy to construct and known for providing years of splendor, these wood wall ideas will grow with your home and always keep the style quotient high.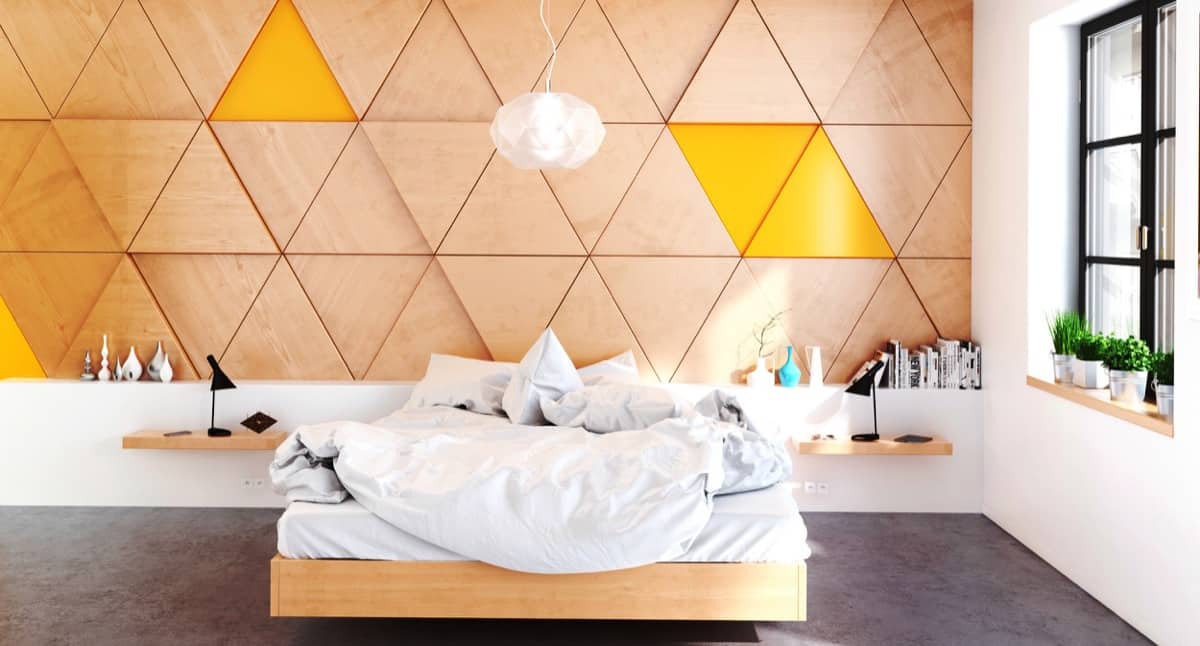 Image Source: Hamoud Kabbani
A colored wood wall is a great way to keep up the neutral theme of your space without compromising on the amazing texture of the wood.
Wood Wall Design #2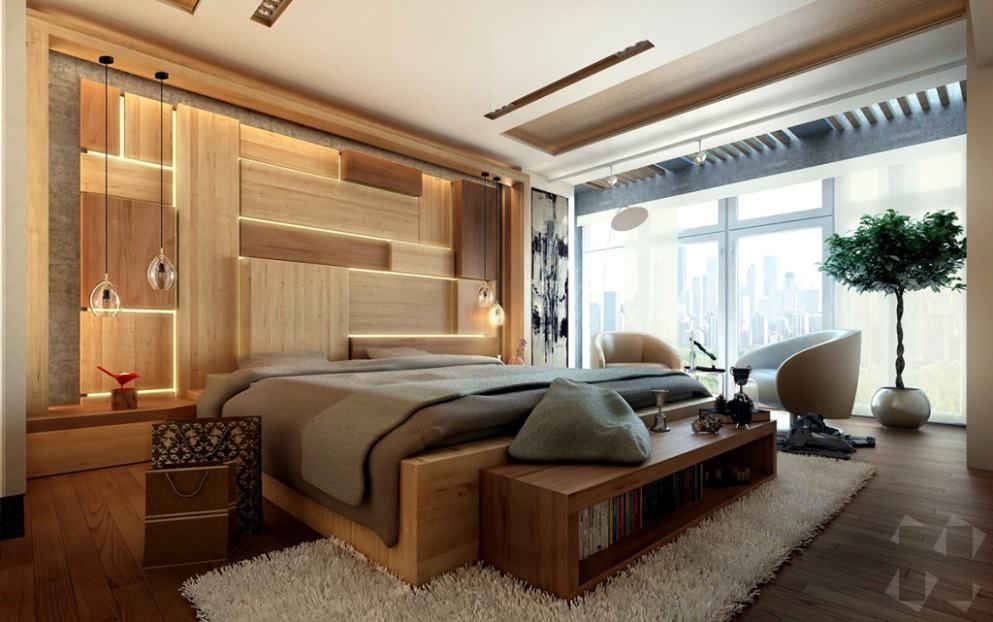 Image Source: N-Gon Archviz
This LED-lit interior wall design features a focal art piece that mixes dark and bright wood to complement your furniture.
Wood Wall Design #3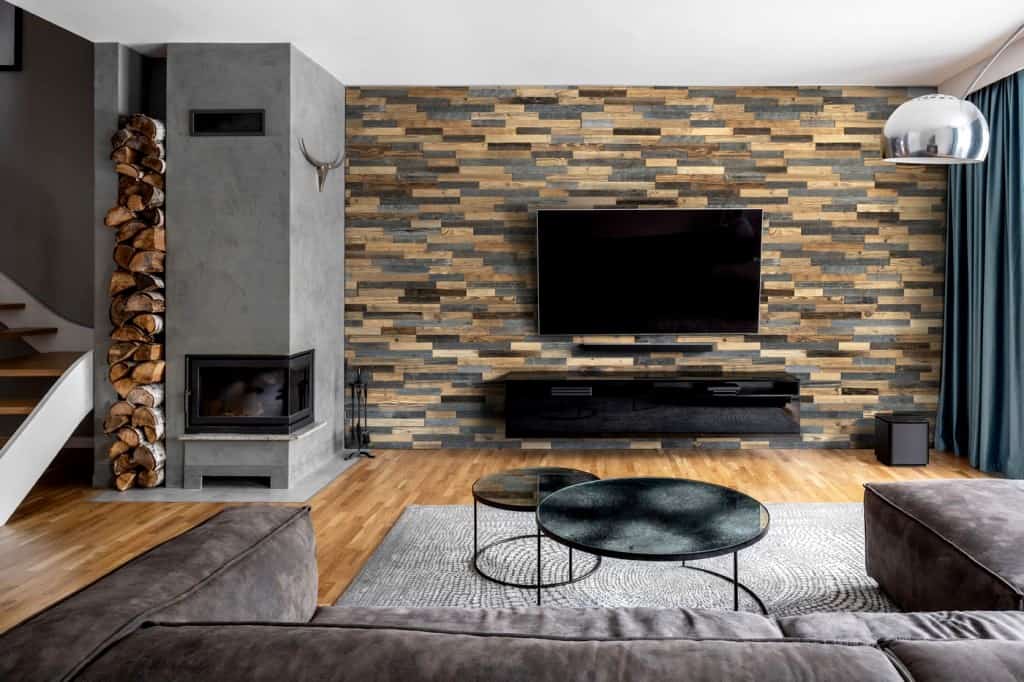 Image Source: Wooden Wall Design
Utilize the affordable beauty and durability of wood to perfection by embracing this simple yet statement-making wall.
Wood Wall Design #4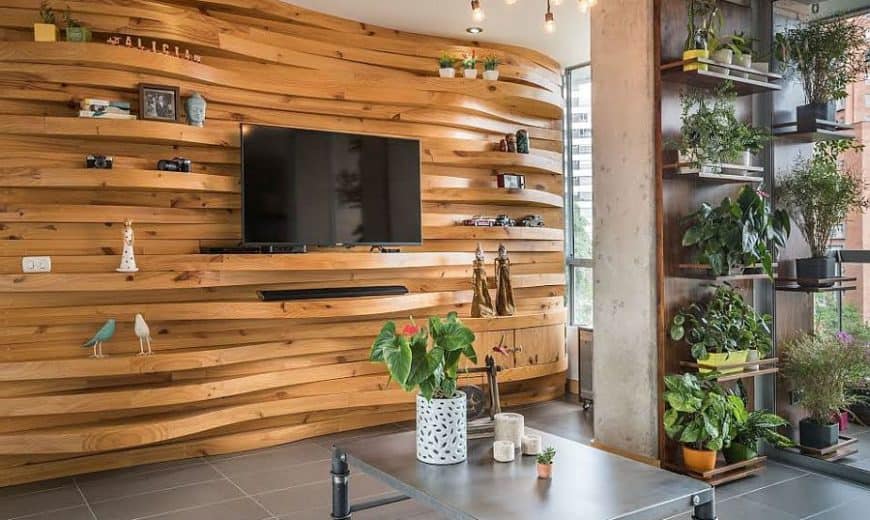 Image Source: David Bombilla
This wall design showcases the cladding potential of wood to create a super-efficient home wall that looks sleek and stylish.
Wood Wall Design #5
Image Source: Modulo by alsecco
Nothing like a dark stained wood wall to create an immaculate and sophisticated space.
POP or Plaster of Paris is quick setting gypsum, lime, or cement plaster. It is a building material used to protect as well as decorate the walls and ceilings.
The plaster is manufactured as a dry powder, mixed with water for application, and hardens when dried and cured.
Wall design with POP, strange right? If you think POP is used only for ceilings, there is more to it.
POP wall designs are a highly functional way to elevate the look of your home without compromising on the space.
POP Wall Design #1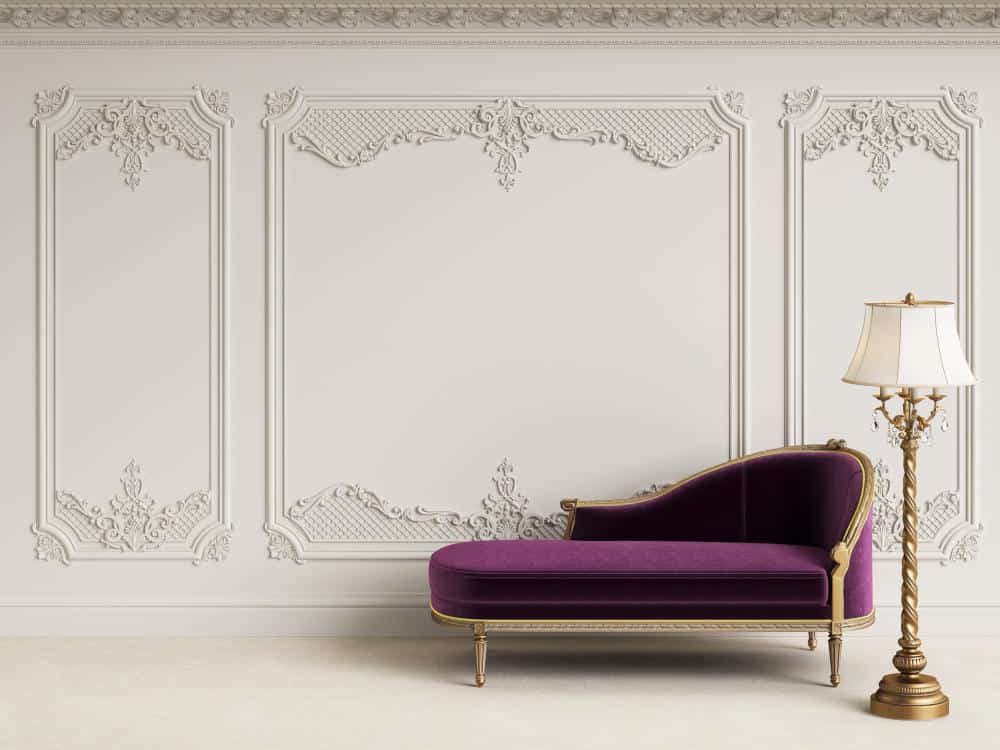 Image Source: Art Trove
This quirky POP wall design is a fun and trendy way to elevate your living room.
POP Wall Design #2
Image Source: Leyla Salayeva
This POP wall adds aesthetics without compromising on functionality or eating too much space.
POP Wall Design #3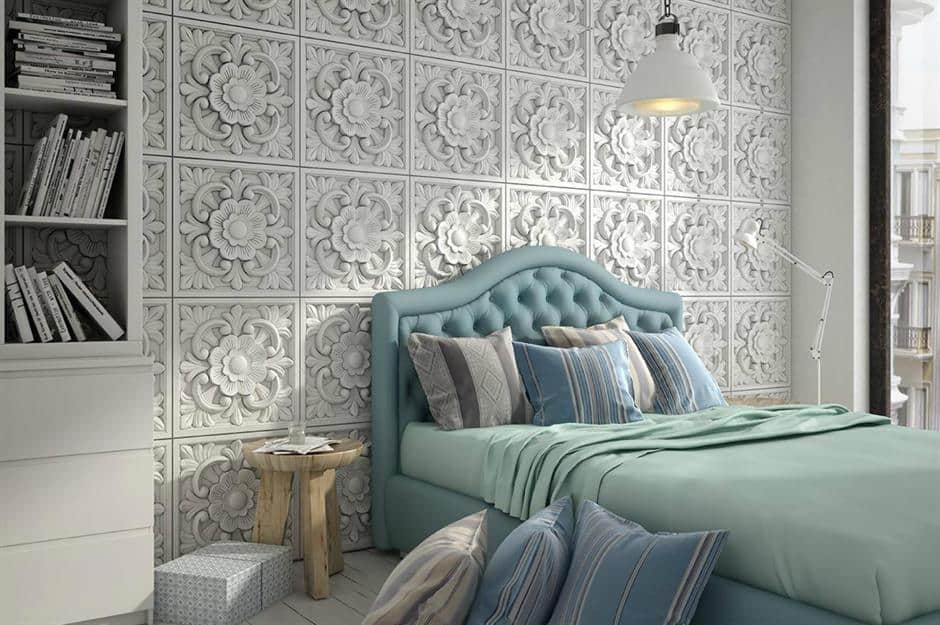 Image Source: loveproperty
Go for this textured wall if you want to add an accent piece to your living space.
POP Wall Design #4
Image Source: Lushome
A carved POP wall with intricate detailing in a bright solid color is perfect to break the monotony.
POP Wall Design #5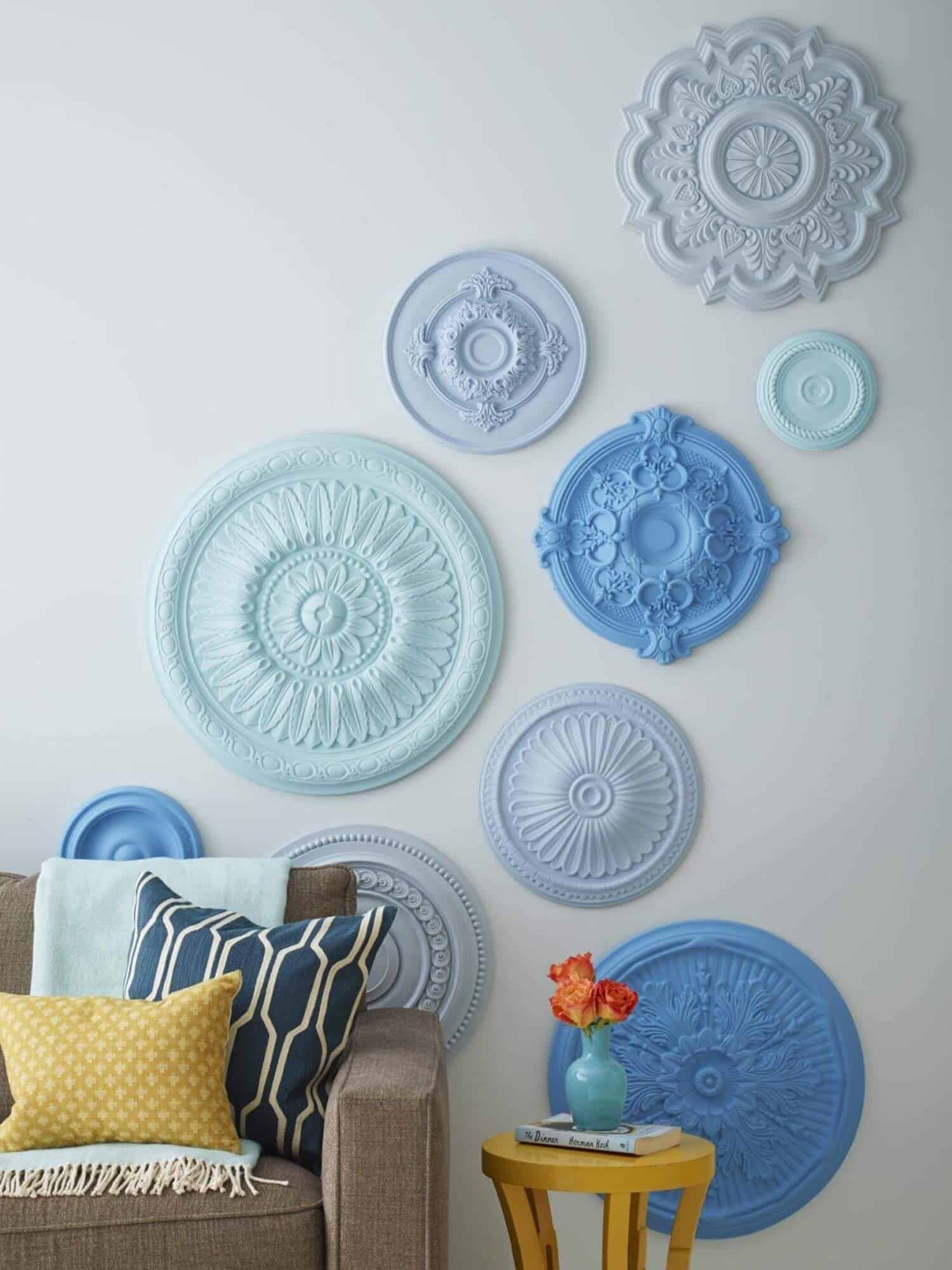 Image Source: Pinterest
You have the liberty to go as bold or as subtle as you want when it comes to POP walls.
Since people are leaning toward modern and fancy living spaces or workspace, PVC (Polyvinyl Chloride) wall paneling proves to be a perfect choice.
Polyvinyl Chloride is a lightweight plastic polymer that comes in rigid as well as flexible forms.
It is an excellent alternative to overcome the shortcomings of gypsum or POP.
PVC panels are available in various patterns, designs, textures, and colors. These are also available in the form of 3D sheets that gives them a realistic and seamless finish.
Additionally, PVC panels offer high durability and water resistance which makes them suitable for areas prone to dampness.
Although easy to maintain, PVC panels are not temperature resistant and may get damaged when subjected to heat.
PVC Wall Paneling #1
Image Source: Walmart
Achieving the design of your dreams becomes possible with this PVC wall paneling.
PVC Wall Paneling #2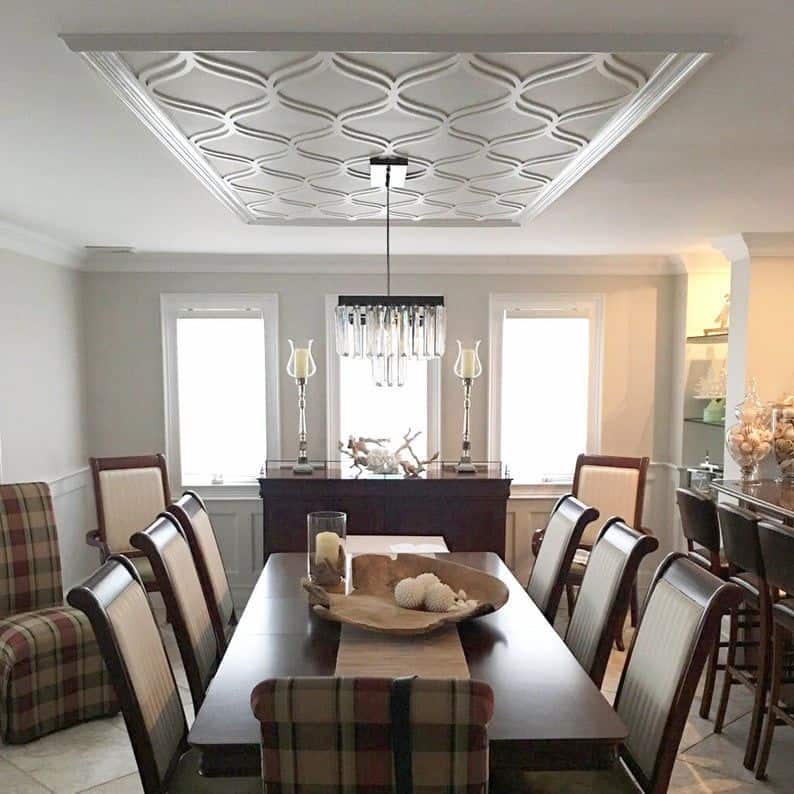 Image Sorce: Etsy
Account for 3D wall panels with accent lighting on the ceiling to break the all-white monotony.
PVC Wall Paneling #3
Image Source: apcupgrade.com
Although such interior wall designs cost substantially higher, they are oh so worth it. The final result is nothing less than magical.
PVC Wall Paneling #4
Image Sorce: Ronda Design
Black PVC wall paneling integrated with a simple dark green wall for an unconventionally beautiful space.
PVC Wall Paneling #5
Image Source: Changzhou Dawson
If you want to turn your interior walls into a statement piece without going overboard with the bold, bright colors, this must be your go-to wall design.
If you wish to take your brick walls to a whole new level, a wall design with stones is your best bet.
Although stone seems like a more traditional and natural choice for homes, it has the ability to be effortlessly integrated into modern home decor as well.
You can use stone in any manner that suits your preference and style.
Stone wall designs can be as subtle as a backsplash in the kitchen and as dramatic as a floor-to-ceiling wall.
Besides adding depth and elegance, stone walls act as a protective covering and help in maintaining the temperature of the house.
So, if you are intrigued by the rugged look of stone and are looking for ways to incorporate it into your home, stone wall cladding is all you need.
Stone Wall #1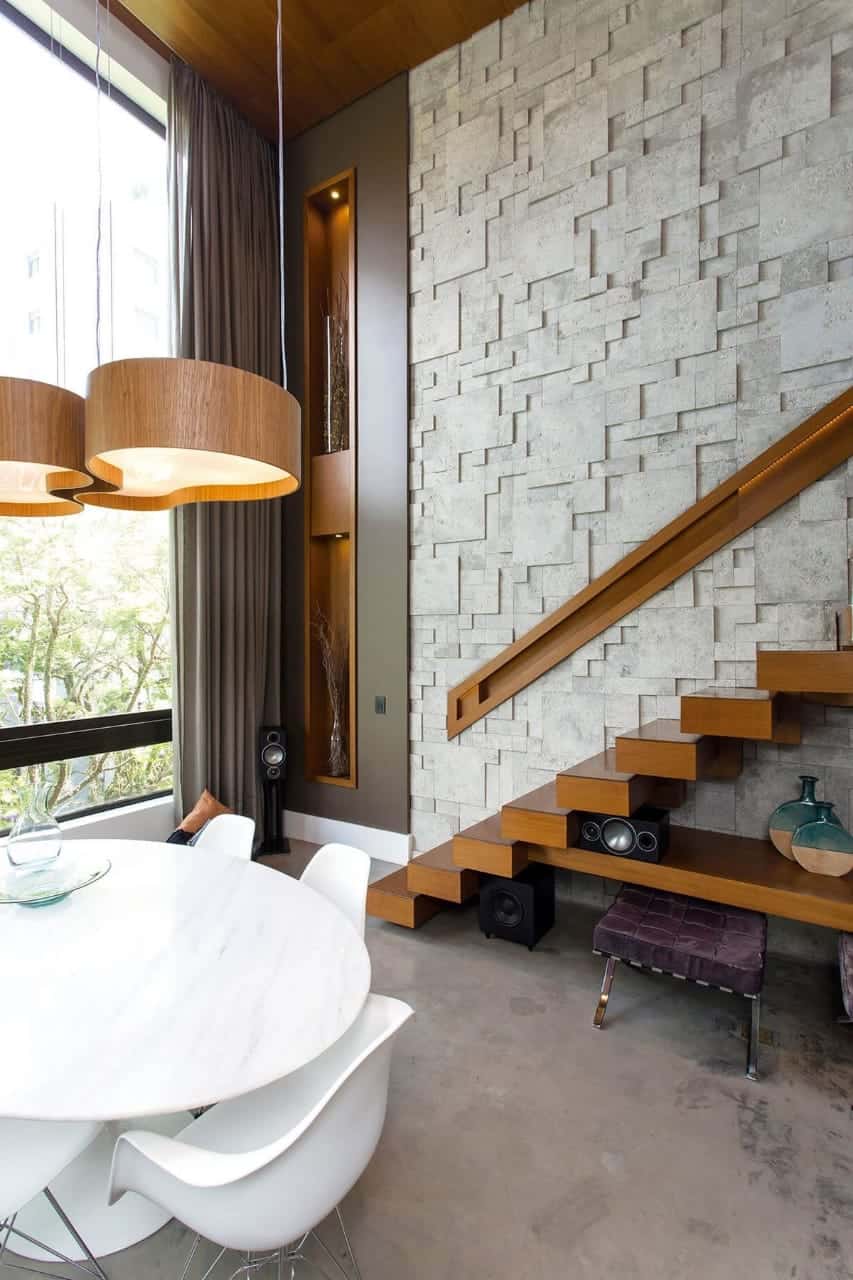 Image Source: Castelatto Pisos
Currently, it is an excellent idea to replace your old painted walls with an accent wall with stone. It not only looks good but also adds an earthy character.
Stone Wall #2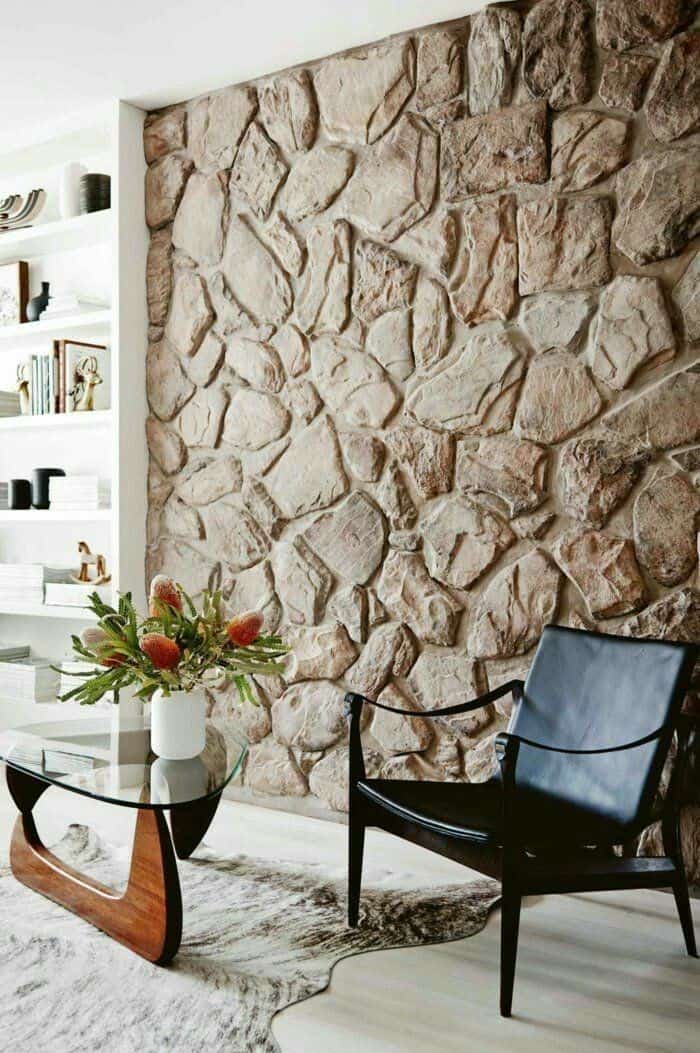 Image Source: Pinterest
Add some character to your walls by surrounding them with the textural stone to catch the eye of the guests.
Stone Wall #3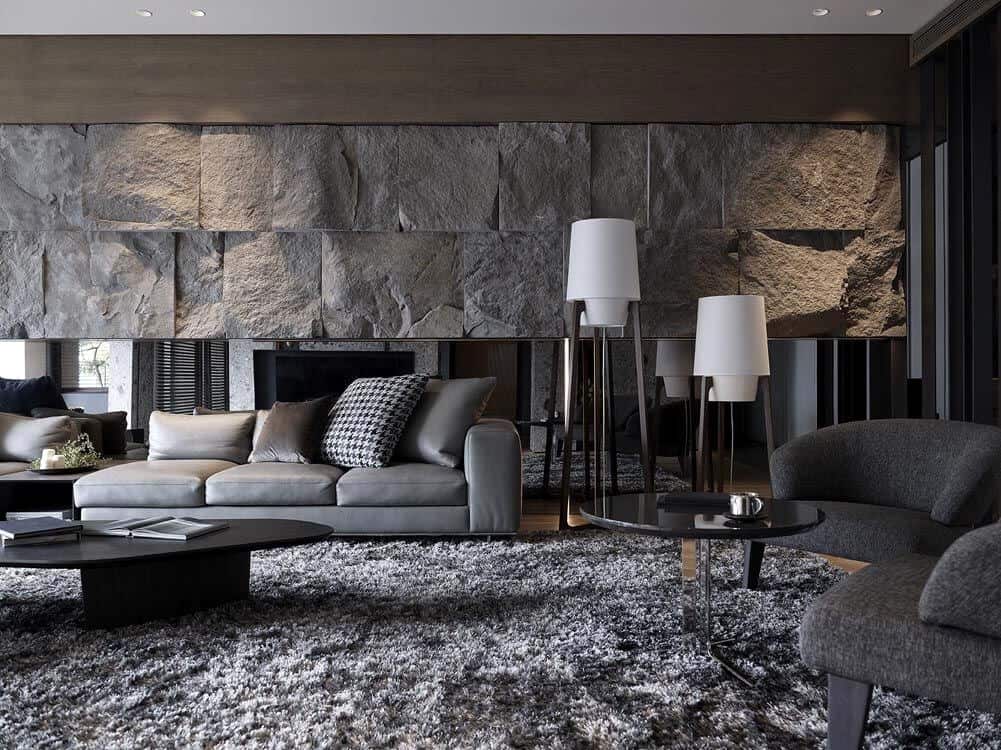 Image Source: DA Interior
A mixed stone and wood wall concept will become the standalone attention-grabbing feature of your homes.
Stone Wall #4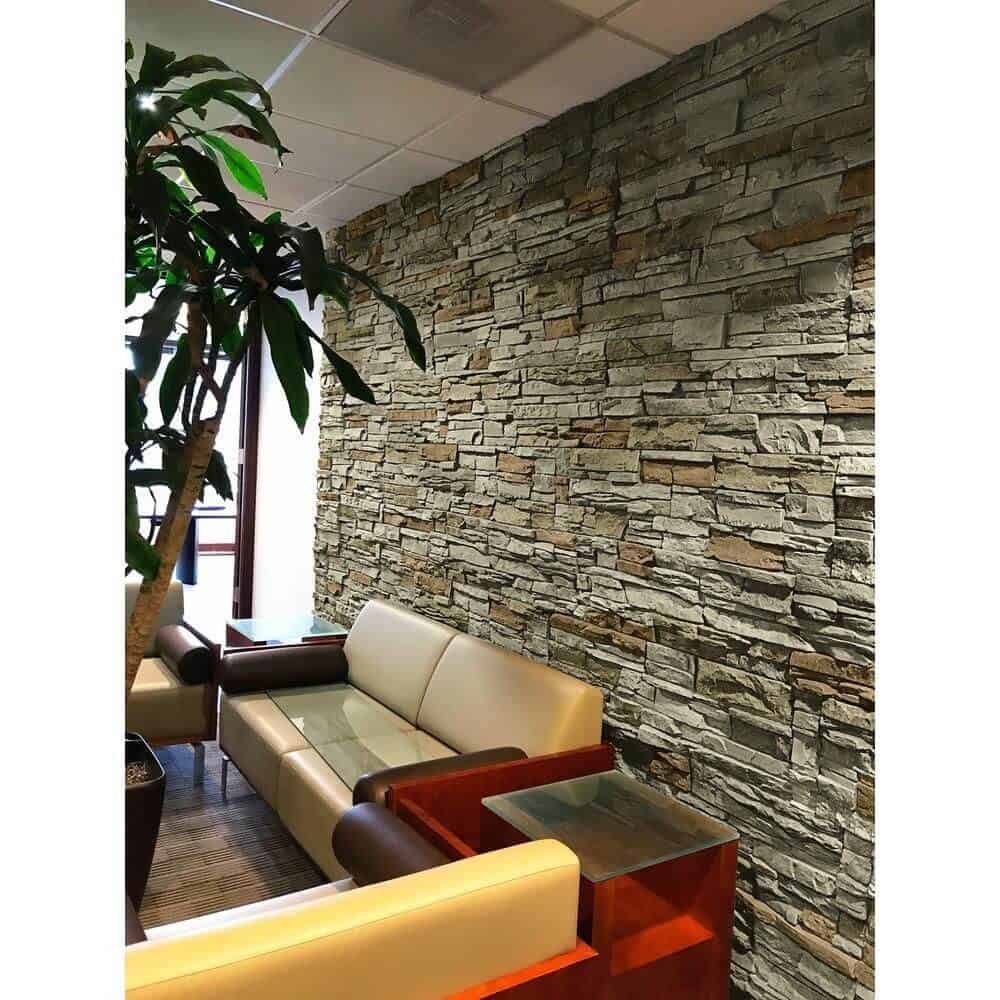 Image Source: The Home Depot
This rustic exposed brick wall will help you design your own grand living room.
Stone Wall #5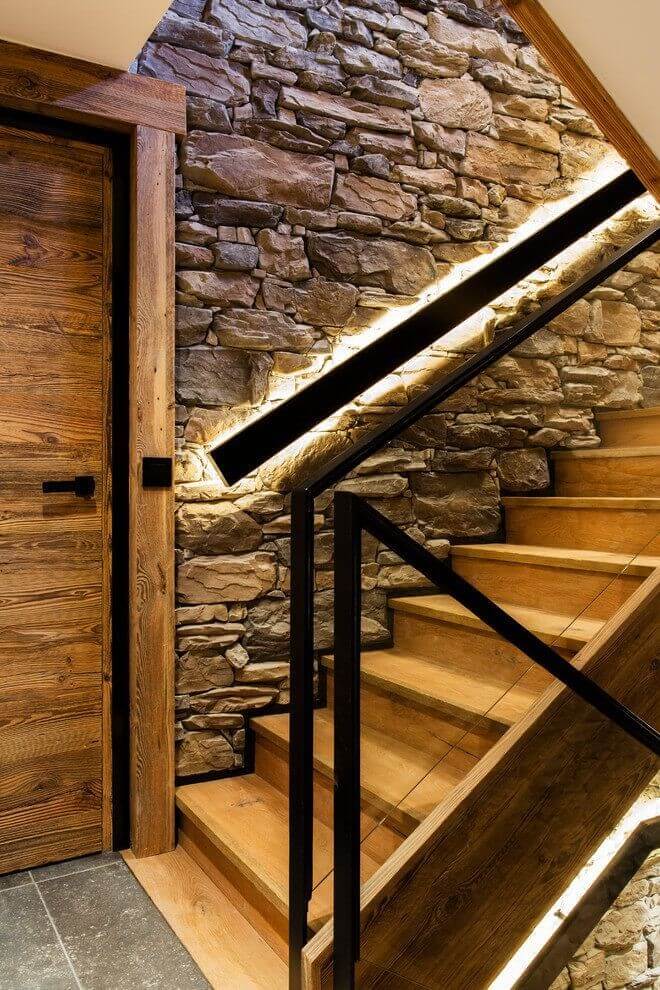 Image Source: Woodz
Mixed stone and wood walls make your home space look like a rustic home and a modern representation of primitive ideas.
Brick Wall Designs
Brick wall designs feature an industrial style with rough and rugged edges.
Imposing strength and stability, brick walls, nowadays, are a massive trend in contemporary architecture.
Brick wall designs offer various textures and colors from the classic red brick and mortar walls to cladding and tiles.
The architects and other professionals seem to gravitate towards brick walls due to their unique character and timeless designs.
Additionally, brick walls are an excellent way to add a touch of history, elegance, and personality to an otherwise boring interior space.
Although you might not find brick walls everywhere, faux brick walls are easy to find and install. They imitate brick walls and are the perfect way to personalize your space.
Brick walls are ideal for every area as they fit in with themes ranging from industrial to chic and from vintage to contemporary.
Brick Wall #1
Image Source: Trendy Mood
Get inspired by this brick wall design and add a touch of traditional charm to your home.
Brick Wall #2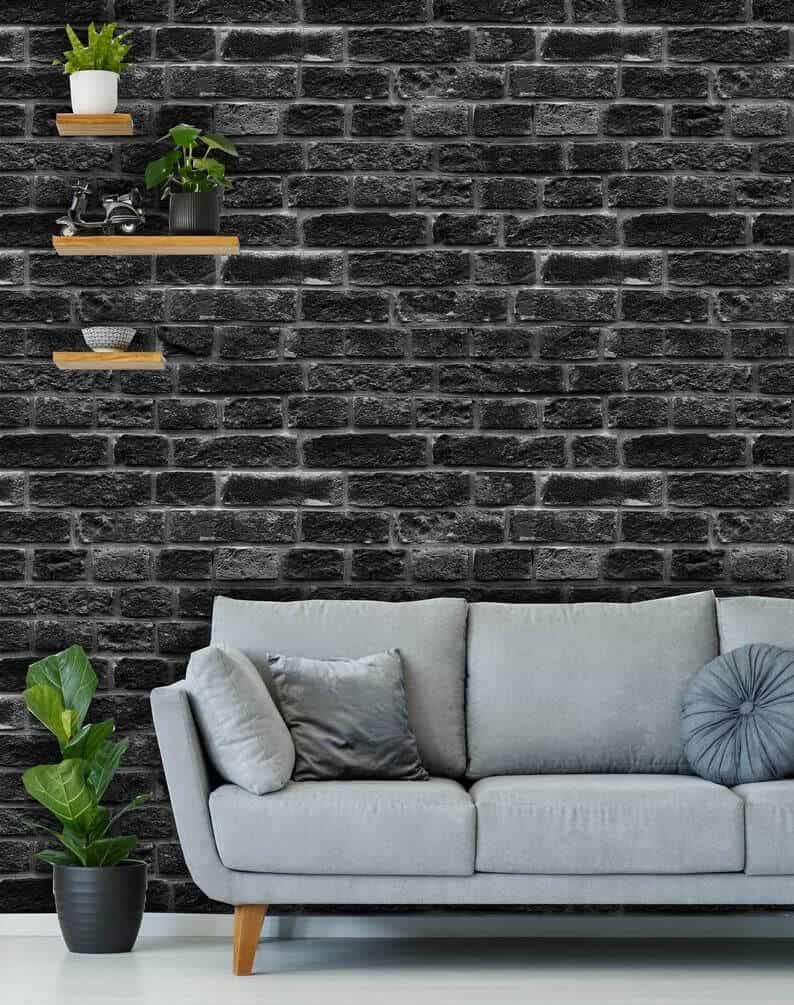 Image Source: Coloritto
This black brick wall is a classic statement-making element. Do not miss out on its tough texture and rustic charm!
Brick Wall #3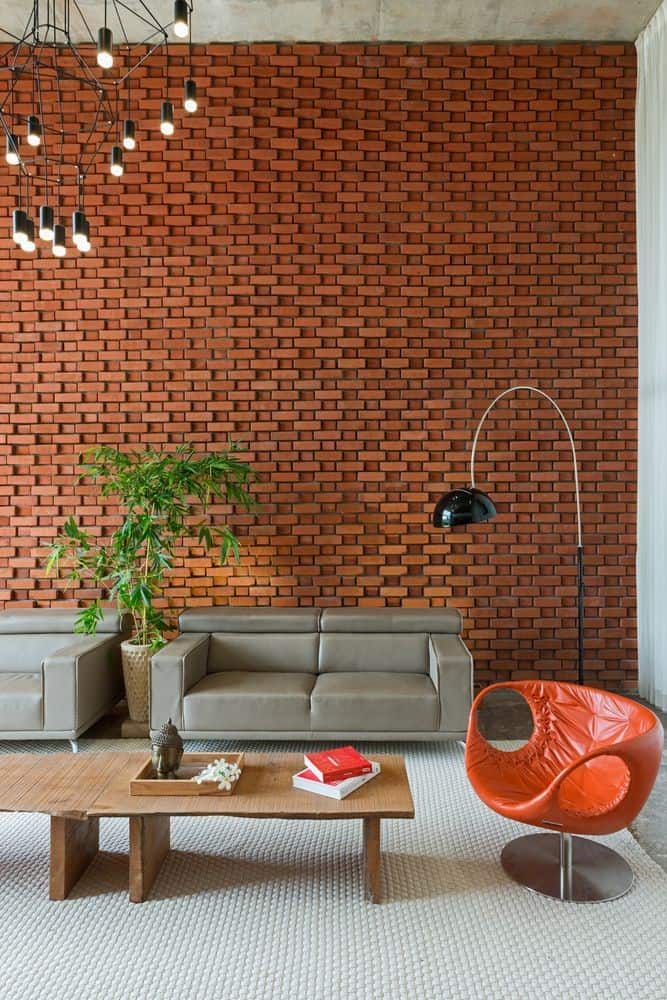 Image Source: Cuded
This brick wall is ideal for those who are looking to incorporate a real, raw, and rugged look into their space.
Brick Wall #4
Image Source: Pinterest
A modern living room with a mix of a naked brick wall and contemporary wooden furniture.
Brick Wall #5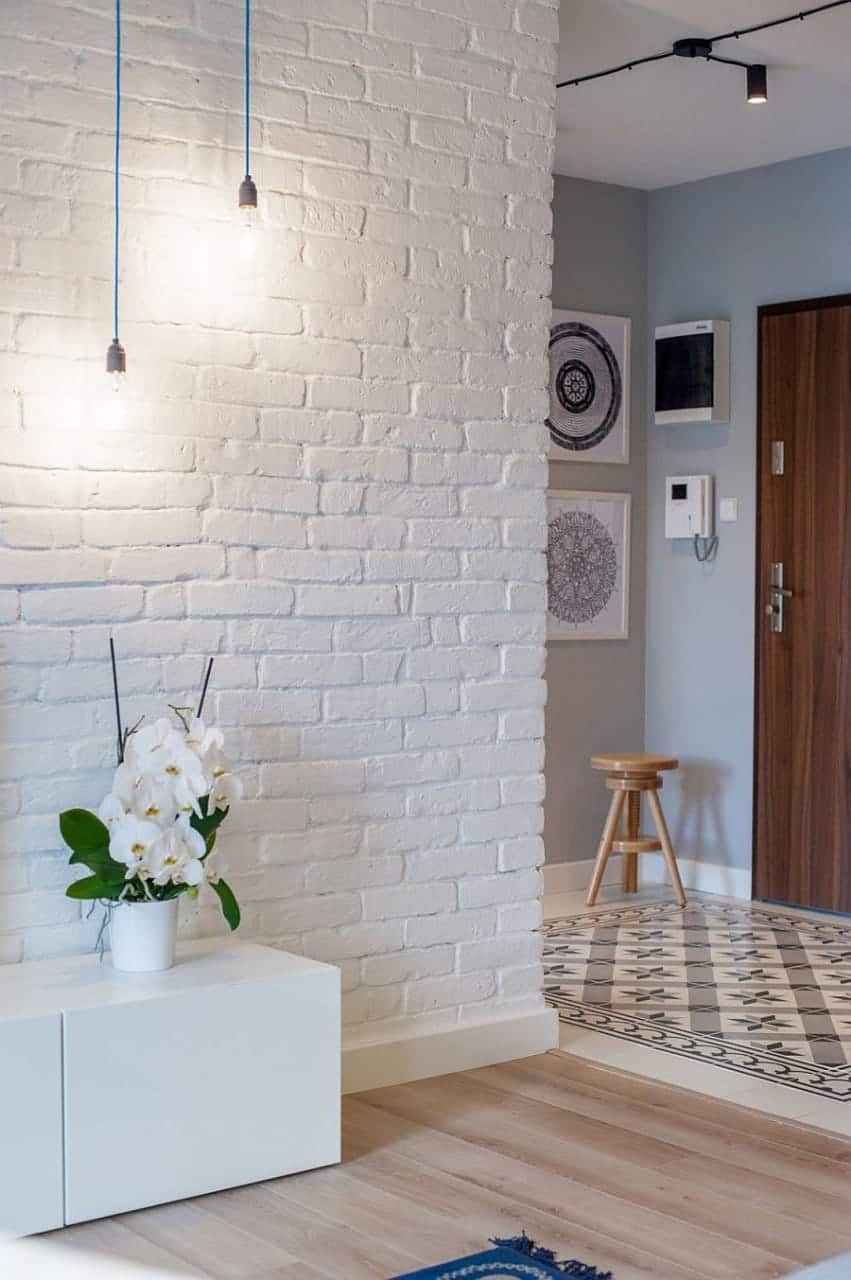 Image Source: Visual Hunt
Opt for a brick wall design painted in white to get a soft and elegant appearance without losing the goodness of texture of the brick.
Granite Wall Designs
The beauty of natural granite plays a stellar role in elevating the walls of your contemporary homes.
It transforms the space into a more real surface with depth and definition.
Natural granite is a differentiating element offering great aesthetics and unimaginable strength to your walls.
Also, it adds an expressive appeal to the contemporary interiors.
Granite walls are impeccably sophisticated and delicately minimalist, all at the same time.
They are known for not losing their color over time and their stain, fire, and heat-resistant properties.
Therefore, considering the luxurious looks, durability, and easy maintenance of the stone, granite walls are considered to be an excellent option for homeowners.
Granite Wall Design #1
Image Source: Pinterest
Granite creates a mix of minimal textures to make your interior space look sleek and put together at all times. Moreover, the concealed lights are perfect for the dark-colored theme.
Granite Wall Design #2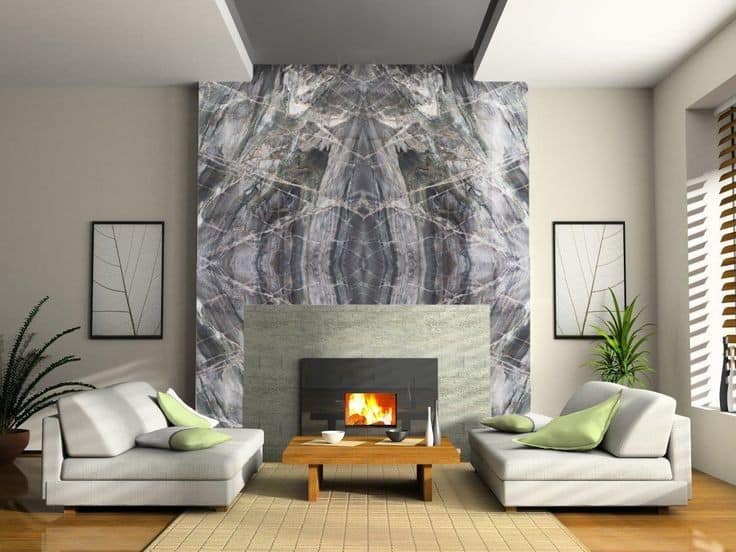 Image Source: General Photographic Agency
Add a welcoming vibe to your living room with this feature wall.
Granite Wall Design #3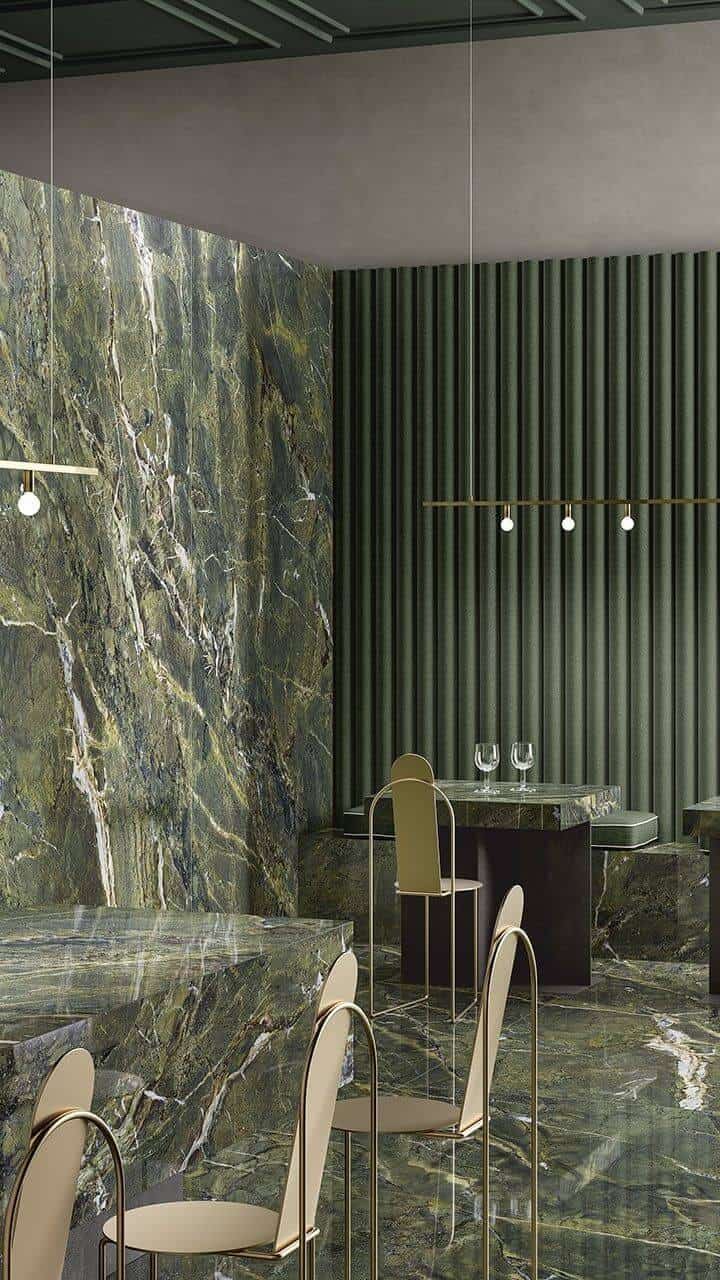 Image Source: Fiandre Architectural Surfaces
Incorporate the following granite wall into your home to create a good first impression on everyone who enters your home.
Granite Wall Design #4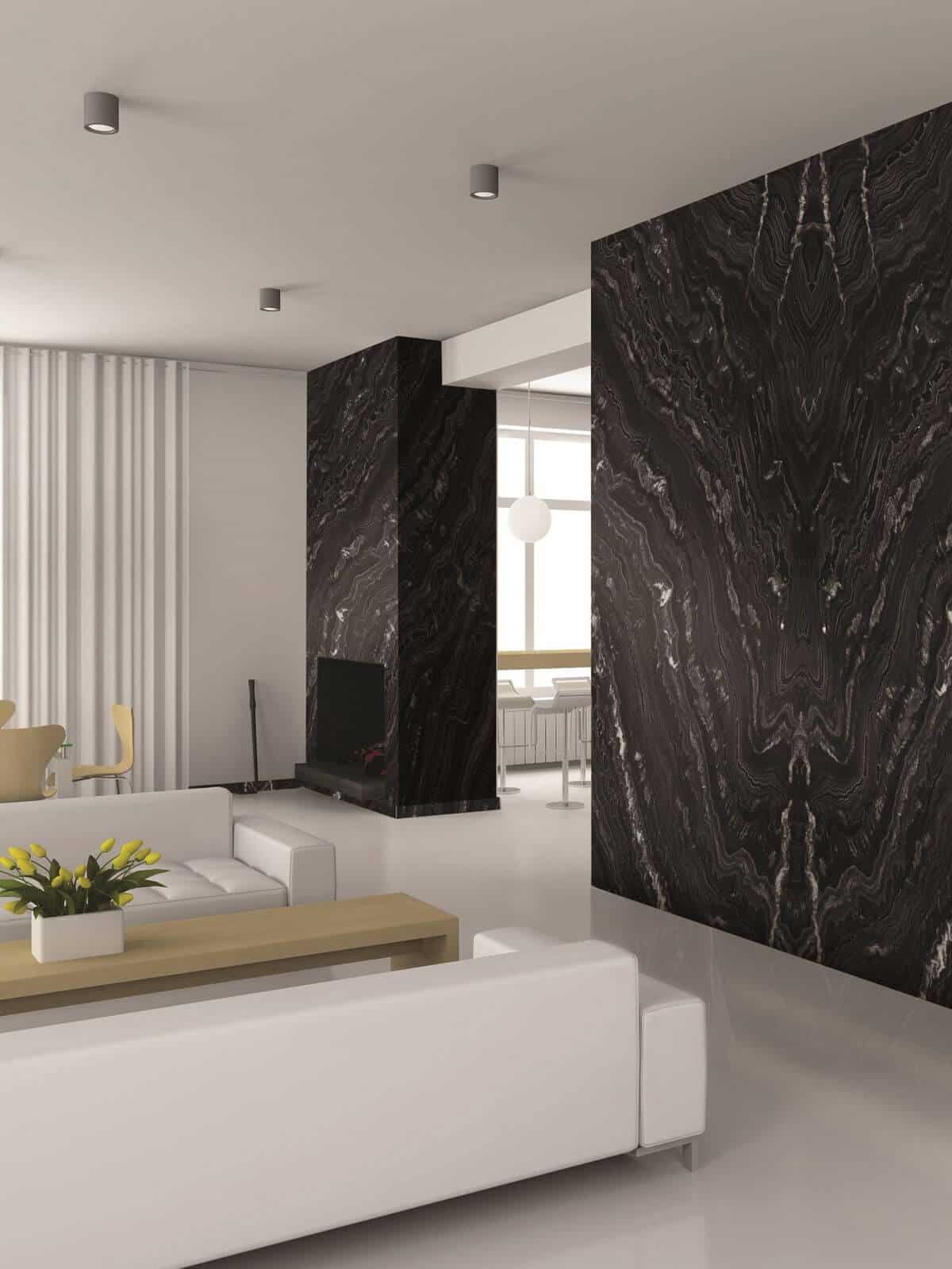 Image Source: MSI Stone
This black natural stone (granite) wall cladding is a versatile and timeless way to add depth and character to your walls.
Granite Wall Design #5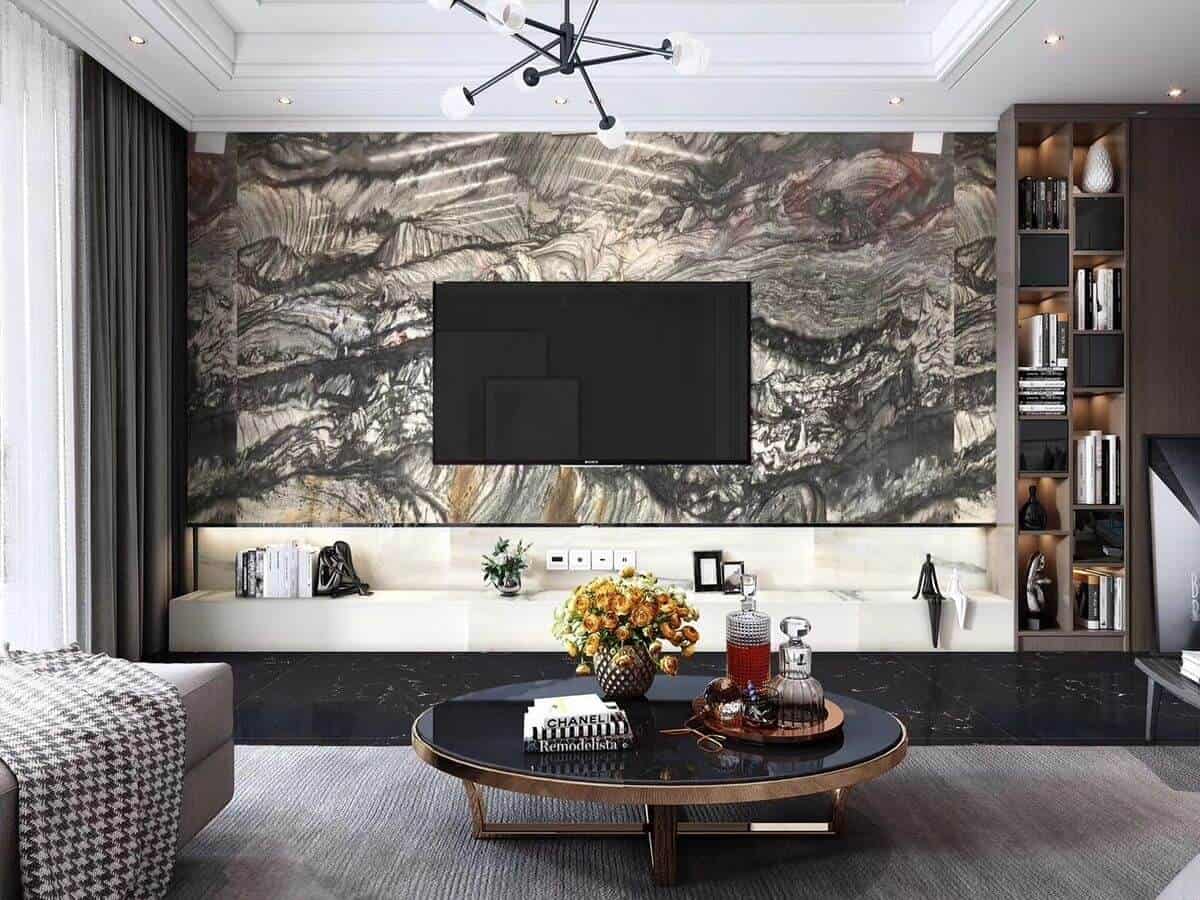 Image Source: Xiamen VQ Stone Co.
An abstract natural stone wall is a superb way to add some color to the room without making it look too busy. It makes the space look immaculate and vivacious.
Glass Wall Designs
Glass walls are representative of the growth and progress of the architecture and interior design industry.
As opposed to the usual walls, glass walls allow a myriad of natural light to shine in.
Therefore, these are ideal for homeowners who intend to make a sleek, stylish, and striking living space.
Glass walls have the capacity to leave a dramatic and lasting impression with their bold and distinctive looks.
These walls add warmth to the ambiance and make the space look more lively due to the natural elements and a bright color scheme.
With all such pros floating over, one can easily opt for glass wall designs.
However, due to its heat-absorbent property, one must be extra vigilant and cautious while investing in them.
Glass Wall Design #1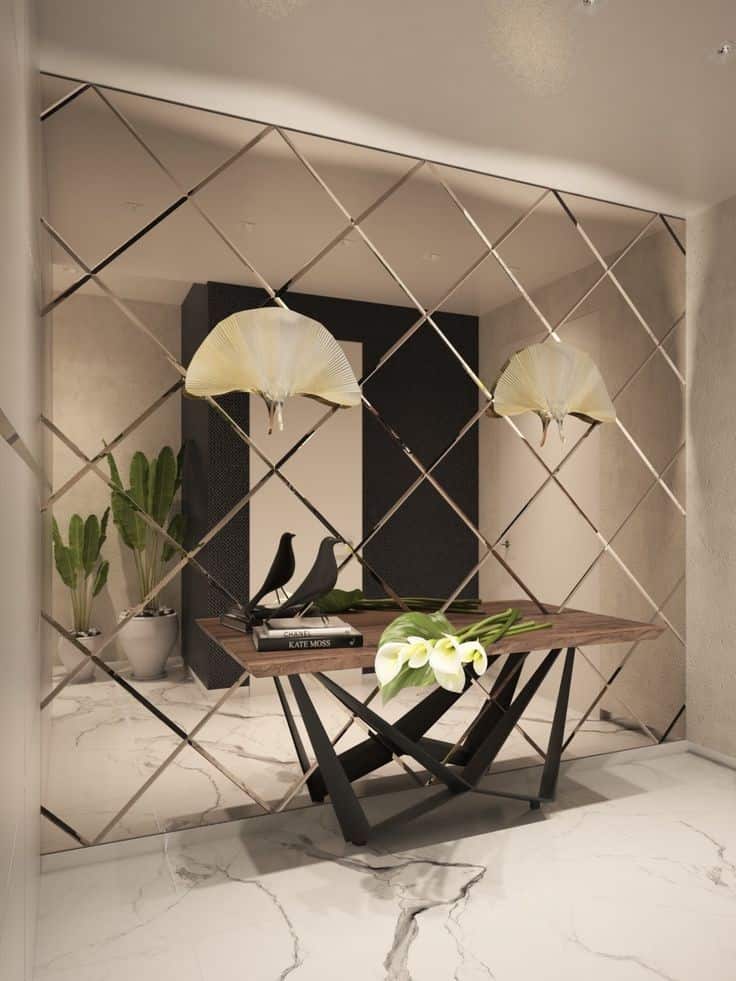 Image Source: Pinterest
Revive the sophistication of your home with this mirror glass wall.
Glass Wall Design #2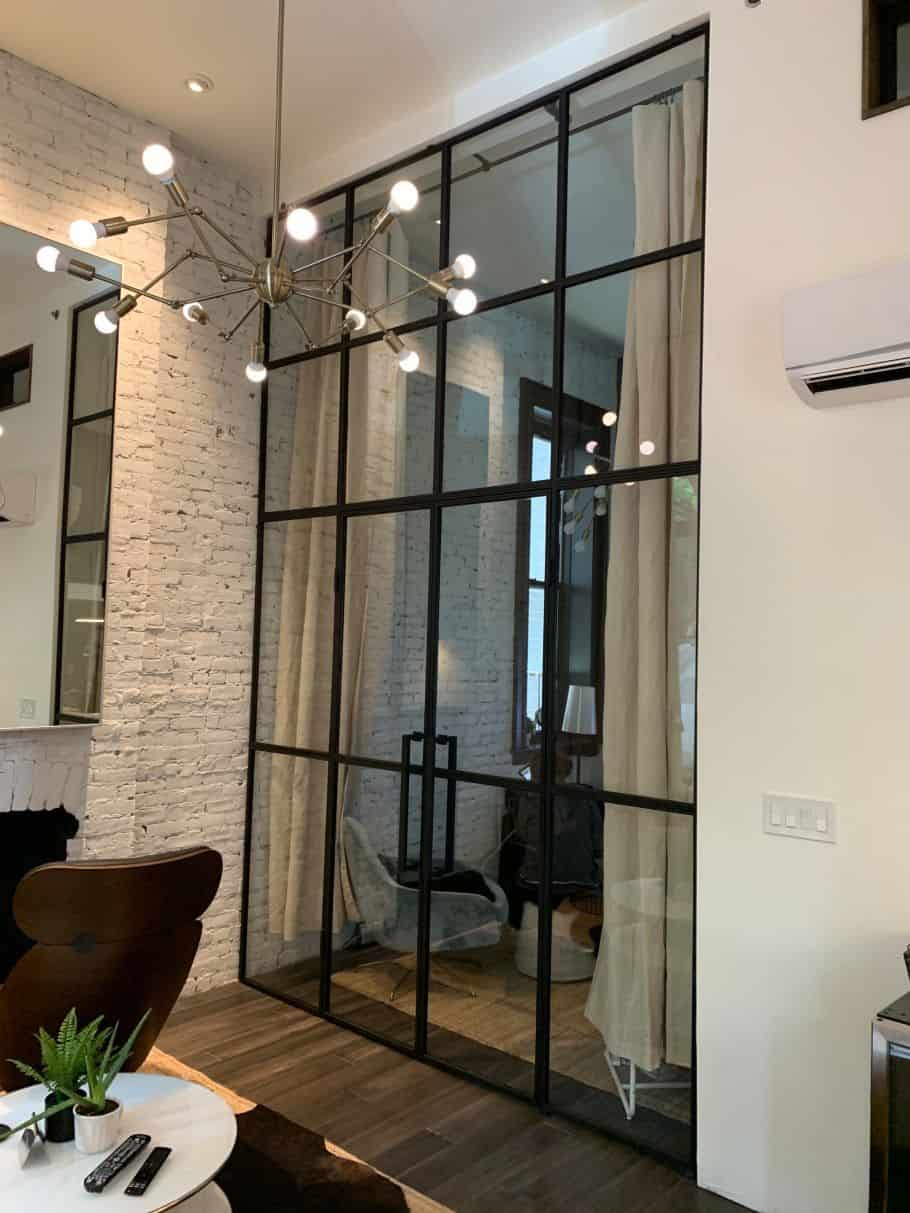 Image Source: Crystalia Glass LLC
This feature glass wall is an absolute showstopper. Also, the rough texture of the white brick walls on the other side compliments the softness of glass like no other.
Glass Wall Design #3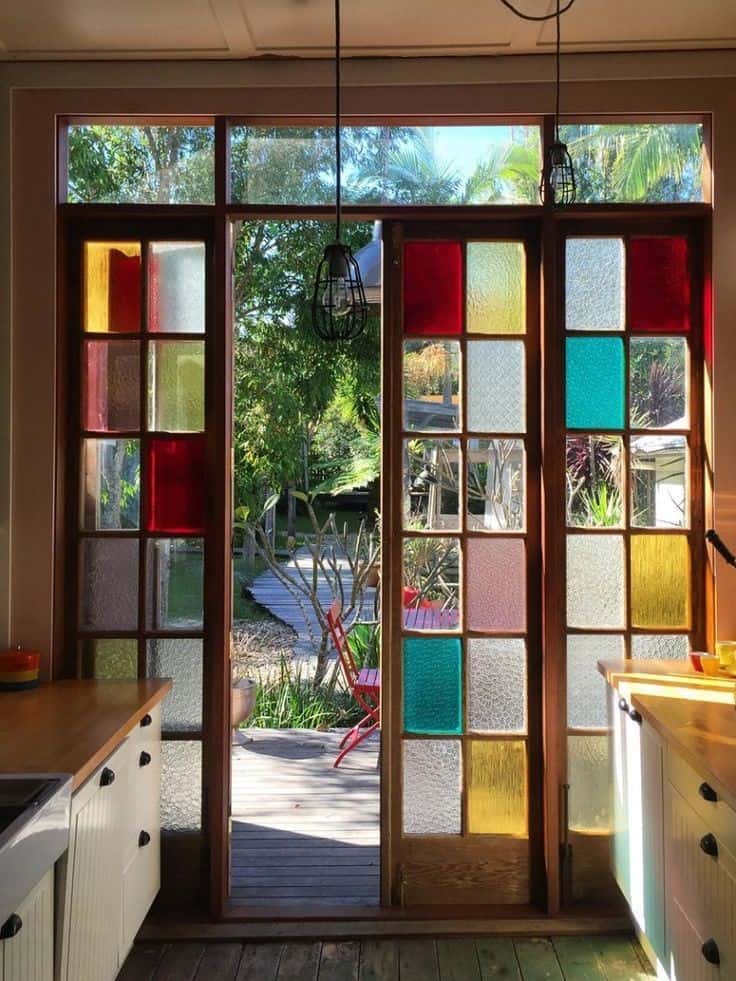 Image Source: Jonna Schreibman
This glass wall perfectly showcases the power of the colors when paired with plenty of natural light. In addition, it brings out the colors as and when light hits on the surface and reflects it back.
Glass Wall Design #4
Image Source: Pinterest
This pretty glass partition wall gives a striking look to your living room allowing plenty of sunlight to shine on the inside.
Glass Wall Design #5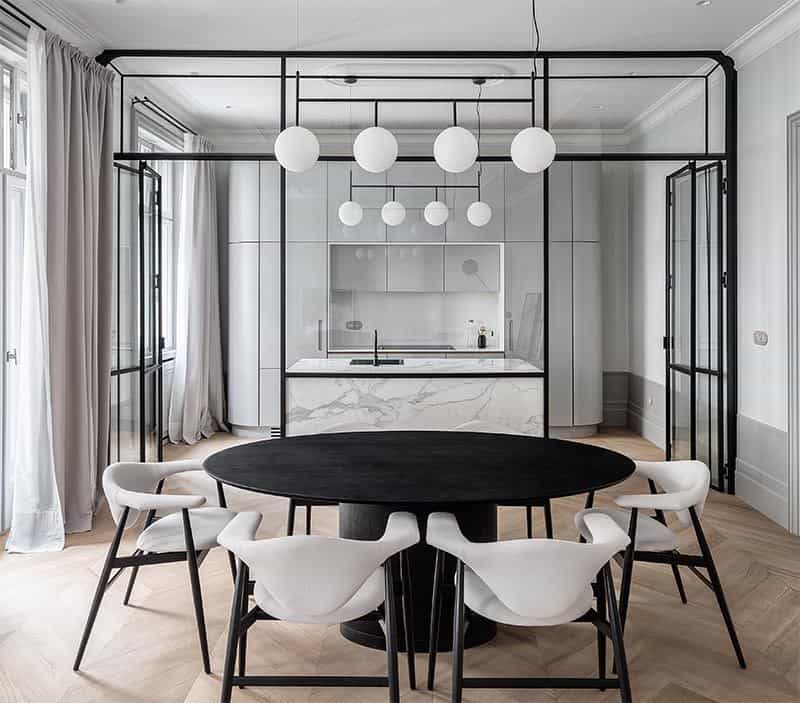 Image Source: autori
Opt for this glass wall to give your rooms a magical and inspiring ambience. Additionally, the neutral marble is a bonus that compliments the wall and adds value to the theme.
Plywood Wall Designs
In recent times, plywood has become a firm favorite. Affordable, lightweight, and versatile, plywood adds warmth and personality to the Interiors.
Plywood has inherent strength and incomparable beauty. Moreover, it is far superior to the ubiquitous plasterboard.
Since plywood has a hardwood outer layer, it certainly looks more luxurious than traditional builders ply.
The plywood is perfect for creative designing and decoration since it is flexible and cheap. Panels are easy to install and can be reused.
Plywood panels can be used for various applications and decoration projects.
It is great for modern designing on a limited or low budget and ultimately, gives a unique blend of elegant with rustic and creative with traditional.
Plywood Wall Design #1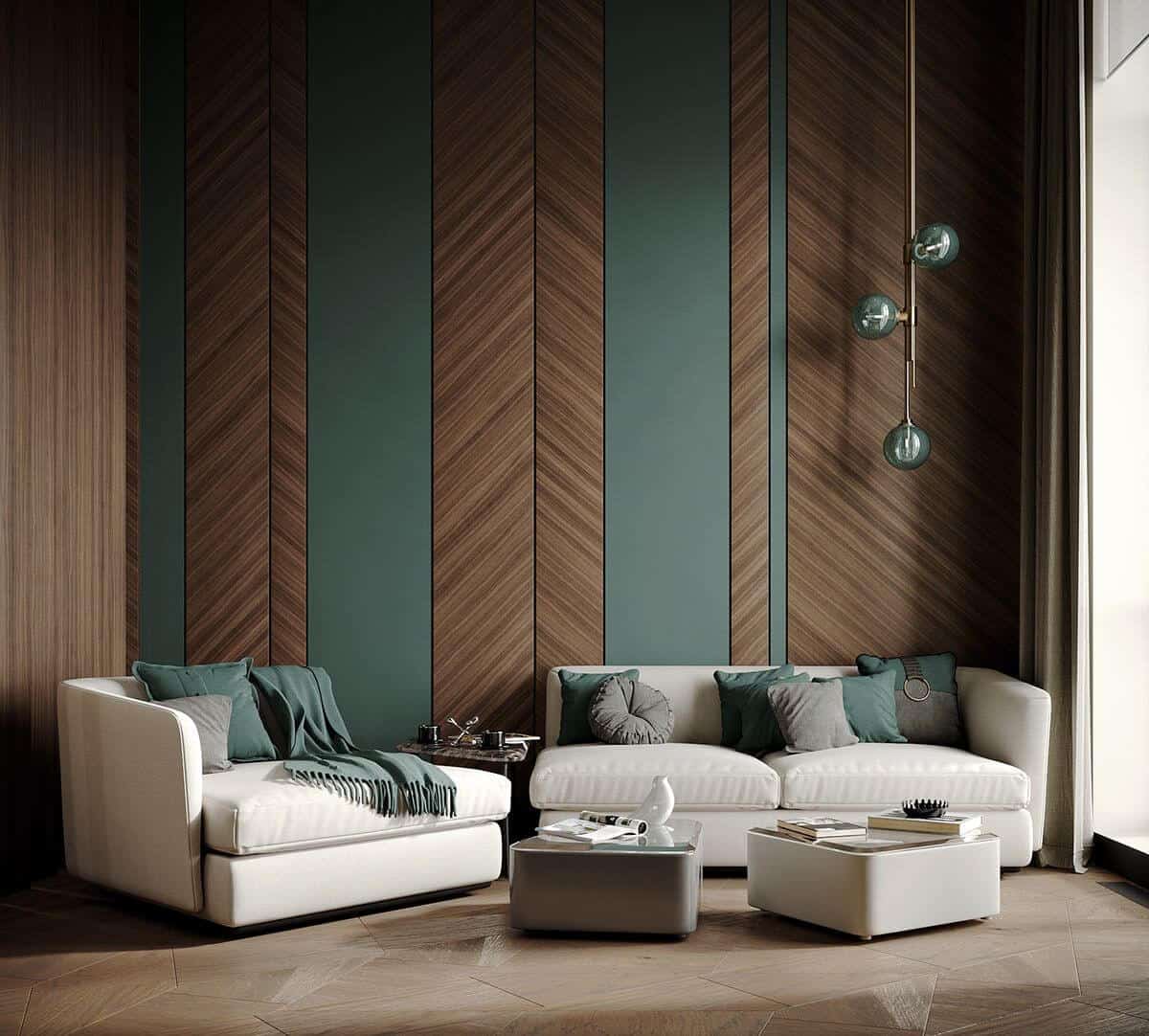 Image Source: Behance
This wall is a simple, modern, and creative way to decorate your walls to transform your space.
Image Source: Pinterest
Use a carved decorative wall to produce stunning effects and add uniqueness to your room.
Plywood Wall Design #3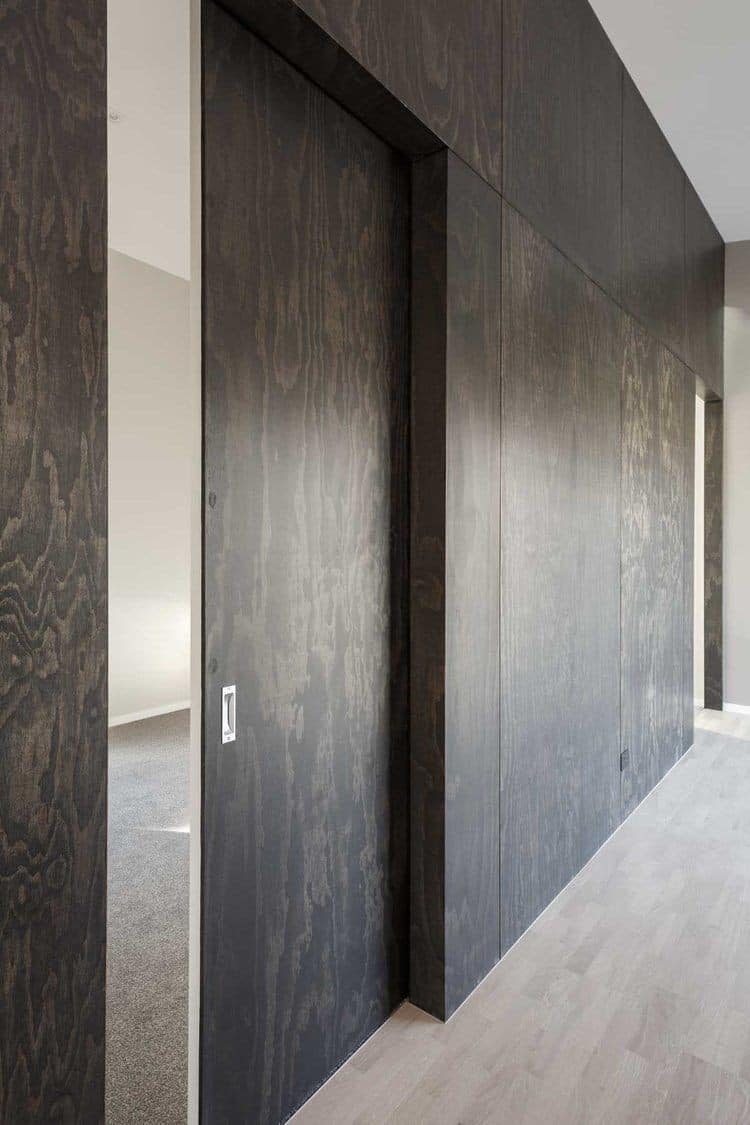 Image Source: Plyplay
Wall designs with plywood in dark color can be reminiscent of traditional wood walls with a rugged look and texture.
Plywood Wall Design #4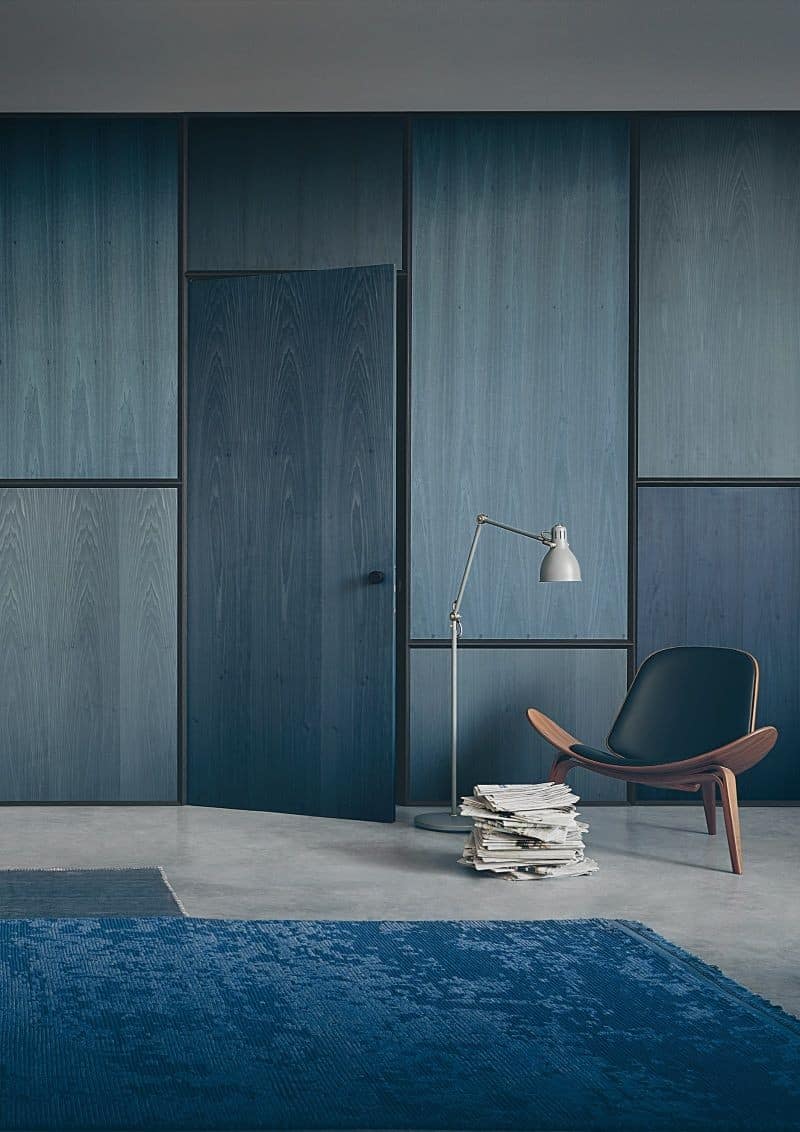 Image Source: Beppe Brancato
This wall is a sturdy way to add contrast with glossy blue color. The cool tones of blue work very well with natural light. Moreover, this wall design is highly functional as it offers mammoth storage space.
Plywood Wall Design #5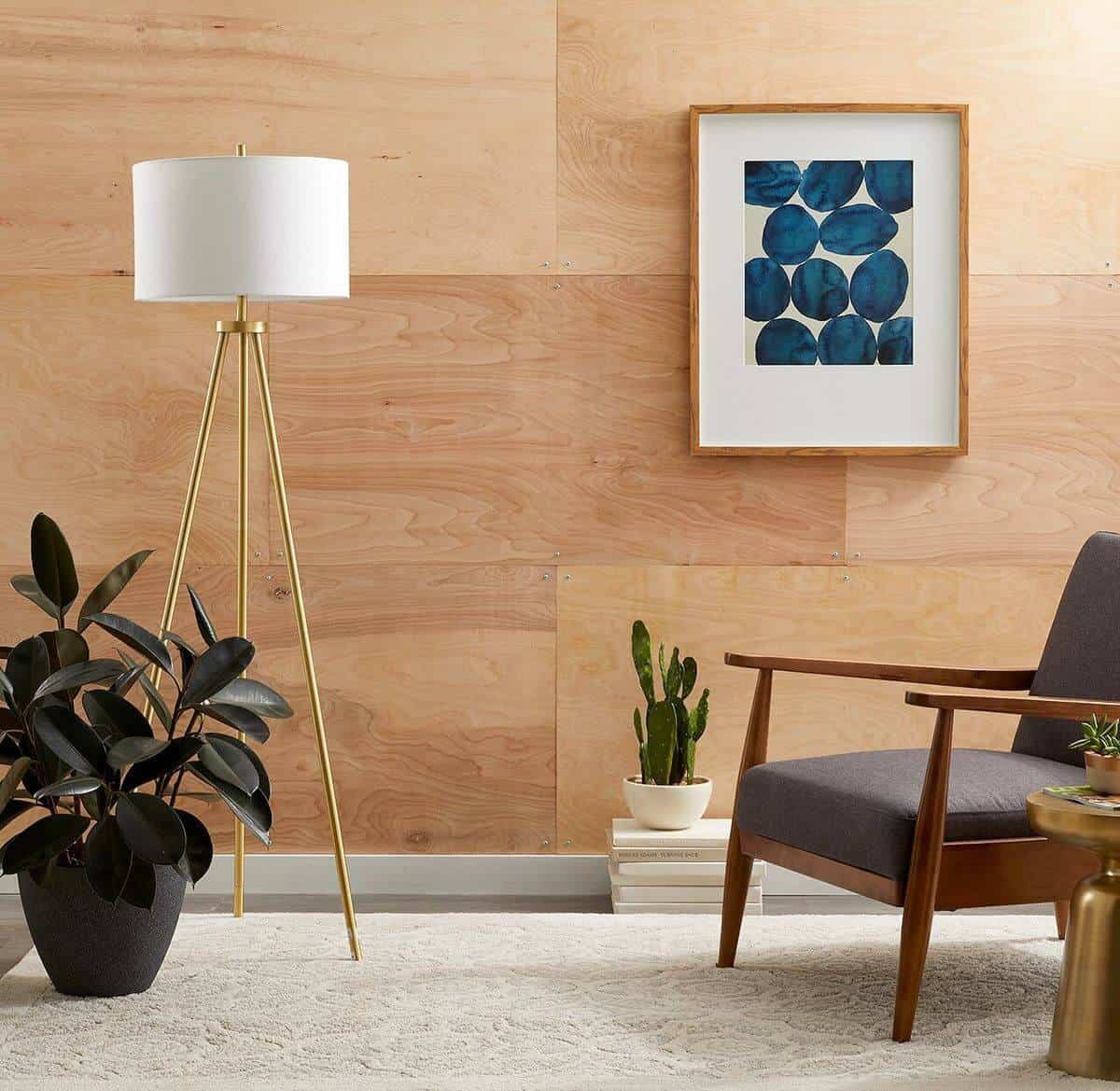 Image Source: Better Homes and Gardens
A wall idea to fit everyone's living space needs. Even if you are on a tight budget, this plywood wall will bring your decor to the next level.
Wall Designs with Paint
Modern wall designs with paint are a graphically glorious way to make the walls of your home edgy and stand out.
Today, a huge variety of wall design painting options are available in the market ranging from color blocks to patterns and from textured to three-dimensional.
Wall paints, with a little creativity and imagination, have the power to uplift the blank canvas that your wall is. Therefore, this is a clever way to make your interior space surprisingly chic without spending a lot. There is a certain type of wall design painting for every nook of the house.
Image Source: Aliz's Wonderland
The overhead light in this paint wall design is a cherry on the cake. It makes the space look bright and open which could have looked enclosed due to the dark choice of color.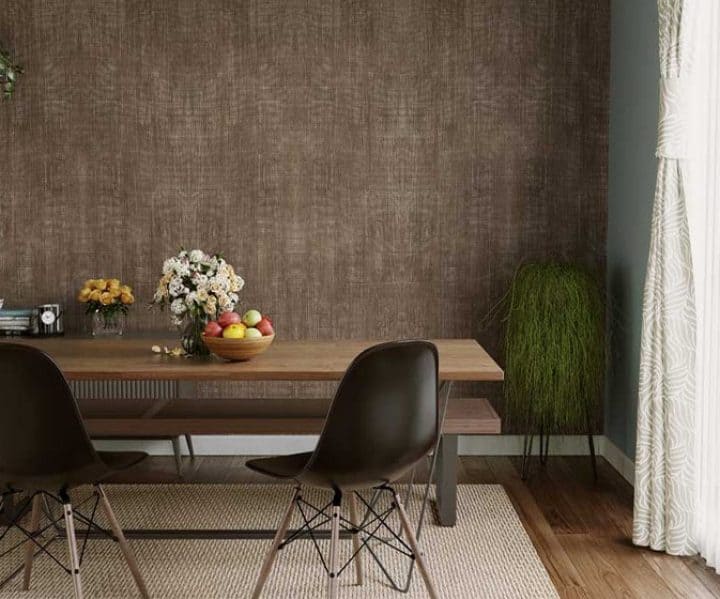 Image Source: Asian Paints
Here is a wall in soft brown color with a rugged texture and contrasting accessories on it. Moreover, it creates a striking look and makes the space look bigger and open.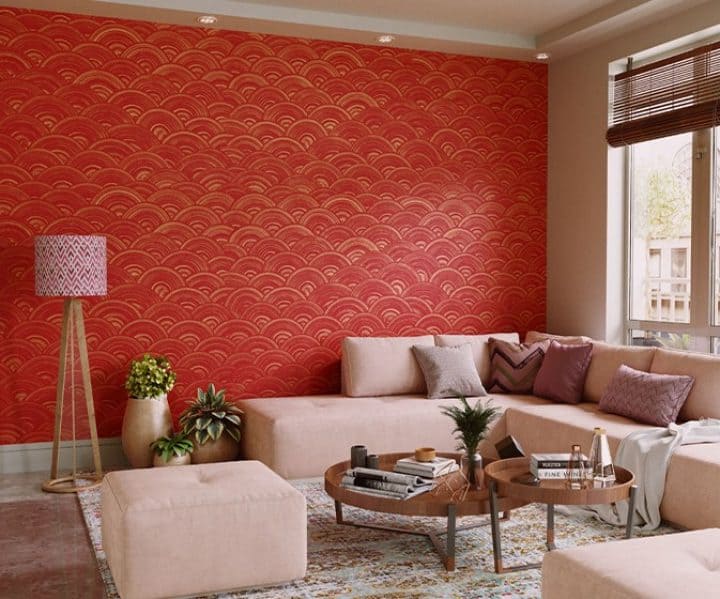 Image Source: Asian Paints
This textured interior wall design gives an illusion of a three-dimensional wall. Although it is an unusual choice for homeowners, it is definitely worth the risk.
Also, adding a few plants beside the wall not only balances the orange with green but also adds a contrast.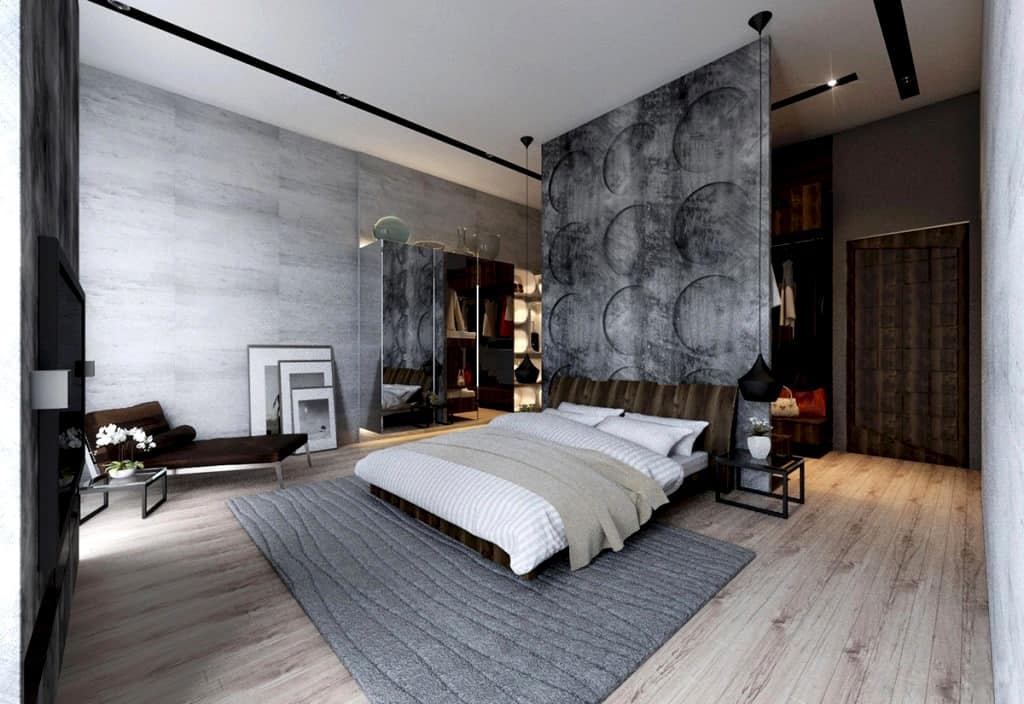 Image Source: Nimvo
This chalk-painted wall is the perfect backdrop to add a cozy and inviting vibe to the bedroom. Moreover, it is treated with different tints of minerals to achieve a textured effect that reflects light.
Image Source: burke decor
This wall painting design is perfect for a small space. Brush up on this wall design to create a centerpiece for your home.
Conclusion
From cost-effective projects to elegant modern homes, we've rounded up some of our favorite examples of wall design interiors to bring warmth and personality to your space without poking a hole in your pockets.
First and foremost, wall tiles are ideal to add glamour to your space and also ensure longevity.
Similarly, wood wall design makes your space more inviting and welcoming by adding warmth to it and wall designs with POP add texture and dimension to your walls.
On the other hand, brick walls are a classic element in a contemporary house. It adds a unique personality and ruggedness to your interiors.
Being extremely versatile, stone walls can be used on exterior facades and for interior decoration as well.
Additionally, from the water-resistant property to the chic looks, PVC wall panels add an extraordinary appeal to the manifold aspects of wall panels into your walls.
Granite, a beautiful natural stone, makes for a great wall design idea as it is temperature resistant and offers eye-pleasing aesthetics.
If you are a keen follower of modern interiors, you must have noticed how glass walls are predominantly ruling the world right now.
The elegant wood and cost-effective cement have now given way to glass walls resulting in modern and sophisticated artwork.
Therefore, whether it is light or dark shades, matte or glossy finishes, the walls of your home will ensure that your spaces stand out always! Trust us, they will enhance the walls in no time.
Since there are innumerable ways to decorate your walls and take your interiors a notch higher, it's all about your choice and preference.
Use this post as a guide to explore various wall design options for your interiors, take inspiration, and you're good to go. Yes, it's as easy as it sounds.
[vvsmustread]