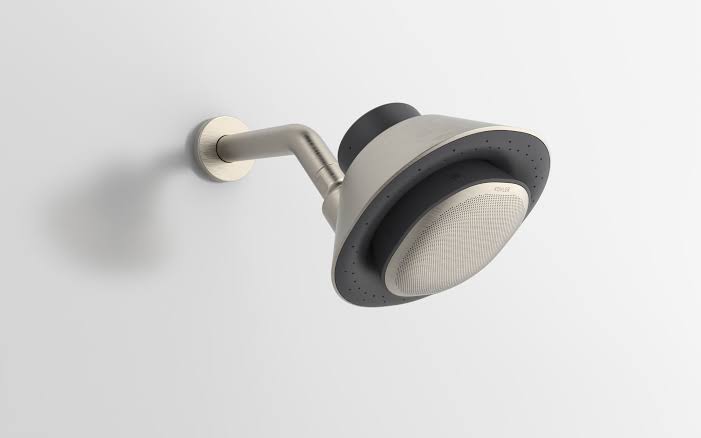 If you are someone who is always hard pressed for time or if entertainment is what you long for, then you can use this new showerhead from Kohler. But what is so special about it?
Well, let us see!
This new showerhead from Kohler comes with alexa powered built-in speaker. Now you can listen to you favourite songs, news or podcast while taking your morning shower. This speaker has audio by Harman/Kardon and stays in place thanks to a magnetic dock. The Showerhead has a circular ring, while the Alexa-enabled speaker has a cone-shaped opening in the middle. The speaker looks good, has a playback time of 6-7 hrs and is IPX67 waterproof. It can be purchased with or without a new showerhead, so now you can fit it to your existing showerhead. The speaker has been designed to work in bathroom, so it can be heard over the noise of shower. Additionally, it has control buttons and cordless charging facilities.
Kohler will be selling the Moxie Showerhead in two models: the Kohler BT speaker and Kohler AI speaker. The Kohler BT speaker will cost $99 or $159 bundled with a Moxie Showerhead. The Kohler AI speaker, on the other hand, will sell for $159 or $229 bundled with a Moxie Showerhead.
Kohler is also introducing other smart home products including the Aquifer Refine water purification system with WiFi connectivity, the Setra touchless kitchen faucet which can monitor your water usage, the DTV digital shower system which lets you set shower mode presets, two toilets with touchless flushing or intelligent water efficiency features, a heated toilet seat and an outdoor backup generator for if your power goes out.
These products will be available to order this year, or you can see them in action at the Kohler booth at CES 2020.