​​The main gate design plays a crucial role in determining the overall aesthetics of the house. The entrance of any place ought to be warm and welcoming. Also, a perfect modern main gate meets the needs of security, privacy, and style, all at once. So, while choosing the gate, you must consider design, materials such as iron, steel, glass, aluminium, and other technical aspects.
In addition to the material, Vastu also plays a major role when installing the main gate. Vastu Shastra is the collection of the principles of the traditional Indian system of architecture. When you plan your house and all its elements following the principles of Vastu Shastra, it invites positive energy into your home. So, along with the design and functionality of the front gate, you should also keep in mind the tips of the Vastu Shastra while installing the gate.
So, keeping the Vastu, security, and styling needs of your home in mind, we have listed the best main gate types and designs for you. Some of the best materials for a flawless main gate design are iron, steel, wood, and glass. These designs make the house beautiful, practical, and safe.
Types of main gates 
There are numerous types of entrance doors based on their opening mechanisms, materials, and designs. We have carefully broken down all the major types of main gates into different categories. This classification will surely help professionals such as architects, designers, etc., and even homeowners make the best choices when selecting their main gate. So, read along to select the best main gate for your home. 
Based on the operating styles
There are unique opening mechanisms associated with each main gate. Some of the main gates use the swing mechanism while others slide horizontally to open. Also, these gates can be mechanical or automatic. The purpose of every door, however, remains common – safety and beautification of the property. 
We have curated a list of main gates according to their operating styles.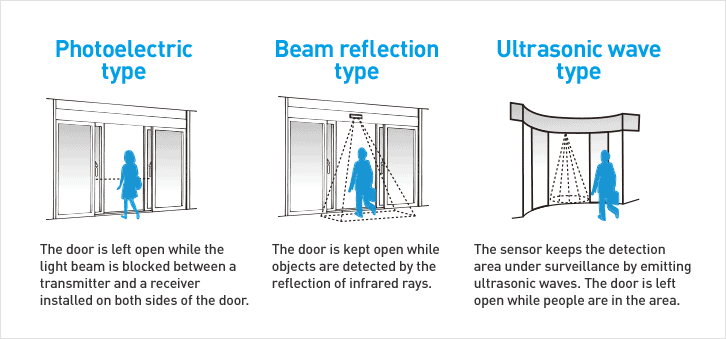 Image Source: nabco.nabtesco.com
An automated gate is a regular gate that is powered by an electrical system.  So, it can open with just the click of a button. Also, some of these gates come with motion sensors that detect movement and open or close accordingly. Thus, these gates do not need human interaction to work. Moreover, to make these gates more secure, these generally come with additional features such as intercoms, biometric recognition, cameras, etc. The multiple benefits of these gates include convenience, reduced manual labour, and the highest level of safety.
Swing gate
Image Source: decosoup.com
Swing gates are solid structures that are attached to steel or brick posts with an assembly plate. Double leaf gates that open from the center, create a welcoming atmosphere for visitors. These are solid structures that travel a 90°arc distance between their opening and closing positions on either side. Moreover, swing gates can be operated manually or electrically. These gates are low maintenance and relatively cheaper. Also, you can customize these to meet specific design needs while complementing the overall design.
Sliding gate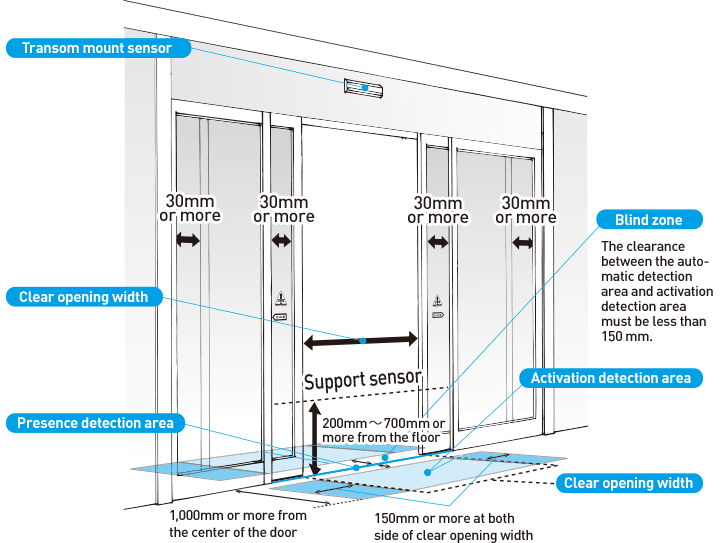 Image Source: nabco.nabtesco.com
The classical motorized sliding gates have a ground-mounted track on which the gate wheels move. These gates can operate electrically and mechanically. Such gates also beautify the overall appearance of a property's exteriors. Sliding gates have been associated with luxury and superior design. These gates do not take up a large area while opening or closing. So, these are beneficial for smaller properties.
Based on material 
Entrance gates are long-term structures that aren't frequently changed. The materials chosen for the entrance gate such as steel, iron, glass, and wood, have a direct impact on the design and longevity of the gate. Moreover, a material that doesn't favour the weather and physical conditions of the surroundings cannot only be a design hazard but also compromise the safety and security of the homeowners.  So, let's have a look at the different materials that can be utilized to fabricate an appropriate entrance gate.
Stainless steel gate
Stainless steel designs for main gates are sturdy and cost-effective solutions for all types of establishments. Above all, the high strength and low weight of the material ensure maximum ease of use without sacrificing durability. Also, this material can be used in combination with wood to increase strength and design flexibility. Lastly, stainless steel has many advantages such as low cost and long life, making it one of the best materials for an entry gate.
Wrought iron gate
Iron has been a vital material in construction since ancient times. But, as time passed, further advancements were made, and a better version of this metal, wrought iron, was invented. Wrought iron gates and designs are more malleable and less brittle than traditional iron designs. Most importantly, the material offers better corrosion resistance. Thus, a wrought iron gate is considered one of the best materials for modern entrance gates as it also provides optimal security, durability, and design versatility. 
Wooden gate 
A wooden gate may be a fantastic alternative for you if aesthetics are your primary concern. Also, wooden gates can be integrated with metal components to increase their strength when applied correctly. Moreover, these doors give your establishment an exotic look. So, if the time-honored style is what you are looking for, wooden gates are a must for you. However, the durability and expense of solid wooden gates are significant disadvantages. 
Aluminium gate 
Aluminium is a low-density metal that is frequently used because of its inherent corrosion resistance. The colour of the material might range from silvery to grayish, which is determined by the roughness of the surfaces. These gates are resistant to rust, scrapes, and damage. Thus, gates made of aluminium are simple to maintain and cost-effective. 
Glass gate 
The most popular way to modernize your house is with glass door designs. Glass is an elegant and sophisticated material that comes in a wide variety of designs. Also, it adds fluidity to the space while allowing natural light to filter through, and gives the impression of a larger area. A modern main glass door design can completely transform a dull space into a stunning and ethereal one.
Trending main gate designs  
The installation of a front gate has a significant effect on the overall value of a property. The main gate increases security by giving you easy control over home access. Additionally, the design of the main gate enhances the look of the house. So, no matter how fancy the house design is if the main gate doesn't complement it, the overall aesthetics get hampered and suffer a setback.  
Generally, the modern main gate design depends on the type of building. So, if you live in a single-story building, you are limited to a few front gate designs, but if you own a large bungalow, you have a plethora of modern front gate designs. However, with a little tweaking here and there, you can have a spectacular main gate design no matter the size & the type of your setting. So, if you are looking for the main gate design that makes a statement, read along. 
Contemporary iron main gate design 
Contemporary iron gate designs are ideal for people who want to incorporate the latest trends into their home's exterior decorating style. In fact, the installation of an iron gate not only increases security but also enhances the aesthetics of the house.
Laser-cut main gate design 
The simple design of the main gate makes it look remarkable. The laser-cut main gate designs use materials such as mild steel, stainless steel, and aluminum for better durability. Also, this style of door has a metal jaali in between the wood panels, which enhances the appearance of the door by adding an artistic touch.
Vertical pipe main gate design
Vertical pipe design is futuristic, one-of-a-kind, and extraordinary. As a result, this vertical pipe fence and the gate will undoubtedly capture everyone's attention. 
Grill main gate design 
The grill gate design can be a stunning pattern. Also, these grill designs for the main door can be created with metal and steel jaali in interesting designs such as spiral, classic wave, honeycomb, etc. 
Gothic main gate design 
The tall and majestic Gothic Victorian black wrought iron and steel main gate design offers a classic castle look. These gates add character and become a stand-alone feature of the house Also, the massive Gothic gate design evokes the charm and magnificence of architecture in Europe from the mid-12th century. 
Mid

-century modern main gate
This mid-century main gate design looks stunning and evokes a lot of nostalgia. Also, these gates stand as the epitome of mid-century modern architecture. Moreover, the modern combination of steel and wood is both beautiful and attractive. So, you can infuse old and new aesthetics in these modern main gates and get a flawless design for your house.
Rustic wood main gate design 
The best front gate ideas and designs are timelessly beautiful, bucolic, and traditional. In addition, the rustic wood gate is a grand entrance fitting for a magnificent home. So, if you want the old-world charm that can infuse well with your modern home design, go for rustic wood main gate ideas. 
Tuscan barn main gate design
The Tuscan barn gate is inviting, charming, and pastoral. Moreover, it's dependable and tough. The traditional Tuscan barn gate is appropriate for a happy home, and warm weather. The metal ring handles and hinges exemplify the steadfast and timeless design. So, if you prefer conventional styles, consider Tuscan barn doors for your house's main door. 
White wood gate design 
Nothing compares to the charm of white doors. Also, these white wood main gates make a good combination with neutral painted walls. White tones give an imposing look. Moreover, they provide a good view from either side. So, if you intend to get crafty with your modern main gate, consider a whitewood design.
Combination of wood and stone main gate design  
The wood and stone gate is a beautiful combination of modernity and elegance. Even the modern main gate design incorporates several natural components such as wood, stone, and concrete, as well as a mesh steel panel. 
Design your main gate using Vastu Shastra principles 
Image Source: Fabricator India
The main door of a house, according to Vastu Shastra, is not only the entry point for the visitors but also of energy. According to Vastu Shastra:
The house's main door should be larger than any other gate in the house. 

The gate should open in the clockwise system. 

Avoid having three doors in a row parallel to the main door, as this is a significant Vastu flaw. Also, it might affect the happiness of the household. 
The door should have

metalwork in the west direction. 

The north, northeast, east, or west orientations are the best directions for installing the main door house entrance. Moreover, these directions are considered auspicious and allow positive energies to flow freely throughout the house. 

The main door should not be facing south, south-west, north-west (north side), or southeast directions.

You can use a lead metal pyramid and lead helix to adjust a door towards the south or southwest.
Conclusion
The main gate of your home is extremely crucial in terms of styling and securing your house. Besides being the gateway to your home, it also remains the style statement for the entry procession. While installing the main gate, you must carefully consider materials such as iron, glass, steel, or aluminium. Secondly, you must also remember that the main gate design of your house will look the best if it caters to all your security and privacy needs while amplifying the style quotient. Finally, you must also be particular about the correct Vastu principles to attract positive energy, wealth, and prosperity. Also, from different operating mechanisms to the wide range of material options, you will get endless design and functional possibilities with the main gate. So, if you are careful and have the right information, the design you use can make a big impact.
The different types of main gates come in various operating styles and materials. Based on its operating styles, the main gate of your house can be automated, swing, or sliding gates. On the other hand, based on the materials, the main gate can be made of stainless steel, wrought iron, wood, aluminum, glass, etc.
Some of the trending main door designs that you can use for your house are contemporary iron gates, laser-cut gates, vertical pipes, grills, vintage, gothic, rustic wood, Tuscan barn, whitewood, or a combination of wood and stone.
There are so many options to choose from while installing your main gate. However, each house has a significant style of its own, and thus needs a unique main gate. The main gate is a long-term investment and you cannot change it easily. So, before taking the decision of choosing the perfect style, you will need the necessary information. With the information in this article, you are ready to select a stunning entrance gate for your place.
[vvsmustread]