The mandir of our home is the most venerated space. Be it calm or chaos, you would be drawn to complete your pooja ritual every day and experience mindfulness. For a space of such significance, it is crucial to do the best that you can, design-wise. While we pour our artistic thoughts into decorating the modern living room, bedroom, or kitchen, the mandir often gets overlooked. Consequently, the most revered corner of your home ends up looking modest and unwieldy. Amongst the material choices from marble to wooden, you can expect to have the most stylish & modern mandir design for your home hall or kitchen, fixed on your wall or standalone.
The design of your mandir coalesces with the stylish décor of the modern home. It does not imply that your mandir must always look grand or ultra-luxe. You can work your space limitations to strike the happy medium between the design and the dimensions.
Choosing the best mandir design for your home
Fortunately, there is a sea of options to choose from. Right from the material to the make, you can oversee every aspect of your home shrine. Hence, here is a guide that will help you make an informed decision in selecting a divine design that works for your unique space.
The different material options for your mandir
The first step to choosing the mandir design is picking the material of preference. Learn the options that you have and the flair that every material exudes.
Glass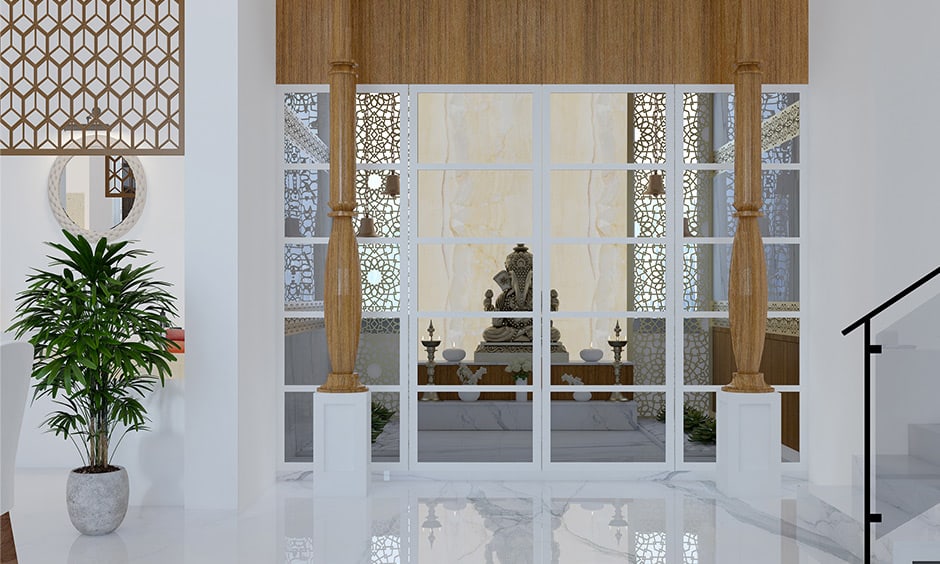 Image Source: Pinterest
A glass mandir is a rare sight, and they hardly top anyone's preference list. If privacy during your prayers is not a concern, your pooja room will look fantastic with glass panels enclosing it. The ambient sunlight hitting the idol creates a serene aura and oodles of positive energy. The best part is you get both free-standing and wall-mount mandir design options in the glass version.
Wood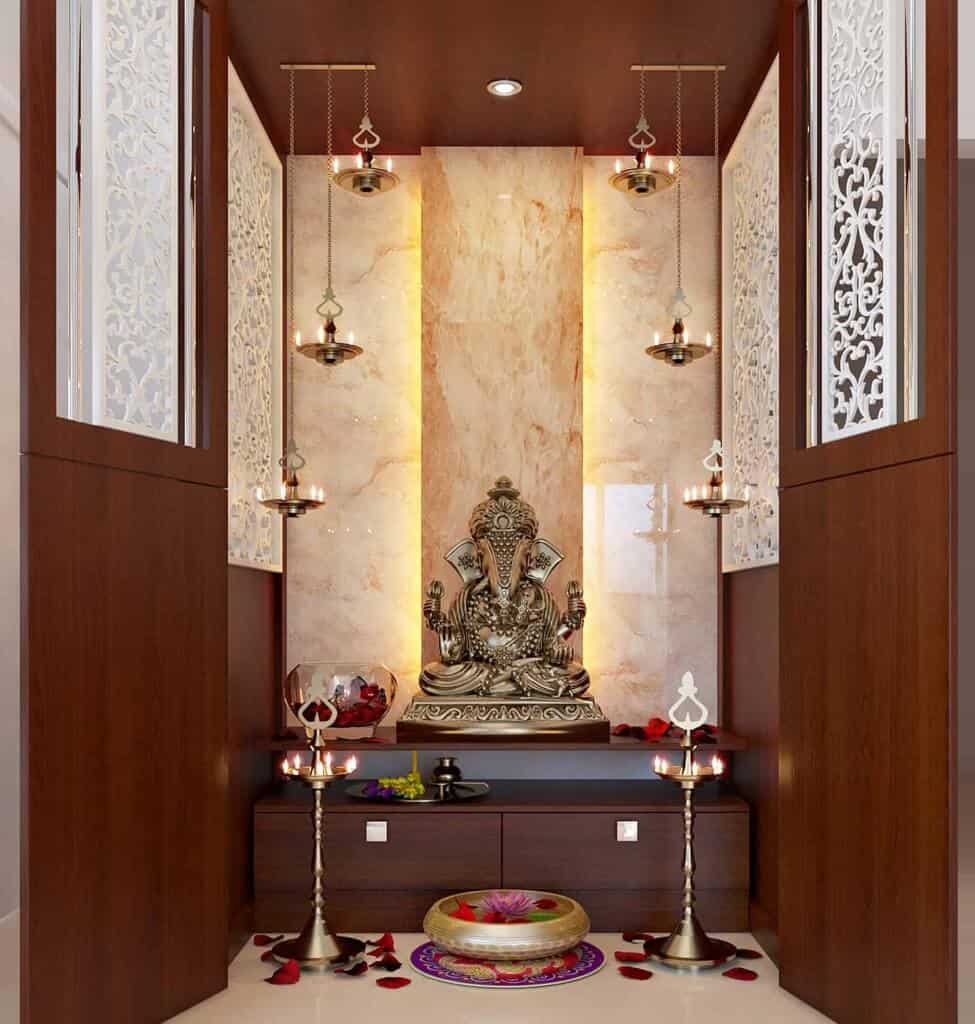 Image Source: Interior Era
Using wood as the primary material is atypical of mandir designs. The idol's panels can be intricately carved, with bells or other designs chiseled. It gives temple vibes and allows you to incorporate earthy tones into your prayer nook. The designs options for wooden shrines are enormous.
Marble
Image Source: Tweak interiors
Marble is one common material used across the households of most religions for mandir designs. Marble is a relatively expensive material. So, if you have the budget and space for it, the marble would add loads of elegance to your pooja area. Marble can quickly help to turn your pooja room into a tranquil dwelling. Not only does it offer a timeless look to your space, but the upkeep is also easy, and the durability is impressive.
Stone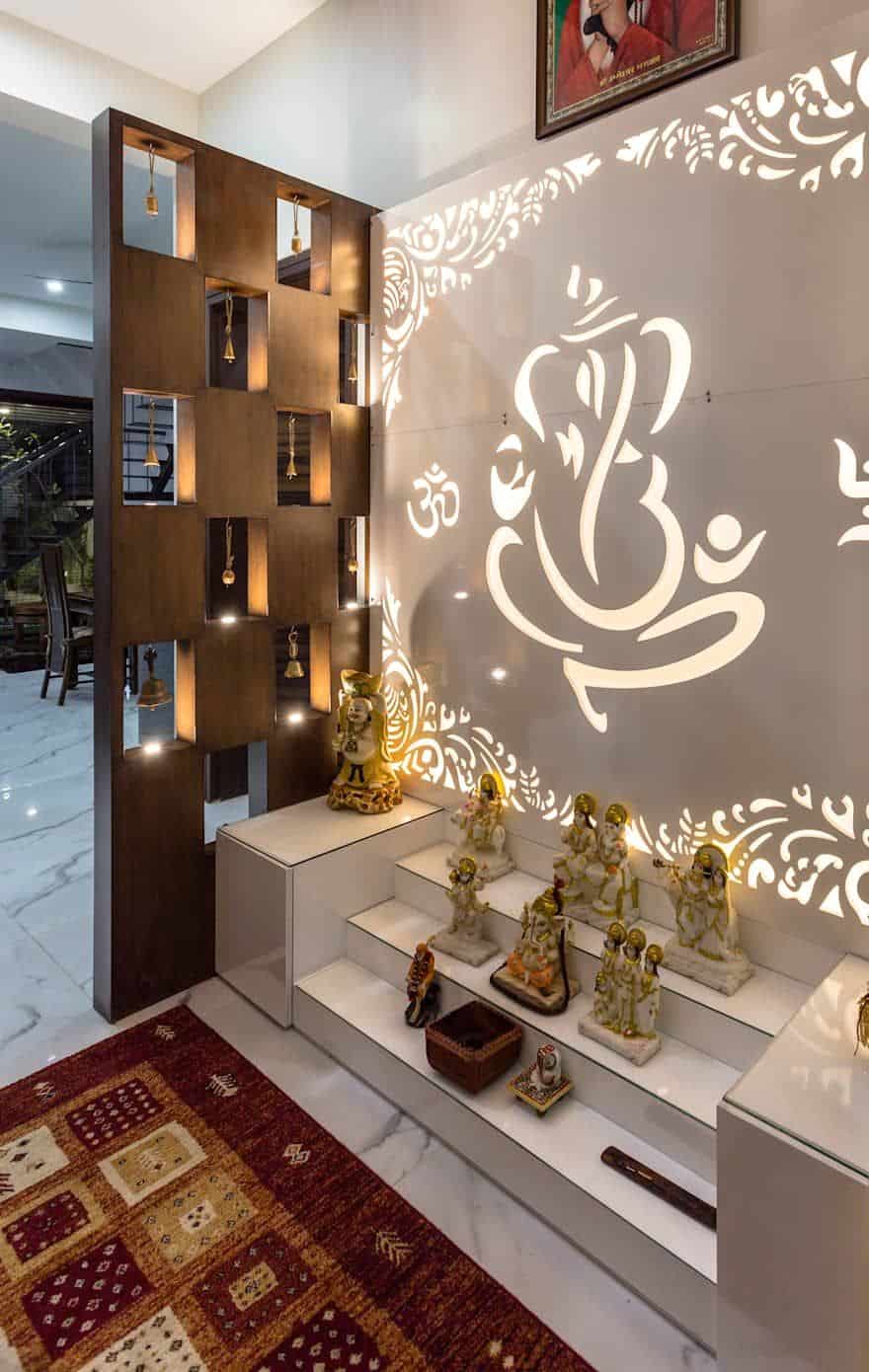 Image Source: Aquire Acres
You can incorporate earthy textures into your pooja room by adding stone elements. It is a misconception that the stone element is limited to the temples outdoors. Your home, too, can wonderfully include stone patterns while giving a stunning backdrop to your idols.
Granite
Image Source: Bonito
Mandir designs made of granite can easily become the center of attention of your home. Just a plain granite slab adds an unparallel elegance to your prayer room. Moreover, the easy maintenance makes it the best choice for those who prefer materials with minimal aftercare.
Selecting the right mandir design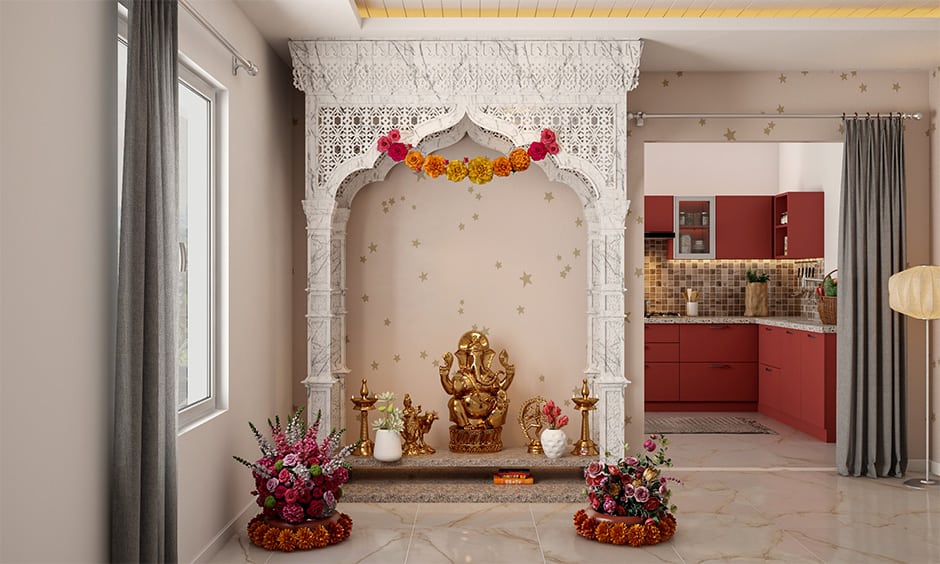 Image Source: Tweak Interiors
While it is easy to get carried away with grand pooja units, they are not the most pragmatic choice. Rather than taking the hit later, you can observe a few considerations that will help you have a divine mandir. Draft up the amount of space you wish for the mandir to have. This will help you decide upon the size of the unit. Next, you may move on to choosing among the styles like wall mount, standalone, temple style, or just a ledge.
The area where you wish to set up the mandir is also essential. A mandir in the kitchen may not hold out as much space as a living room. Contemporary home designs would do well with the latest mandir designs. In short, you require a clear plan of the setup before you finalize your home shrine.
Mandir design options for small homes
You can get creative with your space and add an interesting separation between your living room and the pooja mandap. To store your pooja essentials, add a couple of drawers. This compact and decently size mandir is perfect when you don't want to compromise on your pooja space. You may secure this stylish and modern mandir design to your home wall in your kitchen or hall if it is a wall mount variety.
Portable mandir
These are mini mandirs and are ideal for special occasions. You might have placed your idols on a ledge due to the spatial problems. But portable mandir allows you to experience the joy of having a mandir at home for a grand pooja. Also, when you have an elaborate pooja occasion, you can carry this portable mandir to your hall so that everyone can sit comfortably. And, on normal days, you can place it at a convenient spot for personal pooja.
Wall mount mandir
When there is a space constraint, you want to make the most out of your floor area by stationing your necessities like the sofa, fridge, or dining table. That does not mean that you cannot have a stylish and modern mandir design for home appealing to the eye. Many options in wall mount designs blend into décor of any kind. Your mandir design can be affixed to the wall, and you can place your idols and other materials in the allocated space. These even come in unique, intricate designs that can fill anyone's heart.
A basic mandir design
The living room is where most of us like our pooja room to be. You do not have to go all out with the size of the mandir when there is a lack of space. Instead, opt for a simple but stylish modern mandir design for home made out of the materials like wood or marble of your liking. You may settle this mandir in one corner, and it will dazzle you with its resplendence.
Traditional wooden mandir
Many hanker for a designated mandir space. But congested areas can make it quite a challenge. Instead of compromising on the idea, you may go for a stylish modern mandir design for home with small wooden doors or a jaali pattern nestled in your hall, that fascinates your heart. You also have the option of decorating the background with different textures.
Space-saving idea
You may also opt for shelving units to place your idol. For a grander look, install hanging bells around it for the true mandir appearance. These units are customizable for you to add additional shelves to place your devotional books and other pooja materials.
Backlit panel
Just because your mandir is in a small space does not mean it will not reflect your avant-garde tastes. You may experiment with different backgrounds like backlit panels that give a glow to your idol. You would marvel at how royal & stylish your pooja corner for home looks, especially when the marble is the primary component of your modern mandir design.
Wood and marble
If you are flummoxed with the range of options and do not want to let go of magnificent marble and palatial wood, you may combine both. The idyllic pooja room would surely swell your heart with joy. Install backlit panels to bring about that radiance in your mandir.
Mandir design options for large homes
When you have the luxury of space, there are so many ideas that you can incorporate into your mandir. In fact, you can bring the temple overtones to your home with so many design options.
Temple theme
With a traditional design, these temples work the best for large houses. Also, the shelf designs are your call depending upon how much space you wish to utilize. For an opulent design, install a false ceiling in your wooden mandir and experiment with different lighting options for a heartfelt temple aura. An antique wooden mandir design for your hall works wonders in achieving a refined look.
Marble mandir
Marble will take the look of your mandir to a different magnitude with its regal look. Despite being simple and easy to maintain, their beauty in the space is outstanding. For this purpose, stylish marble mandirs come in various modern designs and sizes for you to choose from. Decorate the area with some diyas and beautiful lit-up backdrops for a remarkable composition. Moreover, you can even mix up the design of your mandir with some wood elements for a varied texture.
Wood carved mandir
The scaled-down version of a temple, carved with intricate details for your home, is sure to make a lasting impression. Additionally, these stylish modern wood mandir designs complement all sorts of home decors. So, you would not only be fulfilling your requirement for a beautiful mandir but also aesthetics. The doors affixed to this mandir can be closed or shut as you require.
Mandir with bells
If you have an eye for antique designs, you will fall in love with these mandir designs with bells on the wooden door. Often, the exteriors of the pooja room are not as prioritized as the interiors. It is to note that the whole setup together creates the look of the mandir design in your hall. Moreover, the clanging bells when you open the door of your mandir would set off a soothing reverberation at your home.
Mandir with glass doors
We tend to associate the use of glass with contemporary designs. But that does not mean the traditional space of your pooja room cannot incorporate glass elements. It instantly adds grandeur and elegance to your meditation room while reflecting your penchant for exquisite design. Also, there are multiple door options, even if you have specifications regarding the opacity of the door. Combined with a mandir design, marble or wood affixed on the wall or standalone will make your home look gorgeous.
Large spaces give you the opportunity to beautify not only the immediate mandir elements like the mandap or the background but also the unnoticed flooring tiles. Most often, floor tiles of the mandir are taken to be trivial since it is the idol set-up that holds our attention. But the addition of vintage or modern patterns to your mandir flooring can transmute your point of view about tile design. Also, you can add some fantastic 3D tiles to add a tinge of refreshment and a lot of serenity to your meditation room. You can also combine some lovely interiors to meet your design aspirations.
Conclusion
A lot of love and thought goes into the design of the mandir room. Regardless of the space available, you can make your mandir design your own with wood, marble, or granite. Needless to say, this space is where one would lighten their heart and give into devotion. A room of such significance deserves the best composition of design and practicality.  Besides, these ideas for mandir designs will undoubtedly make your self-reflection time more profound.
* The featured image used in the article is by Mohammad Faisal on Behance
[vvsmustread]