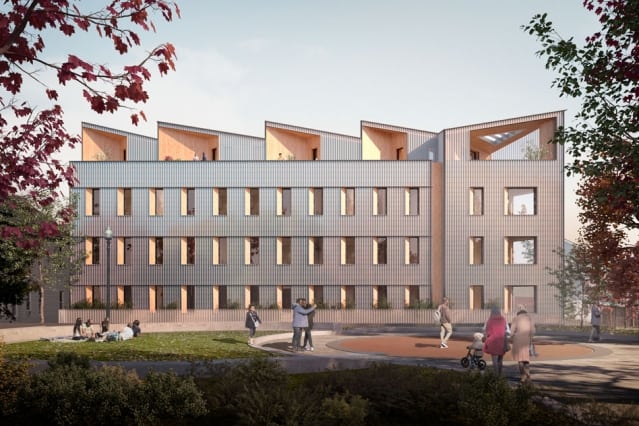 Generate Architecture and Technologies; a startup company out of MIT and Harvard University has designed a five-story building in Boston's Roxbury area, in collaboration with design & construction firm Placetailor that specializes in building carbon-neutral structures.
This Boston building will have 14 residential units along with ground-floor co-working space. What is unique about this building is the exclusive use of cross-laminated timber (CLT) as primary material. This will help in eliminating a significant percentage of the greenhouse gas emissions that are associated with traditional materials: steel and concrete.
The sub-units will be prefabricated in a factory and will be transported to the site for assembly and installation. This whole system will be so energy-efficient that its net carbon emissions will be essentially zero. Generally when we talk about greenhouse gas emissions, we tend to restrict our conversation to the building operations – typically involving HVAC systems. However, we must understand that the materials used in construction are a significant contributor to these emissions and hence we also need to factor these in any sort of comparison.
It is not the first time that someone is using timber for construction. Wood houses have been commonly built for a long time, but those have been restricted to only standalone houses or small buildings with few apartments. But thanks to advanced prefab techniques, use of mass timber/ CLT and changes in US building codes, that the architects have come forward to use wood in large scale constructions, which can go up to 18 stories high.
Such large buildings made from mass timber using the kit-of-parts approach, have some inherent advantages over the conventional structures.
While designing a new building, it's possible to use a series of pre-configured modules, assembled in different ways, to create a wide variety of structures of different sizes and for different uses, much like assembling a toy structure out of LEGO blocks. This process not only results in faster construction, but also reduces construction's impact on the surrounding environment. Basic structure can be developed on site at the rate of one floor per week. Apart from the time that it will save, it is also quite competitive compared to conventional steel and concrete buildings.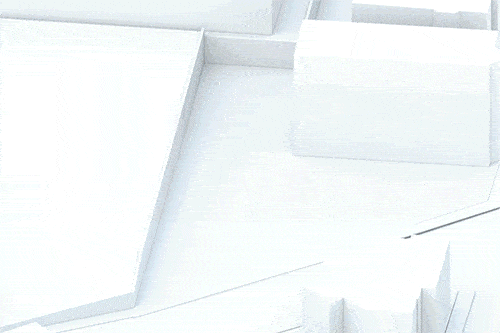 Animation depicts the process of assembling the mass-timber building from a set of factory-built components.
The total carbon emissions produced by mass-timber buildings would be less than half that of a comparable building made with conventional steel or concrete; even if the energy used in cutting, transporting, assembling and finishing the structural lumber pieces is factored in.
The architect team conducted a research study, and found that steel based buildings produce the highest amount of greenhouse emissions, while the concrete buildings produce 8 percent less than that. The mass-timber building produced 53 percent less.
Despite these distinct advantages, people often ask about the fire safety of wood buildings. This aspect has been researched by the team in great detail. The multiple tests done by the team demonstrated that a mass-timber building retains its structural strength longer than a comparable steel-framed building. That's because thick timber is typically made by joining multiple layers of conventional dimensioned lumber. In case of fire, the outer layer would char and would provide insulation to the inner layers, thus protecting the wood for longer period. On the other hand, steel structures collapse suddenly as the fire reaches steel's melting point.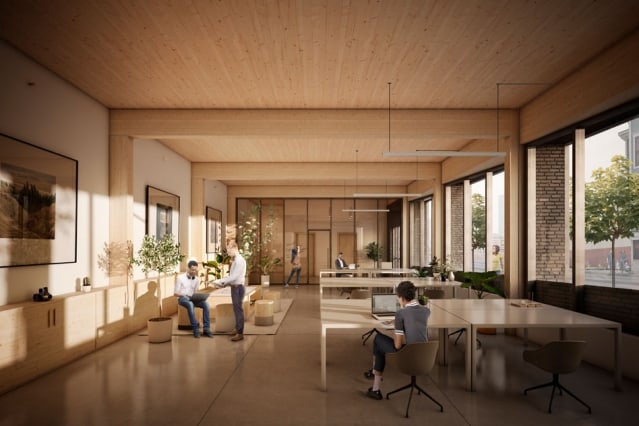 Another advantage of the mass-timber buildings is the reduced energy needs for heating and cooling of these buildings as these are very good insulators. Not just that, they also produce excellent acoustic insulation for its occupants. In addition, the building is designed to have solar panels on its roof, which will help to offset the building's energy use.
This new building will mark the beginning of a new high in wood based construction, which will help provide a market for large-scale sustainable forestry, as well as for sustainable, net-zero energy housing.