In many senses, the bedroom remains the most important space in a house. Thus, for a space so important an articulate sense of harmony and sensitive manipulation of design and functionality is extremely important. Outdated bedroom decor remains a common issue among most Indian homes. Renovating the entire room is a fussy and expensive affair. So, how can we give an instant makeover to our bedroom? We can move the movable furniture items here and there to change the look of the room. But, they aren't quite the statement makers. Instead, wardrobes being an integral part of a bedroom plays a big role in determining the design of the bedroom. So, Aristo plays a key role in giving a modern look to the room with its openable wardrobe collection for bedroom walls in modern designs.
Modern lifestyle calls for smart living in a small space. Space planning remains critical for both the beautification as well the functionality of the bedroom. Correct and optimum space management helps you highlight the vision of your home. Moreover, things always find a way of piling up. So, a planned space will lead to much less clutter. The simplest way to hide the visible clutter is by installing a wardrobe in your bedroom. A modern wardrobe design can offer the best utilization of space and maximum storage.
However, it wasn't always that easy to install a piece of furniture as huge as a wardrobe and maintain the grandeur of the bedroom. Earlier, wardrobes were used to serve mainly the storage purpose. They were designed to save space and store objects. Striking a balance of both functionality and aesthetics has remained a major challenge when it comes to wardrobes. However, with changing times, their style and design have become as essential as their utility.
It's not a secret that a wardrobe is the most used furniture item in every household. So, investing in the right type of wardrobe always goes a long way. The modern approach for wardrobe designs believes in space efficiency. Uniquely designed modern openable, sliding & walk-in wardrobes magnify the room's style and utility. Also, considering that the urban spaces are shrinking every minute, one must make the most of what they have.
Generally, people focus more on wardrobe exteriors. They look for catchy designs, colours, and finishes. Also, external accessories such as wardrobe handles receive a lot of attention. However, the wardrobe interiors are equally important. A wardrobe with the right interiors offers not just durability but also optimum space management.
Understanding the choices of the changing times, Aristo has come up with its latest O-Series Openable wardrobes collection. Aristo is a leading wardrobe manufacturer with decades of expertise in the furniture industry. The custom-made wardrobes fit well at every corner of the house. Also, these wardrobes use European standard materials for exterior and interior finishing. Thus, these modern wardrobes offer a stunning look to the room they are put in.
Moreover, if you go with the Aristo O-Series Openable wardrobes collection you do not only get functional wardrobes but also wardrobes that are swept with design and statement. The wardrobe solutions are made with expertise, quality, design, and sophistication. They offer comfort to modern homes with their detailed emphasis on functionality and aesthetics. Aristo also helps in space management with its customized interiors. Thus, it is a complete wardrobe solution provider.
Aristo

O-Series Openable wardrobes
Openable wardrobes have remained a hit among modern closet owners for a long time now. The wardrobe shutters are attached to the closet with hinges. So, the doors swing wide open at a 90-degree angle and offer a full view of the wardrobe interiors. Depending on the user's preferences, you can get the shutters customized with slim accessories for hanging and storing objects. These contemporary wardrobes exude class. Thus, most modern elites opt for openable wardrobes. They go well with all kinds of home layouts. From a small to a large bedroom, an openable wardrobe design works just fine in every room
What's better than showing off your designer couture in a designer wardrobe? Aristo delivers a premium experience to its customers with its end-to-end wardrobe customization and installation. Aristo O-Series Openable wardrobes collection fulfills all storage requirements with style and modernity.
Following are the types of Aristo O-Series Openable wardrobes:
Classical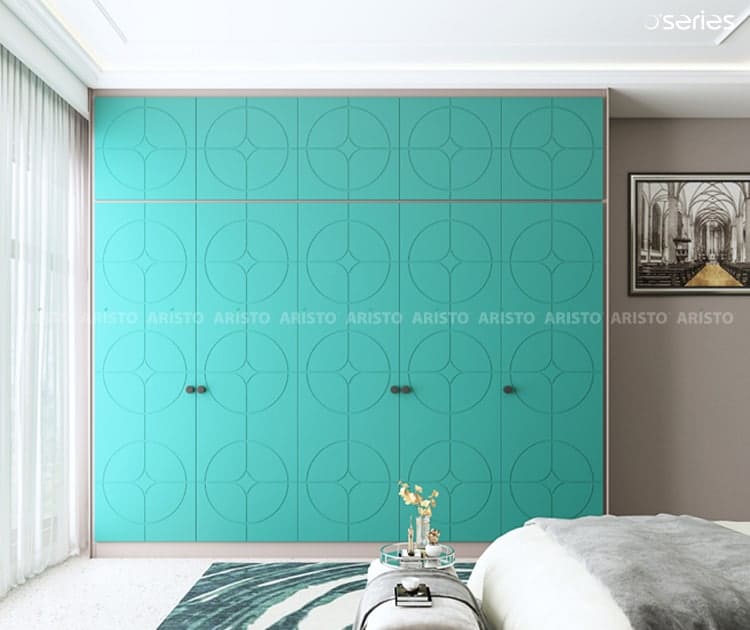 Image Source: Aristo-india.com
Although the world is moving forward, a bend towards the classic remains visible as well. With more and more inclination towards minimalism, traditional designs and trends have been refueled with life. So, if you want modern wardrobe designs inspired by age-old luxury and elite craftsmanship, Aristo Classical Wardrobes are the end to your search. From white canvas to silk matte and mirror, the wardrobe design options remain endless. Also, these wardrobes have intricate details that make them timeless and ever-young.
Classical modern wardrobe designs gallery
Image Source: Aristo-india.com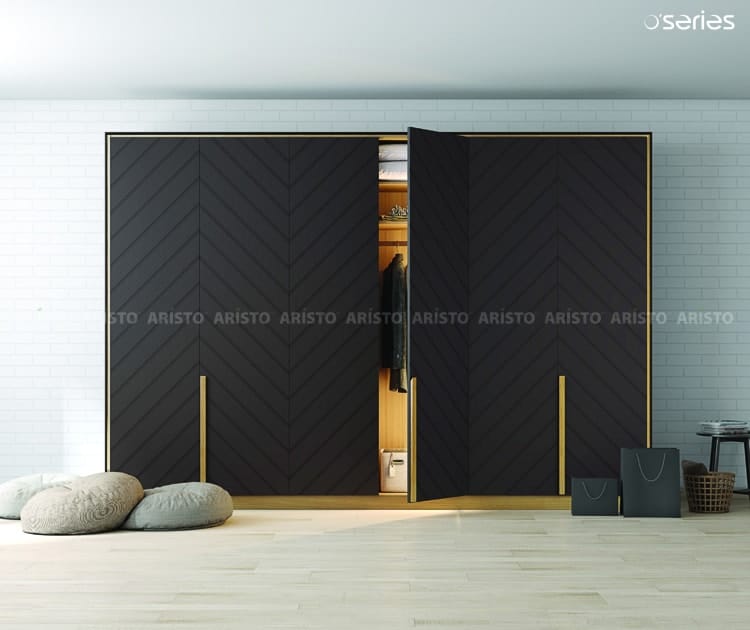 Image Source: Aristo-india.com
The Urban Edge collection of wardrobes is edgy, urban, and vogue. These come in stylish designs and top-quality material. One can find a wide variety of veneer and finishes. Also, the wardrobe accessories are chosen with careful attention and detail. The designer wardrobe door handles in modern styles remain the focus of attraction in these wardrobes.
Urban Edge modern wardrobe designs gallery
Image Source: Aristo-india.com
Decolux
Image Source: Aristo-india.com
Imagine a modern wardrobe design on a wall with shimmery golden handles and glossy slate polished shutters! Doesn't it look fascinating?
Aristo Decolux has made such trendy wardrobe designs a reality. The contrasting wardrobe shutter and handles redefine the look of the room. Also, the glossy, shiny, shimmery, matte, and mirror finishes are a visual treat. Also, adding to the efficiency of the latest wardrobe design is the quality material used in their making. These stylish wardrobes ooze elegance and finesse.
Another interesting concept by Aristo is its Infinity wardrobes which is a floor-to-ceiling wardrobe solution. These wardrobes utilize the upper harder-to-reach areas to offer more storage. Thus, these designer modern wardrobes offer great space management.
Decolux modern wardrobe designs gallery
Image Source: Aristo-india.com
Gen-Z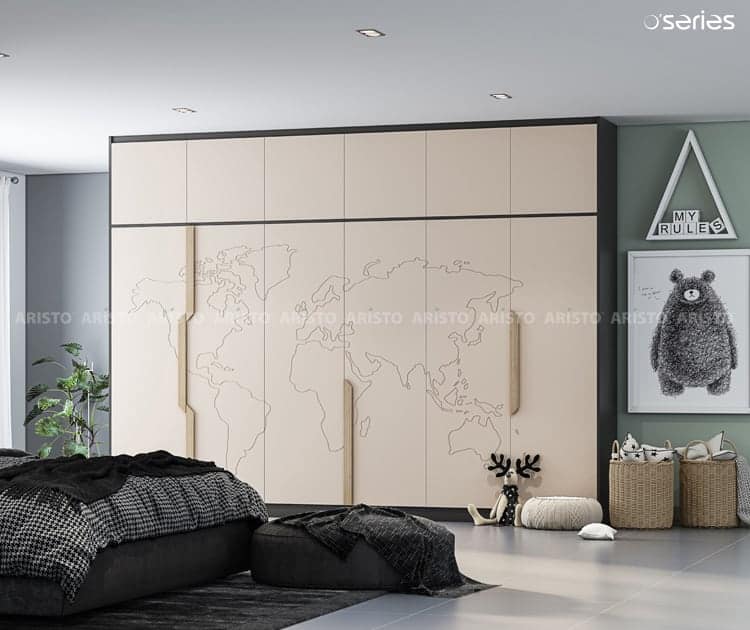 Image Source: Aristo-india.com
While the retro believed in luxury, Gen-Z believes in purposeful class. Moreover, Gen-Z remains synonymous with evolution, smartness, and intelligence. So, Aristo decided to launch its futuristic, interactive, and magical Gen-Z wardrobes. These wardrobes differ from your regular wardrobes in many ways. Firstly, they have a lot of open designer storage space. Secondly, they come in artistic designs with catchy patterns for kids of all age groups. Thirdly, they offer great space efficiency as these wardrobes come with versatile storage options.
Gen-Z modern wardrobe designs gallery
Image Source: Aristo-india.com
Unique features of modern Aristo wardrobes
Aristo openable wardrobes use soft-closing hinges that offer smooth movement to the wardrobe doors. Moreover, Aristo's customizable and pre-set storage options such as locks, drawers, shelves, etc. enhance the internal functionality of the wardrobes. The interior sensor lighting offers a clear view of the objects kept inside. So, it reduces the chances of cluttering greatly.
There are endless modern wardrobe materials to choose from. From hardwood to engineered wood, the list is endless. Aristo uses pre-laminates for its latest wardrobe designs for walls. Some of them are Swiss Elm, Terra Walnut, Oak, etc. The carcasses come in a huge variety of options. Also, the wardrobes use child-friendly and eco-friendly paints and finishes.
Aristo uses its exclusive range of crafted glasses such as Fluted glass in grey and gold shades, Mezzo, and Hive. In addition to that, Aristo wardrobes also come with lacquered glass, plain glass, and tinted glass. Plain, tinted, and non-Reflective mirrors give a delightful look to the wardrobes.
To know more about the Aristo O-Series Openable wardrobes, contact on the following details:
E-mail: sales@aristo-india.com
Phone: +91 6364911 450, +91-8880 160160
Conclusion
The bedroom also works like our charging point.  It doesn't take much to give a regale design to your bedroom interiors with beautiful wardrobes on the wall. The right kind of furniture elevates your décor. Also, if your old-fashioned bedroom needs an instant modern makeover, use Aristo wardrobes for bedroom walls in contemporary designs.
That said, it remains essential to have a well-designed storage space in a bedroom for proper utilization of the available space. A cluttered room is a dead-end when it comes to utility and design. Thus, a custom-made wardrobe with the right dimensions, color, and configurations of accessories is important. Aristo specializes in designing beautiful and functional wardrobes in the most modern and uptown designs and features. Also, the amazing specifications of Aristo wardrobes such as mirrors, open storage, etc. enhance the furniture's efficiency.
Aristo O-Series Openable wardrobes bring an end to boring wardrobes! Also, with their latest look, sharp design, and improved functionality, these wardrobes have become the talk of the town. So, select your favorite wardrobe and style your house!
[vvsmustread]