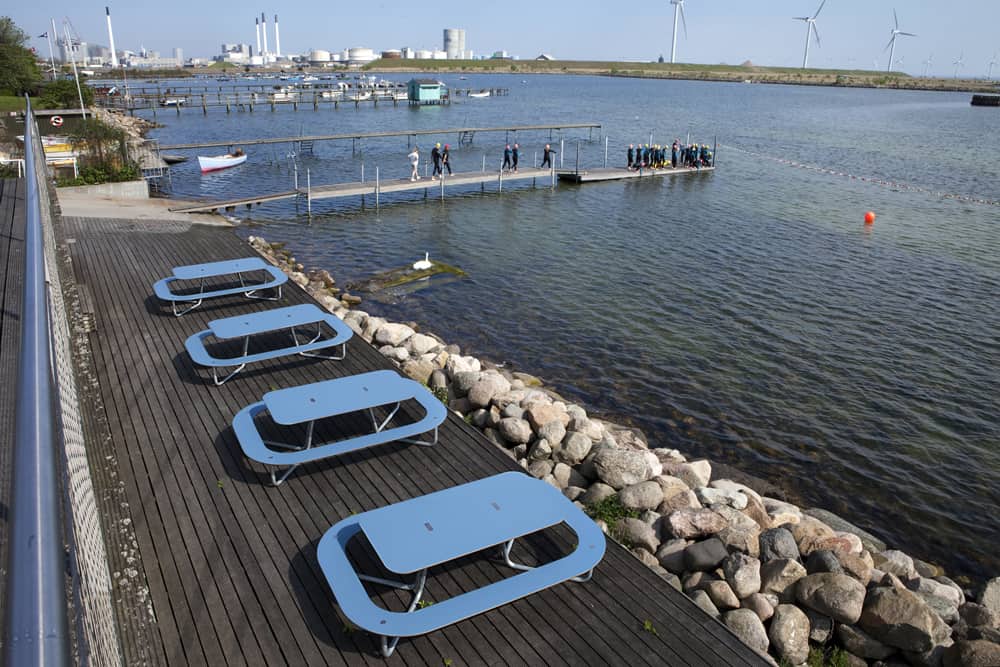 Plateau is a new series of outdoor furniture developed by Copenhagen-based furniture company out-sider  in cooperation with renowned Scandinavian design studio Holscher Design. Plateau – Innovative Outdoor Furniture is basically a table enclosed by an integrated bench to invite social interaction: harbour meeting points, city squares, green urban spaces, gatherings at local clubs. It can also be used by students in high school to hang out with friends or do group assignments or having lunch with colleagues in office complex.
Plateau is quite a versatile piece of furniture with unique design and made with strong materials. The tabletop and seating are made from UV- and weather-resistant High Pressure Laminate (HPL) designed for year-round outdoor use, requiring only soap and water for maintenance. The frame is made from steel tubes that are either galvanized or power-coated in grey colour.
Plateau is a sleek furniture piece with minimalistic design and wide range of functionality. Each unit has six stainless steel discs – two in the tabletop and one in each corner of the bench. It is not just to add aesthetic appeal, but have been provided keeping future modifications and expansions in mind. It can be modified in many ways such as adding canopies, barbeques etc.
The collaboration of Holscher Design with out-sider came about in 2015-16 when Holscher Design won a competition to create the most interesting table/bench set. They presented Plateau Picnic, and won the opportunity to collaborate based on the iconic & graphic look, which is both innovative and contemporary and can seat a large number of users at the same time.
There are three available models of Plateau Picnic that provide accessibility for all kinds of users. Combining the models in different ways provides a variety of solutions both functionally and aesthetically – and can even be extended with a backrest.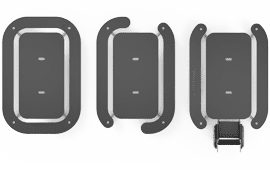 O                      L                      I

PLATEAU PICNIC O is the basic model: a table with an integrated bench, where the bench encircles the entire table.
Seats 10-12 people.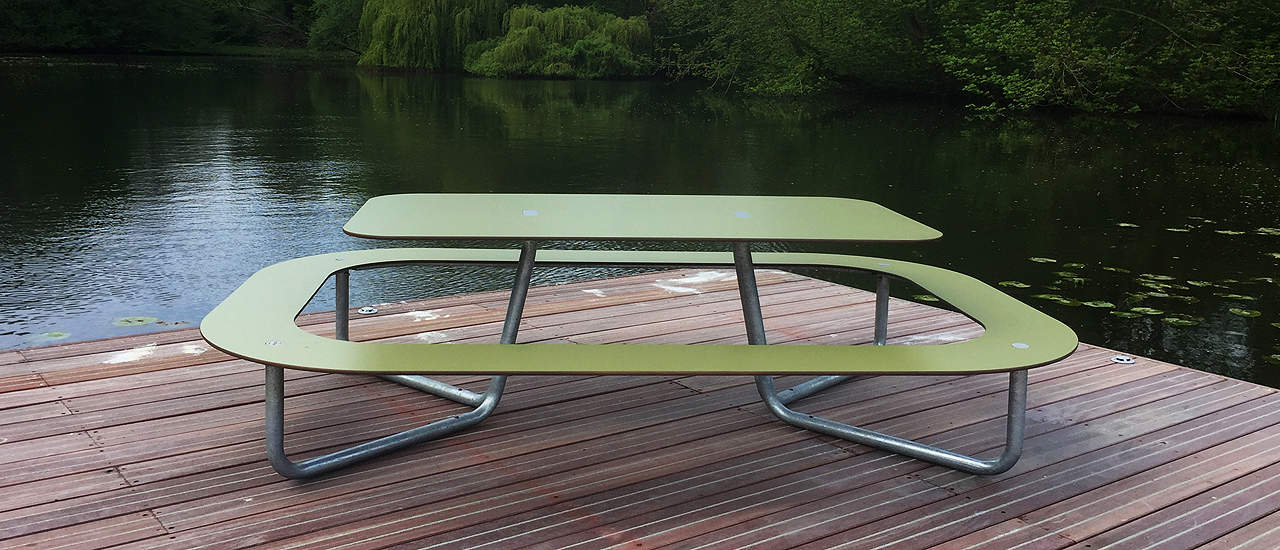 PLATEAU PICNIC L has two benches providing staggered access to the table along a flat diagonal with each bench forming a letter L. This allows easy access for the walking impaired. Seats 8-10 people. It is stroller and children's high chair friendly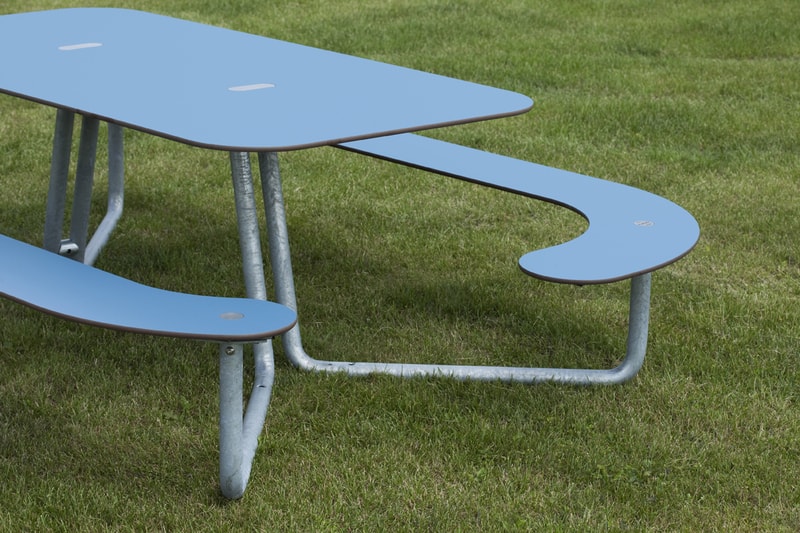 PLATEAU PICNIC I features two benches surrounding the table like a pair of parentheses, with room for a wheelchair at either end. Seats 6-8 people- including two wheelchairs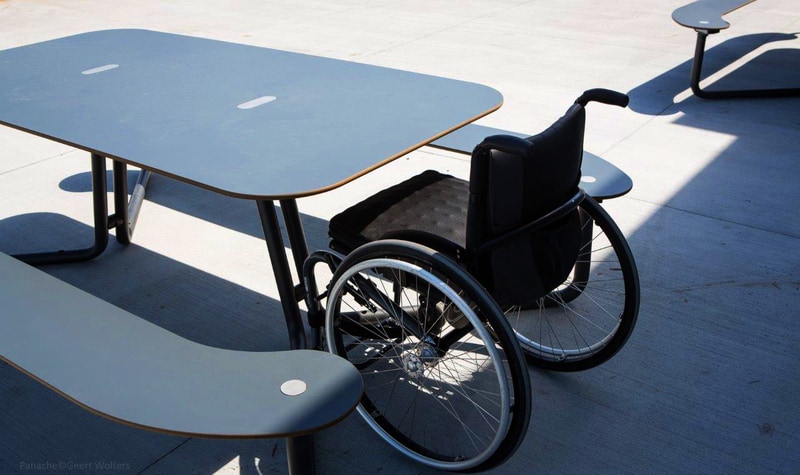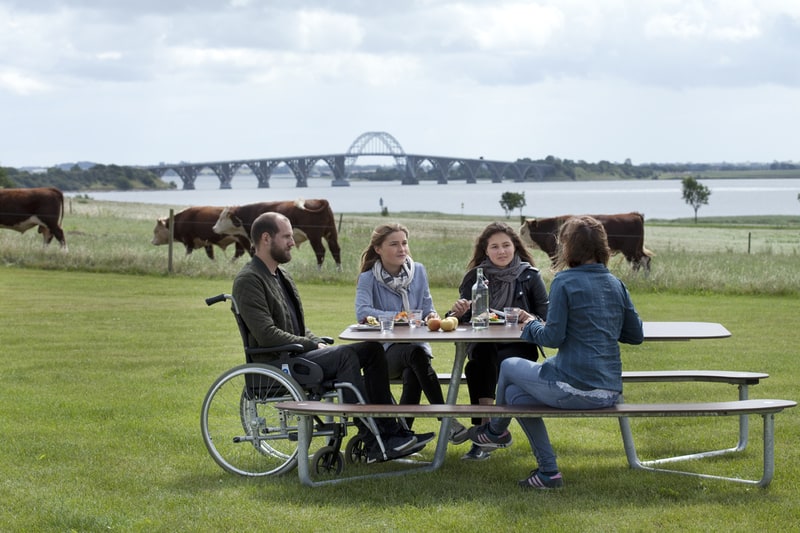 PLATEAU SUNHUB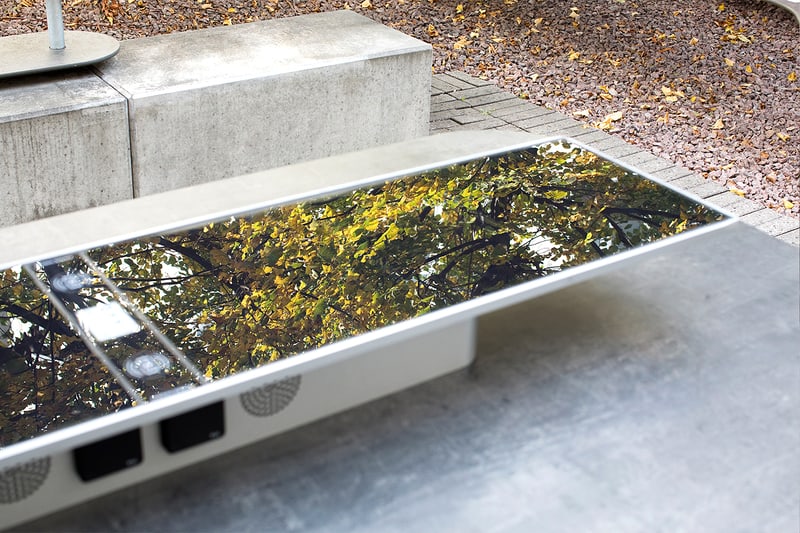 Taking the Plateau family ahead, out-sider recently launched SunHub internationally.
SunHub elevates Plateau Picnic to another level. With SunHub, Plateau Picnic become more than just a piece of furniture, it becomes a social 'hub'. It allows users to listen to music via the built-in speakers and Bluetooth connection, charge their phones wirelessly or by cable and PC-charging. In the evening light from the SunHub grazes the tabletop, creating a cozy atmosphere. The SunHub is 100% solar powered, resistant to weather conditions, intelligently controlled and CO2-neutral.
Plateau SunHub has also received the prestigious international iF Design Award 2020. Plateau SunHub from out-sider was specifically highlighted by the jury for the following characteristics:
The capacity of the product to serve as a social meeting place with integrated, intelligent technology.
The product invites physical, social interaction, while allowing users to always be online using the table's three different options for charging, the integrated speakers and the automatic lighting when it gets dark.
The product's configuration and capacity to accommodate up to 12 people, allowing easy eye contact between them. In addition, it invites people to spend more time together.
Its flexibility meets the need for seating, while at the same time it is technologically future-proof with absolutely no CO2 emissions.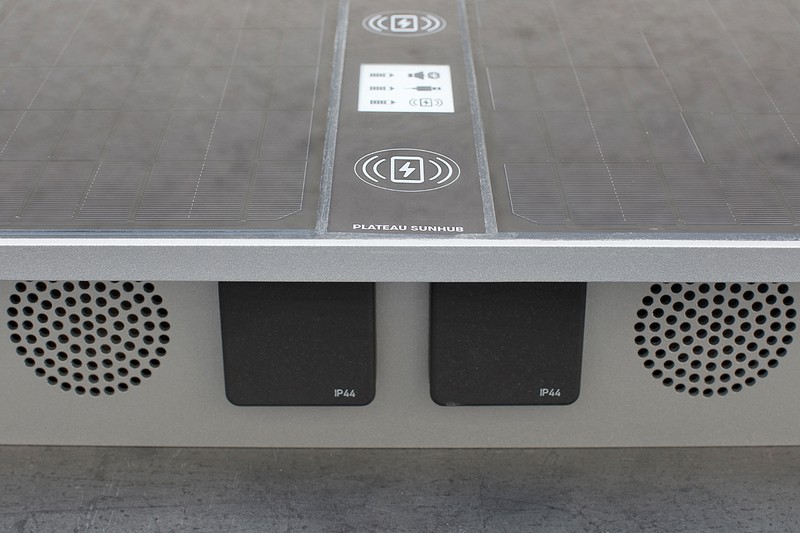 TECHNICAL DATA
SunHub
Solar powered, with 4mm tempered glass and laminated 60W solar cell , built-in 12V/15Ah battery with 5 years lifetime including indicator display.
Base and top: Steel, galvanized and powder coated, matte silver texture, RAL 9006.
Dimension: L1400 x B305 xH130 mm, weight: 43 kg.
IP 44 waterproof / IK classification: IK 8 / Corrosion class: C4
Lifetime +10 years, battery replacement approx. every 5th year.
All SunHub models have an intelligent electronic with built-in RTC-clock, programmed according to a respective geographical location.

Non-optional features

Light: Integrated LED-strip underneath the solar panel, fitted on both sides. White colour, 3000K.
Display: Shows icons and battery status on the optional features.
PIR-motion sensor: Motion controlled light adjustment and general power consumption.

Optional features

USB charging: 2 or 4 x USB outlets for charging of mobile phones, every outlet is 5V/3A
QI wireless charging: 2 x 10W QI chargers under the glass display
230V charging: Built-in 12V/230V inverter. Limit: Max. 150W.
Sound: Built-in 4 x speakers. Connected via Bluetooth from user's device.

MOUNTING

To be mounted on the top of Plateau Picnic by unmounting 2 steel discs from the tabletop.

VARIANTS

SunHub is available as 7 standard configurations. Company can look into  requests for a special configuration.
Some other models of the Plateau family that have been designed by out-sider are:
PLATEAU BENCH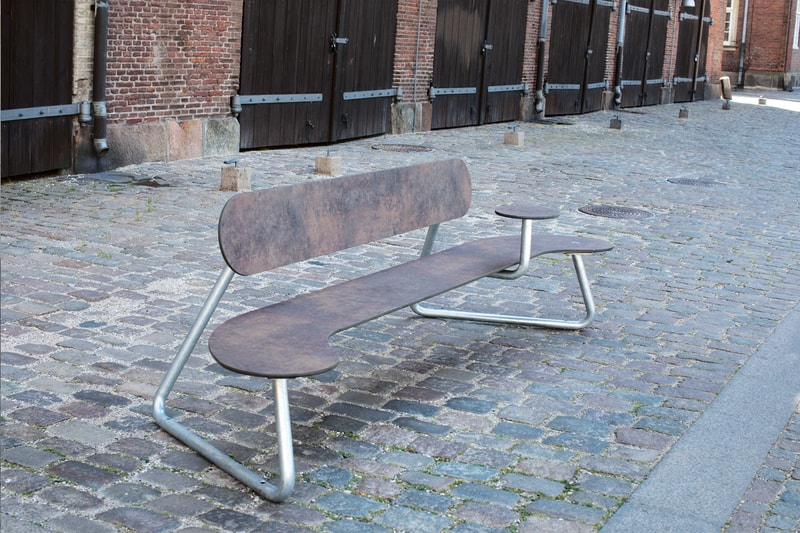 Plateau bench has its clear origin in the original Plateau Picnic. The simple design and the 2.8m long seat provide plenty of seating, as well as the possibility for people to group at each end. The unique design can accommodate seating for 5-6 people. Suitable for all age groups. Possibility for mounting of two side-tables.
PLATEAU PLINTH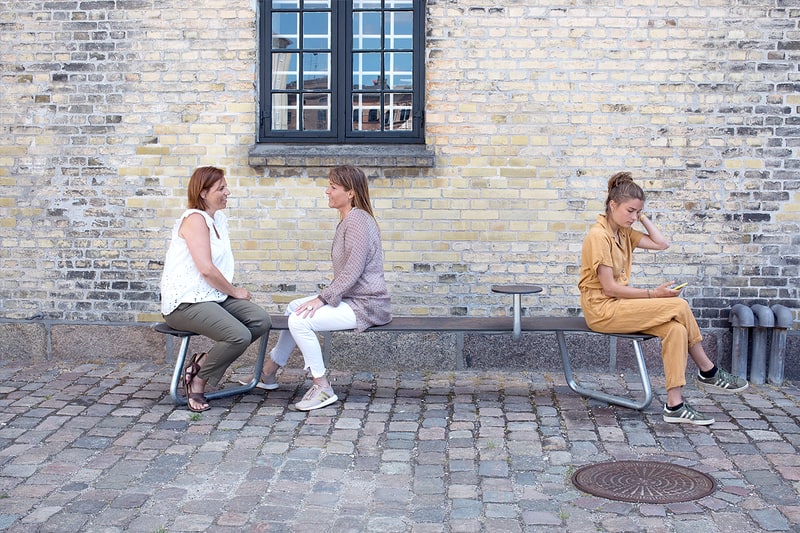 Shape and size of the plinth gives space for 5-6 people in socially oriented formations. Suitable for all age groups.  Side-table mounting option is available.
PLATEAU SEAT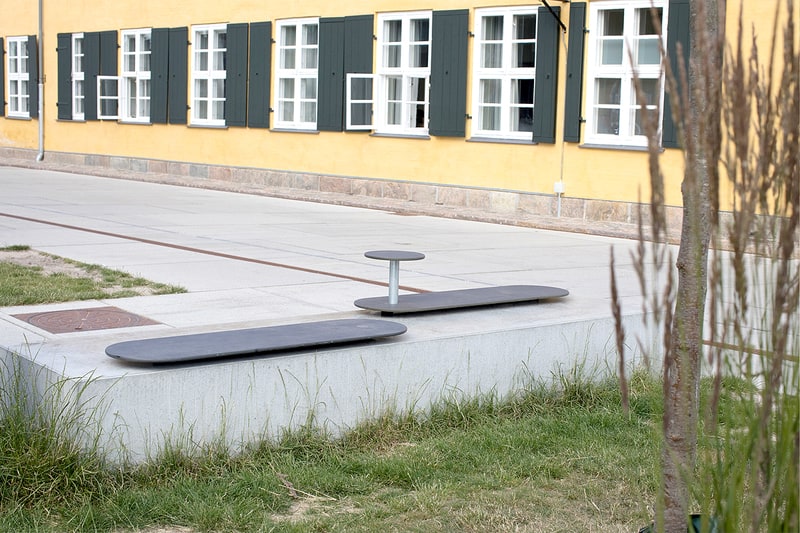 Due to its special form, Plateau seats give several mounting possibilities. Seating for 1-4 persons depending on the length and side-table position.
PLATEAU POINT SUN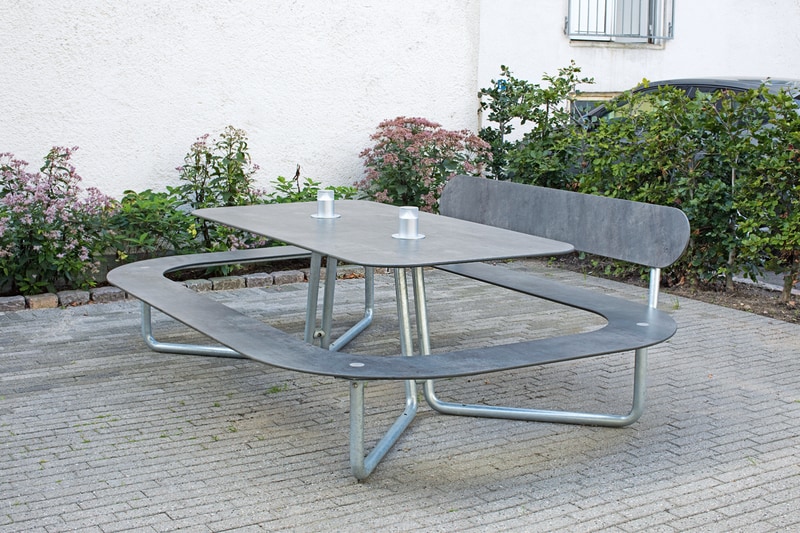 Add light to the table top of Plateau Picnic by changing the steel discs with Point Sun. Ambient and reading light in the evening with no cables and no installation required. Point Light is 100% solar powered, resistant to weather conditions, intelligently controlled and CO2-neutral.
View Complete Gallery: