Since 1995 earthquake in Kobe, the MIT's Urban Risk Lab has been studying the effects that earthquakes have on cities. The series of research projects (San Francisco 1906, Japan-Kobe 1995, Chile 2010, New Zealand 2011, Nepal 2015, Japan-Kumamoto 2016)  undertaken by MIT has resulted in one key finding: Post disaster, the public open space and the infrastructure supporting it are extremely critical. Majority of the population inhabiting the region, evacuate it to be in safe open spaces in order to protect themselves, find their relatives and get in touch with emergency relief camps.
Hence it becomes imperative to develop infrastructure to make the people and system more resilient in case of disaster. MIT's Urban Risk Lab has developed a new kind of such infrastructure called Emergency PREPAREDNESS Hub (PREPHub), which is currently in prototype stage.
PREPHub is like a flexible kit having multiple parts; each part is meant to serve the community on day to day basis and also in disaster situations.
These prototypes are part of an ongoing research project exploring ways to integrate disaster preparedness and response technologies into public infrastructure to facilitate community resilience. PREPHubs are placed at strategic places in a community in such a way that it can be used by inhabitants on a day to day basis to connect with the community members and also remind them of the need to be prepared in case of disaster situations.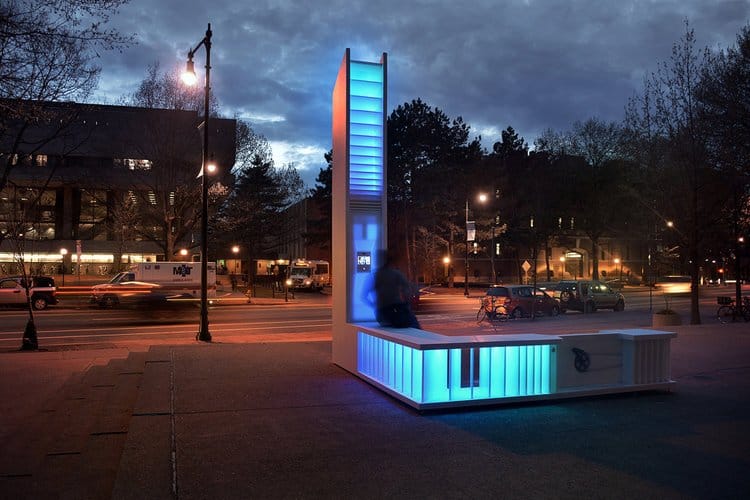 These prototypes have to ability to function on their own without any connectivity to another system. Each Hub is capable of fulfilling short term need for energy, medical supplies, sanitation, food, water and communication; thus enabling the people to gather at a common place to access information, resources and connect with loved ones, in case a disaster strikes.
By regularly using power generation and communication technology offered by these Hubs, residents become familiar with how to use the infrastructure should it be needed after a disaster.

View Complete Gallery