SCHELL Kitchen Faucet GRANDIS E
German brand SCHELL offers a range of plumbing and sanitation solutions in the Indian market. SCHELL product range includes Kitchen and Bathroom Faucets, Automatic Faucets, Urinals, Basin Mixers (including with thermostat), Shower Panels for Commercial Applications, Concealed Cisterns, Flush Valves, and more.
About The Product
Water quality is part of the overall hygiene in kitchens. With hygiene in focus, the new kitchen faucet from SCHELL is a useful introduction in the Indian market. With the new GRANDIS E kitchen faucet, SCHELL SWS Water Management System has been expanded to protect drinking water hygiene. SCHELL SWS is an innovative water management system offering intelligent wired/wireless networking and control for fittings. This new kitchen mixer also scores points with a wide range of setting options and more convenient combination of single lever mixer and contactless infrared trigger.
Highlights of SCHELL Kitchen Faucet GRANDIS E:
High-pressure Mixed Water
Infrared Controlled
Battery / Mains Operation and Power Supply Through SCHELL Water management System
SCHELL Kitchen Faucet GRANDIS E Price (MRP): Rs.41,700-44,070 (Variant Dependent)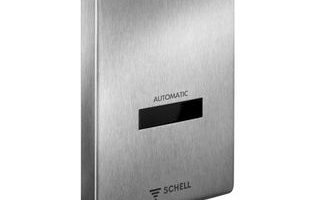 Click Logo to see all products SCHELL offers a series of intelligent solutions for the automatic control of their WC flushing fittings. Their advantages, in combination with the WC concealed flushing fitting COMPACT II: continually ready for flushing, as well as particularly hygienic and water-saving operation. Actuation is carried out automatically after using the WC. Features:Power supply excl., suitable for connection with SWS, capable of being parameterized by SSC Made for power supply via SCHELL water management server SWS or battery operation/ mains operation. Contact-free infrared flush valve. Automatic activation of the flush when leaving the WC Half/full flush option
Product Description
SCHELL Kitchen Faucet GRANDIS E Specifications:
Flow rate – Flow manual trigger: Max. 10 l / min at 3 bar Flow IR trigger: Max. 8.5 l / min at 3 bar
LEED flow rate (optional): Max. 4.5 l / min, independent of pressure (5 LEED points)
Flow pressure: 1.0-5.0 bar
Operating temperature: max. 70 ° C
Thermal disinfection: max. 80 ° C
Finish: Chrome
Materials conform to the German Drinking Water Ordinance
Noise class 1
Features Of SCHELL Kitchen Faucet GRANDIS E:
Contactless, hygienic operation
Supports in maintaining the drinking water quality and Compliance with VDI 6023 in the kitchen area
Rinsing of cold and hot water with each Stagnation flush regardless of the position of the single-lever mixer
In combination with the SCHELL water management system SWS and temperature sensors monitored and documented drinking water operation
Long-term safety thanks to materials that conform to the Drinking Water Ordinance
Reliable SCHELL electronics
Lead and nickel free in the water-bearing parts
Application Areas:
Kitchens
Customer Care Number: 1800 258 3101, Email: [email protected]
Brand Info

SCHELL
SCHELL is a well-established German plumbing and sanitation brand. Known across the world for it's technological solutions in water management, SCHELL has been offering high-quality solutions in the Indian market.