Metal railing systems from MetallArt, Germany
Customisation Possible
Full systems or only the railings can be supplied
Recessed built-in spotlights have ambient temparatures ranging from -40 ° C to + 125 ° C
Dimmers provided for LEDs to increase or decrease the intensity of LEDs
Description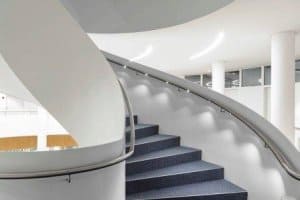 MetallArt LED Railing systems can be requested either together with the staircase as an integrated system or separately as well. MetallArt LED recessed spotlights are designed for an ambient temperature of -40 ° C to + 125 ° C. They light up selectively in neutral white with a color temperature of 5,000 K and a beam angle of 120 °.Using a dimmer, the light intensity can be adjusted and the lighting can be varied. Prerequisite for the installation of the stainless steel radiator is the presence of a hollow body with a minimum installation depth of 20mm.
Indirect handrail lighting by MetallArt LED lamps is not only practical, it also creates an exclusive atmosphere while providing comfort.In addition, the highlights on the steps or staircases emphasize the stairs and illuminate them optimally without dazzling.Especially in the dark, the subtle lighting creates orientation.In addition to economic benefits such as low power consumption and extremely long life, the LEDs also emit less heat than, for example, halogen lamps.
For more information, Call: +49 7162 93200-81, or Email: nadja.urbitsch@metallart-gmbh.de
Please fill the form below for any product related queries or to get a quote. Please do specify the quantity and delivery location if you are interested in getting a quote.