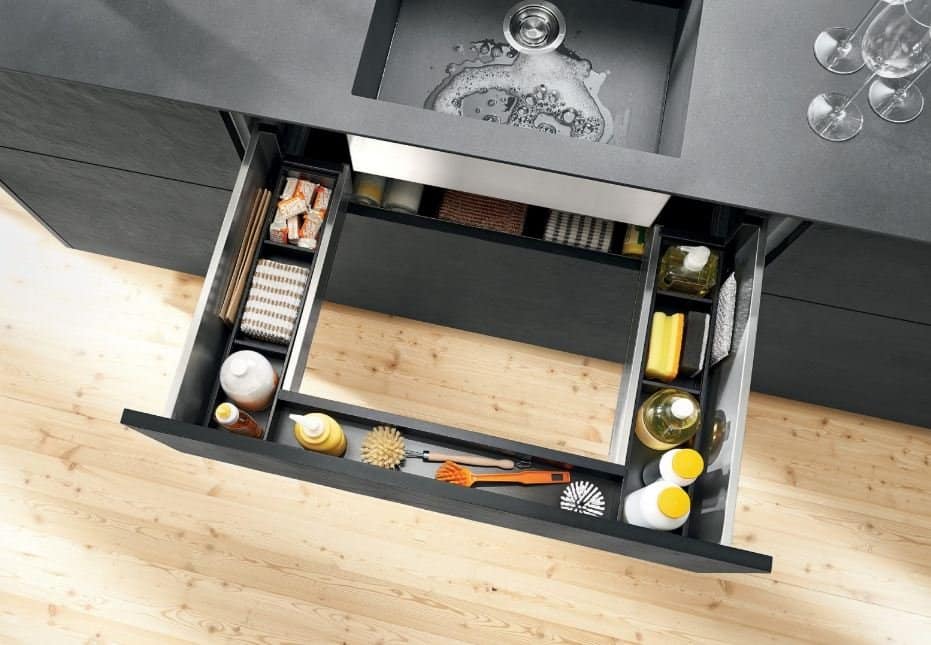 Blum helps you translate your ideas into top-quality solutions to enhance the quality of living. It delivers a wide range of products, comprehensive advice, and a well-thought-out approach. One of their products is the Blum sink cabinet for the kitchen.
About the Product
It's very useful to have storage space around your sink. Blum's Sink Cabinet uses every inch of storage space available and gives you easy access to contents. It keeps worktops free and ensures that washing-up items are immediate to hand.
Blum's storage space corner cabinet for kitchen utensils and other items makes it easy for you to arrange them clearly with easy access. Therefore it is the most convenient alternative for traditional corner solutions. Also, it provides a full extension as every inch of the storage facility is used. Specifications of corner cabinet kitchen: Optimal use of corner space- Work surfaces are often in corners. Corner full extensions a
Product Description
Blum design kitchen sink looks clean with cabinets is very useful. A cabinet is important to store things. This utilises every inch of your space and gives easy access to objects in the cabinet. The under sink cabinet keeps the worktops free and ensures washing items are handy. The cabinet has standard LEGRABOX and TANDEM BOX components.
Don't waste an inch- The U-shaped pull-out puts the space to the left and right of the sink to best possible use. It's ideal for clearing away sponges, washing-up liquid and tabs. This pull-out is recommended for cabinet widths of 900 mm or more.
Nice and clean- The full extension makes it easy to throw away waste, empty and clean waste bins. Practical inner dividing systems such as AMBIA-LINE and ORGA-LINE ensure that cleaning products are held securely.
Extra storage space- An additional inner pull-out provides plenty of space for cleaning utensils such as sponges, cleaning cloths and bin liners.
Both hands-free- Your hands are often full, wet or dirty when you want to open the sink unit. This is where the SERVO-DRIVE electrical opening support system comes in. Simply touch the front with your knee, hip or toe and the pull-out opens by itself. SERVO-DRIVE is also available as an individual solution – SERVO-DRIVE uno.
So, call us to know more about the design of the sink cabinet for the kitchen.
Contact details
M: +91-9967632127
Email: Support@buildingandinteriors.com
Brand Info

Blum
Blum India is synonymous with innovation in kitchen, hardworking personnel, and a global presence. The company was formed on March 1, 1952, by Julius Blum. A horseshoe stud was his first product. Today, the company is one of the world's major furniture fittings makers. The Austrian manufacturer makes innovative furniture fittings.
Kitchens must be able to withstand the rigours of daily use. As a result, it's critical that they not only look good but also function well. For years, Blum has been researching the demands of kitchen users all over the world, and they're always coming up with innovative ways to make modern kitchens even more functional. Functional cabinets make it easier to utilize the kitchen on a daily basis and maximize the amount of space available.
Product range
Blum fittings solutions make opening and closing furniture a wonderful and smooth experience. The products come in the following ranges:
Lift systems
Hinge systems
Runner systems
Box systems
Inner diving systems
Cabinet applications
Motion technologies
Assembly devices
Locking system
Innovative products by Blum
The brand manufactures creative designs for functional fittings & solutions. Also, the products make use of a well-thought-out approach and comprehensive advice. The brand improves quality and efficiency of the furniture through its exceptional range of fittings. Also, the brand develops high-quality products. Some such innovative furniture fittings are:
Pull-out shelf lock for TANDEM and MOVENTO shelves
AVENTOS HK top
BLUMOTION hinges
Sustainability at BLUM
Blum is ISO 50001 Energy Management Standard certified so it remains best for kitchen fittings in India. This international standard specifies the finest energy management strategies around the world, allowing us to save money on energy and reduce greenhouse gas emissions.
Since 1997, Blum's Environmental Management System has assisted us in gradually improving our environmental performance. In an environmental programme, measures are regularly recorded and consistently executed. Audits are conducted on a regular basis to