Hunter Douglas uses fiberglass, wood, and metal to manufacture sustainable ceiling solutions that enhance the energy efficiency and environment quality. Hunter Douglas Techstyle Graphic Textile Ceilings are one such amazing products in the list.
About the Product
Hunter Douglas Techstyle Graphic Textile Ceilings are acoustical ceiling panels that offer clean, white aesthetics in a wide range of patterns. The noise reduction of the ceilings makes them ideal for all buildings.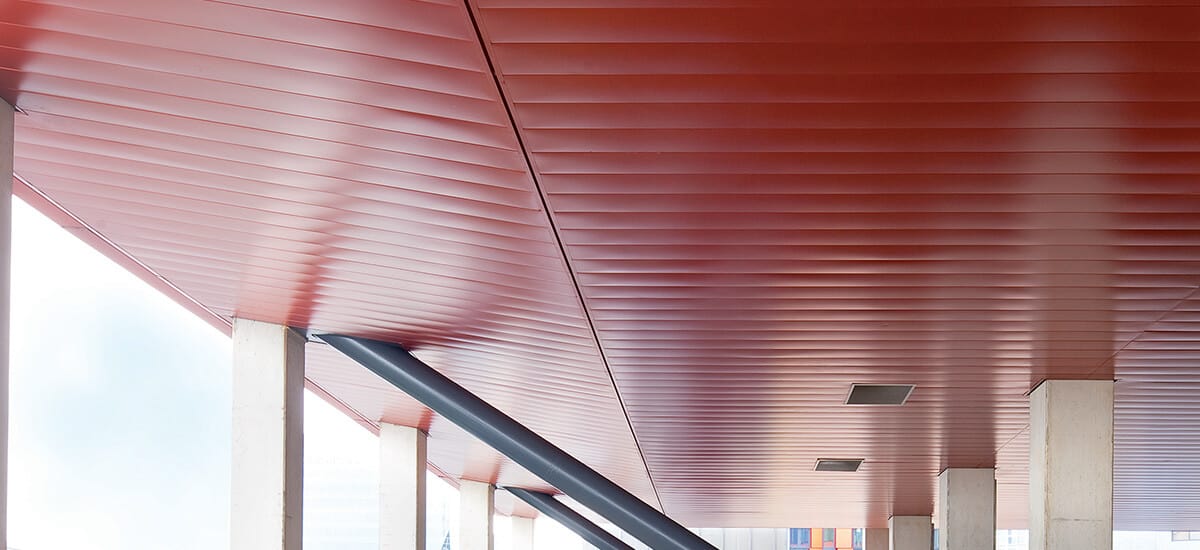 Hunter Douglas Exterior wide ceiling panels are primarily commercial false PVC ceiling boards that are available in an affordable prices. The specifications of the ceilings The ceiling boards have a robust and unique look. Length of panels: up to 6m. Moreover, you can customize the length according to your requirement. Hunter Douglas exterior wide ceiling panels width: 300 mm The thickness of PVC ceiling panels: 0.7 mm
Product Description
Hunter Douglas Techstyle Graphic Textile Ceilings are commercial false ceilings, available in a variety of materials, colours and designs at a budget-friendly price range.
The specifications for the solutions
Non-woven surface finish
Proprietary formaldehyde-free glass composite construction
High Light Reflectance: 81%
Fire Class A
Smoke Index less than 50
Flame Spread Index less than 25. Hence, you get control of fire-spread.
Moisture resistance up to 95% in 104 temperatures. Therefore, you can use the ceilings in high moisture conditions as well.
Easy integration of lighting and diffusers. As a result, you get enhanced looks and functionality.
Come with convenient swing-down plenum access. Therefore, you can access it anytime feasibly.
Factory engineered trims. As a result, you can quickly install.
Large format panels with semi-concealed suspensions offer a monolithic appearance
Improved soiling resistance for easy cleaning. As a result, you get enhanced longevity as the ceilings remain dust-free.
Fungal resistant.
GREENGUARD Gold Certification. Therefore, the product releases extremely low chemical content.
Warranty: 10 years
NRC: 0.85

False ceiling graphics available
Asymmetrical Crease
Asymmetrical Grid
Lattice- asymmetrical
Strokes- asymmetrical
Tartan- asymmetrical
Divergent dimensional
Newspaper dimensional
Origami
Organic branches
Earth
Hex
Mosaic
Network
Parallel curves
Linear
Parallel section
Streak
Hunter Douglas Techstyle Graphic textile ceilings available colours
Latte
Seaglass
Sterling
Foothills
Concrete
Penny
Coal
Storm
Call us to know more about the material and price of Techstyle Graphic textile false ceiling.
Contact Details
M: +91-9967632127
Email: support@buildingandinteriors.com
Brand Info

Hunter Douglas