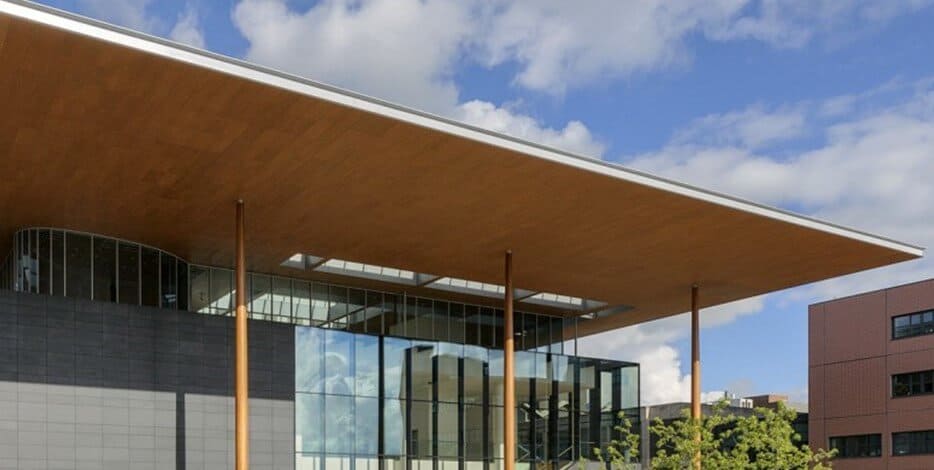 Hunter Douglas manufactures the most innovative and efficient ceiling solutions. The brand's metal, wooden, and hybrid ceilings are every designer's delight. One such delightful product is the Hunter Douglas Veneered Wood Exterior Ceilings.
About the Product
Hunter Douglas Veneered Wood Exterior Ceilings join the natural beauty of wood veneer and the freedom of MDF core. The ceiling solution is excellent for exterior application.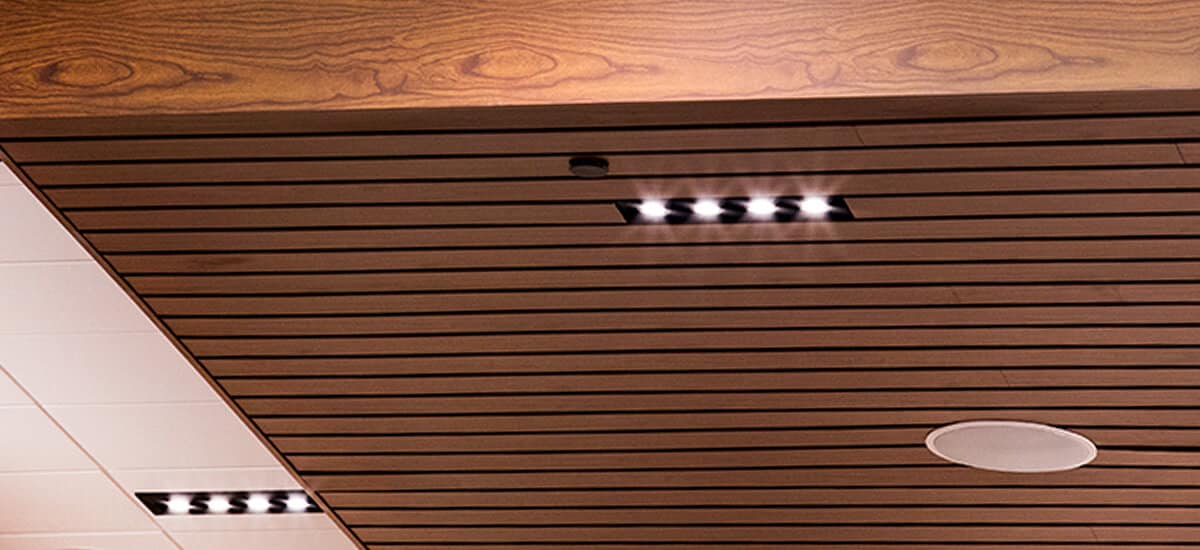 Hunter Douglas Metal Woodprint Exterior Ceiling are commercial and residential ceiling solutions. These all rounder ceilings are designed in wooden shades and packed with strength and durability of metal. The specifications of the ceilings The ceiling panels offer a natural canopy look. As a result, the space receives an extremely unique look. Hunter Douglas metal ceilings are easy to install and lightweight. Therefore, your cost
| | |
| --- | --- |
| View Catalogue: | |
Product Description
Hunter Douglas Veneered Wood Exterior Ceilings are commercial ceilings. These are all-rounder wooden ceilings design will flatter any setting or theme and it packs strength against heat, wind, UV rays.
The specifications of the ceiling solutions
The ceiling combines the organic aesthetics of natural wood veneers with the design flexibility of the Medium Density Fibreboard core. As a result, the ceiling solutions become extremely versatile and beautiful.
Moreover, the special treatment given to the wood veneer makes the ceiling ideal for all exterior applications.
The ceiling comes in varied designs, thicknesses, width, and height of the panel. Therefore, the designer can customize the ceiling comfortably as per his wish.
In addition to that, the ceiling becomes an ideal solution for a natural canopy look.
The wood ceiling comes in 40 different designs of veneers.
The thin veneer layers reduce the need for actual wood. Therefore, the product becomes extremely sustainable and efficient.
With the vast variety of MDF finishes, you can choose the ceilings for places that need humidity protection, fire safety regulation, and other demands.
Species and finishes of Hunter Douglas Veneered Wood Exterior Ceilings
American Cherry
Ash
American Walnut
Bamboo
American White Oak
Beech
American Maple
Birch
Anigre
Cedar
European Oak
Hemlock
Pine
Koto
Red Oak
Spruce
Teak
Sycamore
Moreover, you can choose from over 40 veneers to create the ambience of your desired feel. From light tone to dark tone, you get all shades and designs of wooden false ceilings.
Additionally, you can also get special varnishes, paint finishes, or staining, if required.
The 10-25 cm veneer sheets get glued together to form ceiling panels. You can get book-match, miss-match, or slip-match sheets.
Hunter Douglas Veneered wood exterior ceilings application areas
Transport: airports, bus stations, metro stations, railway stations
Hospitality buildings
Healthcare centres and hospitals
Schools, colleges, and other educational institutes
Corporate buildings
Retail stores
Leisure areas
Public areas
Residential buildings
Call us to know more about the Veneered Wood Exterior Ceilings
M: +91 9967632127
Email: support@buildingandinteriors.com
Brand Info

Hunter Douglas