Raumplus wardrobe sliding doors with TV integration | Door fittings
How about a system that integrates sliding wardrobes and a TV screen/computer monitor? German sliding systems specialist raumplus offers an innovative solution for such a need.
About the Product
The Sliding TV Door solution from raumplus allows for the closet door/room divider to be used as a TV or computer monitor. In an era where work and leisure spaces are being re-defined, this solution addresses the design and functionality needs of the wardrobes market.
Product Description
The wardrobe sliding doors from Raumplus are multi-functional design fittings that are crafted to be your doors but also your smart entertainment centre. The flat-screen monitor incorporation within the door panel makes the wardrobe door or room dividers act as a TV centre. This is a sophisticated undercover entertainment setup best suited for the living room, bedroom or kids room. Hop on the trend of multimedia sources but keep them discreet and out of sight to create a cleaner and clutter-free space.
Raumplus sliding doors with integrated TV monitors are high on performance, their compact Bluetooth speakers can replace any freestanding stereo system, While the flat screen can blend into the furniture unit when not in use.
Get this perfection of interior door design is lowkey but offers high-end performance. These multi-functional doors give you everything, it's your multimedia centre for movies, games, songs and when not in use it is a door. Now you don't need extra dedicated space for your entertainment centre, you just need Raumplus wardrobe sliding doors!
Wardrobe sliding doors with TV integration by Raumplus has the following highlights:
Minimalistic and multifunctional sliding door design.
Seamless integration of TV/monitor on the sliding wardrobe panel.
Installation of TV size of up to 55-inch screen possible.
Maximum permissible load of 25 kg (of the TV/monitor).
Door dimensions – 135 x 275 cm (max.)
Cables and other hardware are concealed within the system.
Comes with compact, high-performance Bluetooth speakers.
Various surface and colour options for sliding profiles and panels.
Image Source: Raumplus.com
The Sliding TV Door from raumplus not only frees up the TV screen space from the room walls but also gives the wardrobe space a distinct look. It is a simple and effective solution and comes with an undertone of minimalistic design language.
The sliding TV Door allows a monitor with a screen size of a maximum of 55 inches and a weight of 25kg. Smaller screen sizes can also be integrated into this system. The only requirement is that the door height is between 135 and 275 cm and the width between 90 and 150 cm (which is the equivalent size for a 55-inch screen).
Raumplus offers various surface and colour options for sliding door profiles and panels. This further adds to the design language of the interiors. High-performance, compact Bluetooth speakers take the place of a stereo system, while flat-screen TVs blend into media units when not in use.
The highlight of the custom-made Sliding TV Door is that it makes the technology invisible when it is not in use. And when in use, it makes the solution the centre of attraction.
Call us to know about the whole range of Raumplus wardrobe sliding doors.
Contact Details
Brand Info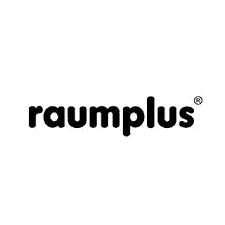 raumplus
The German brand raumplus manufactures customised sliding doors, room dividers, and closet systems. The word 'customisation' is central to the company's philosophy. It prides itself in being focussed on flexible room dividers and sliding solutions – from one-off pieces to large quantities.
The company introduced it's first sliding door, built in 1986. Today, the company has many recognitions to it's name, including Red Dot Award, German Design Award, and more.  Among it's many innovative sliding solutions is the illuminated S1200 LED sliding door. Every year, it presents it's latest solutions at leading international shows like imm cologne.  It's solutions carry a 10 years warranty.
Today, the brand is present in markets across the world. It has partners in 70 countries, including  India, USA, Canada, Russia, Switzerland and Poland. Despite the brand's ongoing success and growth, the company continues to stand for the ethical principles that have been an integral brand component since the company was founded – customer-friendly service, diversity, uncompromising quality, and competence.
The product range includes:
One can also plan and visualise the solutions online, as available from the company.
Website: https://www.raumplus.com/in
raumplus India Customer Care Number:  0 83789 10007