We spoke with Mr. Pravin Bora of P & P Aqua Pvt Ltd, Pune, as part of our series of Retailer Talk with BuildingandInteriors. Apart from being the National Treasurer of the Indian Plumbing Association, Mr. Pravin Bora is also one of the most eminent plumbing materials partners for SCHELL in Pune. In this conversation, Mr. Pravin Bora gives us deeper insights into the upcoming trends in the Indian plumbing industry and the impact of pandemic on business. 
The post-pandemic era is completely different from what it was two years back. The extraordinary situation has birthed various new strategies in the building and construction industry. More and more professionals involved in the industry are willing to experiment and hop on new trends of hygiene and sanitation. 
P & P Aqua Pvt Ltd is a Pune based dealer of high-end plumbing materials and sanitaryware, actively engaging in prominent projects all-around Maharashtra and bringing the best technologies to the table. 
Mr. Pravin Bora, P & P Aqua Pvt Ltd, Pune
About the business and roots
I am a civil engineer who passed out of the College of Engineering Pune in 1992. Then I did my MBA and went abroad from 1998 to 2002. Before MBA, I did work as a civil engineer on a couple of projects from '92 to early '96. Then, I joined MBA during which, I also associated with  Rajco Metal Industries Pvt.Ltd., India's largest manufacturer in copper pipes and plumbing.
Post MBA, I went to Dubai and Muscat, where I interacted with a lot of multinational manufacturers. In late 2001, I came back to India and I thought, why don't we deal in all these kinds of plumbing items in India. So, I started my business right away after a break of six months. Initially, I had a dealership of Rajco for copper plumbing, and then I expanded it to multinational brands like ACO, Geberit and SCHELL. Now as a dealer, mostly our business is focused on projects sales of plumbing materials and sanitaryware items on all India basis. 
Product categories and brand associations
So the product categories that we have right now ranges from hardcore plumbing materials to bath fittings and sanitaryware. We keep products like SCHELL flush valves, SCHELL hygiene health faucets, angle valves, high rise structures and wall mount modules for urinals and basins. In sanitaryware, we associate with brands like Hansgrohe, Duravit, ACO and Geberit technology. All these brands are known for their remarkable and on-trend product ranges. Also, we have surface drains and engineering products like grease separators. All in all, you can find a holistic range of interior plumbing items like shower channels and piping systems. 
Perks of associating with IPA (Indian Plumbing Association)
I am a part of the Indian Plumbing Association. Currently, I'm the National treasurer. The association actively helped to build the plumbing set up at the College of Engineering Pune, which is sort of a demonstration of different technologies that have been used in India. And a lot of technologies got adopted in terms of plumbing activities all over the country. This project wouldn't have been possible without the support of Mr. CV Dilipkumar at SCHELL and earlier at Geberit technology. Mr. Dilipkumar took us to Switzerland and with Geberit's help, we were able to bring the project setup and a specialized team from Switzerland to India.
A lot of the technologies that the Geberit team brought are now used commonly in the Indian plumbing industry like the Single stack system and Siphonic drainage system. Several companies are not just using but also developing their business around these technologies. This was one of the major events for my career, which was only possible because of my association with the Indian Plumbing Association. 
For products that have serious installation SCHELL have introduced very convenient and effective Wall mount structures and Montus mounting modules like the Montus Urinal module or the Montus Shower module that comes with a height adjustment feature. This technology makes it easy to expose the structure without demolition of walls or floors. Since breaking a wall to replace a system means a whole renovation project of the bathroom, these types of products become crucial. More and more people are now switching to such fitting as it provides easy maintenance, looks modern and is also price effective. 
We convince the customer to go for such premium options of behind wall or wall mount systems because with mid-range fittings the chances of things going wrong increase. Moreover, the maintenance and replacement add up the cost.  And finally, all this is related to personal life and hygiene, the most important aspect in every home, now more than ever due to the pandemic.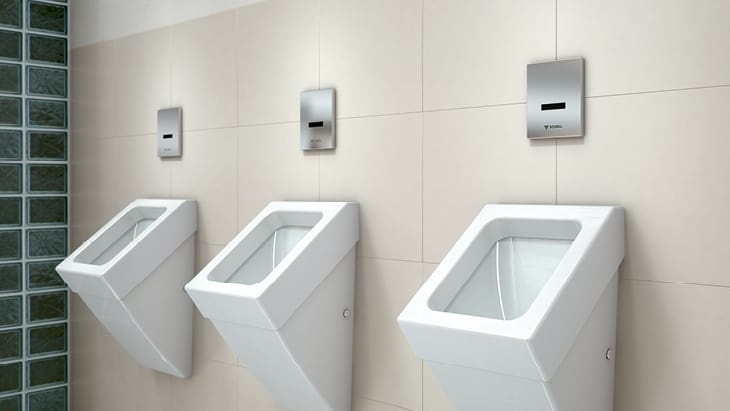 Acceptance of new technologies in plumbing materials – Post pandemic era
As a SCHELL plumbing material partner in Pune, I can say, Pune is a very competitive market. So the biggest advantage Pune poses is that a lot of builders and developers are personally involved in their project. They want to give the best to their customers. That is a very big impetus for us too. Pune builders are very accepting of the new technologies of the said industry, even if a little sceptical they try to experiment with new technologies. The biggest perk with Pune clientele is that they educate themselves about new trends. They apply them to their project on a smaller scale and if it performs they are more than willing to expand it to the whole project. The educated and enlightened culture of the Pune market, particularly for project sales. Architects too are open to new ideas and through mockups, they too come on board with us. 
Given the corona situation, a lot of emphasis is paid to hygiene and this also helps us because the demand for sensor bathroom fitting has increased. This has given a very big impetus to our business in the last two years. 

Social media and business promotion strategies
Yeah, to speak one on one we are trying to educate ourselves with the social media aspects. And in fact, we are using LinkedIn and WhatsApp as a medium of communication about our products. Basically, with social media, we are reaching more people. Due to the pandemic, businesses have also undergone digitalisation, which means media has taken over everything, as people say. So, I think it is very important to engage with social media for promoting business and products. Pre pandemic we were not so inclined towards social media but now with the sharp turn of events in a pandemic, we have taken to social media to conduct business remotely during the countrywide lockdown. 
Store display VS mockups
Usually, for projects, people like to see the mock-up at the site. Now people are quite educated on companies and brands as they try to interact with every tier of a project from manufacturing units to architects. Project series is completely different from retailers' sales so the store display becomes secondary and mockups become primary. Architects and builders like to engage in mockups to see if the product range suits their purpose. What store display is for retail sale, mockups are for project sales. 
Networking with professionals in the building industry
We stay in close contact with all other plumbing materials partners of brands like SCHELL, Hansgrohe and Duravit in Pune. There is a lot of networking with the architects by showcasing our technologies and products. We do mockups for them, then we have customer feedback for existing customers who have used our product. And that is the biggest tool because seeing is believing. Seeing the mockups people can visualize how our service fits into their project. Like with SCHELL technologies and solutions, architects come on board because there is trust in German technology in the civil engineering industry. So, it is not as challenging to convince them when the service we are offering is profitable and reliable. 
I think it's been a decade now working with SCHELL. SCHELL products are based on innovative German technologies which are reliable and convenient. Also, the competitive pricing of products makes them very desirable from a selling point of view. We have completed many successful projects using SCHELL products. The quality of products is premium so it makes them maintenance-free. Especially for public use plumbing projects where hygiene is a big concern, SCHELL products and technologies make it easy for us. SCHELL also keeps on innovating and evolving their product range with changing trends in the Indian plumbing industry. 
Increasing construction of high rise buildings means increasing demand for high rise plumbing materials that SCHELL is providing. For example, the SCHELL health faucet is an all-rounder CP fitting that promotes hygiene. With its sensor technologies, is very popular now because of the pandemic. When we install SCHELL CP fittings, in our experience we have never gotten a complaint or demand for service, such is the quality of the products.
We have not faced any sales issues yet, if there are any problems or challenges, the entire SCHELL service team is ready to support us. And we, at P & P Aqua have seen that with SCHELL the end customer is also very happy, and that is important for us.
The upcoming biggest trend in the plumbing material industry
According to me, the demand for construction is growing rapidly. A big challenge that's going to come up is the lack of labour to execute projects. Thus more and more builders and architects are moving towards prefabricated technologies. Like in our association with Panchshil towers they have adapted prefabricated bathroom pods. In future, this will get strengthened in the commercial sector, hospitality and hospital buildings.  A prefabricated system like drywall in construction is going to be the big thing in future. They are already gaining popularity in the plumbing material industry.
reliability

 

after-sale service
To get in touch with Mr. Praveen Bora, contact on the following details:
Email: pravin@pnpgroup.in
Phone: +91 9823387757