The easiest and least expensive upgrade to your room is colour paints. Unlike furniture, paint colour is not a long-term commitment; so now is the time to start working on your "dream room'' project! When we talk about room colour, we don't just mean room walls, the room colour scheme encompasses all small design accents like curtains, cushions, sofas and wall decors. However, making a colour scheme that is smooth and easy on the eyes can be overwhelming. To save you the research, we have created a one-stop room colour combination guide for the living room, dining room and bedroom (with super aesthetic images). Keep reading to find your favourite room colour combination.
Living room colours
The living room is the mirror to your home. This is the room that hosts all your guests, social activities and leisure. Thus, this room needs to be at its best always. Your choice of colour and design for the living room might determine the vibe of the space- comfortable and inviting or dull and gloomy. A spectacular living room deserves happy warm colour combinations or rich sophisticated darker colours of drama. Warmer colours can add energy and passion to your room while darker shades add elegance. Now let's take look at the best 5 living room colours for the year 2023.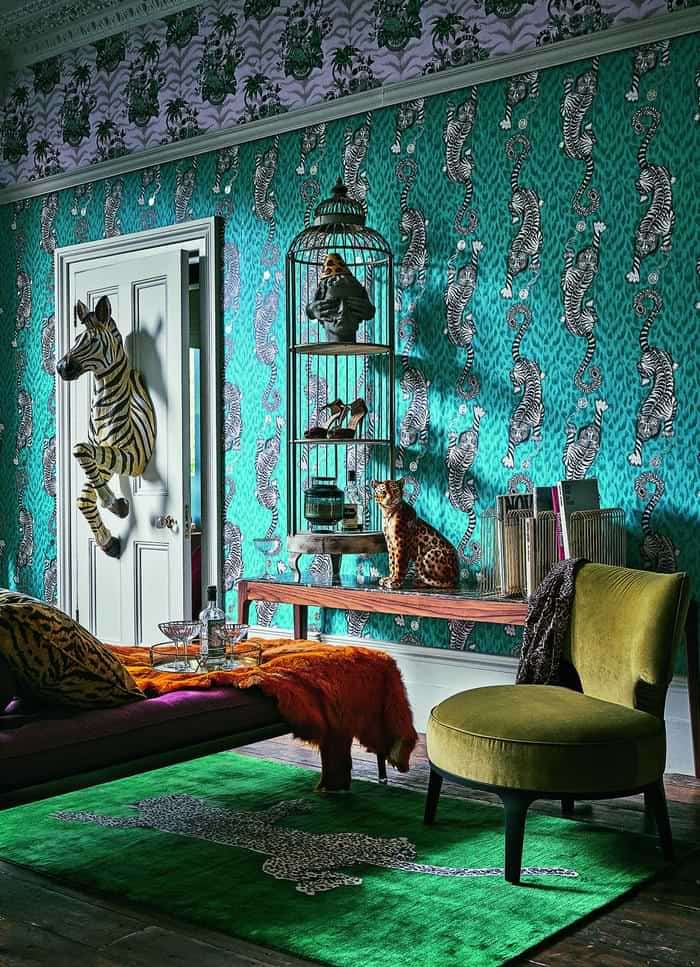 Image Source: Livingetc.com
Mango Yellow
When it comes to the ideal warm living room, the colour yellow is your best friend. Out of all yellow shades, this year is all about mango yellows comprising the shades like mustard and ochre. A bright yellow room gives you the same energy as a beautiful sunny day. The sunshine colour is also perfect because it plays well with a lot of different colours- blue, pink, and green. A mango yellow wall with design accents of royal blue in furniture and accessories is the perfect room colour scheme. 
Jewel Green
This colour is for all those who love everything dark and royal. Jewel green colour refers to shades of moss, forest, emerald and beryl. The green colour has a natural calming effect. It is also a colour that helps in stress relief. Thus, Jewel green can induce a sense of comfort which is an essential character for any living room. You can also layer your green by adding plants of different green shades. Jewel green looks so royal with gold, yellow and beige, try this colour combination for your living room to make a statement. 
Scarlet Red
Let your room reflect your bold adventurous personality with the spectacular scarlet red. Now, scarlet red is not an easy colour but with the right colour combination, it can make heads turn. Scarlet red is an intense and powerful shade of red, thus it makes the space seem charged and energetic with a sense of sophistication. The colour is best suited for a living room with a Victorian theme. Balance the bold red in the living room with colour blocking with hues of white and a combination of grey. So stir up excitement with a beautiful scarlet red living room.
Feather-light Blue
What possibly can go wrong with a feather-light shade of blue in your living room? Nothing! So if you are someone who likes to keep it cool and simple feather-light blue is the colour for your living room. Since the colour is very soft it leaves out the possibility of many mixes and matches. This colour tone is perfect for a soft aesthetic or a creative look with colour blocking of other pastels like pink, yellow and green. The light colour also makes the room look spacious and clutter-free. 
Terracotta Brown
A versatile colour with a variety of hues and tones- Terracotta brown is one of the most trending colours of the year 2023.  This autumn colour is perfect for those who want to follow a natural or earthy aesthetic. Terracotta brown adds a warm earthy feel to the space and works well with colours white, beiges and neutrals. The colour combination of brown, white and beige is the perfect recipe for an elegant indie living room.  
Dining room colours
A dining room is all about sharing food and creating sweet memories with family and guests. Thus, this room's design and colour require attention and care. The right colour scheme for the room can instantly turn it into a happening hub. There are no watertight rules for dining room colour so you can let go of your inhibitions and play around with your favourite colours. Following are 5 dining room colours that are exciting and on-trend.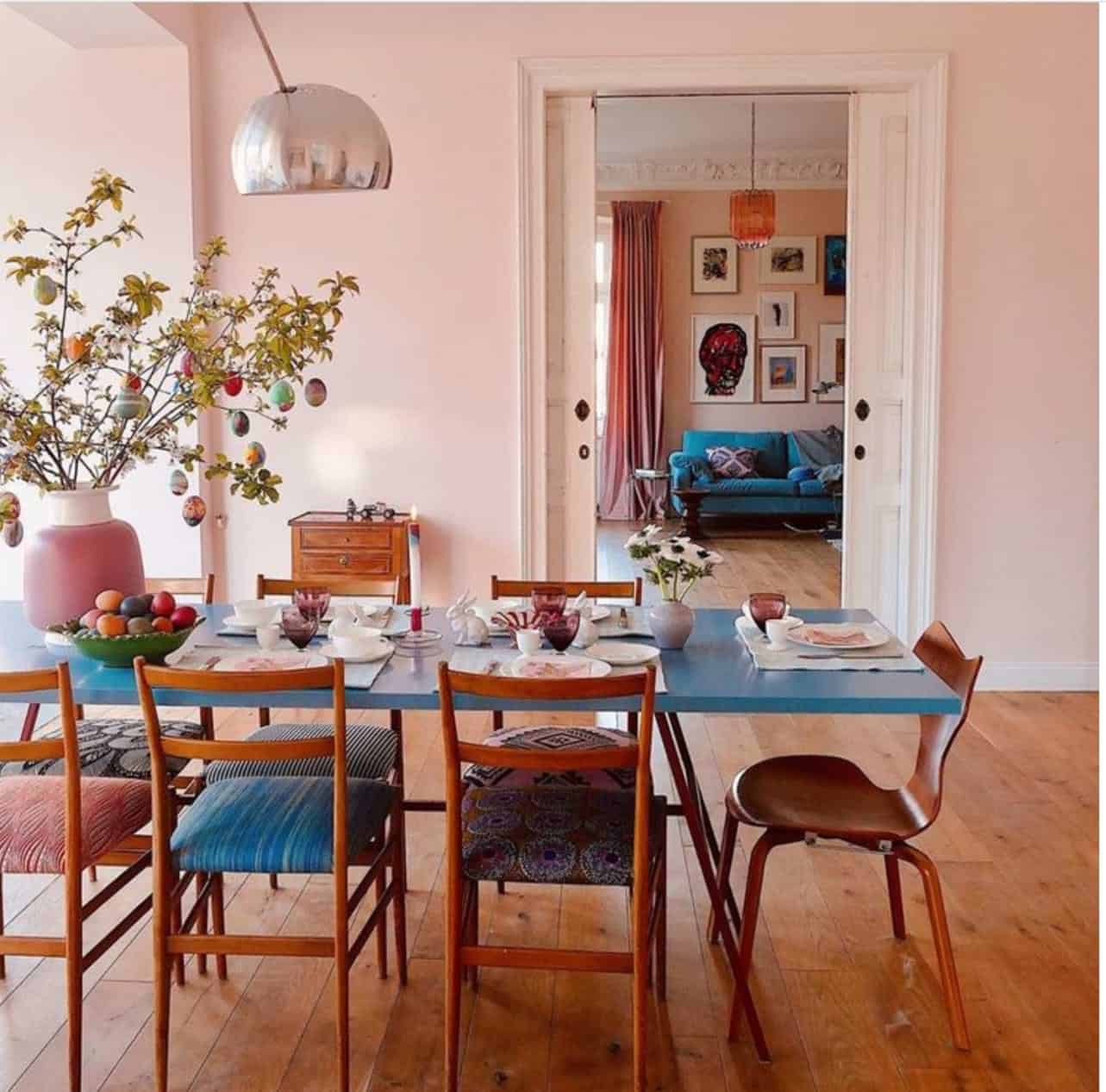 Image Source: bemvestir.com
Eggplant Purple
Now, this colour is not for everyone. The rich vibrant eggplant purple is for those who do not shy away from experimenting. Purple has also been proven to improve your appetite. Also, it looks chic and regal. Blend in some beige and neutrals to balance the dark colour. Adding ornate candlestick and a warm light chandelier can make your dining room extremely attractive and furnished. 
Lime Yellow
Yellow is an optimistic colour that can make any space seem refreshing. A light shade of yellow or lime yellow colour is a very popular choice for a modern kitchen setting. However, the versatility of this colour makes it equally appealing in a dining room. The colour makes the space seem positive and spacious. Lime yellow's best friend is green so add beautiful indoor plants to create a cosy dining space. 
Charcoal Black
Many modern high-end restaurants are hopping on the all-gothic black trend, and we are loving it. Charcoal black is the perfect colour for your dining room to add drama and class. There are infinite ideas to add charcoal black to your dining space- accented or panel wall, cutlery display rack, giant black dining table or classing chequered black and white floor tiles. Charcoal black walls with mahogany wood furniture and white cutlery- voila! A classy modern dining room is served. 
Tangerine Orange
A deep tangerine colour translates well for all-day social space. In ancient culture, vibrant orange colours were associated with good health and healing, making it a desirable colour for dining. The colour is fresh, optimistic and welcoming, thus creating an overall friendly mood. Combine tangerine orange with hues of teal, light blue and yellow for a well-adjusted dining room.
Fossil Grey
Well, Fossil grey is one of the most versatile neutral colours. This colour can be both, cool and warm depending on the other colours in the room. This tranquil colour is ideal for a contemporary design dining room. Pair this colour with lush maroon, navy blue or yellow for elegance or go monochrome with other shades of grey to attain the ultimate luxurious vibe. 
Bedroom colours
Whilst deciding on a colour scheme for your bedroom there are certain questions that need attention like- How much daylight does your bedroom experience? How will the colour of choice look in daylight and lamplight? Do you want the bedroom to look cosy or lavish? Therefore, bedroom colour needs real thought, but worry not we got you. Below are 5 practical bedroom colour shades to amplify your bedroom aesthetics.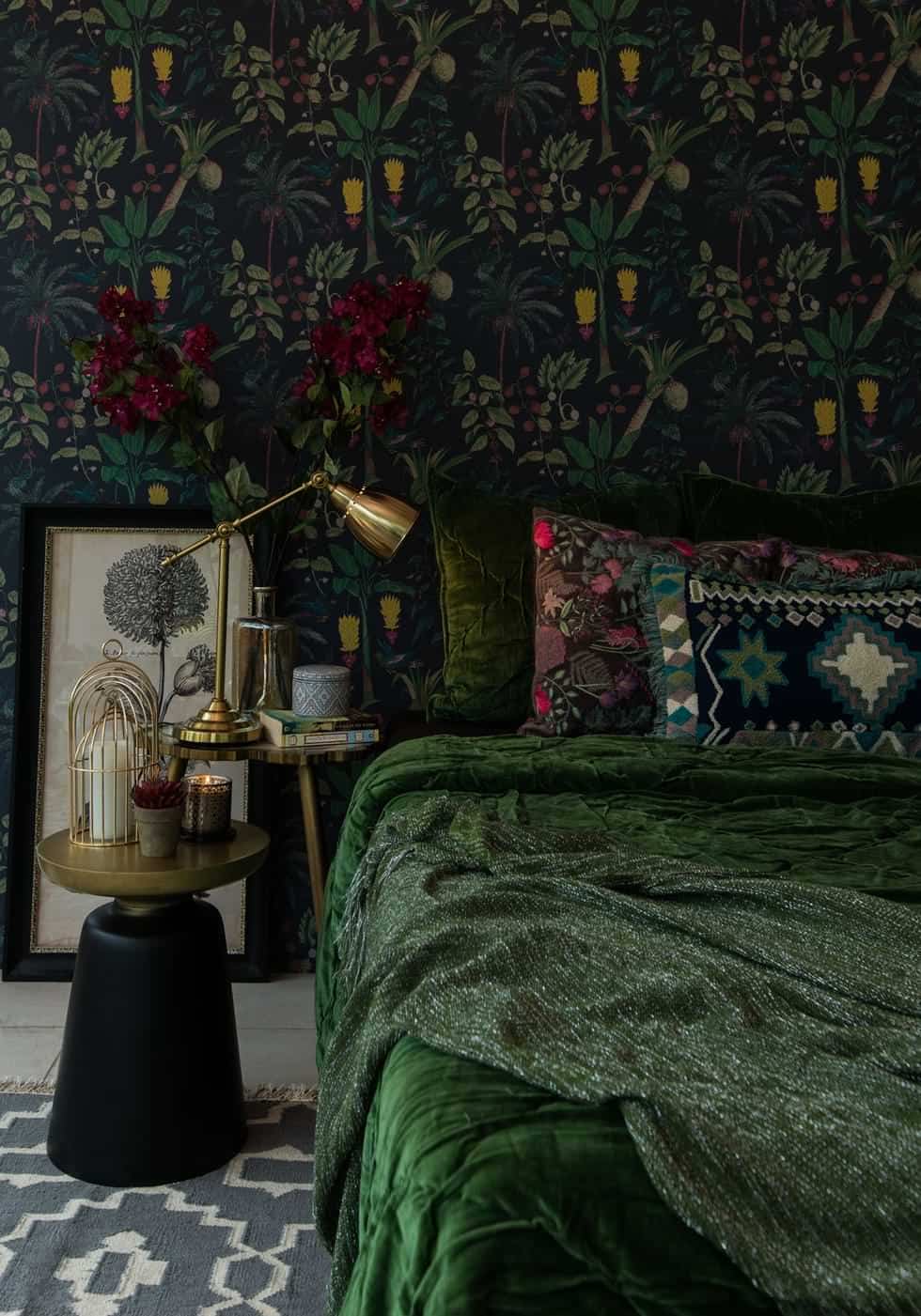 Image Source: Beautifulhomes.com
Navy blue is a great colour for a bedroom, it's royal and rich. It is a calming colour that is also proven to be effective on blood pressure. Thus, ideal colour for inducing sleep, not to mention its impeccable appearance. Nothing is classier than navy blue walls and crisp white linen bedsheets. So, use lighter colours for bedroom furniture and accessories to manage to overcrowd of tones.
Powder Pink room colour
Pink is known to be the softest colour of all, it is also a mood-lifting colour that goes well with all colour palettes. The colour is versatile and thus can be used as the primary room theme or as accents like on pillowcases, beddings and bedframes. Powder pink and cotton candy pink are the "it" colours for Pinterest theme bedrooms. Use slate blue, grey and white for a beautiful bedroom setting. 
Neutral room colours
Neutrals are evergreen bedroom colour choices. One can never go wrong with crisp whites, beiges, and pale browns. These colours provide flexibility to opt monochrome theme or mixed hues. The simplicity of neutrals also adds a lot of scope to accessories design and with different colours in the room. Neutrals make your space look bright and airy, so if you like to keep it basic then neutrals are your colour. 
Sage Green
No colour is as calming and soothing as sage green. Sage green is a beautiful light green with grey tones. This colour is a fine choice for designing or decorating a bedroom. Muted green can be paired with rustic gold accents or other pastel tones for a beautiful slumber effect. The colour is simple yet creative. 
Burgundy room colour
Burgundy is a bold choice but an extremely gorgeous colour for accent walls in the bedroom. This regal colour can make your room look unique and charming since it is not as common. Burgundy colour goes well with all shades of cream, gold and greys. However, it is important to use only light combination tones for other accessories in the room to avoid colour chaos. 
Ultimate 2023 room colour lookbook
Conclusion
A lot of factors are involved in making the "perfect room" and the colour combination and scheme are some of the greatest factors that determine the vibe of the space. While a lot of people stick with the old all-white interiors, 2023 is the year of colours. Since colours are believed to have a dramatic impact on mood, it makes them that much more essential. However, colours can make or break a space, so pick warm tones for an energetic and playful aura or cool tones if you prefer a quiet atmosphere.
*The featured image used in the article is from renovatingforprofit.com
[vvsmustread]