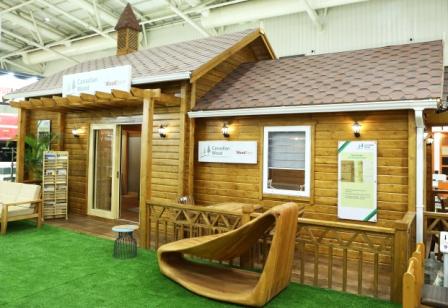 In India, wood has historically been used in various building applications. However, its usage has largely been limited to beams and posts, roofing or other similar solutions. Canadian Wood has set a new trend in India by building a complete house in wood. Two of such houses were recently on display at IndiaWood, 2020.
These two resort style houses demonstrating the Wood Frame Construction (WFC) style and the Tongue and Groove (T&G) style of construction were created using Spruce-pine-fir  (SPF) wood sourced from the sustainable forests of B.C, Canada. Every board of this SPF is graded, stamped and certified to North American Structural grading rules. It is known for its great dimensional stability and is easy to work with besides having excellent nail and screw holding properties.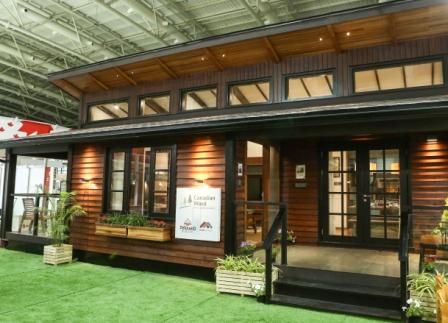 Leading manufacturers based out of Mysore and Delhi were partnered with to create these eye-catching houses. Canadian Wood offered full-fledged support in the form of material provided for the house and end-to-end application intelligence through its senior technical advisors.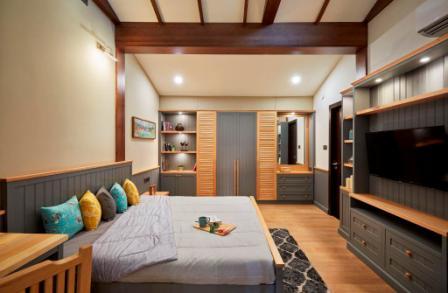 The WFC style of building with wood has been one of the most widely used methods in North America for ages. This technique optimises building process by helping reduce the time and cost involved in the construction process.
On the other hand, the T&G style of construction is a very organic and efficient way of building since the entire structure can be prefabricated in the factory from the drawing. A major advantage of this method is that every component can be pre-coated prior to leaving the factory with only a final coat to be done after construction.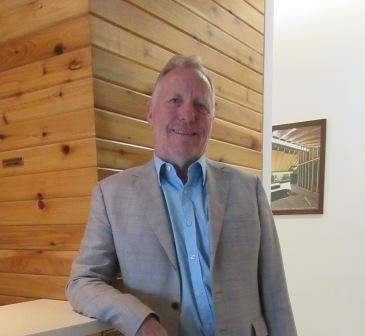 Speaking about the T&G (Tongue and Groove) house displayed at IndiaWood 2020, Mr. Peter Bradfield, Technical Advisor at Canadian Wood said, 'What set the exhibited T&G house apart was the laminated wall structure with double tongue and groove which increased the wall thickness. This added to strength, stiffness, wall span and insulation values. The beauty and appeal of T&G construction in India for resort living is the all-encompassing look and feel of wood and being part of nature.' Further to this on the WFC (Wood Frame Construction) house he added, 'WFC houses are adaptable to all climates, ranging from hot and humid to extremely cold climates. When well-constructed they can meet or exceed code-established levels of fire safety and sound control. The house displayed at the IndiaWood was completely factory made and designed in modules for easy transportation.'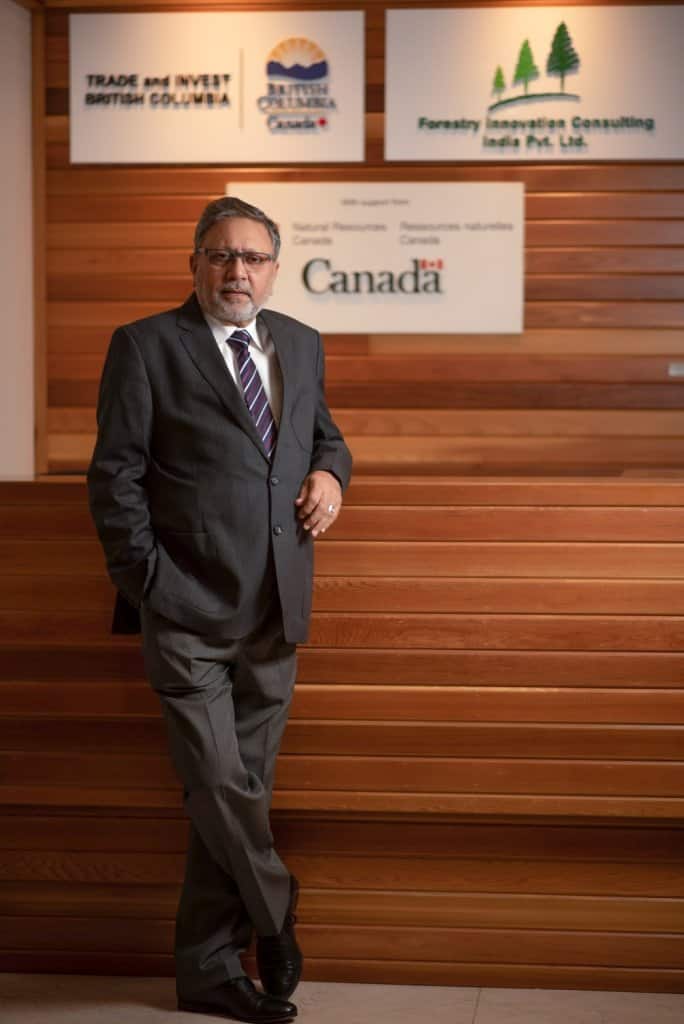 Also available for comment was Mr. Pranesh Chhibber, Country Director with Canadian Wood who said 'The hospitality industry is increasingly looking at building resorts using wood in structural applications. Also, there is an upward trend in increased usage of wood in the home category by leading architects, manufacturers, HNIs looking at villas, country homes and farmhouses as a lifestyle statement. Canadian Wood on its part is doing its bit in promoting building with wood through technical support and handholding in the T&G, WFC & Post & Beam method in addition to the hybrid method of building with wood and local stone/brick besides interior and exterior use of wood in more traditional applications such as panelling, cladding, furniture (indoor & outdoor), joinery – doors & windows and pergolas/gazebos etc.' He also added that 'The cedar species of Canadian wood are ideal for decking and sauna.'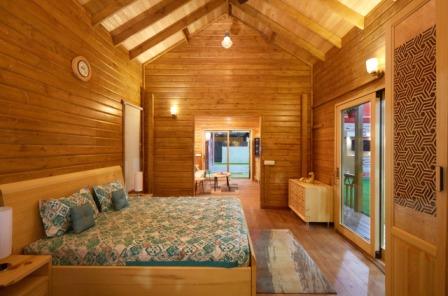 Both the houses on display at the Canadian Wood booth in IndiaWood were embellished with furniture made using Western hemlock – a species of Canadian wood that is evolving into a preferred choice of furniture manufacturers in India due to its looks & workability. Also, the T&G house demonstrated doors, door frames in Yellow Cedar which is a high-quality substitute wood in lieu of UPVC windows that cancel out noise, dust and water. Established furniture manufacturers from across India showcased their furniture made from Western hemlock.
Considering its benefits, these wood species have surely caught the interest of many Architects, Furniture Designers and Indian customers.  For technical and procurement assistance, write to FII India at info@canadianwood.in or call on +91 22 49221600.
About Forestry Innovation Consulting Pvt Ltd (Canadian Wood):
FII is a crown agency of the government of British Columbia (B.C.), the western most province of Canada. Its mandate is to promote wood products from B.C. Canada in the offshore markets and to position it as a global supplier of quality, environmentally responsible wood products from sustainably managed forests by creating awareness and spreading education through information on the wide variety of timber products available from B.C. Canada and the technical support. Its brand/logo Canadian Wood was established in 2013 to reach out to and the ease of understanding of its activities by its target audience globally.