Schüco sliding doors have always been popular with the home owners, architects and builders. Let us understand what makes these door systems so special and what can these doors do for you.
1.  ENERGY EFFICIENCY
Schüco sliding doors are designed to save energy due to their thermal insulation properties. They keep your rooms warm during winters and cool during summers, which mean low air conditioning and heater expenses.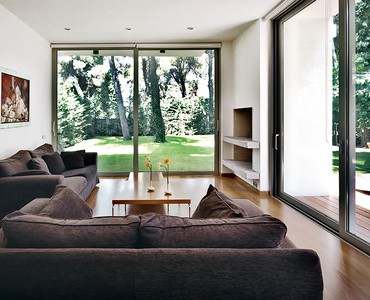 Schüco ASS 70.HI lift-and-slide door
The aluminium profiles, which are thermally broken by insulating bars, are fitted with isolators and efficient gaskets. Together with high quality insulating glass, the best thermal insulation results are achieved. The ASS 70.HI lift-and-slide door therefore fulfills the requirements of EnEV with ease.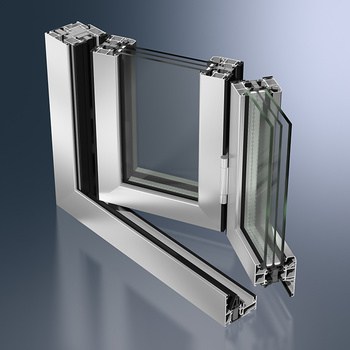 Schüco ASS 80 FD.HI folding sliding door
A unique folding sliding door, which meets the requirements of EnEV with ease; thanks to its narrow face widths as well as its wide range of designs. With the Schüco ASS 80 FD.HI folding sliding system, Schüco is offering a highly thermally insulated folding sliding door which achieves a Ufvalue of up to 1.7 W/(m2K) and a Uwvalue < 1.3 W/(m2K) as well as a wide choice of styles.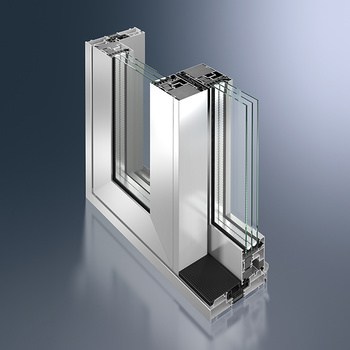 2. SECURITY

Simply shut out dangers
Sliding doors from Schüco fulfill almost every requirement in terms of functionality, comfort and design – and simultaneously meet high security requirements.
One substantial advantage is the high material stability of the aluminium profiles, which contributes to increased burglar resistance. Depending on the sliding door system fittings used, a burglar resistance classification of up to resistance class 2 (RC2) is possible.
A suitable security system is also available for electrically operated sliding units: Schüco e-Slide features reliable anti-finger trap protection which is based on intelligent software. This ensures that the leaf immediately reverses if it encounters an obstacle such as a person or an object. Any such obstacle can even be recognised via an optional infrared sensor as soon as it comes within a specified distance of the system.
Monitoring of opening and closing
And just in case you would like to be doubly sure: on request, Schüco offers integrated monitoring of opening and closing with a confirmation function for electronic locking controls when leaving the home.
In addition, this monitoring system also has an interface which can be integrated into the building automation and can also be combined with alarm systems. In this way, you can customize increased security for your home and family.
3. COMFORT

Fully automatic with schüco
Schuco sliding doors systems also come with complete automation, offering extreme comfort to the users. All you need to do is to use your finger to open or close large doors.
Schüco e-slide – simple operation at the touch of a button
Schucho has developed e-technology that makes operating lift-and-slide doors extremely easy. Using this technology, leaf weights of up to 250 kg or units measuring 3 x 3 metres can be lifted fully automatically, very quietly and quickly.
Children, the elderly and the disabled in particular will appreciate this. The concealed e-slide automatic function is operated using a keypad on the leaf, a wall-mounted switch or centrally, if it is integrated in the building management system. Schüco e-slide is fully automatic for sliding and lift-and-slide installations. Thanks to intelligent software, the e-slide actuator has integrated anti-finger trap protection.
Energy through automation
The automatically-controlled building envelope is a topic with a great future. Numerous functions such as ventilation, regulating room climate, shading, security and generating energy must be combined to optimize energy consumption. This is achieved with automatic opening and closing systems for sliding systems that control natural ventilation cycles, as well as daylight and sunlight-dependent shading systems, which ideally are coupled with internal lighting, heating and climate control.

Centrally controlled windows and doors can be used, on the one hand, to generate energy and, on the other hand, to ventilate the building at night via controlled opening of windows.
It is a stated aim of Schüco that all active elements in a building envelope be networked electronically and controlled automatically. This allows for the full energy efficiency potential of the building envelope to be exploited. The radio-controlled Schüco Wireless Control System allows for automation without the need for cabling, making it suitable for building modernization. Use of communication modules such as iPad, iPhone, Blackberry etc. as a means of control opens up new possibilities for solar shading, anti-glare protection, light control and climate regulation.
4. DESIGN
Individuality for your home
Schüco offers you the opportunity to combine the form, function, colour and technology of your sliding doors as desired – and then combine them harmoniously with your windows; thus giving each building a unique character.
Diverse opening options
Schüco sliding door systems offer multiple opening options and functionalities::
Sliding doors
Lift-and-slide doors
Tilt/slide units
Folding sliding doors
Thanks to the wide choice of colours and profiles, the transparent sliding constructions can be perfectly tailored to the architecture of the house or conservatory both inside and out. This creates a harmonious overall appearance and visually striking accents.
Sliding doors – generous openings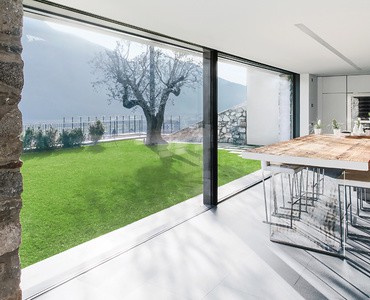 By pushing a sliding door to one side, you can create generous openings of up to two-thirds of the unit width. Schüco sliding doors operate almost silently in corrosion-free stainless steel tracks.
All sliding units run in a single plane, with no unsightly vent protruding into the room. The scope of installation ideas is considerably greater thanks to sliding doors from Schüco. It is possible to combine up to six glazed frames depending on requirements.
Sliding units are also an ideal solution for dividing spaces indoors while retaining flexibility and transparency. The variety of colours is so great that you are guaranteed to find the right colour for the setting.
Lift-and-slide doors – perfectly weather tight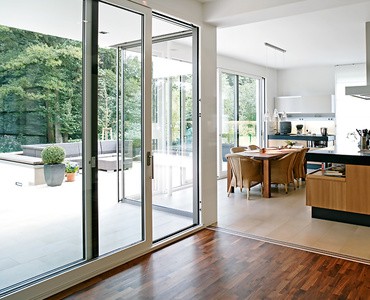 When closed, the door is perfectly weather tight, providing excellent thermal insulation and noise reduction, while its burglar-resistant properties ensure your personal security. Lift-and-slide doors must be opened to one side or from the middle. Up to 3 tracks allow large opening widths and therefore flexibility for large glass constructions, e.g. in a conservatory.
Tilt/slide units – with tilt option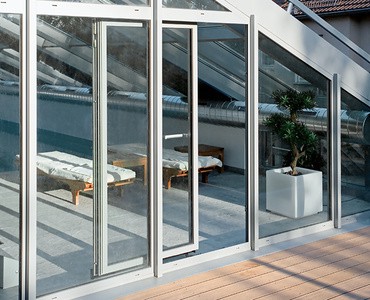 The ideal combination of sliding door and turn/tilt window is practical and simple to operate. For ventilation purposes, the vent of the tilt/slide window doors alone can be tilted or the entire area can be opened up very easily. Tilt/slide vents are stylishly flush-fitted in the frame units on the outside and face-fitted on the inside, thereby providing optimum weather tightness.
Folding sliding doors – truly amazing space savers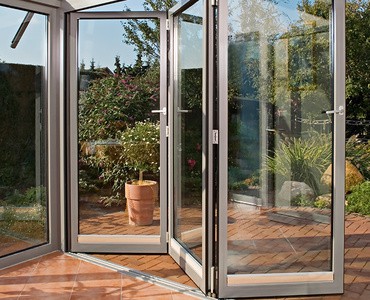 Complete glass walls can be opened almost fully with folding sliding doors from Schüco. The individual units are simply folded into a small space and pushed to the side – quick and compact. There are two options available depending on the area of use:
Highly thermally insulated folding sliding doors for external use: The door leaf stack for this thermally insulated door can be folded inwards or outwards very easily and moved to the right and/or left. The door leaves roll almost silently on roller carriers. They are securely guided at the top and at the bottom. This creates the ideal connection between the interior and exterior.
Non-insulated folding sliding doors for use indoors : The non-insulated folding sliding door is the ideal choice in areas in which no additional thermal insulation is required. The door system can be opened fully to extend living spaces and offices.