In the building and interiors industry, we often hear the word 'Minimalism'. What does this word imply and how does it translate into the elements of a modular kitchen such as the kitchen flooring, cabinet handles, kitchen lights, etc., is the reason for this article. By definition, Minimalism or Minimalist design is 'A Design that uses the smallest range of materials, colours, simple shapes and forms' and 'extreme spareness and simplicity. Also, the term minimalism is used to describe a trend in design and architecture, wherein the subject is reduced to its necessary elements. In this article, we will deal with the topic of minimalist interior kitchen design ideas & images for home at length.
Image Source: Italian Bark
As we have been seeing in so many inspirational images, in modular kitchens, this Minimalistic interior design language has been in flavour for some years now. This translates into a zero-clutter, a lot covered behind shutters and doors, no mid-way hanging of stuff in the dado area or on the walls. In addition, on the colour front, the non-obtrusive and zero screaming shades in the mix of exterior finishes is also a part of this design language. This also is somewhere part of the design brief, as many people don't want the interior design of modular kitchens for homes shouting out loud to attract attention.
Chasing the Minimalist Interior Kitchen Design for Home Objective
One way of going about designing minimalistic kitchens is to conceal everything behind storage units, have a flat face, handle-less, touch to open or push to open hardware items integration, clean and slim countertops with soothing simple shades or close contrast. So, when you walk into minimalistic kitchens, you see neatly appointed units as a wall, easy on the eyes. Countertops that don't jump up to you. The transition of one material, colour, feel are all seamless.
To take an example, wall spaces that are all in stone, subtly revealing their natural veins and variations, could be one option. Or, you can have plain painted walls with the floor tiles (or vitrified tiles) in a similar quiet finish, maybe with an outlining or a simple geometrical pattern. Also, the built-in appliances in the modular kitchen should echo a similar exterior language.
Minimalist Interior Kitchen Design- Modules and its Configurations
Image Source: Ofdesign.net
In a minimalistic modular kitchens design (with a flat finish look), the balance of unit shutter sizes must be maintained. The horizontal and vertical lines should match up. Also, a sudden change will be shocking otherwise. In a handle-less modular kitchen, the horizontal play of lines needs continuity.
Internal Hardware and drawers
Image Source: Knobs.co
A couple of brands have drawers and accessories in the right shades, slim and trim drawers, organizers and pullouts. This helps in carrying the same minimalistic design language even on the inside. In addition, the use of mats ensures that things stored don't move and clatter.
Shutter Thicknesses
You can virtually make shutters as thin as 10/12 mm, light and featherlike. Also, synchronized shutter openings to conceal what's kept behind, a bar, coffee maker or other wares.
In order to achieve a minimalistic look, the finish also contributes. Laminate, ready to cut-and-use acrylic board, matt finished lacquer, ceramic, engineered stone cladding, veneer in stained shades, etc. in matt finish add to the minimalistic look of the modular kitchen. It is advisable to use subtle shades and a choice of material that doesn't reflect or shine.
Cabinet Handles
Hardware items like cabinet handles are crucial in achieving the minimalistic interior design ideas in a home modular kitchen. Also, in the minimalistic modular kitchens concept, we do away with any obtrusive or surface mounted cabinet handles. There are quality brands that offer various features in cabinet handles. Moreover, the features include push-to-open cabinet handles, touch-to-open or very thin small metal trims to assist in the opening of the storage areas. It could even be a simple groove (Gola profile), which can add to the minimalistic look of a modular kitchen.
Minimalist Interior Kitchen Design Ideas- Colours
To achieve minimalism in a modular kitchen, colours play a very important role. Also, from my long experience in the modular kitchen business, while selecting minimalistic kitchens colours, white comes out very well, befitting the very definition of minimalism. However, you can pick up and add maybe an additional colour element to achieve minimalism. Largely it's white, black, greys and sometimes blues or browns. Additional colour elements can also be introduced with kitchen sinks and kitchen faucets, as these days, both these are available in various colour options.
The colour theory in design uses three colours – background, base and accent. Some might argue and use only two. So, the industry picks up specific colours every year and showcases its applications at leading industry trade shows worldwide. Pantone Color of the year plays a great role as various industries take the cues from there.
The traditional natural stones stand out loud and defeat the very definition of minimalism. Quartz, on the other hand, is a very popular engineered stone because it is available in a wide range of shades and finishes. Also, it's hard, the polish lasts a lifetime and offers ease due to its calibrated thickness. Then, solid wood is a good mix for dry or breakfast counters too. Top brands will offer glass in matt finish which makes the looks super luxurious.
Also, stainless steel countertops in different finishes can be one option material for countertops. Also, one can also get cooking appliances embedded to give a seamless look and feel. So, if you are embedding an induction cooking flexy zone, it merges pretty well on island cooking in particular. If one is careful in handling, you can even use high-quality marble.
When it's minimal, you can even conceal built-in appliances behind doors, to be visible only during their use – be heating, baking, roasting, coffee making, etc. Also, at the same time, you can select a range of brushed clean steel, white and black appliances to merge with a similar finish. So, you can even conceal kitchen sink units along with kitchen faucets into the countertop using sliding covers.
I would also say that lighting also plays an important role in minimalistic kitchen designs. Also, various design options in minimalistic lighting fixtures for ambient lighting in the form of led wall lights, ceiling lights and focused counter-top lighting. Moreover, starting with the very design of the light fixture, the way it is hung or fixed adds to the design language of the kitchen and its surroundings. Also, another element – the internal lights – like led strip lights, within storage or hidden counters behind doors will do its work as you access the areas inside the drawers.
Image Source: Windows Floors & Decor
Flooring options for minimalistic modular kitchens are pretty much similar to those used in other areas of the apartment. Also, when it comes to modular kitchen colours for flooring, it is advisable to stick to light shades. Also, most of the time, these shades continue from the surrounding area. This is more so in open plan kitchens with a living area extending into it.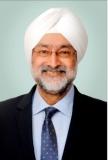 The author – Mr Balbir Singh (www.balbirsingh.in) has over 20 years of experience in designing and commissioning high-end curated kitchens for multiple international brands in India. He is based out of Mumbai and can be reached at info@balbirsingh.in
If you want to buy top-quality modular kitchens from the best brands, click on the link given below to check your options and submit your inquiries:
For more details, contact below:
Email: mukul.jain@buildingandinteriors.com
Mobile: +91 99676 32127