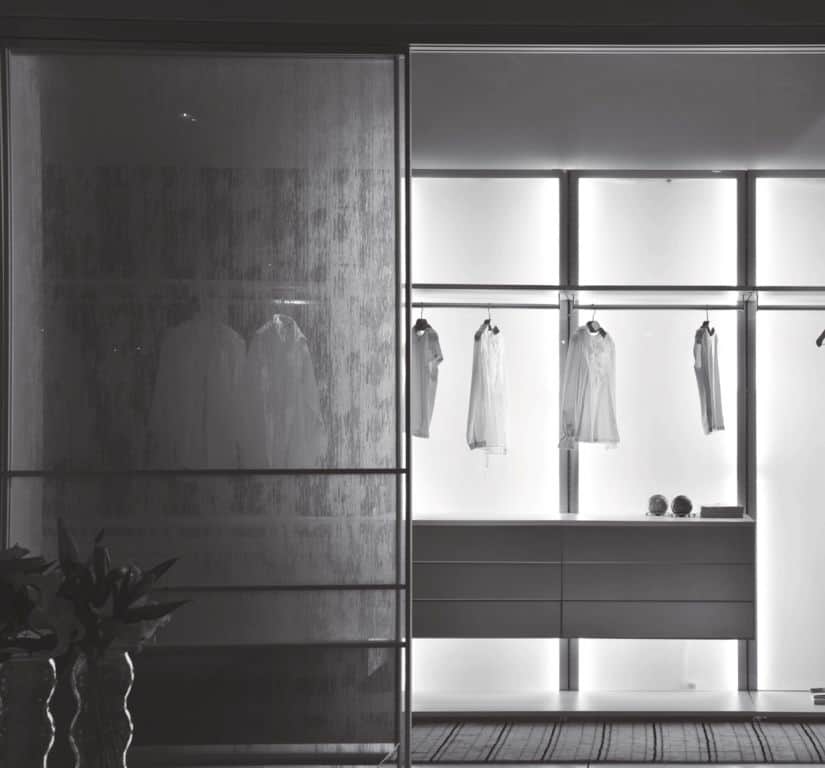 One of the important aspect of our house is our wardrobe – A personal place where we organize our clothes, accessories, shoes etc. However, this seemingly simple thing often confuses us with the multiple options that we see scattered all around us. We like few aspects of a wardrobe in one showroom and something else in another. This whole buying process is not only exhausting but also confuses us and we end up buying something that we regret buying later. So whether you are an architect, interiors designer, contractor or an end user, understanding multiple aspects of sliding doors wardrobe design is extremely important  so that the end result is not just appropriate functionally but also aesthetically appealing, suiting your tastes and needs.
There are so many options in terms of door panel patterns, lighting, accessories etc, that you can choose right options at every stage of designing and make a personalized storage space for yourself.
There are two major aspects of sliding doors wardrobe design:
This aspect is related to functionality and aesthetics of the wardrobe
This aspect is related to the space available for the wardrobe.
Functionality and aesthetics of the wardrobe
Functionality and aesthetics aspect of a wardrobe design is a function of your tastes, lifestyle and needs. There are multiple factors that come together to give final shape of the wardrobe, and each factor offer you ample choice to select from array of solutions and designs available.
Door Panels:
Door Panels happen to be the single most important factor especially when it comes to the aesthetics of the wardrobe that has to match with your interiors and tastes. There are endless options available for you to choose from. These door panels could be made of wood, wallpaper, mirror, glass, acrylic, fabric, leather, digitally printed, metal, magnetic panels etc. Besides all these options come with multiple colour, pattern, texture options.
So you can choose from all these options and make it more personalized.
Wall Paper
Walls papers are ideal for merging the cabinet doors with the surroundings.
You can also choose same wall paper for walls and doors, to give it a uniform & harmonious look
Digital print
You can get your favourite photo digitally printed on the door panels.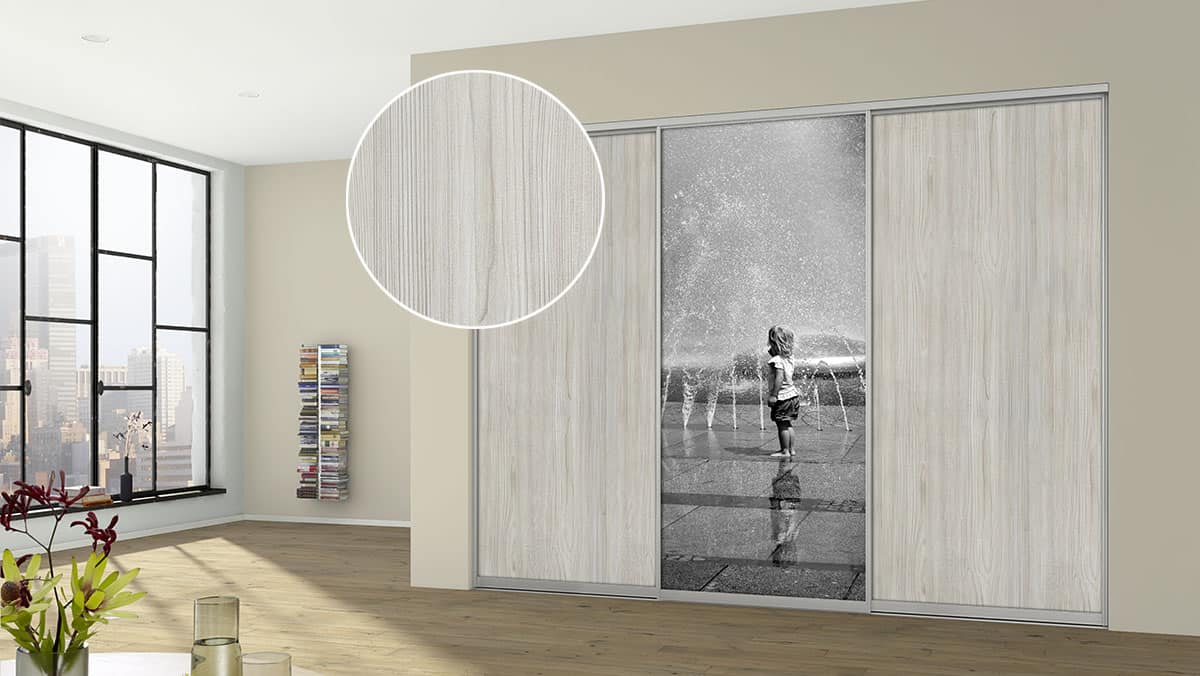 Board & Magnetic Board Marker 
Generally apt for but not limited to kids room. You can use the board to write anything using chalk or marker.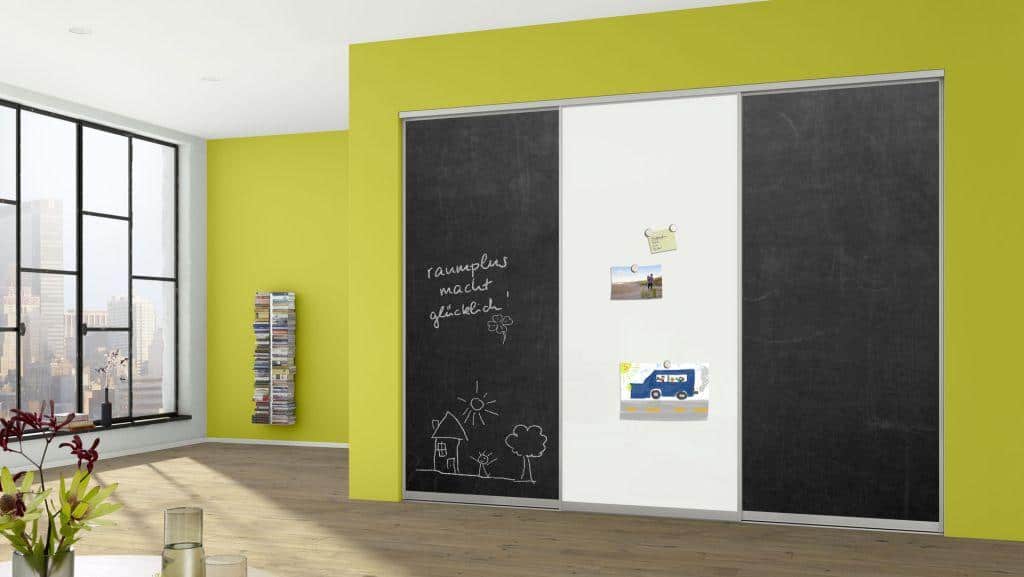 Wooden Selection

Whole array of choices for different wood finishes are available. You can choose light or dark finish, with or without grains, velvety or matt lacquer finish.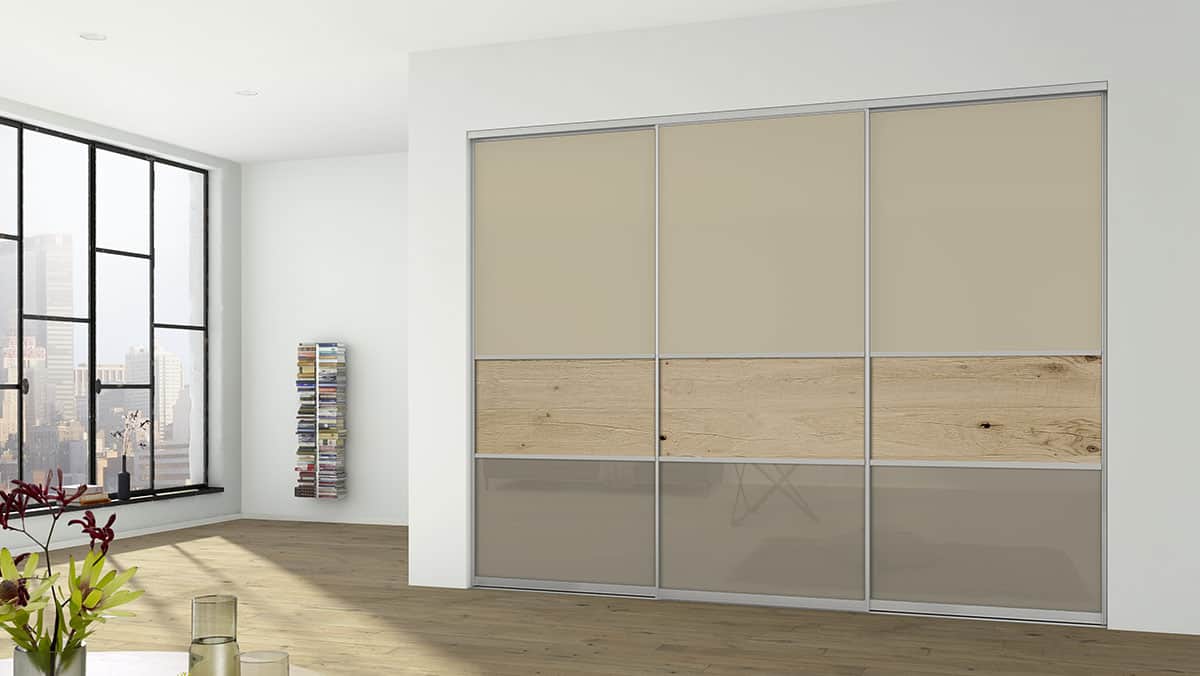 Glass & Mirrors
This is something that gives an exquisite character to your interiors, besides making your place look spacious. You can also decide how much of a back room view you want to allow into the cupboard. There is really a large choice of material and colour to play with. You can choose from satin, tinted, lacquered glasses, mirrors in different colors and surfaces. Now special glasses are available with patterns and textures of your choice.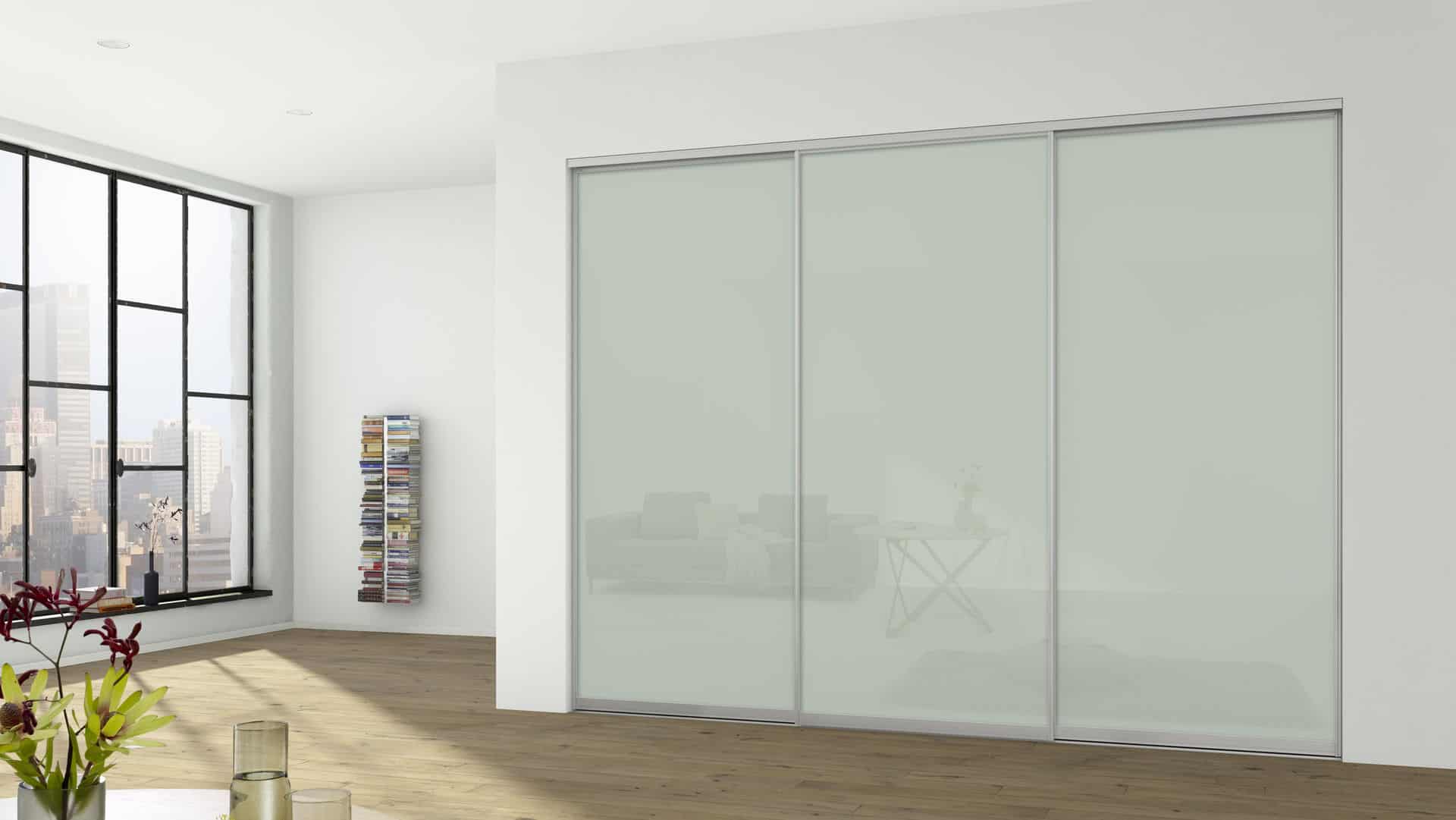 3D surfaces
You can play with this option in numerous ways – from making a 3D strip on the entire door panel to using this option on the entire door itself – options are galore.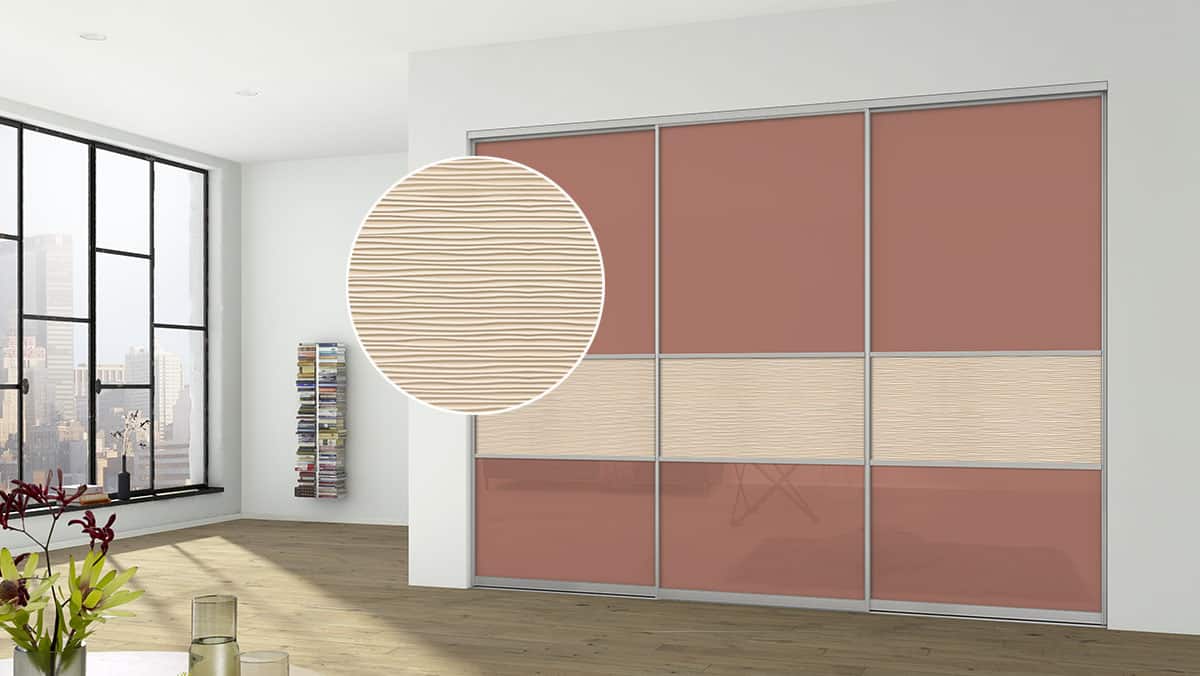 Fabric

Fabric is simple yet elegant option. It lends a soft feel to the otherwise hard surface. A great advantage is the possibility of numerous permutations and combinations of fabric colour and texture.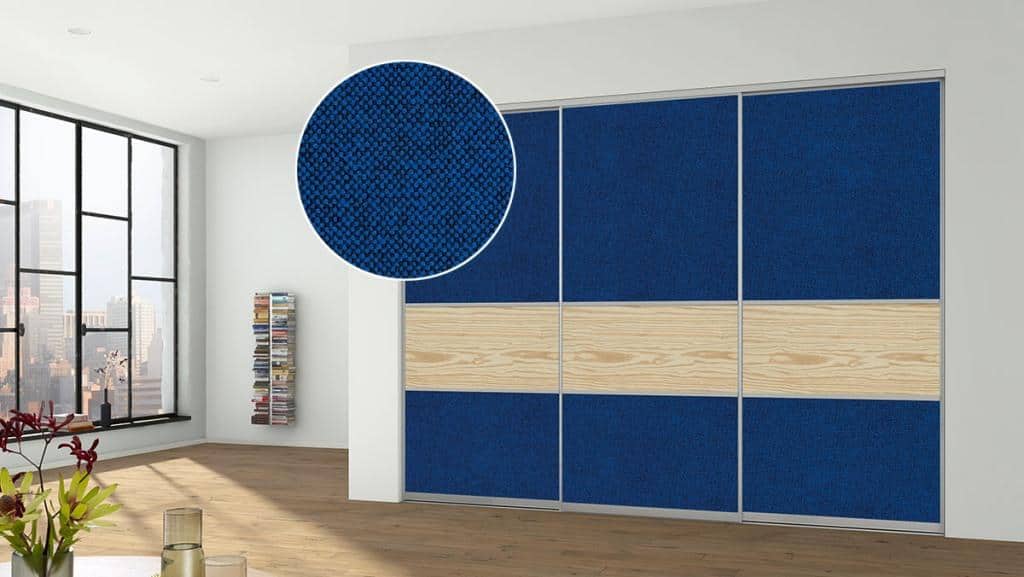 Material mix

As the word itself says – mixing various materials and use them to create something that becomes your signature style.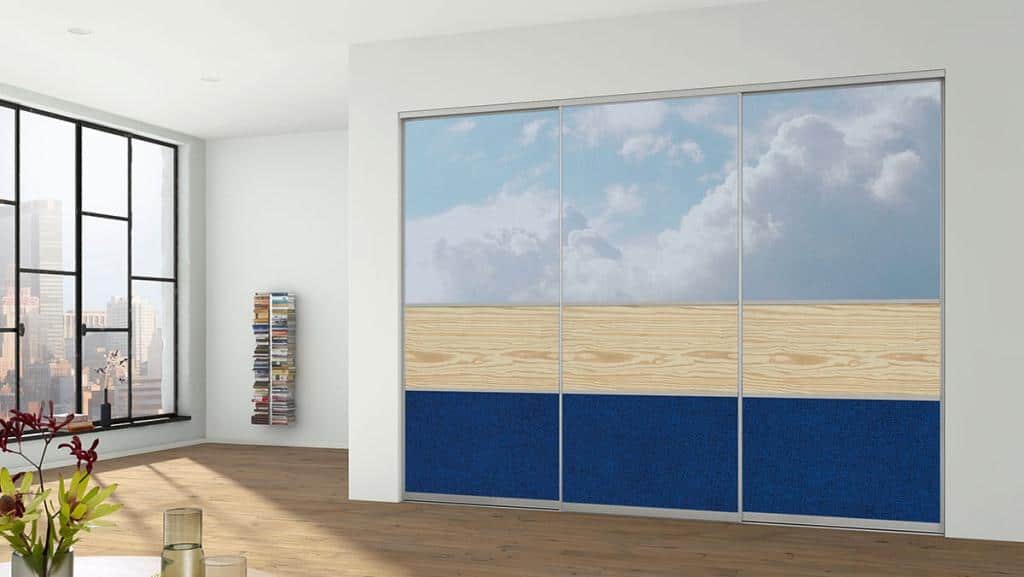 Closet Surface
A closet is not just about the front door panels. There is much more to it, even in aesthetic terms. Imagine you see an impressive wardrobe with beautifully designed door panels, but when you open it, your impression changes completely just because the interiors are lousy.
Therefore it is equally important to spend time in selecting material for closet surface. Again there are numerous options available – wood, veneer, paint finishes etc. You choice of colour and material can drastically change the way your closet looks.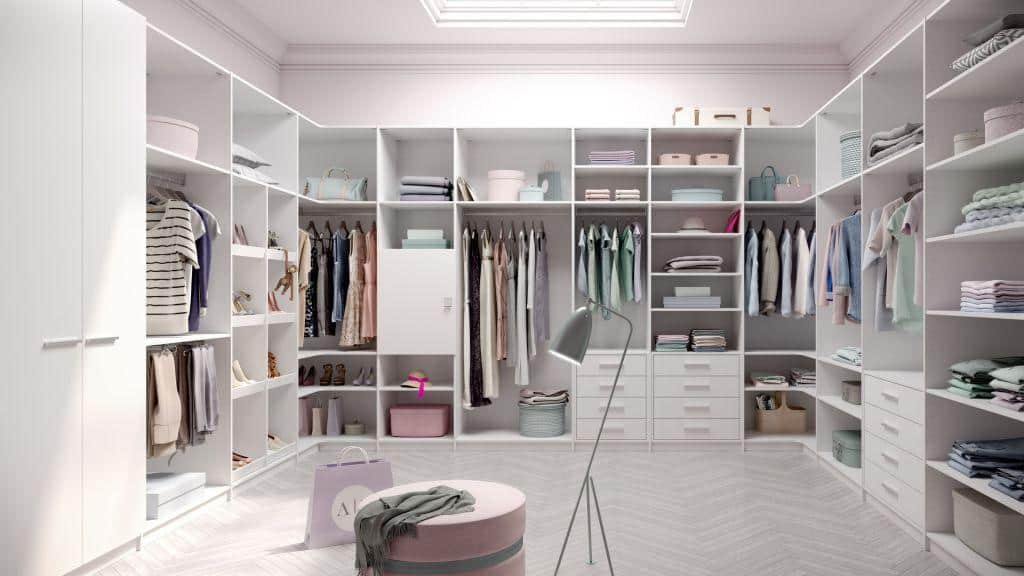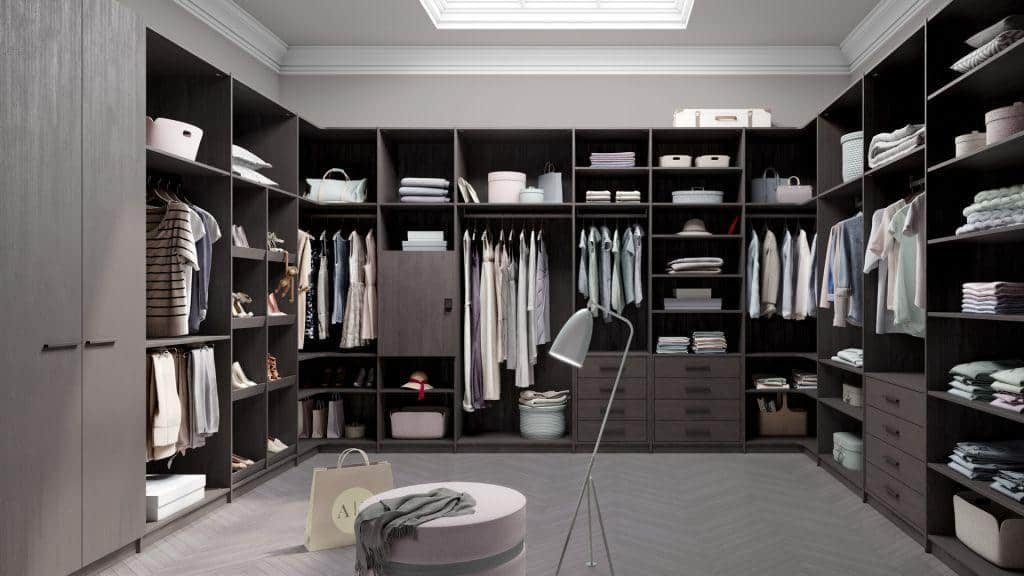 Door Frame
A good wardrobe design must pay attention to the details even to the colour of door frames. Multiple colour and finish options are available to choose from. From power coating & anodized to stained veneer finish and from black matt and bronze to silver or white etc., lot of options are there to match the look of your door panels.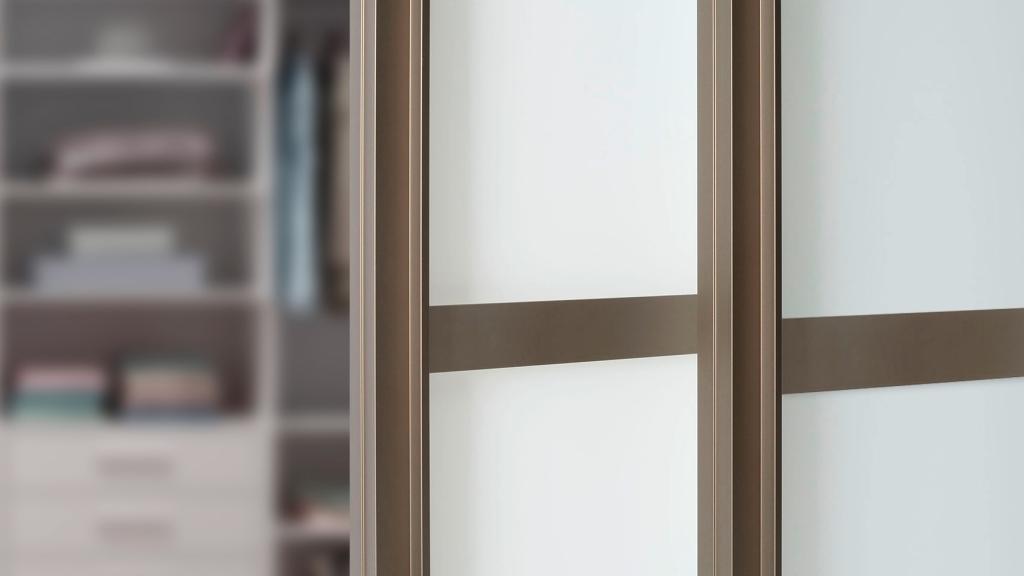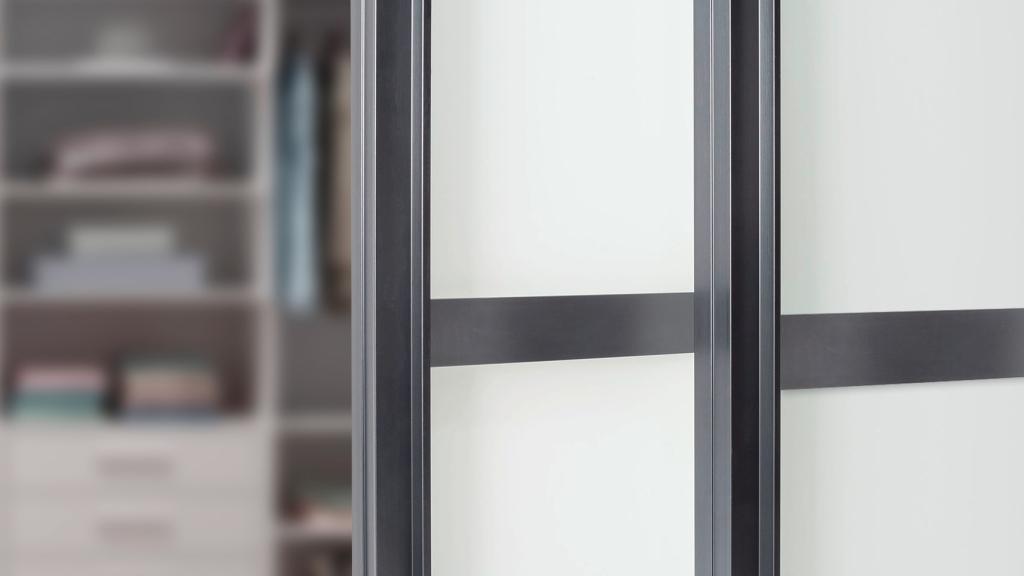 Wardrobe Lighting
Lighting at appropriate places in your wardrobe, not just help you functionally but adds to the appeal of the wardrobe and sets a certain mood. If done correctly, it will catapult your wardrobe to many notches above.
You can choose to illuminate any zone of your wardrobe or a combination of those areas, it is up to you. Following are the zones that can be illuminated using an LED strip or recess / surface mounted down lights:
Gallery Lighting
Clothes rod
Shelves
Drawers
Aluminum frame glass shelves
Cabinet sides
View Complete Gallery:


Accessories
Now you have a personalized door panel that matches your interiors, beautiful closet surface, appropriate lighting and other things in place, now you need to set your eye on something that will make your daily life convenient and comfortable i.e. accessories. How you want to organize things based on your needs and lifestyle will be facilitated by your choice of right accessories that can make your wardrobe ergonomic. Here are few examples of the kind of accessories you can consider:
Trouser pull out
Pull down clothes lift
Shoe Holder
Belt hooks
Hook Rail
Drawer Organizers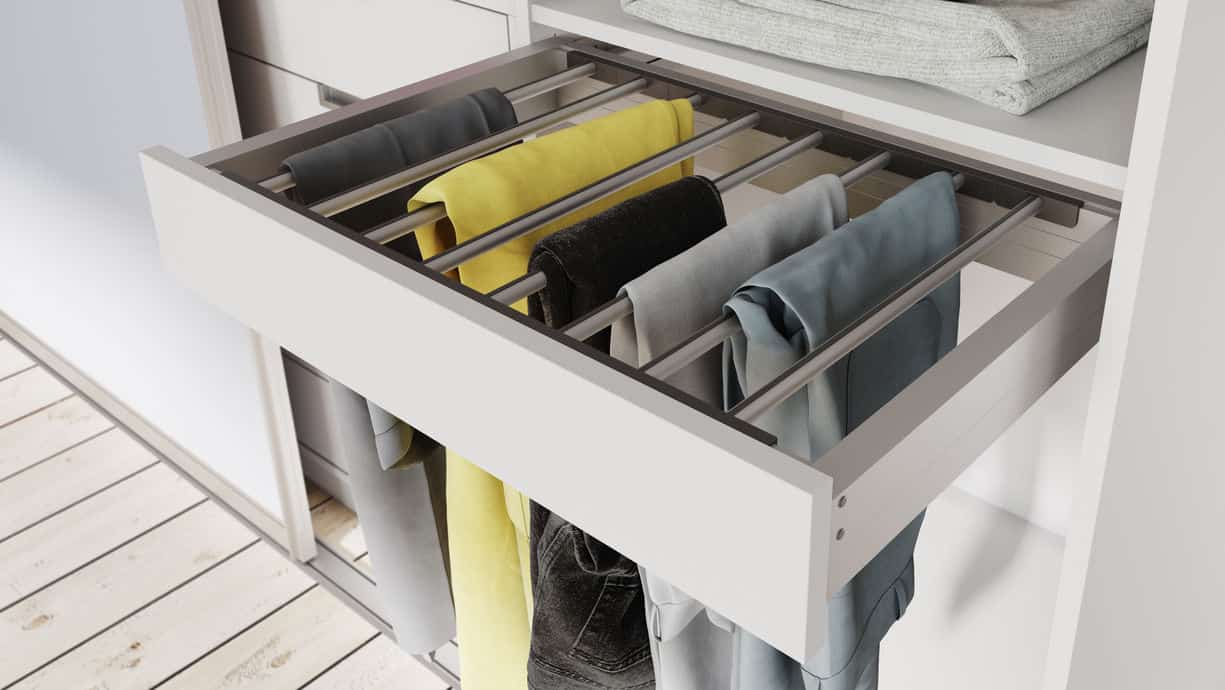 View Complete Gallery:


Hardware
The kind of hardware you use will determine the movement of the door panel, and this can have an implication on the space that you have. Since we are living in urban settings, where space is a luxury, we are often constraint by the lack of sufficient spaces. So we recommend using sliding doors wardrobe design, as it helps in saving a lot of space compared to hinged doors etc.
Even for sliding doors, multiple hardware options are available. Your choice of hardware will be determined the way you want your door to slide, the dimensions & weight of door panels, concealed or visible hardware system. Ideally it should slide effortlessly, silently and with a slight push. It should also have soft close feature.
 We are presenting some of the options by popular brands but that is just the tip of the iceberg.
Following are the major types of sliding door hardware provided by Hettich:
Topline
SysLine
Inline
SlideLine: Bottom running sliding door systems
Sliding door systems for customized applications
VerticoSynchro, VerticoMono, HorizonSynchro, KA 5740 : A single movement of the hand synchronously opens and closes two doors in opposite directions.
Folding door systems
WingLine
All the above options come in multiple variants.
 View Complete Gallery
Hafele slido series of wardrobe cabinet is quite sought after. It has multiple variants in classic, design , slider, fold sub-series.
View Complete Gallery


Sliding doors wardrobe design based on available space
Built-In Closets
Most commonly seen and preferred by home users across the globe is this type of wardrobe – Built-In Closet or Fitted Closet.  Based on the various choices available in door panels, hardware, accessories, you can create your own personalized storage space.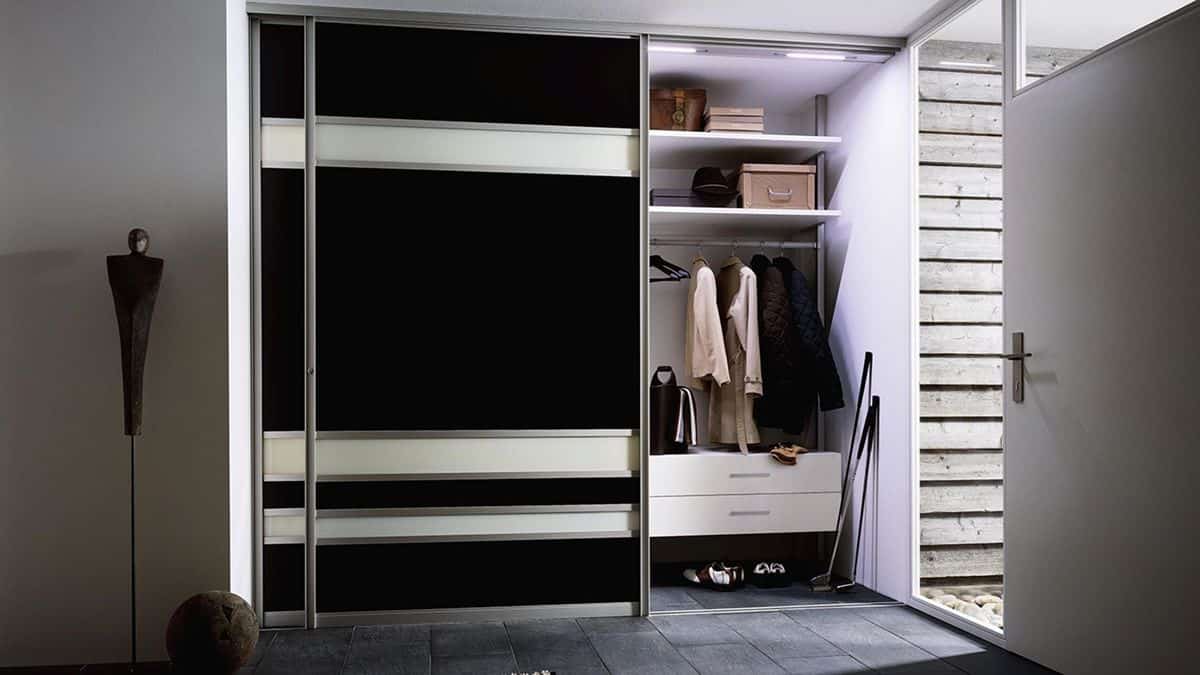 Walk-In Closets
If you do not have space constraint and want a great dressing up experience then this type of closet is best suited for you. There is so much you can do in terms of design and creativity. From customized sliding door panels that conceal the entire dressing up space from other zones of the house, to the dresser, mirrors, accessories and lights that create the right atmosphere, the possibilities are unlimited.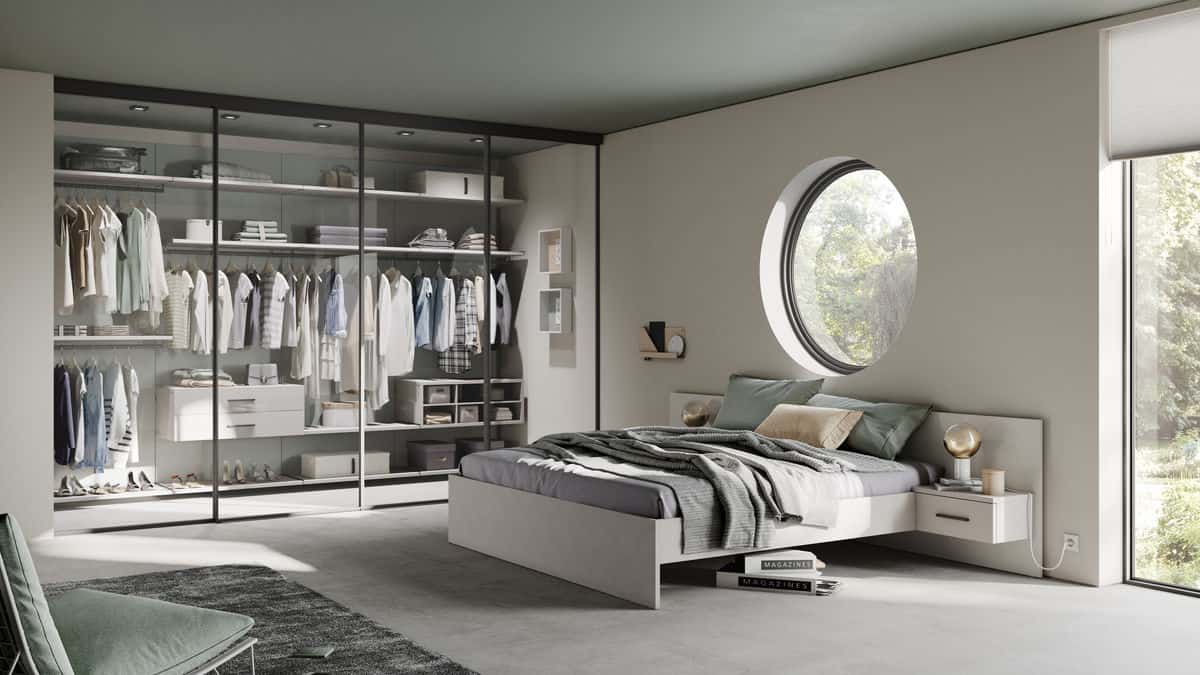 Sloped Ceilings
You can utilize each and every corner of your house to design your personalized storage space. We have often seen that there is so much space under a stair case, but utilizing it throw lot of design challenges.  Similar challenges are encountered in areas under sloped ceilings.
But now a lot of creative solutions are available to utilize any space available. You can use this space by having a sliding door wardrobe design customized for such sloped ceilings.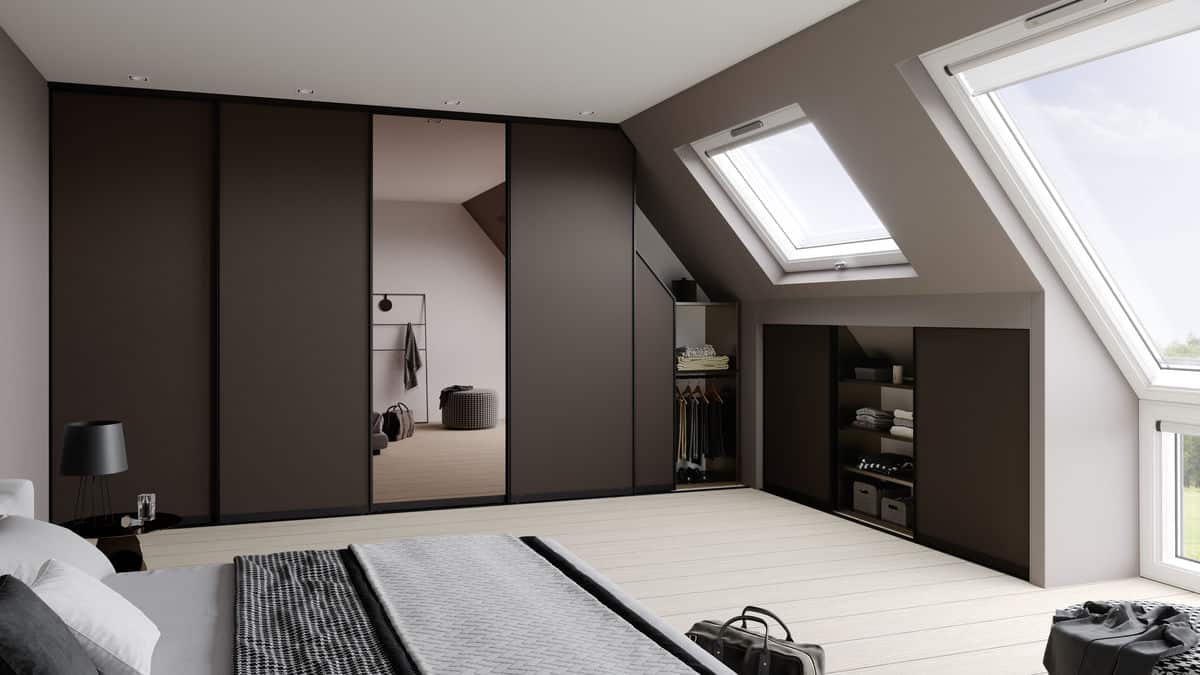 Corner Solutions
Utilizing corners can be tricky at times. But there are lots of smart corner solutions available that enable you to utilize wall corners efficiently and seamlessly.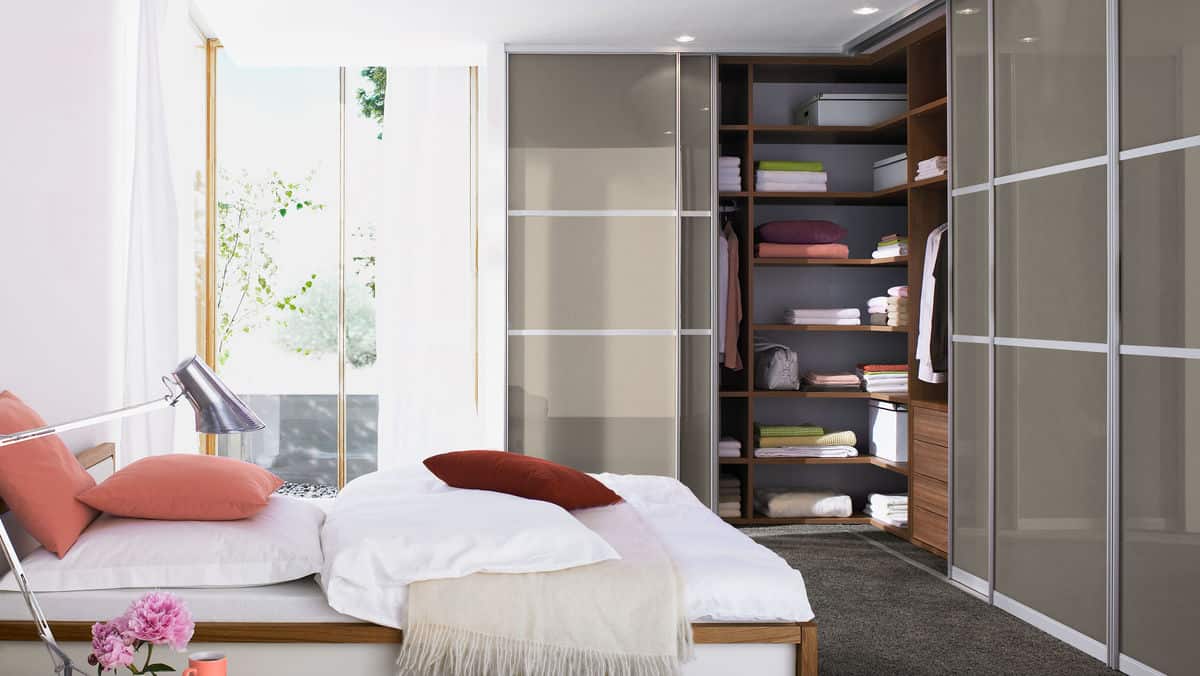 (Source: Raumplus, Hafele, Hettich)