One of the toughest rooms to decorate is a small bathroom because of the little amount of space available, the low supply of natural light, and the number of fixtures that must fit. But when done properly, the space can appear brighter and larger. Moreover, for some ideas, you won't need to spend a fortune or go past your budget to get your desired small bathroom. Compact bathrooms are created to ensure that a small area feels not just bigger and more functional, but also incredibly elegant. Therefore, when it comes to designing a small bathroom, you should be mindful of the available space, size, natural light, colour, and budget. There are countless small bathroom design ideas and elements like mirrors, showers, vanities, etc. surfacing on the internet these days. If you want to keep it minimal yet modern, go for a simple small bathroom idea like choosing a monochromatic scheme.  
Even if you've got a compact bathroom, there's no need to compromise on style. So, in this article, we have provided striking ideas to design your small bathroom. These ideas show that daring design elements may fit well in even the smallest spaces, going beyond simply maximising the usable floor space. You can also select the design of your choice from our exclusive image gallery. Keep reading to know more.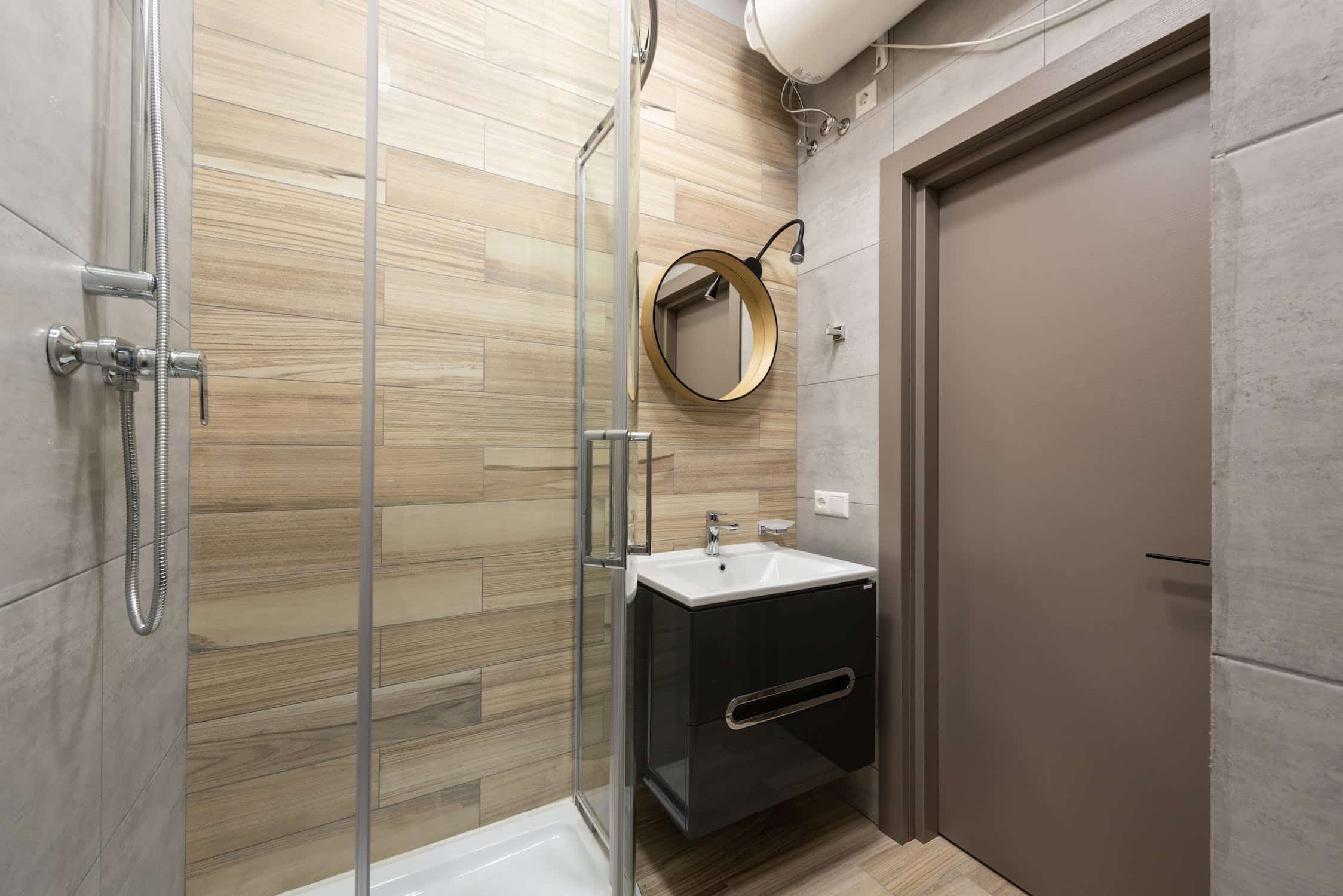 Image Source: Max Vakhtbovych on Pexels
If you want your small bathroom to look sleek and tidy every day, you should consider organising it. To make every available inch of space count, install a built-in vanity in your restrooms so that it remains clutter-free. In addition, try going for floating vanity rather than covering the floor space. This modern small bathroom idea prevents your space from becoming too crowded.
Embrace a monochromatic palette  
Image Source: Becki Owens
The smaller the room, the more you should go for a monochromatic palette. Using monochromatic shades can visibly eliminate spatial issues if you have a small bathroom. If you pick a light palette, be sure the lighting is warm enough to avoid a gloomy vibe. You can never go wrong with a black-and-white bathroom if you see your bathing ritual as a chance to clear your mind and unwind from the stress of the day. 
Include a skylight in your small bathroom
Image Source: Sittonkirsty 
Does your small bathroom lack space for windows? How about adding a skylight instead? Skylights can provide light and ventilation, reducing the need for a bathroom fan and assisting in the prevention of dampness. These work well in bathrooms without windows. Furthermore, skylights come in tubular, fixed, and ventilating varieties.   
Style it with a wall sconce   
Image Source: Max Vakhtbovych on Pexels
Lighting is similar to jewellery for the bathroom. Modern lighting ideas add glamour to your small bathroom design on an affordable budget. Installing good lighting in your small bathroom serves as a functional as well as a decorative element. We recommend installing wall lights beside the mirror for proper illumination.  
Opt for country-style elements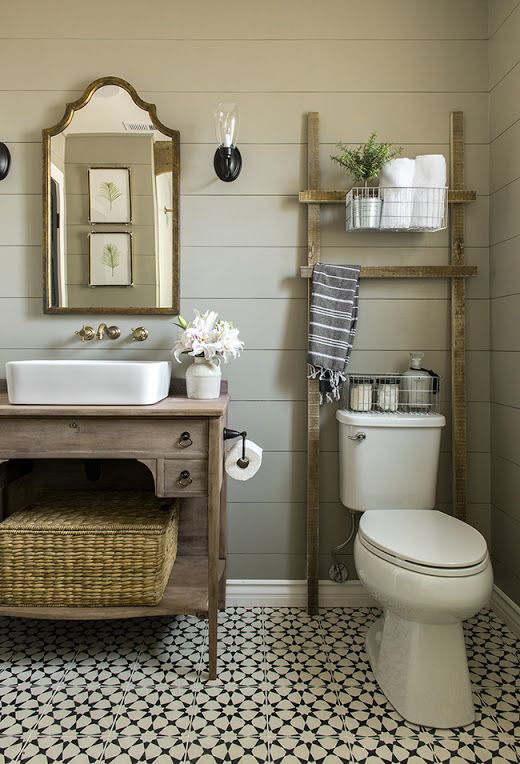 Image Source: Becky Owens
The country-style components are ideal for a small, modestly-sized bathroom. You can add more creativity to this chic small bathroom by adding a ladder to hang towels. Compared to a bar, it can hold more towels and gives the bathroom a distinctive look. This small bathroom design idea adds a rustic vintage look to your modern bathroom, keeping your budget in control.  
Go for multiple mirrors  
Image Source: 2LG Studio
The mirrors reflect sunlight into every corner of the room and impart a quirky yet cohesive edge to an otherwise boring bathroom. A wall-to-wall mirror is a surefire way of making a room appear larger. You can also go for a mirror gallery on the wall. Despite having little natural light, these mirror ideas are budget-friendly and add a spacious feel to a small shower bathroom. 
Keep it simple with bright colours  
Image Source: Medium on Pinterest
Adding bright colours is a great way to liven up a small bathroom. Moreover, soft and bright hues reflect natural light. If you want to keep your small bathroom simple, you can opt for the idea of using a bright colour palette. It will give a minimalistic look. Consider using a vibrant shade, such as turquoise or coral, as an accent colour on a single wall to pair with your light colour palette. 
Use glossy tiles for shower cubicles  
Image Source: Max Vakhtbovych on Pexels
Showers are convenient and use less water than a bath. Another advantage of bathroom showers is that they take up little space. A quadrant or curved enclosure is the best option if you want to save space. Adding gloss finish tiles enhances the appearance of the space by reflecting natural light throughout the room. These small bathroom ideas with shower cubicles fit neatly into the corner, giving your space a modern look.  
Replace swinging doors with sliders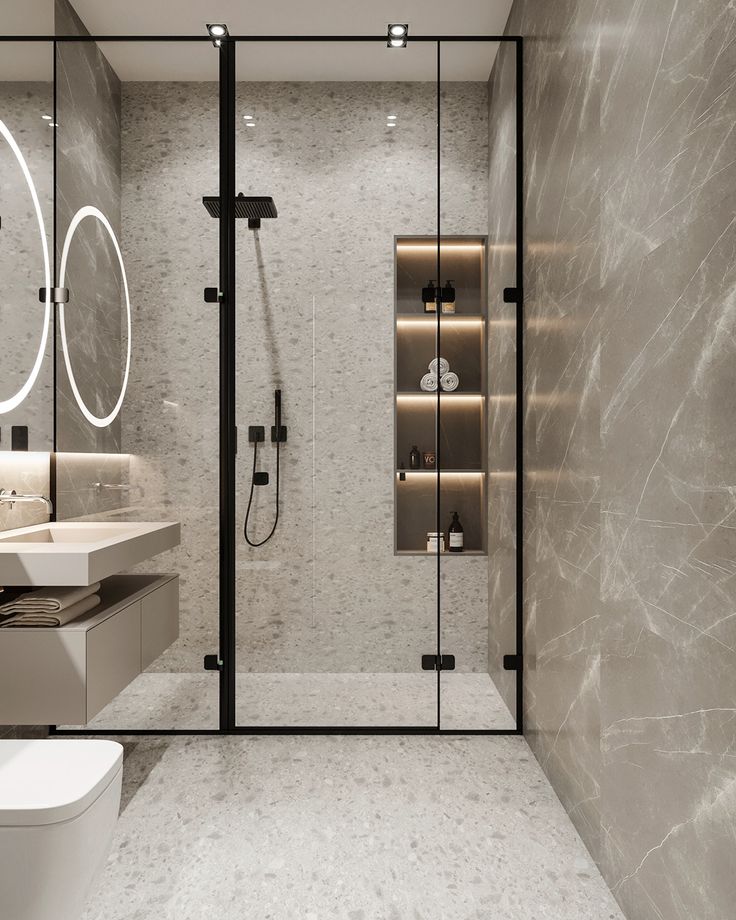 Image Source: Behance
When space is limited, sliding doors are a person's best friend. Opt for a door on a rail that is always parallel to the wall rather than a door on a hinge that, when opened, takes up space in your small room.  Using this idea while remodelling will ensure that you have more space than you originally did. 
Plan your curtain placement strategically 
Image Source: Spiffy spools
Looking for something new than the average plastic shower curtains? Try using curtains that will look more like a drape. Using a lightweight fabric for the curtains is recommended as it lets in most light. Furthermore, extending the curtain closer to the ceiling will definitely lengthen the walls. Avoid horizontal patterns with a lot of colour and floral prints because they tend to dominate the space and make it seem smaller. Rather choose them in the same colour as the walls or a slightly lighter shade. Use white shower curtains for small bathrooms. The idea behind this is that white curtains open up a room and typically match any bathroom design.  
Exclusive ideas to design your small bathrooms beautifully
Conclusion 
Small bathrooms are beautiful and should be designed in a way that makes them appear larger. There are many factors that contribute to adding an illusion of space to your compact restrooms. Whether you want to go for a simple or a modern look, all you need is eye-catching ideas (such as a built-in vanity or bathtub with shower) to design the small bathroom. These ideas will instantly elevate your space. However, you must have a clear understanding of your tastes and style before starting any project. So, draw inspiration from some of the best ideas mentioned above and make your small bathroom feel more spacious and enjoyable on an affordable budget.
*The featured image used in this article is from Lot 1 Design
[vvsmustread]