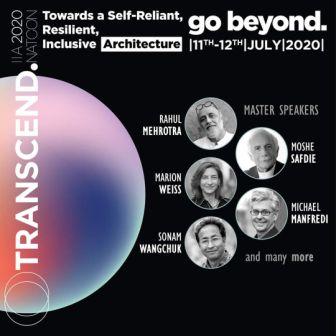 The IIA National Convention 2020: Transcend takes place this year in the virtual format. The National Convention will follow the theme on Transcend – focus on Self-Reliance and Resilience in Architecture with an inclusive approach. It will address 'Equitable' built environment for all sections of the society, the lessons from the Pandemic and the way forward.
The Indian Institute of Architects (IIA) is the national body of architects, with more than 25,000 active members. It plays a major role in promoting the profession of architects by organizing and uniting the architects of India to promote aesthetic, scientific and practical efficiency of the profession both in Practice and Education. This year, the sessions are constituted to surpass the boundaries of social inequality – inadequate habitat for the needy. Natcon 2020 will feature expert talks by internationally renowned Architects and panel discussions on a range of topics related to the profession.
[vvsmustread]
The two day event is spread out as follows:
Day 1: Inaugural ceremony followed by two sessions
Day 2: Two sessions followed by Valedictory Ceremony and Entertainment Programs.
The program will be addressed by celebrated architects from India and abroad. Each of these sessions will be held in virtual halls featuring various topics such as Transcend, Resilience, Innovation, Self Reliance, Inclusive and Valedictory. Around 3000 architects from all over the country will participate in Natcon 2020.
The IIA Natcon is the only national level convention for Architects organized by its own fraternity members' organization.
The Prominent speakers include:
Click Here To Register.