Convenience just got more convenient. Touch it on. Touch it off. Or go completely hands-free. We are talking about the innovative product from Delta – the all new Delta Touch20.xt Soap Dispenser.
Tap anywhere to start the flow of water or use the Hands-Free Technology option. Your entire Touch20.xt  Technology soap dispenser acts as a sensor so the soap starts flowing instantly and effortlessly. It senses your presence within 4 in. and automatically shuts off within seconds once you remove your hands.
The high-tech capacitance sensing capabilities of Touch20.xt faucets allow the flow of water to be activated by breaking the capacitance field anywhere around the device, unlike traditional hands-free infrared sensors which require your hands be in a particular place and are sensitive to lighting conditions and clothing and skin color.
Click here to see product video
Product Features
Delivers precise, responsive control with every use.
Entire unit acts as a sensor, dispensing soap automatically when hands come within a few inches and stopping when hands are removed.
Helps conserve soap by allowing volume adjustment.
Touch2O.xt Technology offers offers both touch and proximity sensing technology to activate
Touch2O.xt operates by placing your hands within the 1/2 in. sensing field around the soap dispenser
Battery operated 6 AA (included) with a battery life of approximately 1 year or 6 C (not included) with a battery life of approximately 3 years
ON/OFF feature turns the soap dispenser off by rotating the spout to the left or right
ON/OFF indicator light will flash blue with proximity activation and stay solid blue for touch activation
ON/OFF indicator light will signal red when batteries are low
Perfect for hand soap, dish soap, and hand sanitizer
Offers five volume levels that you can adjust at the spout to get the amount of soap you desire
Not intended for foaming hand soaps, thick lotions, scrubs, and soaps with beads or pumice
Mounting hardware included
Concealed, silicone coated check-valve inside the spout helps prevent drips
Includes funnel for refilling
Refillable from above the deck
3 in. maximum deck thickness
Multiple colour options available
3 Types of  Delta Touch20.xt  Soap Dispenser
Transitional Soap Dispenser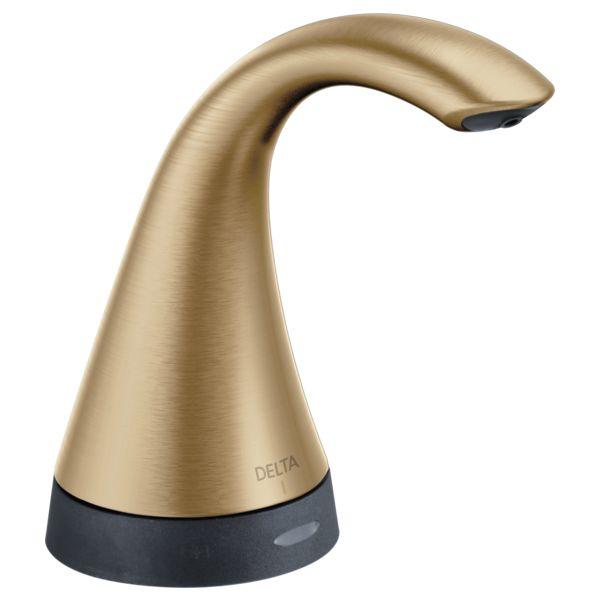 Contemporary Soap Dispenser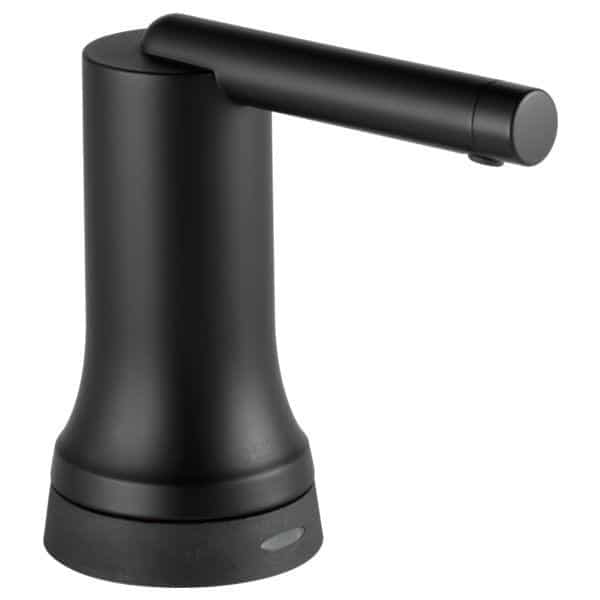 Traditional Soap Dispenser