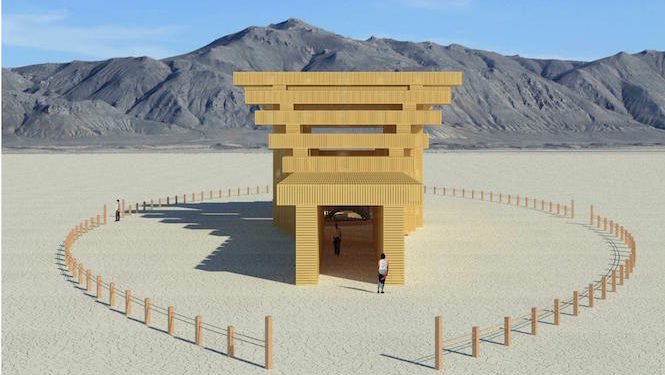 Every year, Burning Man Arts explore a spectrum of design submissions from their community's artists and builders, and they approach heir decision with the goal of creating a special physical space on playa for Black Rock City's citizens to share their reflections. The Temple of Direction was chosen for its elegant simplicity
Side entrance
The Design
The Temple of Direction is a linear space, capturing the elegance and austerity of the torii gates at Fushimi Inari Shrine in Japan, where the artist has previously lived.
The linear lines form a passage that expands into a large hall, eliciting both a physical experience and a metaphorical journey. It's a space that responds to the openness of the playa by creating a framework that encourages you to travel from end to end.
This linear form reflects the passage of life with its beginning, middle, and end. Throughout the structure there are areas that reflect this journey: narrow & wide spaces, bright & dark spaces, and tunnels that create intimate physical settings. Meanwhile, a large central hall, an altar, and many shelves for offerings create the setting for our collective experience.
Lanterns will decorate the exterior and interior of the 180-foot-long, 37-foot-wide, 36-foot-high Temple, and there will be four entrances facing the four cardinal directions of Black Rock City, 12, 3, 6, and 9 o'clock.
The Artist
Geordie Van Der Bosch calls himself a West Coaster, having lived in every state that borders the Pacific Ocean. He is also a traveller who has called Japan and England home. Geordie's many lives also include time as a skateboarder, surfer, competitive cyclist, and martial artist.
He is a San Francisco-based builder with a Masters in Advanced Architectural Design from the California College of the Arts, and he's been practicing architecture in SF for 12 years. Geordie is a board member of Precita Eyes Muralists and a member of Brass Tax, a creative collective that specializes in music and events.
This will be Geordie's eighth year on playa, where he's been a camp lead of the famed Black Rock Roller Disco and experienced the challenges of building on playa, dealing with unpredictable weather, and working with people from different backgrounds and abilities. He's also been a Fire Conclave drummer, and has played with the Playa Pops and the Burning Man Orphan Band.
"Here's a guy who's a regular guy, but he's an exceptional regular guy," one of Geordie's references said.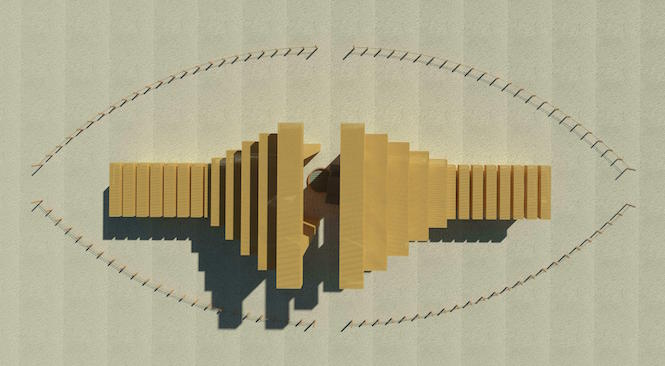 A bird's eye view