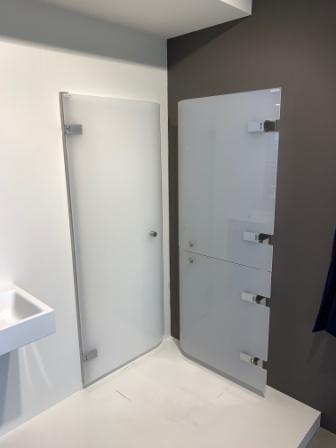 Shower doors have traditionally been seen as made of glass – a material that has it's own set of advantages, and disadvantages. Glass shower doors usually come in fixed structures, are heavy and have to handled with care (as all things made of glass have to be!). Belgium-based shower door manufacturer DEUREKA offers an alternative to glass partitions.
Made out of Polymethyl Methacrylate, these customer non-glass shower doors are lightweight, heat and impact resistant and ideal for making curved enclosures. These doors are modular, space saving (can be folded along the walls), safe and hygienic. These solutions are ideal for use in hospitals, educational institutions – student housing, assisted living apartments, care facilities and retirement homes. An additional option to increase safety is the seamlessly integrated emergency button in the shower door profile.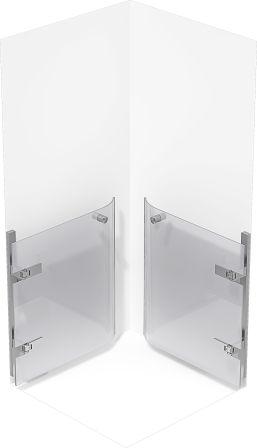 Both straight and curved solutions are available – termed Classic and Round It.
The doors can turn both inwards and outwards. The floating doors ensure that there are no obstacles for users, but also eliminate the risk of dirt accumulation or bacteria formation. The doors are  8 mm thick and are suspended from an adjustable stainless steel 304 profile. A stainless steel U-profile is attached over the entire height and width. The hinges, standard chrome mat, are adjustable and equipped with 3 folding positions at 0 ° – 90 ° – 180 °. These come with handy chrome matt door knobs with security screw.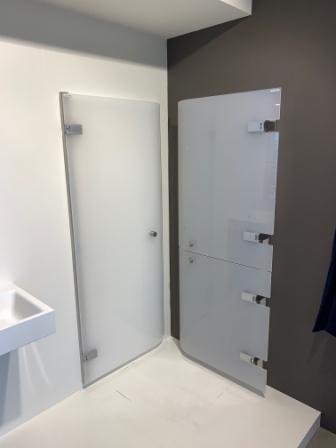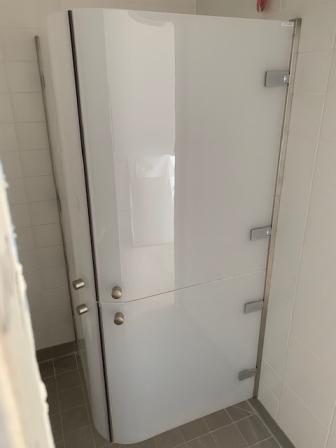 The doors are suspended from an adjustable stainless steel profile (adjustable if the walls are not parallel). The standard chrome mat hinges are adjustable and have a bending position 0 ° – 90 ° – 180 °.  The doors are available in all RAL colours, ranging from Inox look to Chrome glossy finish. Doors have a soft close mechanism by means of a door-high magnetic strip and can be swiveled completely out (for user) and in (in parking position). These solutions are maintenance friendly and are customisable.