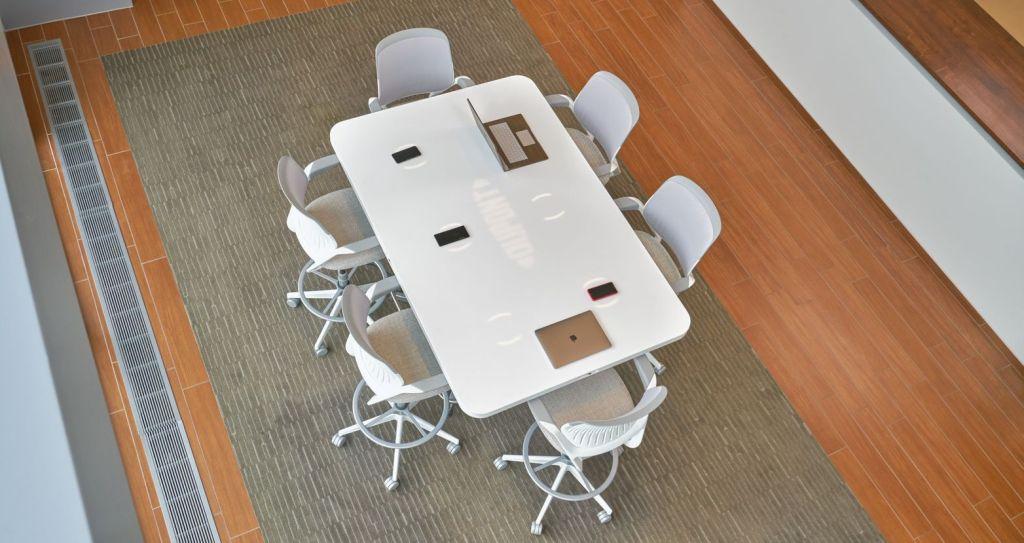 Meeting in conference rooms is a common site in any corporate office. However, despite being such a common activity it is still laden with lots of problems, like wasting time in searching for plugs for phones and laptops, navigating a tangle of wires on the conference room table etc. This eventually leads to loss of productivity and creativity.
But now DuPont has come up with a solution to change this scenario and make meeting places more efficient and productive. Now we can have a conference room with uncluttered surface, facility to charge phone wirelessly and controlling audio – video systems through wireless tablets.
This isn't a work fantasy. At DuPont's Silicon Valley Technology Center in Sunnyvale, California, it's now a reality. In June, DuPont unveiled a groundbreaking "smart" conference table at the InfoComm 2019 trade show, but the team in Sunnyvale has been testing the first prototype table for nearly a year. Made from a sleek, seamless sheet of DuPont Corian® Solid Surface, the table eliminates the usual jumble of equipment: embedded inside the surface is an array of tiny microphones and speakers, a retractable HDMI cable, and wireless mobile phone charging stations.
DuPont has been trying to make consistent efforts to integrate its smart materials with latest technologies in order to deliver new age innovative products. This smart table is the first such attempt by DuPont team.
 "We take these simple concepts and imagine all the different things that we could do to make an existing item — like a conference table — better, more sophisticated, and enabled by technology to provide data and analytics," says Greg Blackman, a longtime DuPont research fellow and technical leader of the Smart Materials team.
DuPont's Smart Materials team was launched in 2018 on a simple but profound idea: With embeddable circuits, wireless internet technology, and tiny electronic components, we don't have to rely on stand-alone devices to enable the internet of things. The entire building environment — from furniture to walls and carpets — can become productivity tools if you have the right materials and electronics expertise.
Brian Ammons, Business Director for Smart Materials, saw this idea as a unique opportunity to leverage the breadth of capabilities from across DuPont, and also to utilize some of the powerful technologies that had been added through the company's 2017 merger with Dow, especially in electronics.
The initial brainstorming produced dozens of ideas for the table, not all of which were practical for a first iteration. But wireless phone charging was a compelling addition. And the quest to reduce clutter led the technical team to place tiny microphones at eight spots around the table, eliminating the need for a cumbersome speakerphone. Choosing high-performance microphones with higher-frequency bandwidth than a typical telephone meant that voices would come through loud and clear.
After decades of working with DuPont Corian® Solid Surface, Blackman chose the material for the first prototype table. Corian® Solid Surface is strong, durable, and aesthetically pleasing, and can be fabricated into nearly any size and shape. So the Smart Materials team collaborated closely with the Corian® Design team. Together, the group started tinkering — drilling out small Corian® Solid Surface slabs to embed LED lights, wireless chargers, and other electronic components.
To enable the embedded speakers, researchers procured small components called audio exciters — thin metal disks that send vibrations through a rigid surface to produce sound. With the exciters in place, the entire table acts as the speaker, with rich, clear sound emanating from its surface. Beyond improving conference calls, it can double as a booming sound system, streaming music from a smartphone.
The prototype developed was tested in house and then feedbacks were taken from multiple user groups. With an encouraging response at multiple levels, the smart table was showcased at InfoComm 2019. The team demonstrated the capabilities of the smart conference table to leading AV professionals, another valuable test group. It made an impression — rAVe Publications named the DuPont smart conference table the 2019 Best AV Furniture Product
For DuPont, traditionally a specialty materials supplier, releasing an all-in-one conference solution is a bold venture. DuPont is not top of mind for most companies seeking to upgrade their conference facilities, but that could change with this sophisticated "conference room in a box."
Now, the Smart Materials and Corian® Design teams are continuing to drive the question of "what if." They have a list of about 25 potential features for future versions of the smart table. And then there's the longer-term potential to create entire smart rooms: occupancy sensors, automated temperature and lighting controls, touchless switches or voice-activated controls, and Corian® Solid Surface wall-mounted panels that double as projector screens with embedded audio exciters for sound.