Zaha Hadid has continued to mesmerize us; through her exemplary artwork and architectural sensibilities. While each of her creation is a master piece in itself, we bring you four of her projects that are truly out of this world.
Designed as a versatile multi-purpose environment, the ROCA London Gallery spread over 1100 sq m, will host a wide range of social and cultural events, including exhibitions, meetings, presentations, debates and receptions.
Zaha Hadid Architects have created a precisely ordered, intimate sensory design environment which stimulates the visitor through its active and engaged relationship with Roca's products.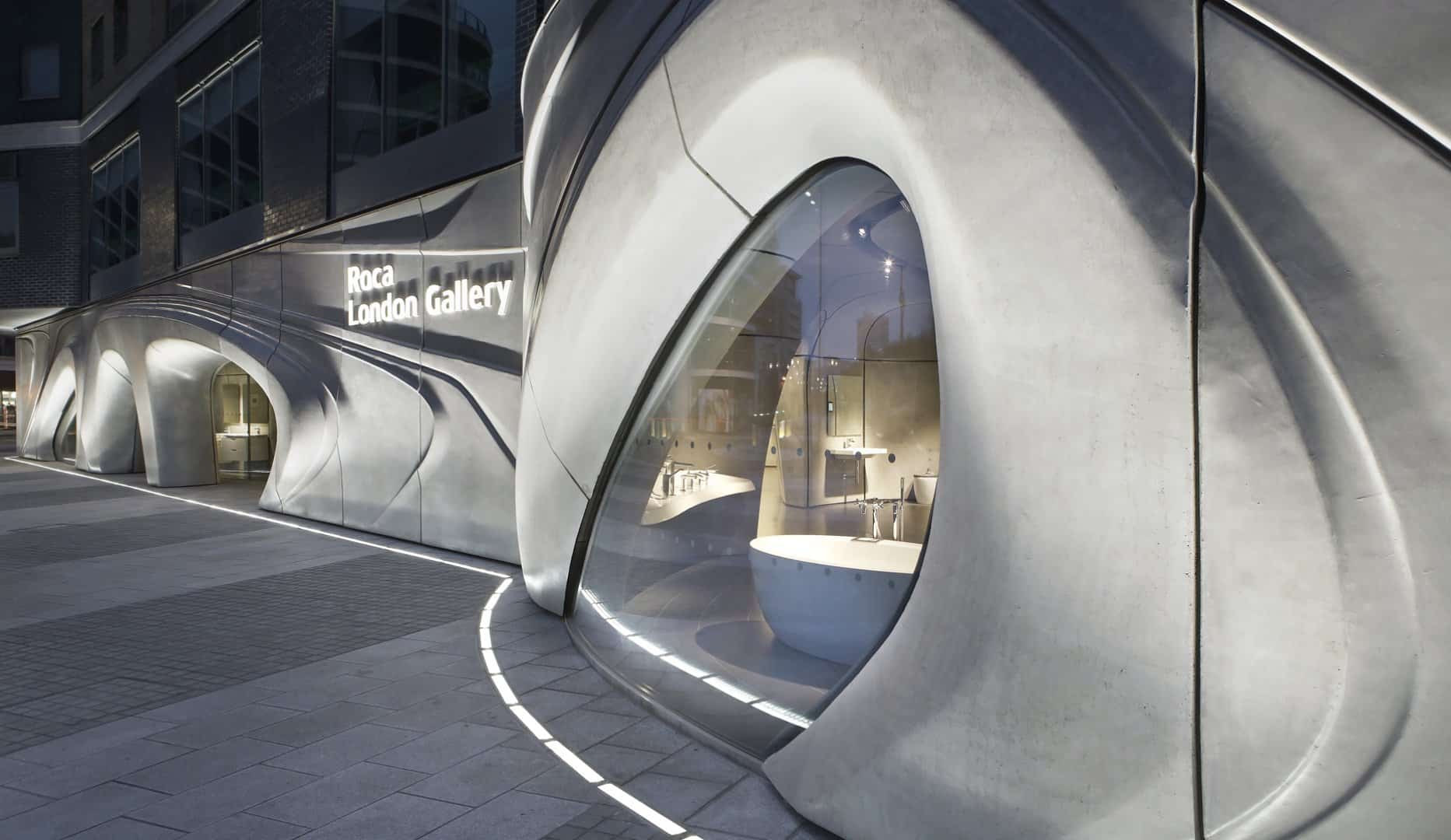 Water defines the landscape of the interior space, creating a sense of mobile liquidity. This feeling of liquid mobility is further enhanced by a series of elongated, illuminated water drops.
These water drops like fixtures adorn the ceiling acting as lighting fixtures, moving down to the walls serving as book shelves and finally flowing on to the floor providing for seating.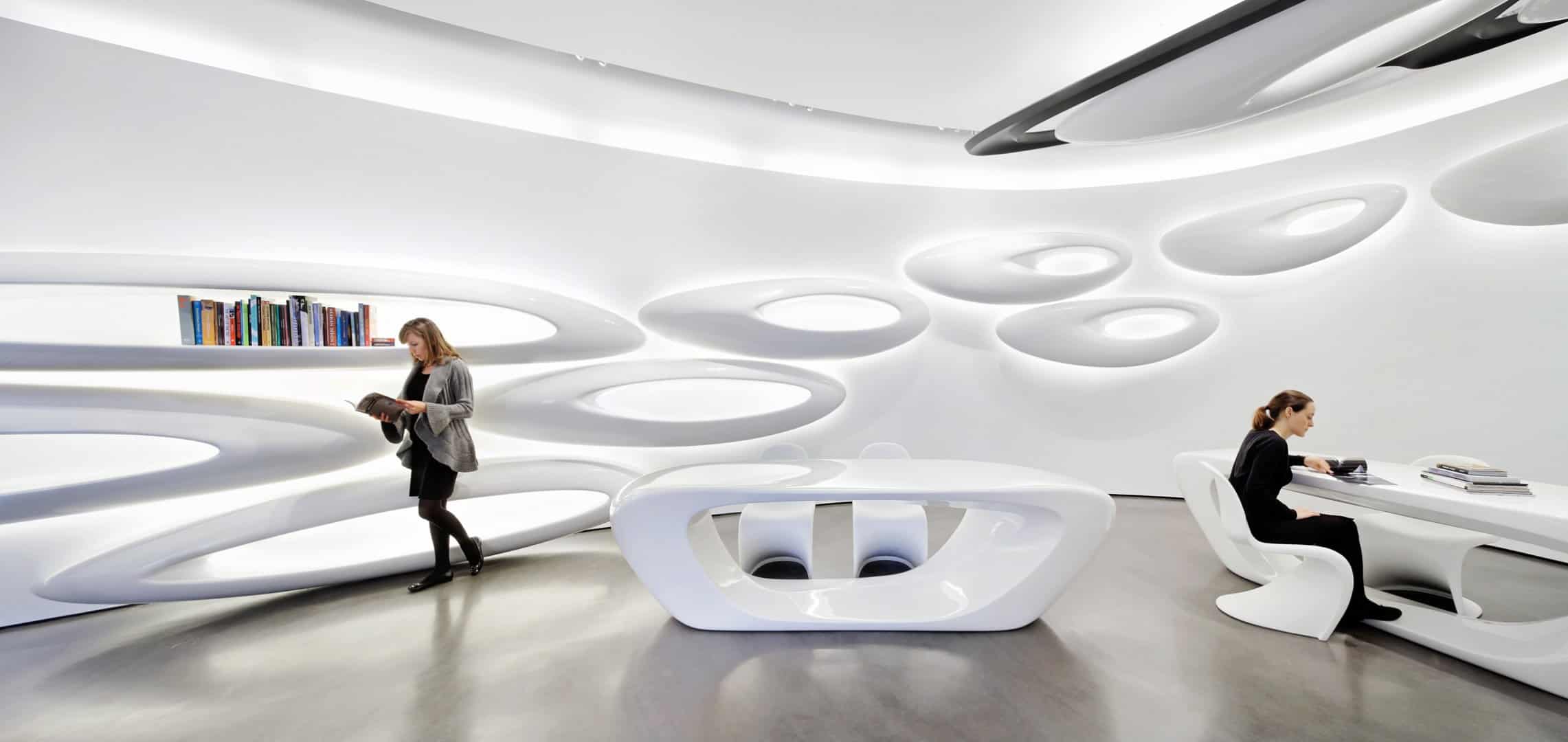 The fluidic language gives a unique identity to the area and also gives a feeling of movement to the visitors.
To integrate the entire range of bathroom products in this fluidic space was the real task; while maintaining the water current inspired optical illusion.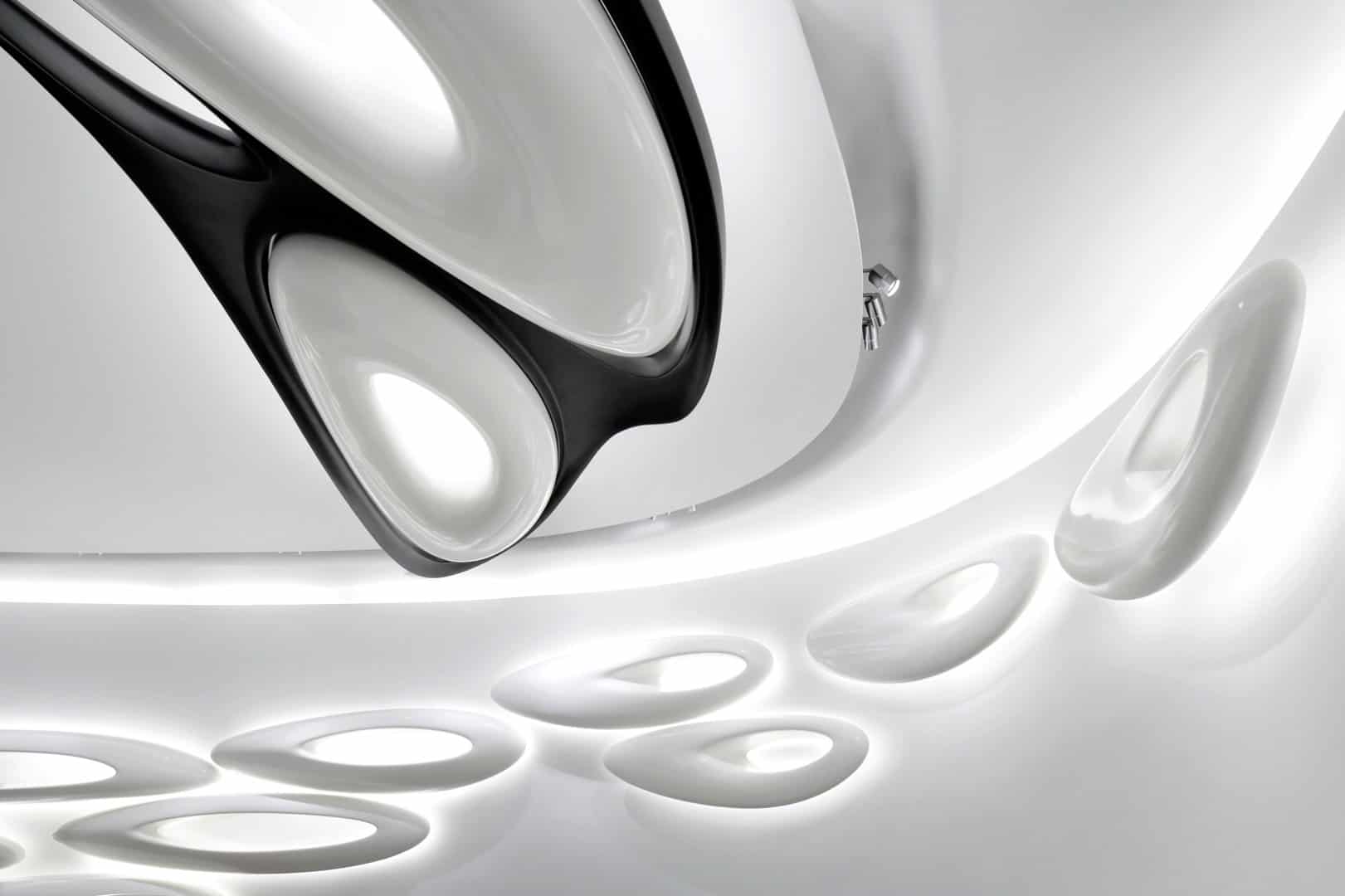 The gallery's walls give way in six locations to semi-enclosed, cave-like spaces of GRC panels for the product displays, as well as to the bar and reception area.
View Complete Gallery
Mobile Art Chanel Contemporary Art Container
A unique sculptural pavilion created as an exhibition/event space for Chanel. It is inspired by the brand's distinctive layering of exquisite details within an elegant, cohesive whole; created as a series of continuous arches, sequencing towards a central courtyard. The entire structure is flooded by artificial lights through translucent walls and ceilings.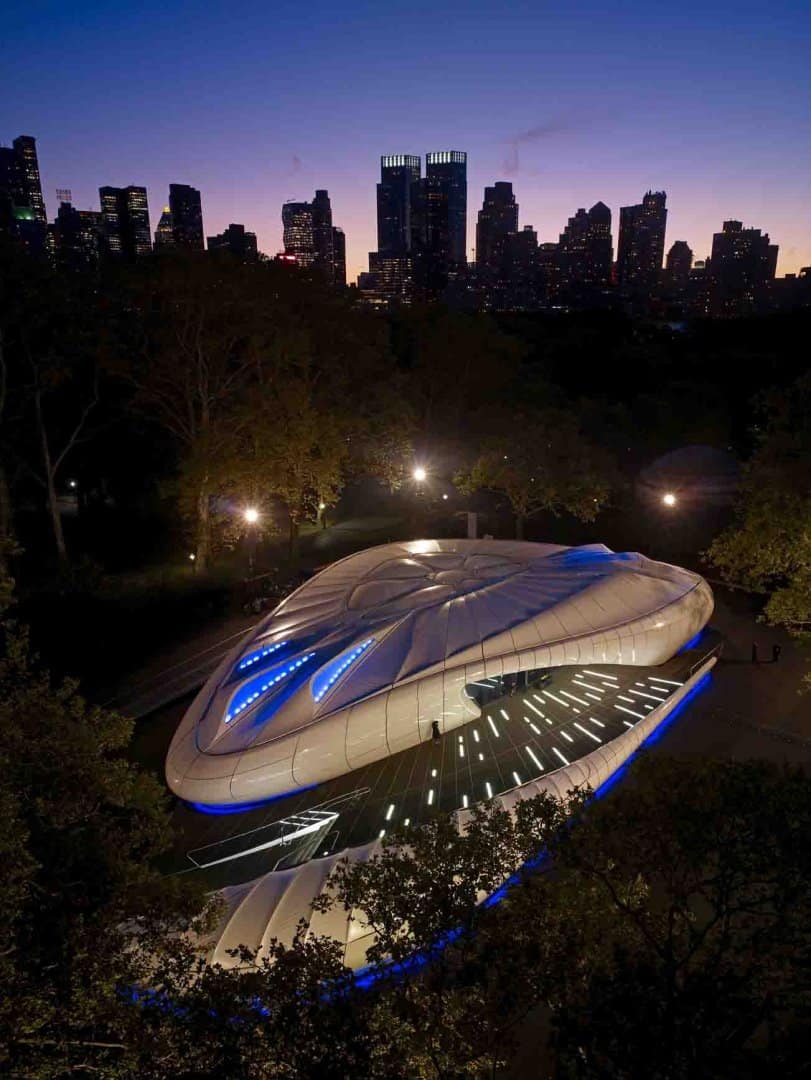 The pavilion's steel structure is designed to enable construction and subsequent decommissioning within a single week.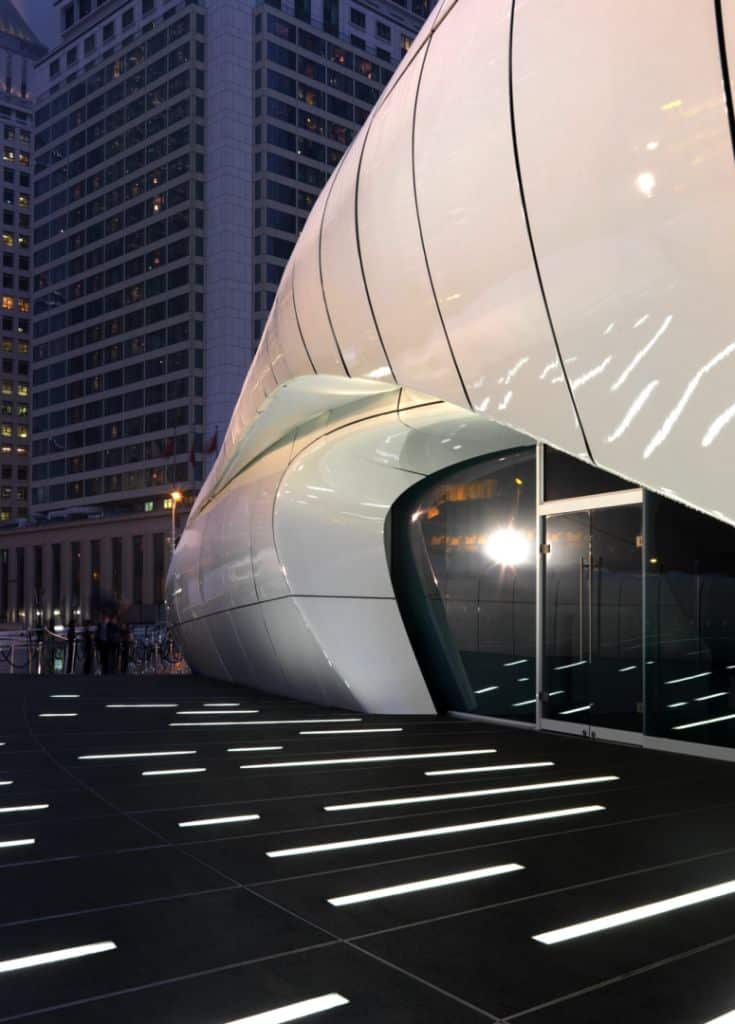 The dichotomy between the powerful sculptural mass of the Chanel Pavilion's structure and the lightness of its envelope create a bold and enigmatic element. To date, the structure has been erected for use in Hong Kong, Tokyo, New York and Paris
View Complete Gallery
The collaboration between Zaha Hadid and Swarovski Crystal Palace was an opportunity to challenge preconceived notions of lighting design on a large-scale. Drawing inspiration from self-organising systems and nanotechnology, the project redefines the chandelier, transforming it from a passive object merely hung from the ceiling to a reflective light source that forcefully engages with the space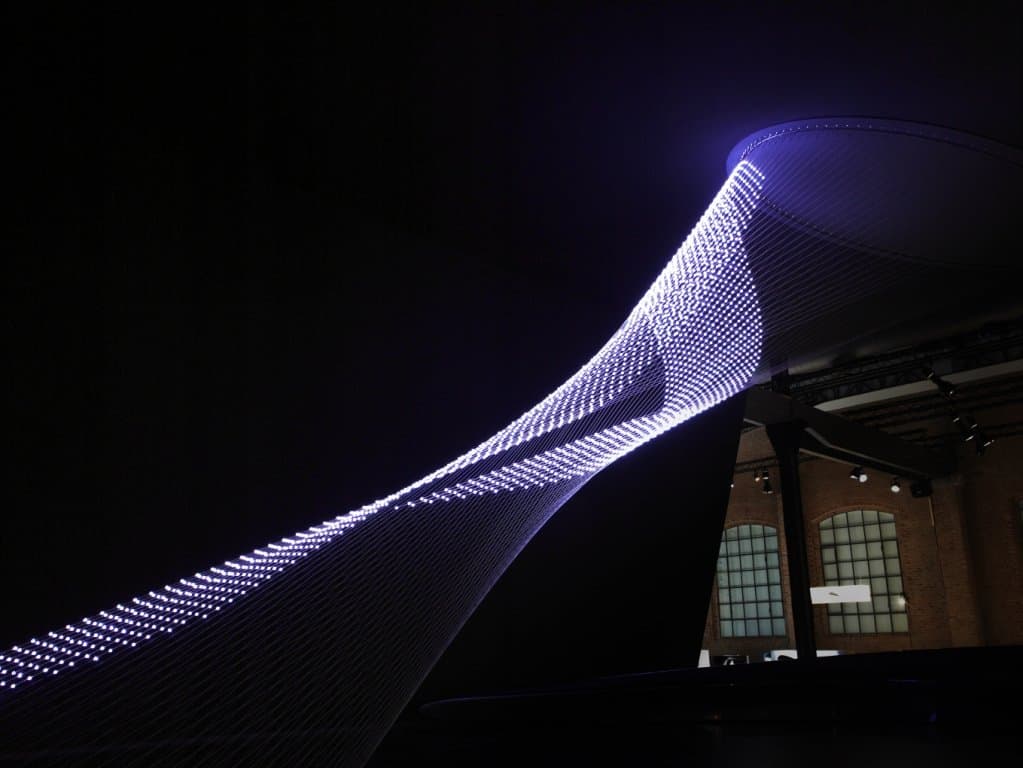 86 cables stretch from floor to ceiling at a 45-degree angle, generating more than 8 tons of tensile force and creating a fluted cone that carries 2,700 internally lit crystals. Enclosing the cone in a fluid vortex, the illuminated Swarovski crystals cast an ethereal light blue hue. The limited edition chandelier is more than 15 metres long and intended for a grand interior, while maintaining a high level of refinement and quality in every detail.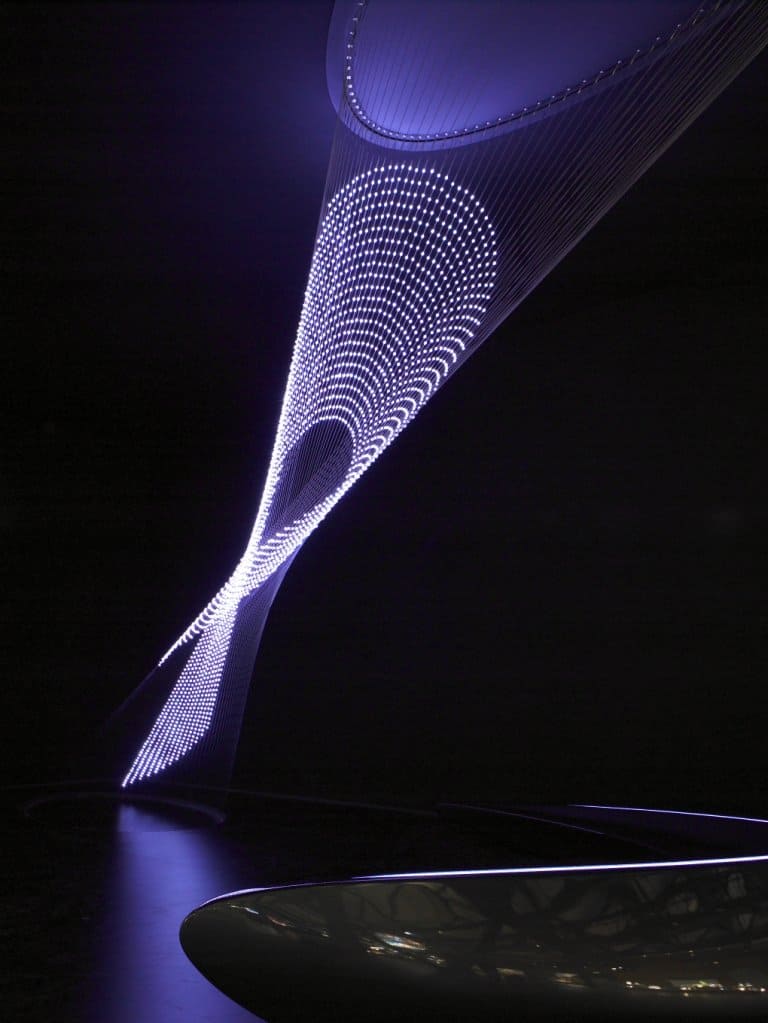 Liquid Glacial Table
The Liquid Glacial design embeds surface complexity and refraction within a powerful fluid dynamic. The elementary geometry of the flat table top appears transformed from static to fluid by the subtle waves and ripples evident below the surface, while the table's legs seem to pour from the horizontal in an intense vortex of water frozen in time.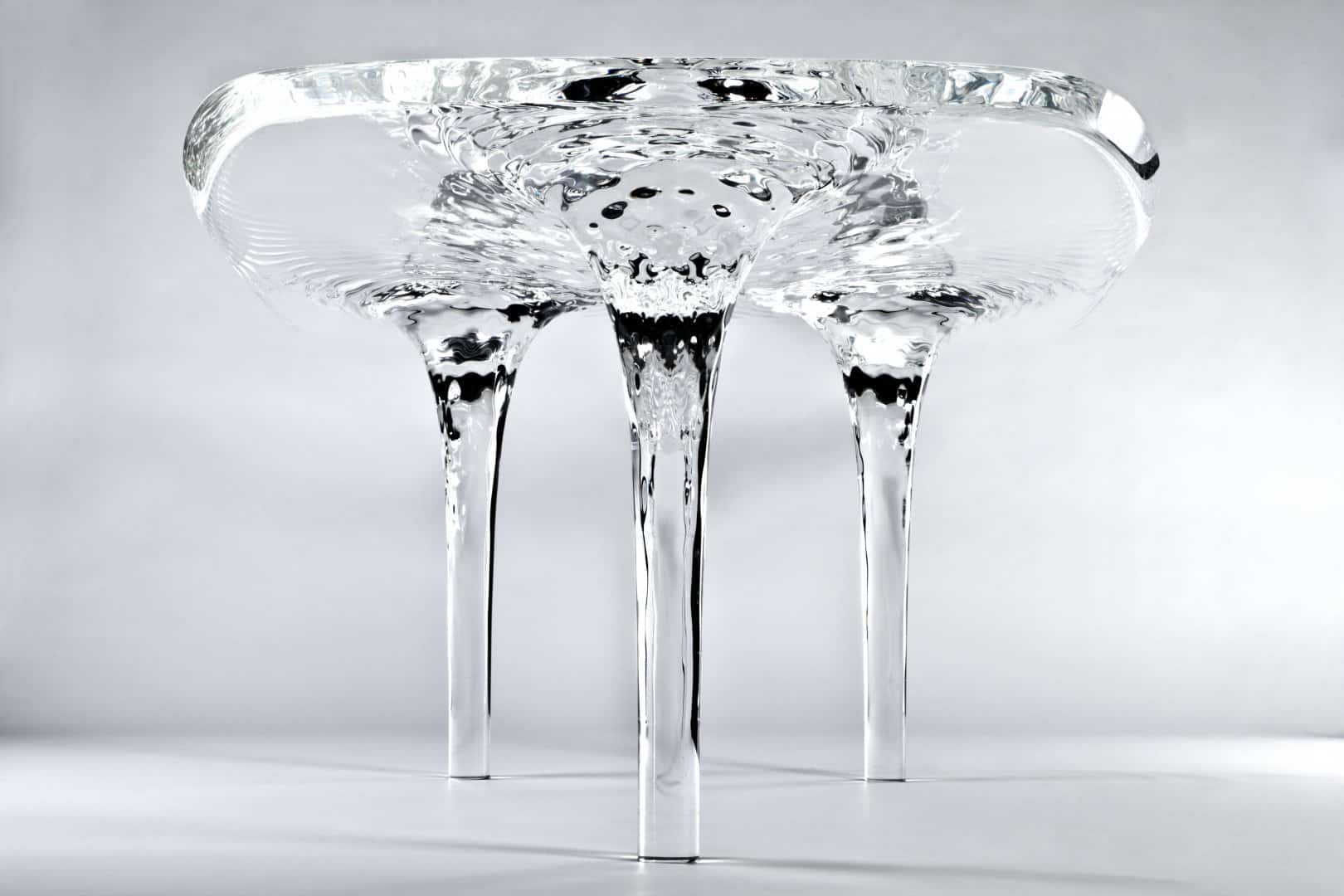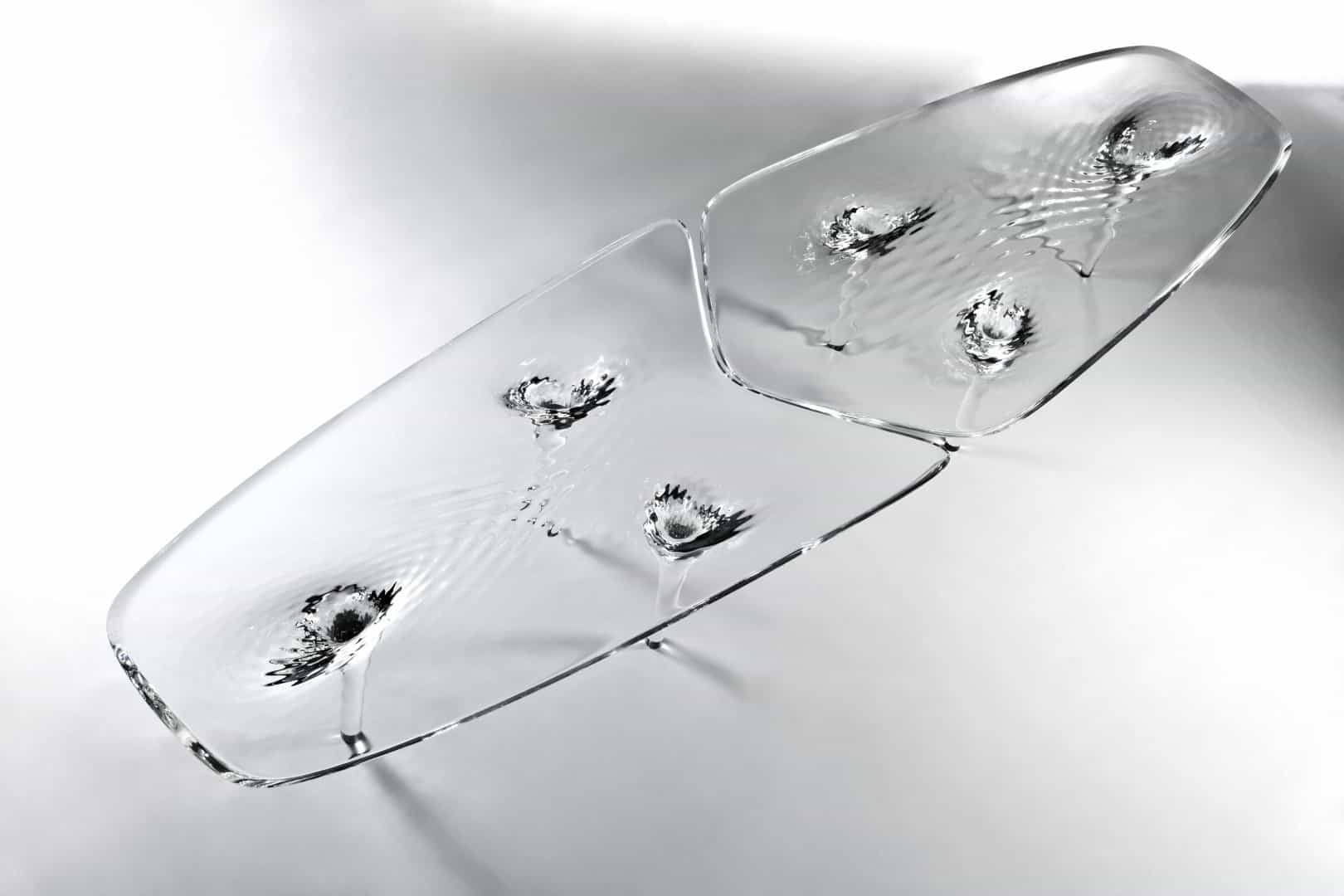 The transparent acrylic material amplifies this perception; adding depth and complexity through a flawless display of infinite kaleidoscopic refractions. The result generates a wonderful surface dynamic that inherits a myriad of colours from its context and continually adapts with the observer's changing viewpoint. The form is of its creator; a design that does not compromise functionality or ergonomic requirements and a coherent evolution of her architectural narrative exploring movement through space.
View Complete Gallery