Modern homes are a testimony to the fact that people love colors and there are enough reasons to justify that! Splashing a fresh coat of texture paint on the walls of your home, in the name of wall paint design, is the quickest, easiest, and cheapest idea to refresh and enhance your home interiors be it the hall, bedroom, kitchen, or any other room.
Since walls have the capability to take center stage and become a focal point of the space, it is important to give them the attention they deserve.
With a little imaginative and creative artistry, the walls can become highlights of the entire house!
Since the color of the wall evidently changes the space, wall paints have the power to not only infuse life into our space but also affect our mood in a positive manner.
Therefore, whether renovating an old apartment or a new one, painting the walls of your current abode becomes a priority.
If you are planning to take the major step of wall painting and are still confused among all the overwhelming choices, we have got your back and you can rely on us entirely.
In this article, we have broken down a few wall paint design ideas for all rooms such as halls, bedrooms, living rooms, etc. These are the designs that make people fall in love with instantly.
This will help you with ideas and inspiration you would ever need and turn your home into a masterpiece and yourself into nothing less than a pro.
This guide to wall paint ideas will cover the following aspects:-
Wall paint designs for bedroom
To please your personality, it is mandatory to paint your bedroom walls in a way that appeals to you the most.
Painting the bedroom walls is an inexpensive way to personalize your space. You have the liberty to paint any spots from the ceiling to the floor.
To add maximum value to your wall designs, you must make sure to paint more than just the walls.
The matte and textured paints are best for wall colour design for bedrooms.
Neutral warm shade and accessories provide a dose of color to this soothing and cozy bedroom.
Image Source: Miss Pie Designs
Wall paint design for bedroom #2
An accent wall used to tastefully paint a bedroom with a honeycomb pattern.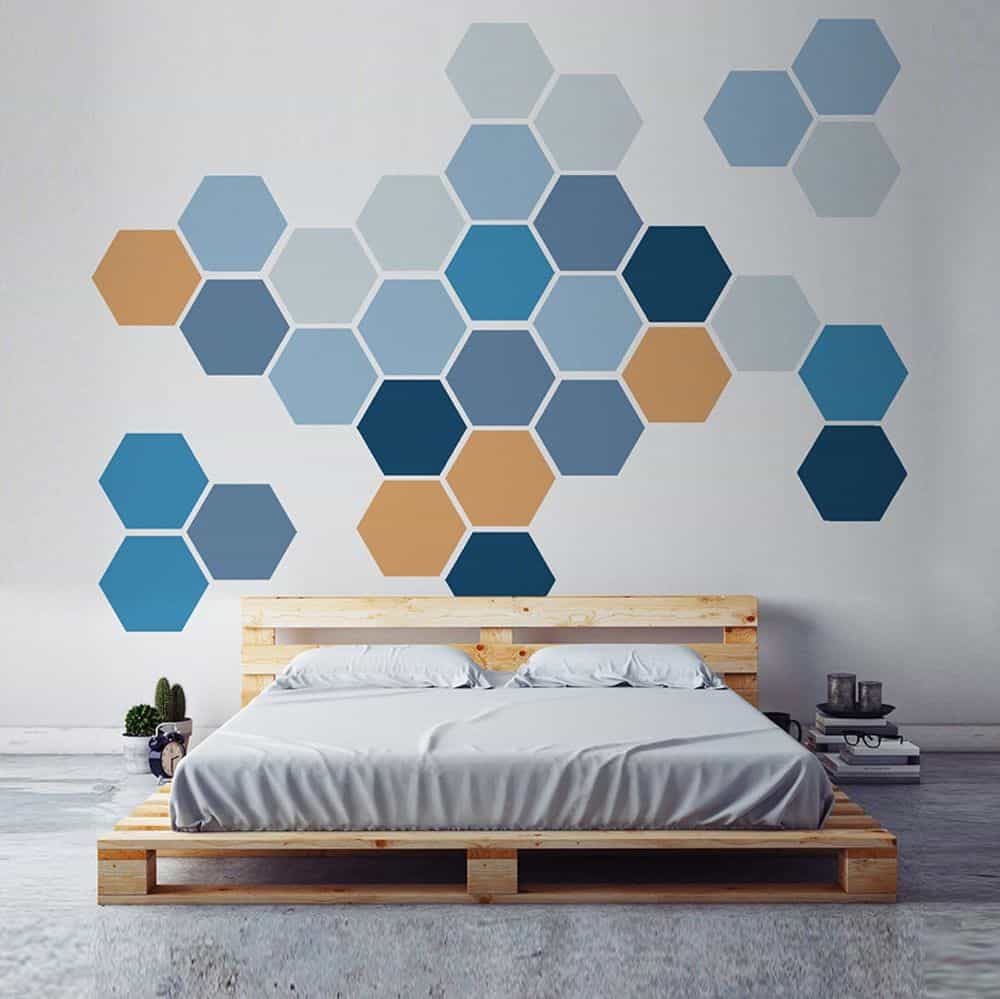 Image Source: interiormatches
Wall paint design for bedroom #3
This striped wall design pattern makes all the difference in this master bedroom.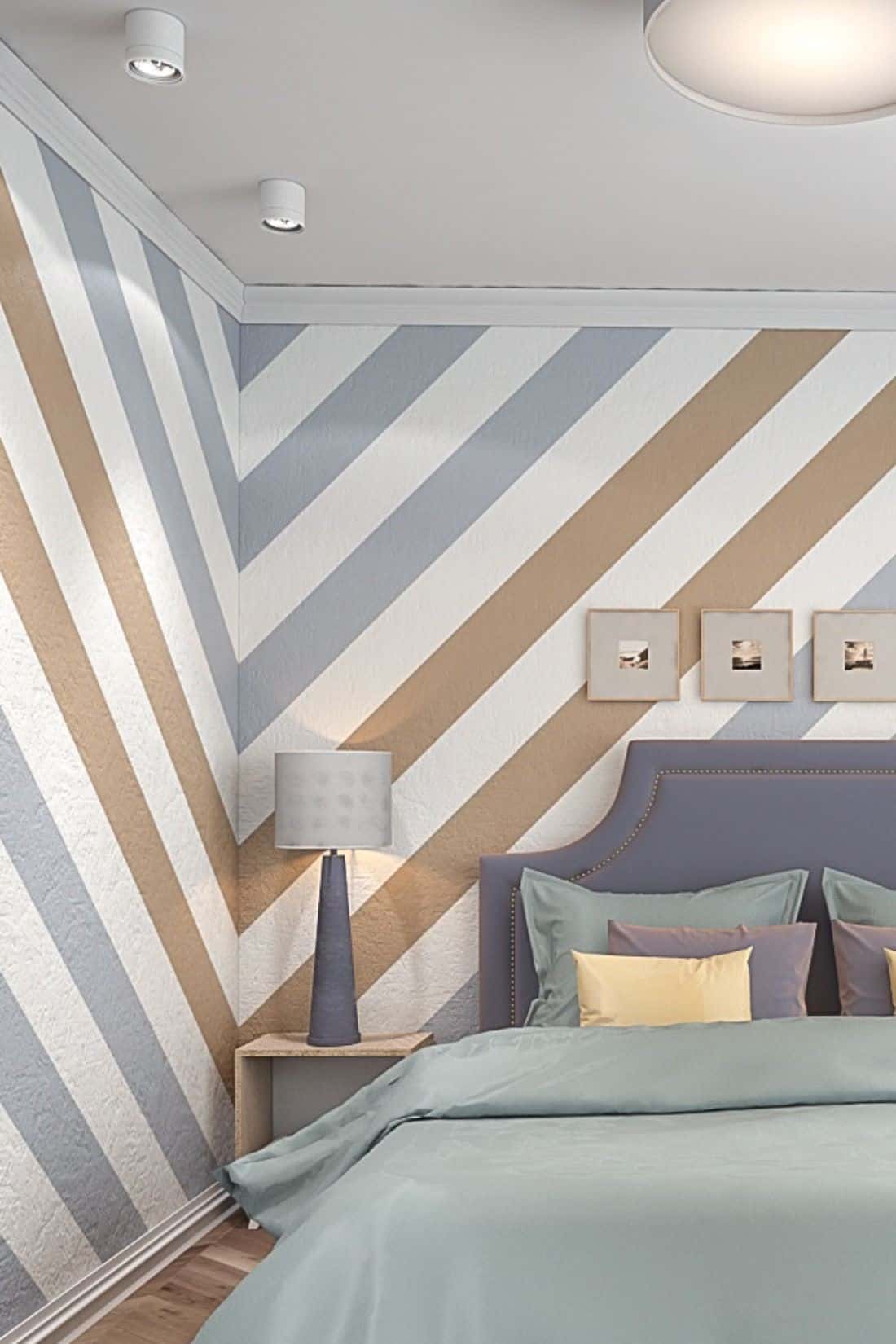 Image Source: StencilsLAB
An elegantly painted bedroom in two shades of green to create a contrast with a serious view.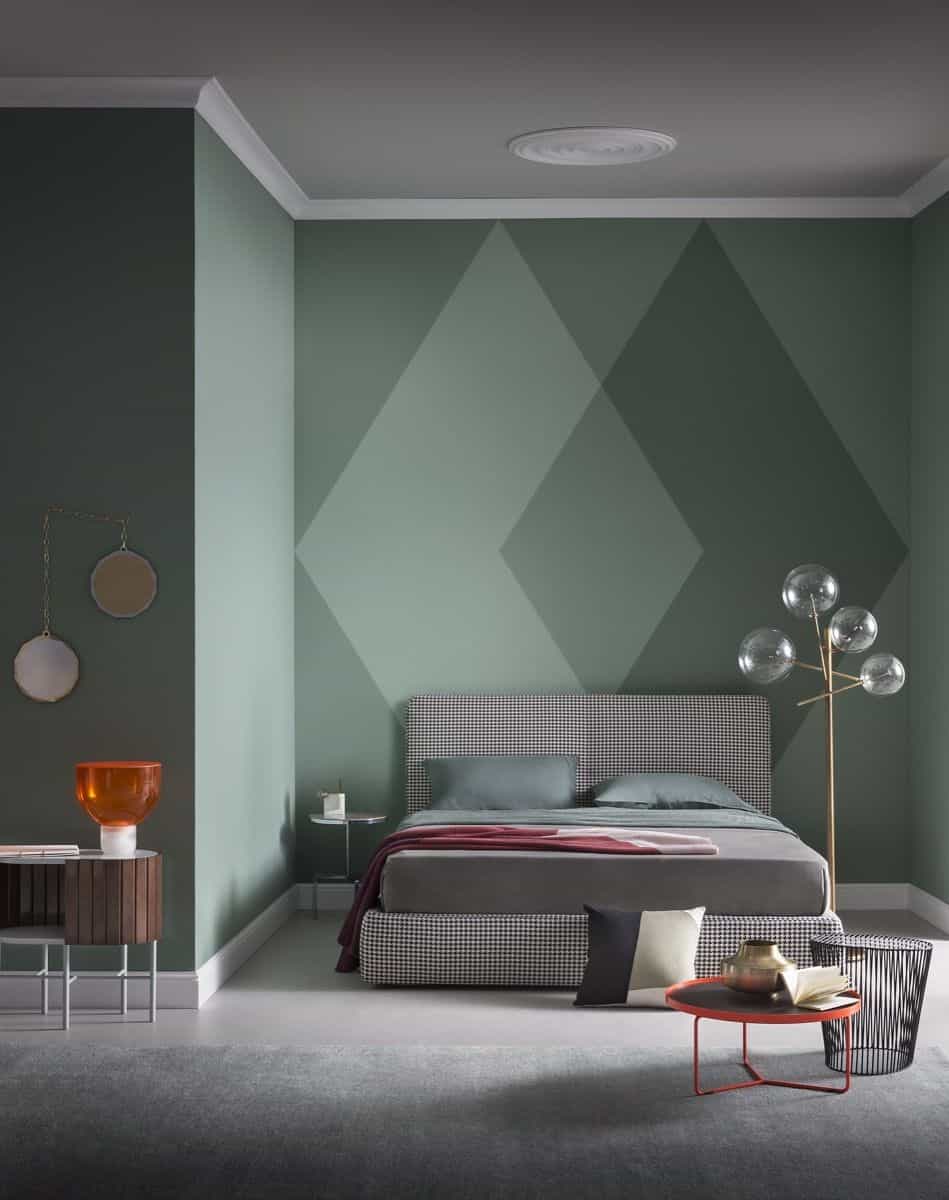 Image Source:Trendland
Wall paint design for bedroom #5
A creative mix featuring a colorful mural painted on a solid color block wall in a master bedroom.
Image Source: dressyourhome
It is time to jazz up your living room walls to make them unique and outstanding.
Since the living room is the most used area of any home, decorating them is the responsibility of every homeowner.
Whether you are looking for something bold and bright, neutral, or moody, enamel and emulsion options are best suited for wall painting designs for living rooms.
Here are a few living room painting ideas to get inspired by.
Go for a pale blue shade and follow a similar color scheme throughout to create a major design mood.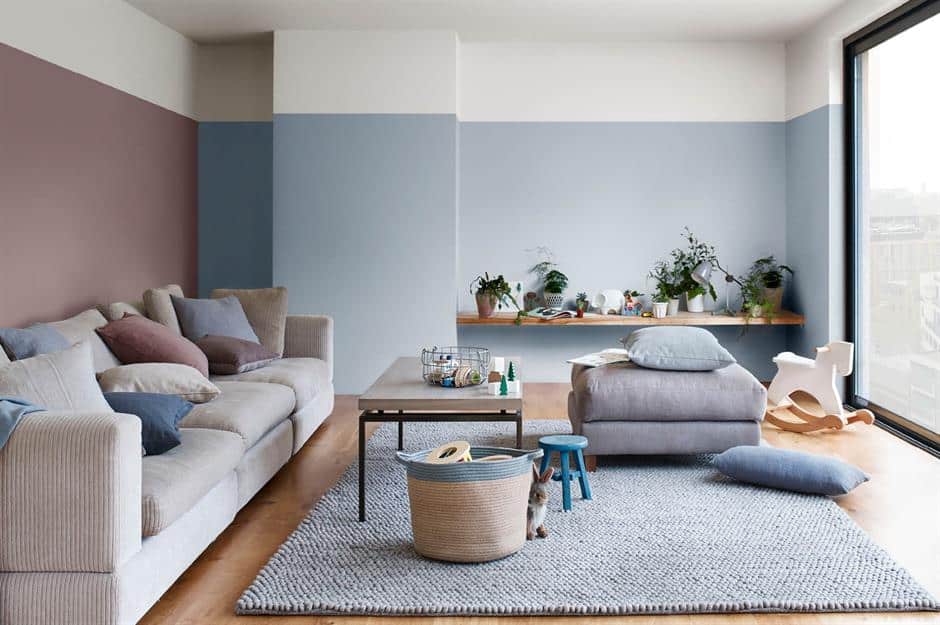 Image Source: lovePROPERTY
Wall paint designs for living room #2
An ornate stenciled pattern in golden color makes a statement in this living space.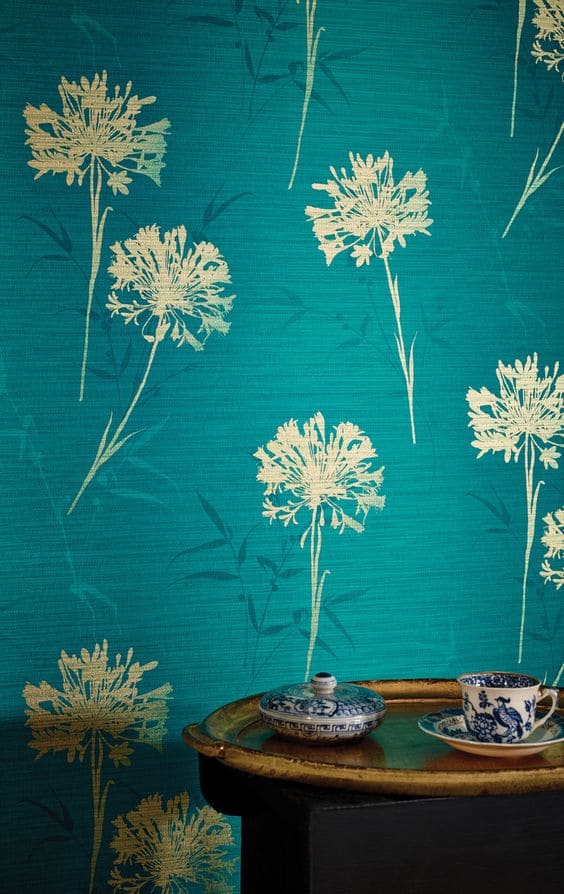 Image Source: Wayfair UK
Wall paint designs for living room #3
Use colorful or contrasting furniture and mixed finishes and textures to full effect in this living room.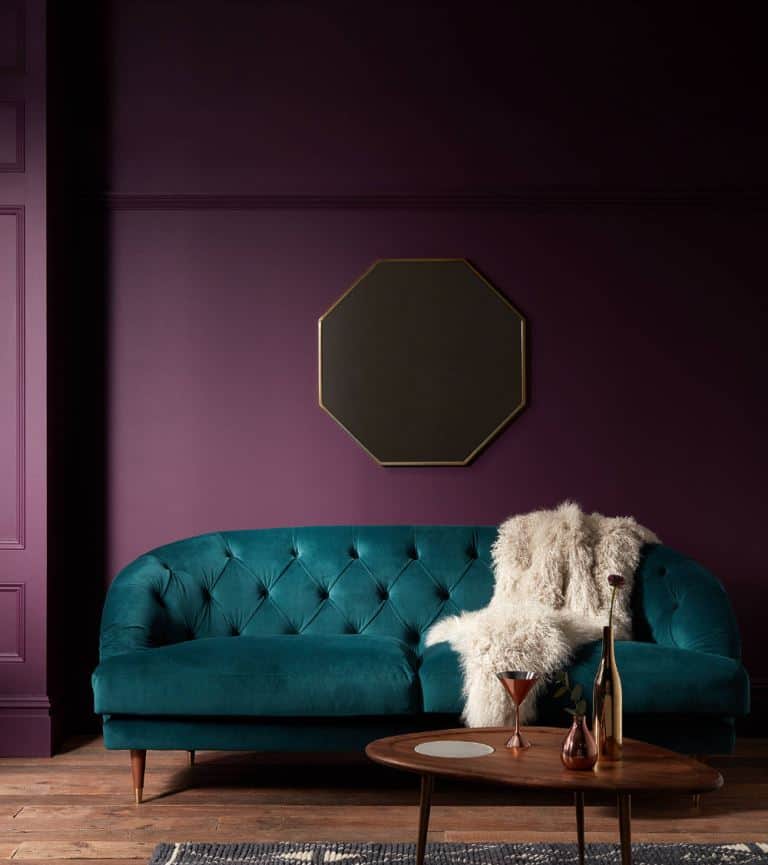 Image Source: John Lewis 
If you envision your living room being less dramatic and point of attention and more aesthetically pleasing, this textured wall paint is your best fit.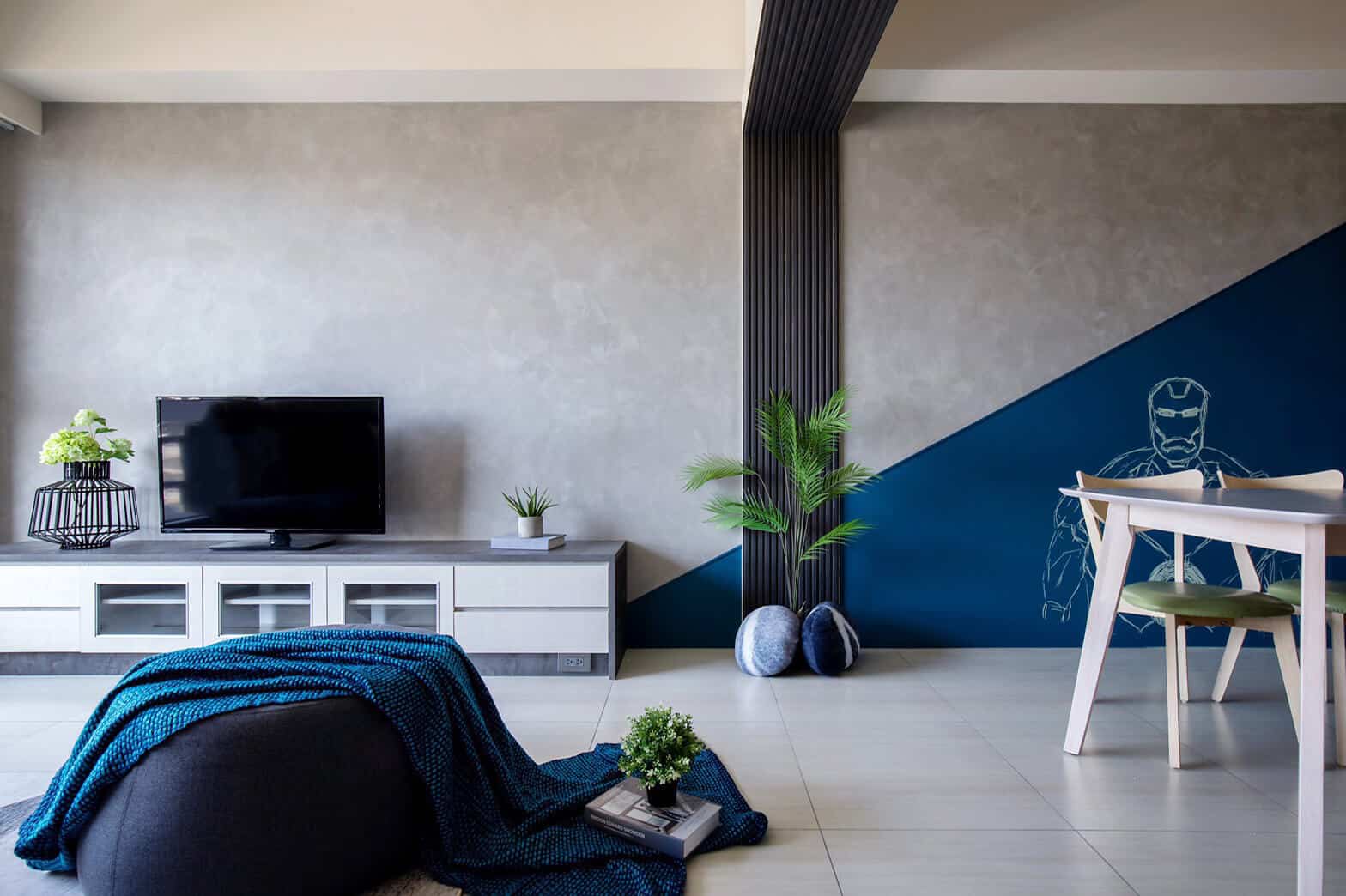 Image Source: Wallhub
Wall paint designs for living room #5
An accent wall like this bright-colored one will do the trick perfectly for you.
It will not only make your space look chic and lively but also reflect your affable personality.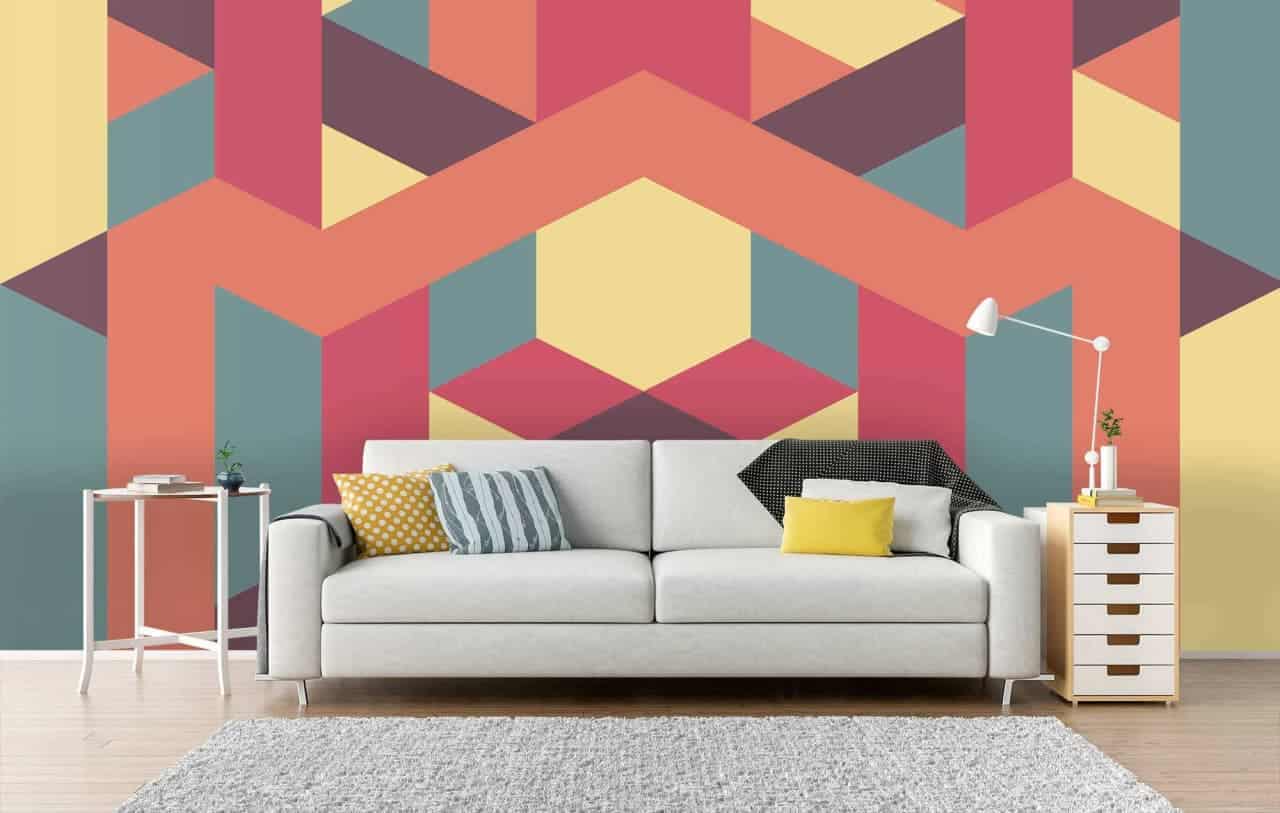 Image Source: Trendsideas
Choosing a bold and vivid color for the walls of the hall is the most recent development.
Although the color schemes, designs, and patterns can range anywhere from bright to dull and from colorful to monotonous, the idea is to do what pleases you and is a reflection of your thoughts.
Hall painting designs add a positive vibe and create a dynamic ambience in your home.
To make a bold statement in your decor choice, try this wall design with a light and dark shade of the same color.
This color combination for the hall is great as it imitates a shadow cast.
Image Source: fonQ
A classic and marvelous combination of pale yellow and dark brown gives an eyecatching and romantic look to your hall.
Moreover, the huge window right beside the dark-colored wall allows plenty of natural sunlight in and makes the space brighter and airier.
Image Source: Urban Company
Soft and subtle perfectly describe this hall. The powder blue color contributes to the vibe of tranquillity and peace and ties the entire look together.
Image Source: The Socialite Family
The blue tones of the walls and the wooden furniture guarantee an incredible statement.
It gives a contemporary lift to your hall and makes it all the more sophisticated.
Image Source: Novocom
An incredibly refreshing and vibrant wall painting design for the hall.
The dark wall creates a contrast with surrounding white walls and reflects light to brighten up the walls.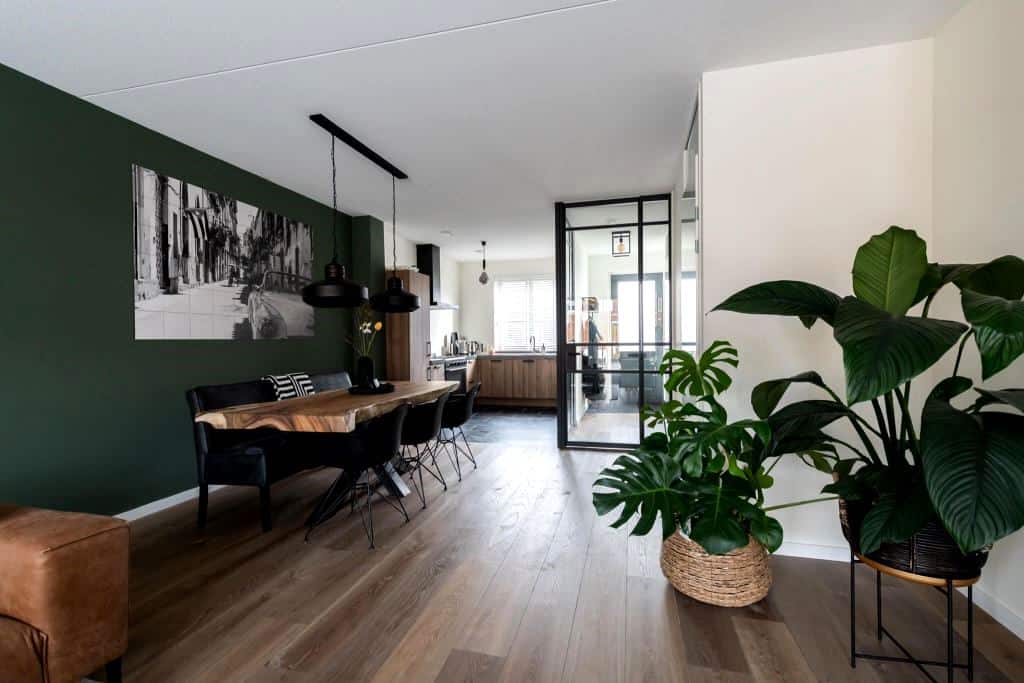 Image Source: GeewoonGers
There are hundreds of readymade stencils available in the market to paint your walls with.
The stenciling technique is easy, and the results will make you proud of your creation.
A wide variety of patterns and designs including beautiful floral and foliage stencil patterns allow you to decorate your walls and add a personal touch to them.
Use the following ideas and stencil a stunning accent wall with these designs.
This abstract painting on the walls gives a wholesome and aesthetic look to the whole room.
The golden accent, in contrast to the rich purple, is the highlight of this design.
Image Source: The Daily Inspiration
The abstract palm leaves drawn using the stencil in muted tones are the perfect way to invite nature into your living room.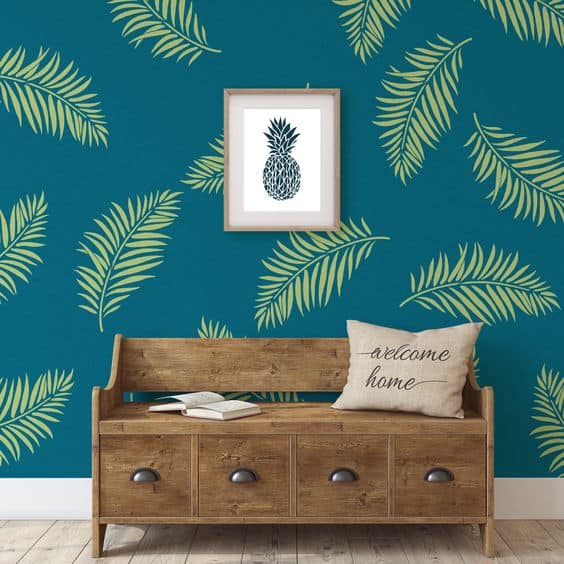 Image Source: Etsy
The intricate leaf stenciled pattern in different hues acts as the perfect backdrop.
It is an excellent way to break the monotony of an all-green space.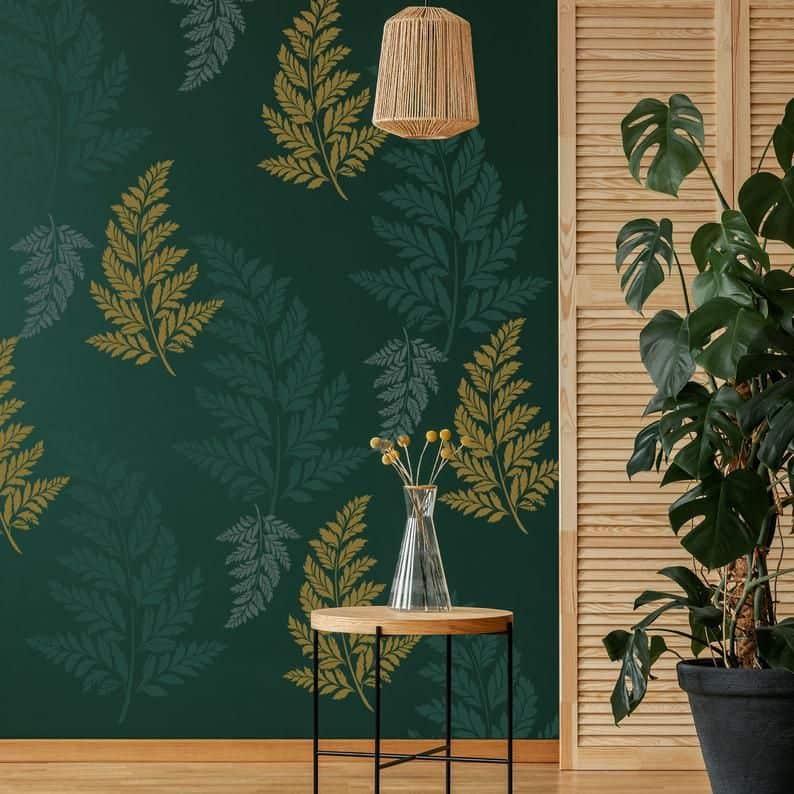 Image Source: stencilup
This wall paint design with stencil gives a welcoming look to the home. The mirror with a wooden frame resting on the wall makes it look more appealing.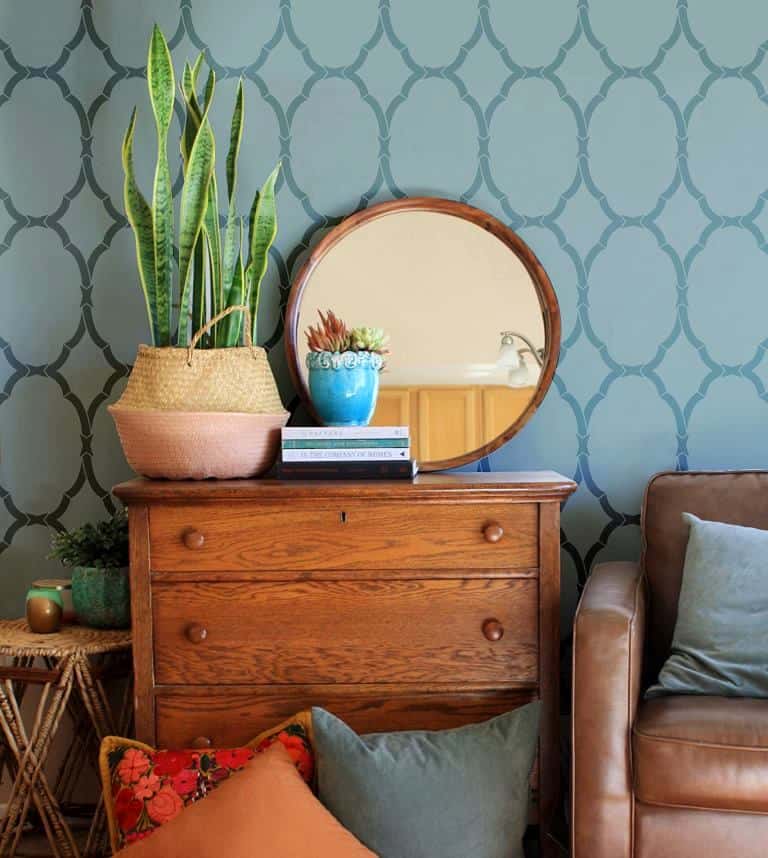 Image Source: Royal Design Studio Stencils
A bold and energetic wall painting and an uber-modern take on the traditional floral stencils.
It lends a visual appeal and enlivens the space entirely.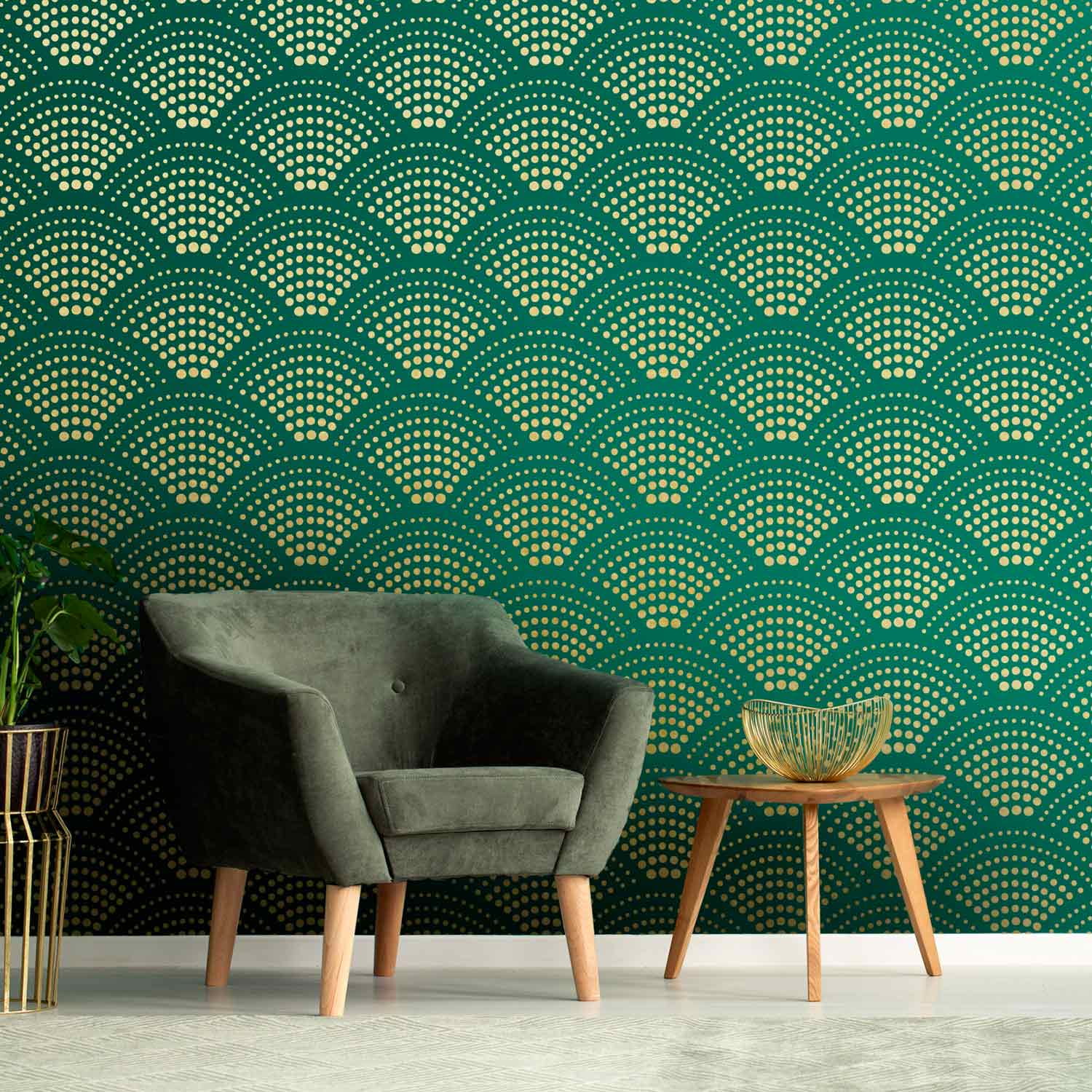 Image Source: Cutting Edge Stencils
Currently, textured wall paints are the latest development in the market. Its demand is increasing day by day due to the benefits it offers.
Wall textured paints evoke special effects and textures and offer a variety of shades and colors. It is suitable for all application areas, be it residential, commercial, interior, or exterior.
Moreover, wall texture paints refresh your space with creative and alluring designs and patterns. Their distinguishing property is that they are more pigmented and denser than traditional paints.
A wall paint texture that adds an enhancing interlayer, creating new patterns on the wall.
This texture reflects light from different angles and the golden color is perfect to make the room brighter.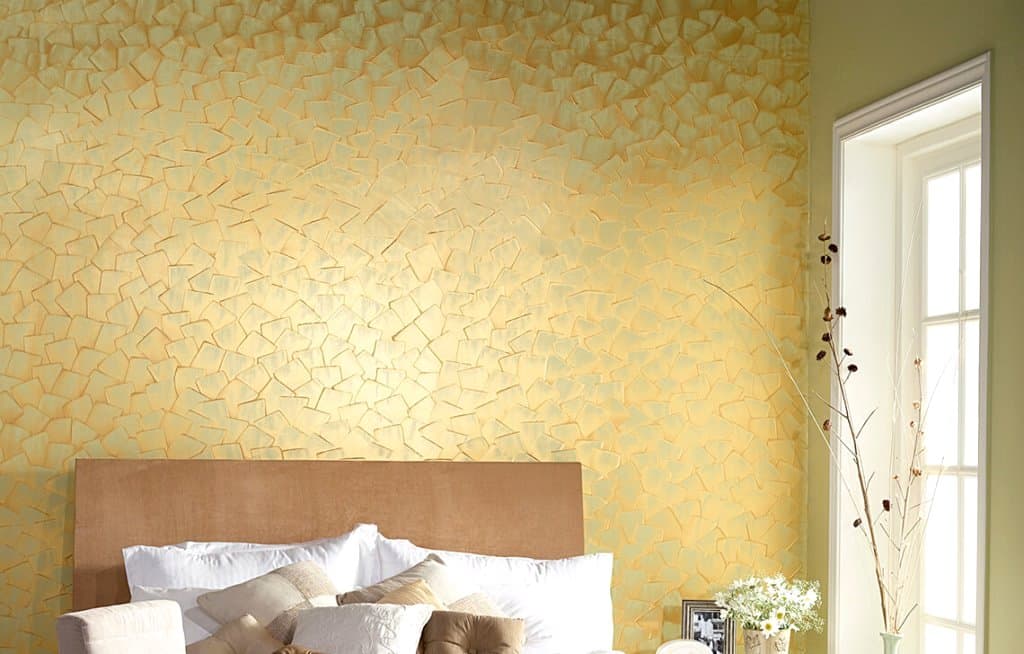 Image Source: ColourDrive Home Solutions
Add some statement and depth to your traditional white wall by incorporating textures on it.
Image Source: Design Cafe
In the mood to fill your walls with not just paint but also ideas, creativity, and artistry?
Give your home a contemporary vibe by choosing from the endless list of metallic modern textured paint designs.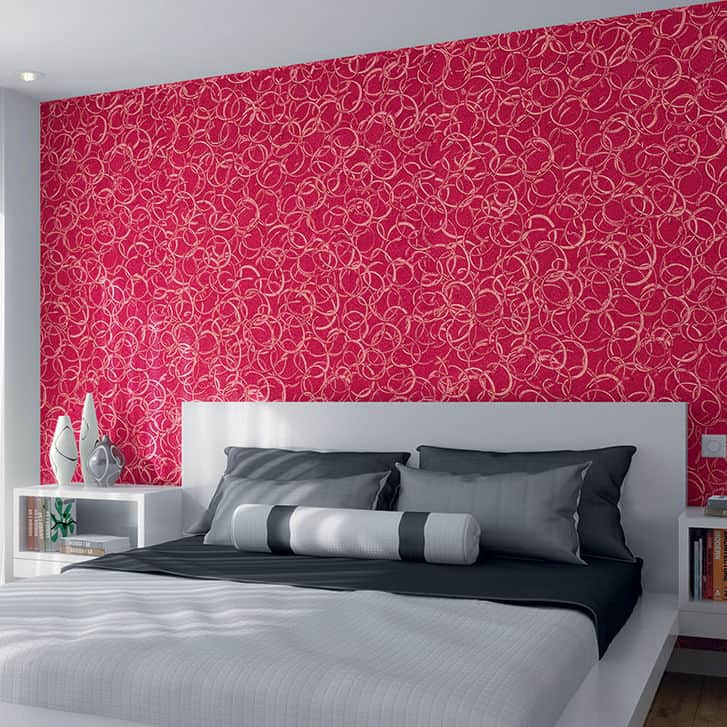 Image Source: Royale Play
A beautifully crafted, rustic texture design for the walls to experience bliss and create a stunning interior.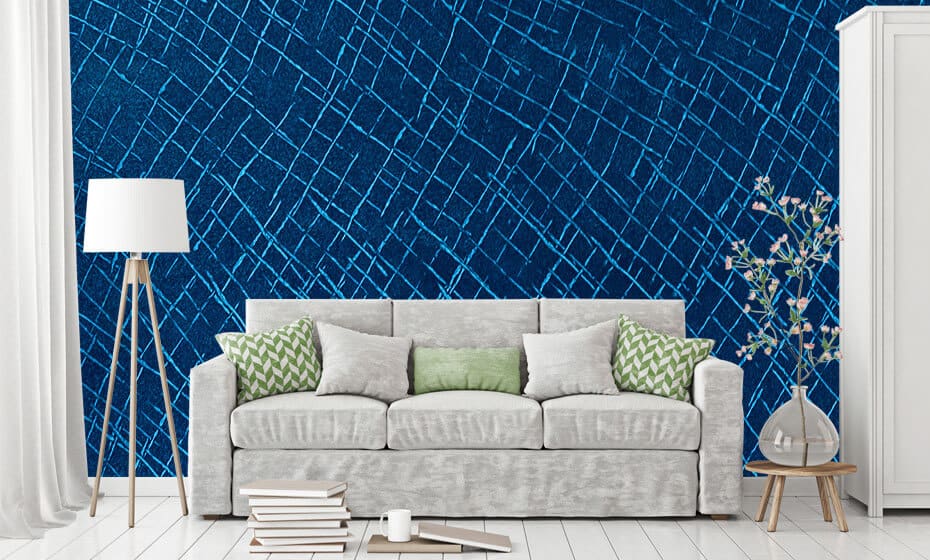 Image Source: Aapka Painter
A delicate wall paint texture on a feature wall with traditional chandeliers.
The bright orange color of the paint is an excellent choice to let the light disperse and make the room brighter.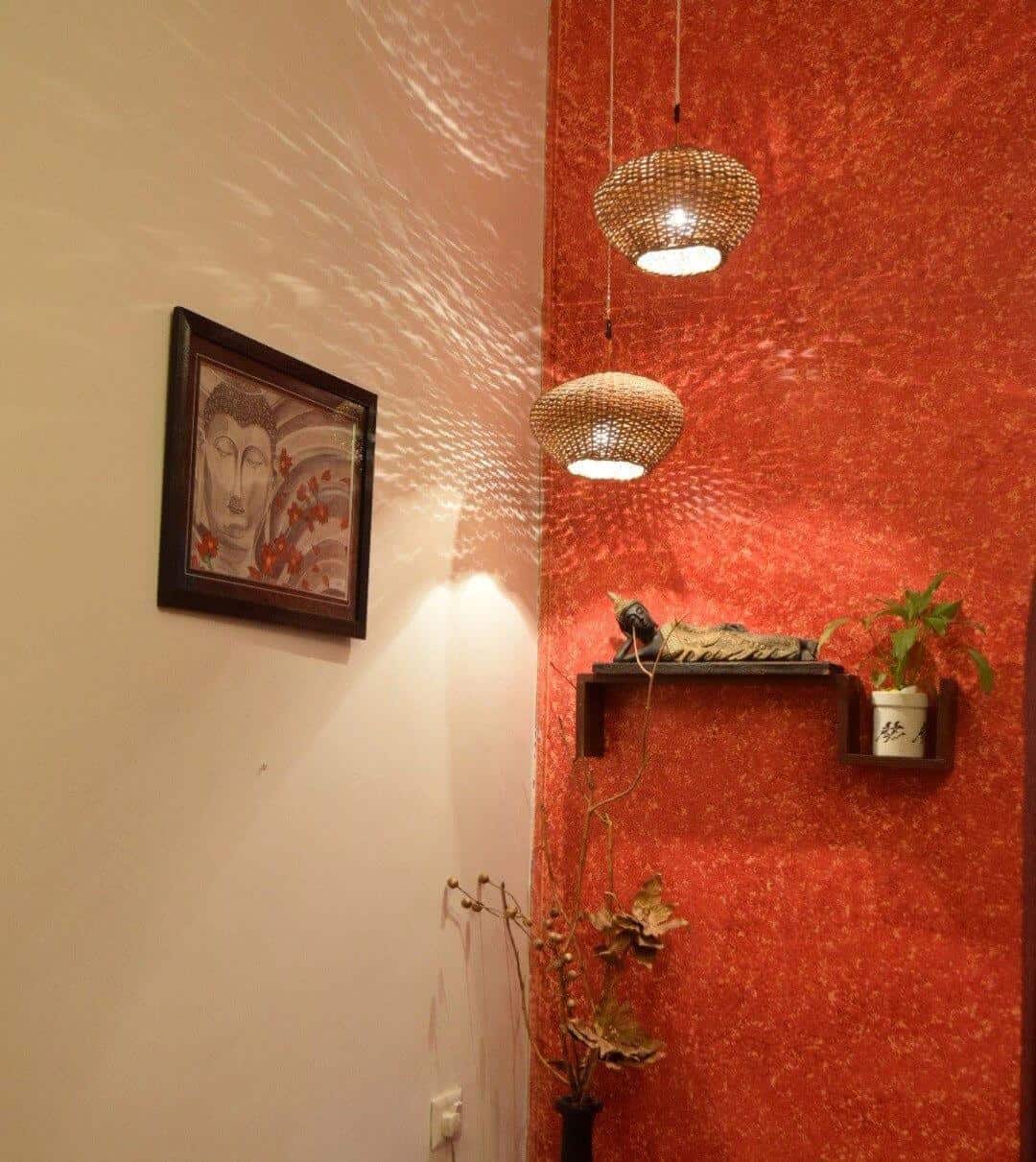 Image Source: The Keybunch
Since there are innumerable ways to change the look and feel of your home, wall painting remains the easiest and fastest option of them all.
Let's be real, not everyone is as extravagant or dramatic.
Therefore, for the minimalists out there, here are a few subtle and simple wall paint design ideas to refresh the way your bedroom, hall, and other areas of your home feel.
Yes! something as easy as that has the power to totally transform how your interior looks.
Simple wall paint design #1
This simple yet statement-making wall design in a warm honey orange shade is bright and mesmerizing.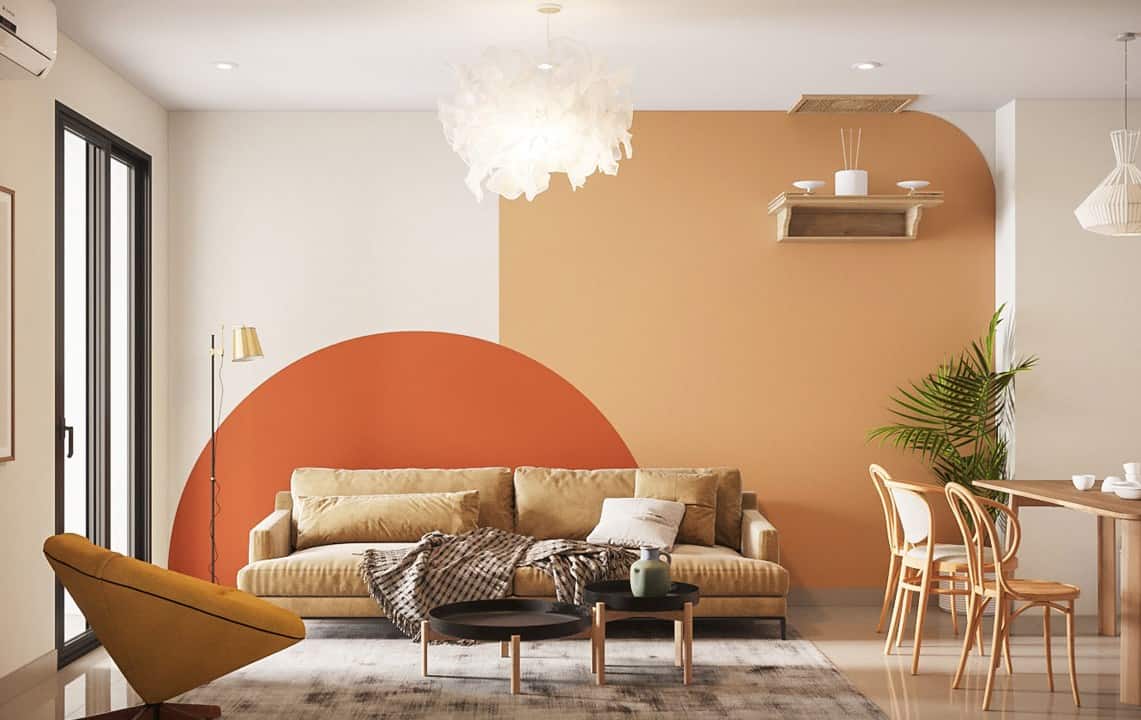 Image Source: Elemental Design
Simple wall paint design #2
This feature wall painted with the classic black and white colors a staple in making any space look immaculate and modern.
Adding the bare minimum instantly transforms a boring white wall into this chic and stylish wall.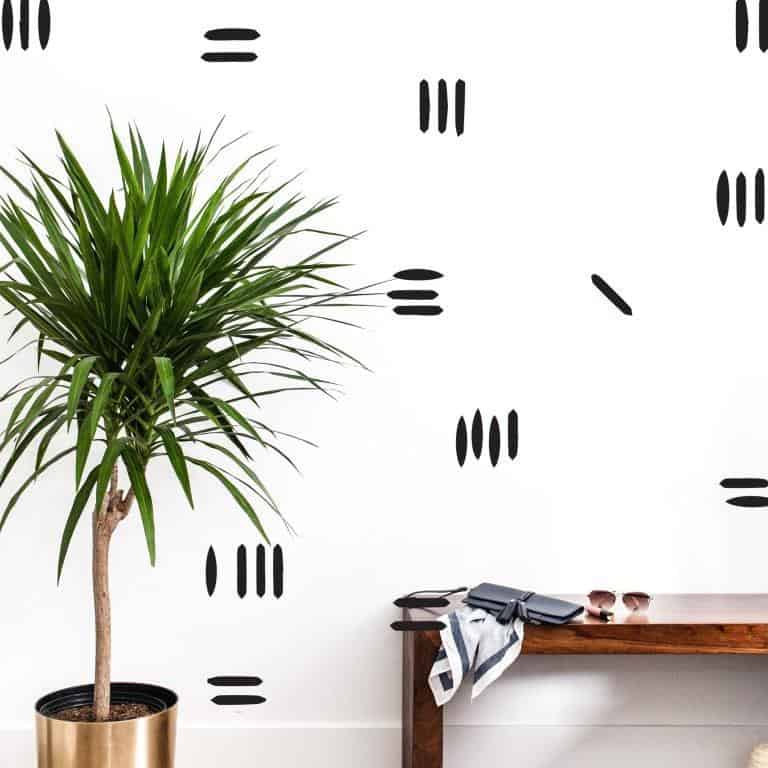 Image Source: The Lovely Wall Co.
Simple wall paint design #3
One of the most likable existing patterns is polka dots.
Paint them on a wall in pastel color to make it bright, cheerful, and hence, ideal for a kid's room.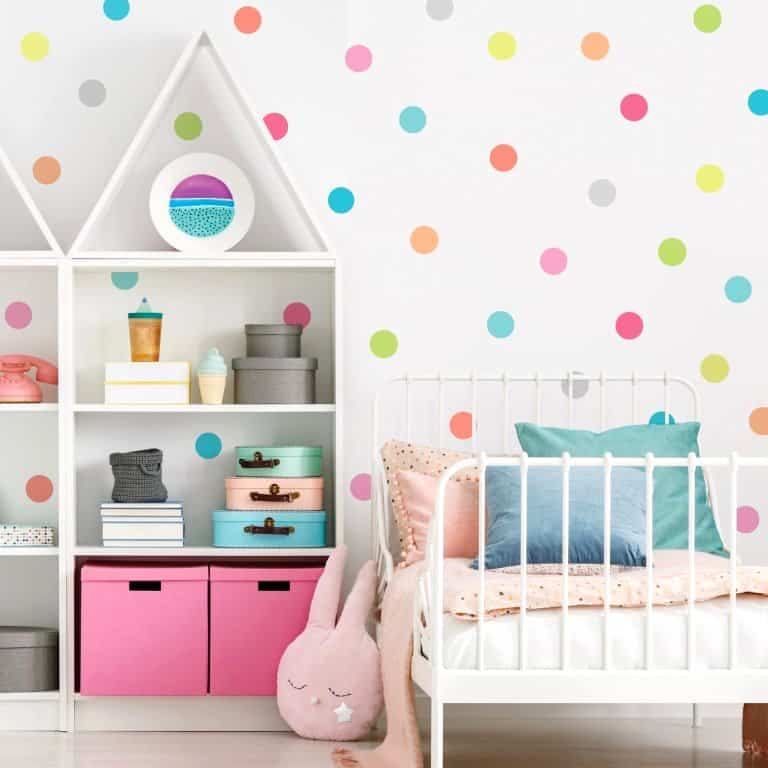 Image Source: Wall Dressed Up
Upgrade your living room walls with a two-toned painting design.
Choose different shades of the same color and paint the darker one in the center from floor to ceiling.
Image Source: Dulux Valentine France
Simple wall paint design #5
Use some ingenuity to amplify your walls.
Take inspiration from the following design and divide your walls into random diagonal shapes using the painter's tape.
Fill in the spaces with contrasting bright colors for an enthralling, dramatic, and fun wall paint design.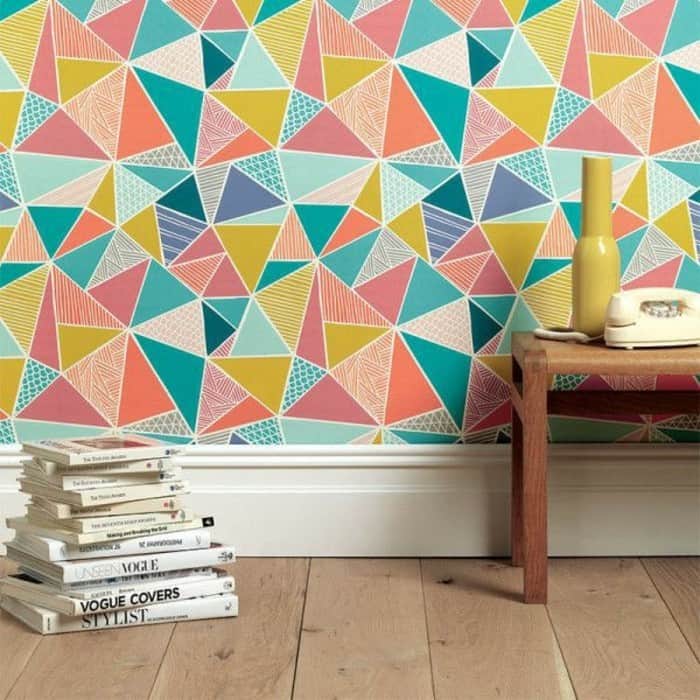 Image Source: Decoration Solutions
These wall paint ideas DIY can transform the traditional white walls into a modern and chic interior.
These designs are rather clever and require no professional or artistic or creative skills.
Apart from being unassumingly easy to paint, these also add an elegant and statement-making touch to the ambience.
Eye-catching, eclectic, and modern. This easy-to-create wall design complements your modern home interiors.
Moreover, to paint this design, you do not need any special creative or artistic skills.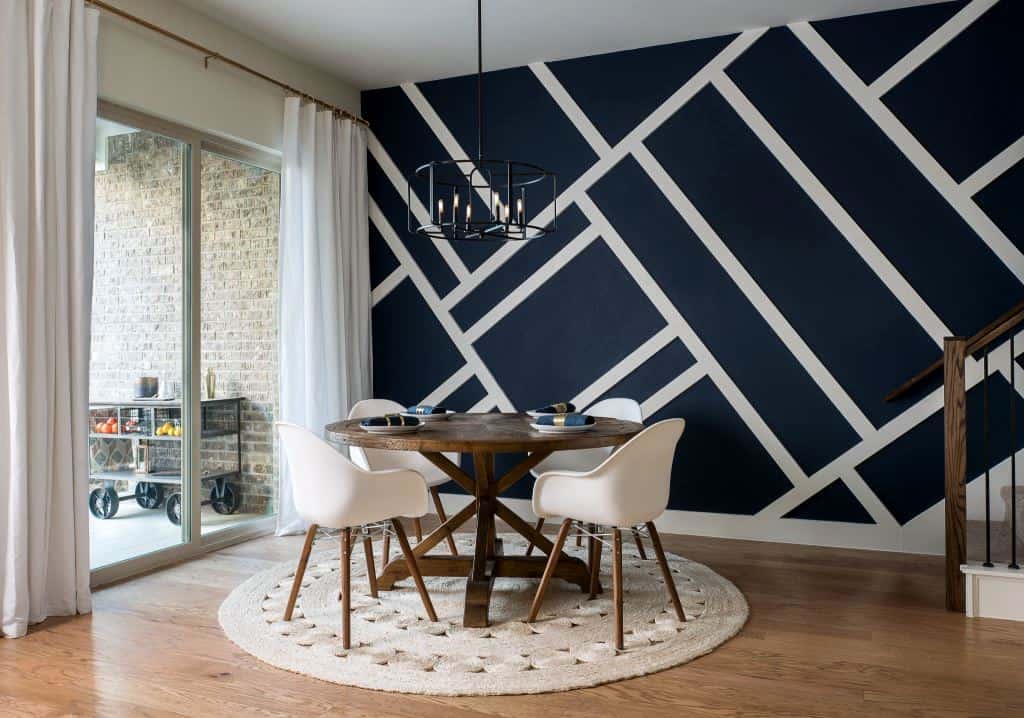 Image Source: Ashton Wood Homes
Easy to paint wall design #2
For this exquisite and easy-to-paint wall design, just pick your favorite color palette and paint random shapes in different shades.
Also, top it with a stenciled design to make the wall stand out.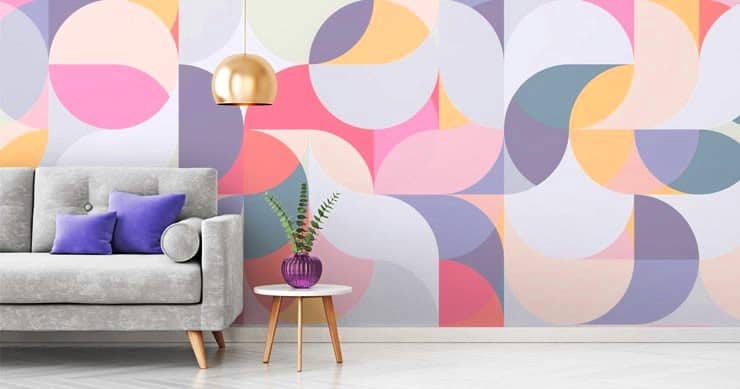 Image Source: Wallsauce
Easy to paint wall idea #3
In a time where the minimalist trends of neutral colors and straight lines are all over the place, this accent wall stands out.
It incorporates a solid color block theme with circles and curves to soften the look.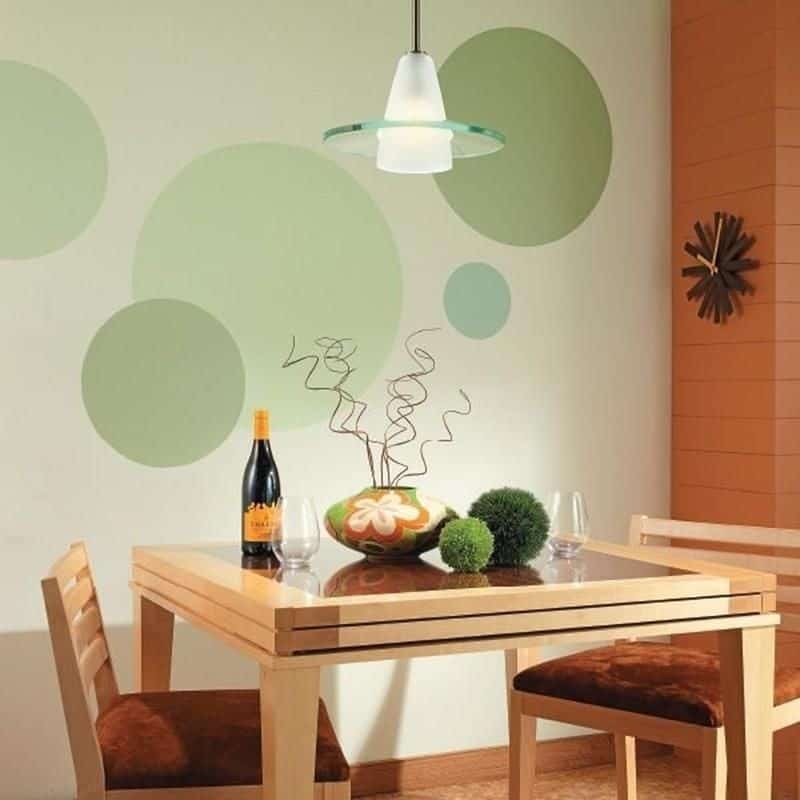 Image Source: Foter
An easy-to-paint design that inventively mixes dark colors and stenciled florals.
Image Source: stencilup
Easy to paint wall idea #5
A fascinating and fabulous wall with contrasting colors is all you need in this world full of boring white walls.
The bright colors instantly uplift the interior space from mundane to gorgeous.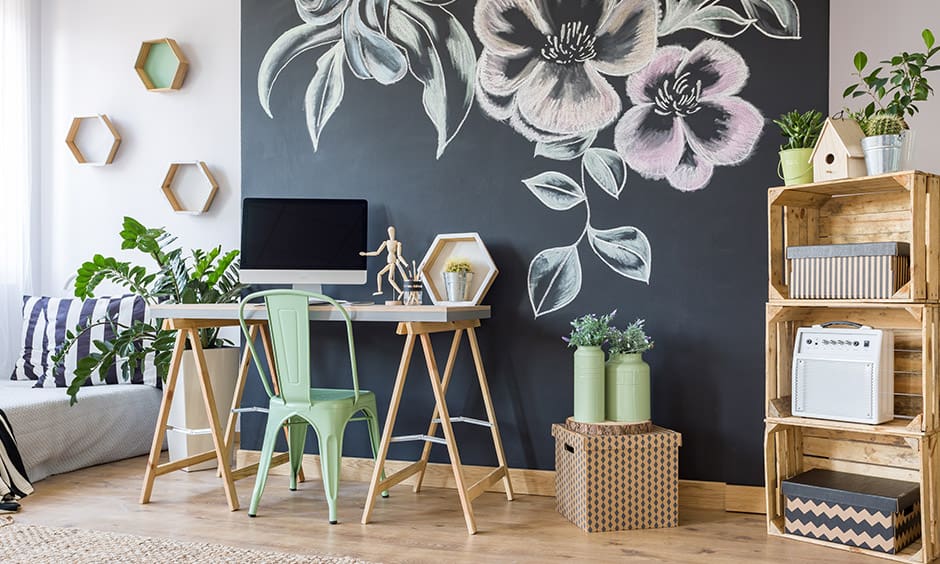 Image Source: The family handyman
Use painter's tape to paint a wall that brightens up the gloomy room.
It is an excellent option to decorate a lifeless wall with some blocks of bright-colored paint.
Wall paint design ideas with tape not only stand out but are also graphically glorious.
Use a little imagination, mask out a plan of action and paint the walls using tape as a guide to drawing straight lines. It creates a surprisingly chic look altogether.
Wall colour design ideas with tape #1
Any wall can be transformed into an interesting and masterful element of interior decor by painting blocks of several bright colors.
Moreover, no artistic skills are required as the tape helps you keep the lines straight.
Image Source: Staunton and Henry
Wall colour design ideas with tape #2
Revive a plain white wall with several pastel shades of honeycomb pattern.
These closely painted hexagons add a fun and funky vibe to the room. Use colors that complement the interiors.
However, opt for bright shades for a kid's bedroom design and subtle tones for the living room or hall.
Image Source: thistlewoodfarms
Wall colour design ideas with tape #3
This bright and eye-catching accent wall is all you need to perk up a room! Its sleek lines are perfect for the modern home.
Hence, this wall paint design is fun and dramatic without being overpowering.
Image Source: Myloview
This feature wall exhibits an excellent way to dress up your walls.
Use painter's tape to make triangular shapes and fill paint with the help of unique designed stencils in each one.
This not only adds dimension to the walls but also is a captivating wall design idea.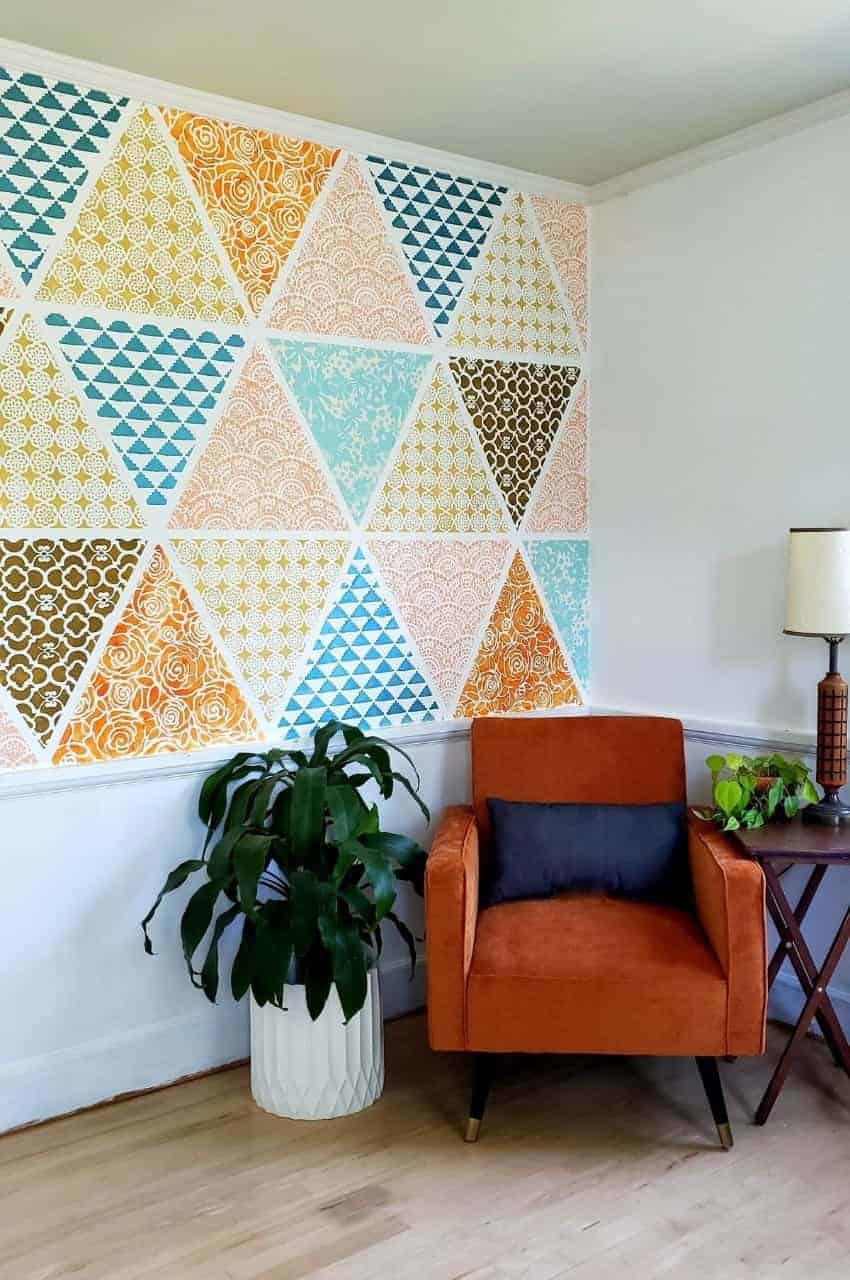 Image Source: Reality Daydream
Wall colour design ideas with tape #5
This faux brick wall paint idea is an absolute stunner. It gives the room a rustic vibe and is one of the easiest wall painting designs.
Painting shapes can't be that hard after all!
Image Source: Jordan Jean
The chosen type of paint is equally important in creating a characterful home and making the house of your dreams.
It not only adds depth to the interiors but also reflects the vibe you are aiming for.
"There are definitely a lot of factors that you should take into consideration before you decide on a type of paint," says paint expert Sarabeth Asaff South of Fixr, an online service that helps homeowners make home remodeling decisions.
The location of the room, its usage, size, traffic attracted by the room, and the overall look & feel you are trying to achieve are the top influencing factors, according to Asaff South.
"These factors can all subtly influence things like the sheen of your paint or the saturation, so you need to closely consider them," she adds.
There is definitely a lot more to consider than just colors when it comes to choosing the right paint for your walls.
Tips for achieving a design that looks fantastic and is not overpowering
Select a color scheme that matches, or complements, to say the least, your design scheme.
Take the paint charts out and get as many samples as you can.
Examine the colors as to how easy are they to work with, how easily can you clean them, and how do they look once dried.
Take a look at the light source. The quality and quantity of light any room is getting is a crucial factor. Rooms with plenty of natural sunlight look best when painted with pastel shades.
Don't be scared of experimenting. Playing with colors is never a bad idea as long as you know what you want.
Yes! Test out the colors. Still, deliberating? Use the testers and narrow down the options by painting sheets and putting them against your wall.
Find your feature wall and create a spotlight. If you fall in love with bold, bright colors, add color to just one wall as it will draw attention to the area and make it more noticeable.
Do not forget the ceiling or the "fifth wall" since it is just as important.
Focus on the details and other interior accessories for a cohesive look.
Let the color flow by choosing the same color scheme throughout the home.
Those tips and key points just about cover it all.
You, hopefully, must have found useful ways to incorporate wall paint designs in your home exactly how you imagined, or possibly even better.
Happy painting!
Spectacular wall paint ideas lookbook  
With reference to interior designing, wall paint has the ability to elicit a vibe or establish a style and dimension. Each room can have its own special and distinguishable themes, which will not only make the house more stunning but also add value to it.
Here are some stunning wall paint ideas for every room:
Conclusion
How often do you wish to redo your walls just because you are tired of waking up to the dull and lifeless colors?
Bring more color to your home with these vivacious wall paint ideas for every nook of the house. Be it your bedroom, living room, or the hall, you need not be glued to the boring white walls. The slightest touch of paint updates the entire look and feel of any interior space.
Moreover, it is one of the easiest and quickest ways to update a room and create an effect as simple as renovation and as dramatic as a complete transformation.
Whether used as a subtle backdrop or by making it the focal point of the whole space, wall painting can highlight a space, give the impression of height, and highlight the key features.
As we know, there are countless ways in which paints can be used to achieve the desired appearance, as professionals, it is important to put a little thought and preparation into this process.
Firstly, wall colors can drastically change the mood and the entire interior design of your home. After all, it's pretty painless, relatively inexpensive, and should something go horribly wrong, easy to fix.
Secondly, you don't necessarily have to stick with wall paints just for your living rooms or bedrooms. Create modern, retro, traditional style wall paint ideas for every corner of the house by taking inspiration from the above-mentioned ideas.
Lastly, there is way more to consider than merely which shade to go for while choosing the right wall paint design idea to create a masterpiece whether it is a simple or luxury texture for a bedroom, hall, or any other place.
[vvsmustread]