A perfect building is one that is well-constructed and furnished. In addition to being aesthetically appealing, it should also be strong and durable. External wall surfaces, furniture carcasses, furniture cabinets, flooring, etc. should be made precisely and finely. Although all of these jobs require different tools, mechanisms, and crafts, there is one common factor in each. This factor determines their longevity, look, and strength. This factor is the usage of right types of plywood sheets for different applications.
As an architect or constructor, it is important for you to know about plywood sheets. Firstly, they are important for giving strength to the structure. Secondly, plywood sheets are versatile but you must know the right type for the right job. And, thirdly, detailed informed makes optimum use of plywood possible.
Plywood comes out as the most prefered choice among all the related building materials and rightly so. Let us find out more about plywood, its significance, types of plywood, its grading, its applications and much more.
Plywood is a widely used building material made of thin layers of wood veneer glued together with an adhesive. It is engineered from timber that is sliced into thin sheets or layers of wood. When these layers are bonded together under high pressure and temperature, they become one strong finished product. The plywood boards are huge, flat sheets. Therefore, they are used efficiently in building construction and furniture.
What are the applications of various types of Plywood sheets?
Plywood has several advantages over its counterparts. It does not crack or warp because of moisture and is economical too. The versatile product can be used for a variety of purposes.
Roofing and Flooring
Plywood is often used to sheath roofs. It is also used as a subfloor on several internal flooring projects
The plywood panels on floors include tongue-and-groove edges that slot together. This arrangement allows the panels to carry heavy load without shifting or moving. It is one of the most common plywood uses.
Furniture
Plywood is a cost-effective furniture building material. From best wardrobe designs to custom-built dressers, shelves, media centres, console tables, and so on, plywood is suitable for all.
Cabinets
The cabinet carcasses of a modular kitchen, bedroom and bathroom are the most important aspect in determining their durability. Strong and long-lasting modular kitchen cabinets are made from Plywood. Its moisture resistance makes it an ideal kitchen furniture material.
Exterior and Interior Walls
External cladding by plywood offers flexibility, design freedom, and protection to the building. Moreover, plywood panels are also used to add to the aesthetics and strength of the building's front elevation.
The interior stud walls are framed by plywood and it is also used for wood panelling of the interior walls. If you buy A-graded plywood sheets, you can give a natural wood finish to your walls.
Doors
A plywood door makes for strong wooden door design. Doors and windows add to the visual and structural value of any commercial and residential building. A Boiling Water Proof or BWP plywood door is ideal for your building.
Balustrades and Rails
Hardwood and treated softwood plywood are the most ideal timber choices for interior handrails and balustrades. With good care and maintenance, these rails and balustrades can last a lifetime.
Plywood is used for several purposes in buildings and construction. However, it must be noted that there is a specific type of plywood that should be used for each purpose. Using the wrong plywood type compromises with the look, durability, and functionality of the rails and balustrades.
What are the various types of Plywood sheets?
There are many types of plywood sheets which are used for multiple purposes. These types of plywood are categorized on the basis of their origin and usage. Let us go through some of the major types of plywood.
This type of plywood is made from Oak, Mahogany, and Beechwood. Hardwood ply has great strength and sturdiness. It is resistant to creep. The plywood has high impact-bearing strength. It is used for heavy-duty wall and floor structures.
It is made out of Cedar, Spruce, Pine, Douglas fir, fir (SPF) and Redwood. It is mainly used for industrial and construction purposes. Floors, walls, and roofs are made with softwood plywood.
This type of plywood is made from mixed tropical timber species. Tropical plywood is better than softwood for its greater strength, evenness, and high quality. It is a premium product.
The shuttering plywood is high-density plywood with sleek films. Shuttering ply is used in construction works generally for holding the cement by setting up the ceiling. It is also used to create the base for ceilings, drains, pillars, walls, etc. Architects are big fans of shuttering ply as it gives the concrete shape required by them easily.
This type of plywood is mostly made of hardwood like red oak, ash, mahogany, birch, maple, teak, rosewood and many other hardwoods. In addition to that, it also enhances the longevity of the products. They are further categorized into two types:
This type of plywood is used for making curved parts of furniture. It can be bent into any shape without peeling, chipping, staining, or chipping. You can easily paint, veneer, stain, and plaster the flexible plywood.
This type of plywood is manufactured from the strong face and core wood veneers. It can be used in all weather conditions as it is resistant to fungal attacks, moisture, and delaminating. The glue used in marine plywood makes it BWP plywood. Hence, it is immune to water damage.
What are the various Plywood sheets and boards properties?
Plywood is preferred to its counterparts such as MDF, Particle boards etc. for several reasons. Its unique features and qualities make it an ideal choice.
High strength and stability
The strength of timber and properties obtained in its laminated construction gives plywood a strong structural strength. Cross-graining gives it a uniform strength and enhanced stability.
High-impact resistance
The high tensile strength of plywood received from the cross lamination of panels reduces the tensile stress. As a result, plywood can withstand being overloaded up to twice its loading capacity.
Flexibility
Plywood's flexibility distinguishes it from other materials. Moreover, it can be easily manufactured to fit every bending requirement. The number of wood veneers determines the plywood thicknesses. Thickness and flexibility are inversely proportional. Therefore, lesser the number of veneers, greater is the flexibility.
Water resistance
The BWP plywood or Boiling Water Proof plywood is resistant to water and moisture damage. This is why BWP plywood is an ideal choice for modular kitchens, bathrooms, and also for wall surfaces. This water-resistant feature of plywood makes it suitable for every weather condition.
Fire resistance
Fire retardant plywood is treated with a fire-proof chemical coating. It is then combined with non-combustible substances and materials like plasterboard and fibrous cement. The chemical coating protects the fire retardant plywood from the oxidation process. As a result, the risk of catching and spreading of fire is greatly reduced.
Thermal and Sound Insulation
The use of chemicals urea and formaldehyde resin in adhesives during the manufacturing of plywood increases its thermal resistance. It also enhances the sound insulation. All of this credits to a better living standard at low costs.
What is Plywood grading?
All the above mentioned features make plywood a remarkably superior product. However, we must note that plywood is also categorized on the basis of its quality. The quality of Plywood grades determines the intensity of its properties. Only specific grade of plywood is used for a particular type of application. For instance, if you use D grade plywood for making modular kitchen cabinets, it will hamper the quality and longevity of the finished product.  Therefore, it is important to understand plywood grading. The plywood grades determine its strength, durability, appearance, and overall quality.
It is ideal for bathroom and kitchen cabinets, and furniture pieces. The surface of the A-grade plywood is smooth and sanded.
It is quite similar to the A-grade plywood. However, the surface is not as smooth as the latter. B-grade ply has a few knots which make it slightly uneven.
The C-grade plywood is unsanded and has some defects like minor knots and discolouration. Therefore, this type of ply is not ideal for furniture but works well for structures where functionality is more important than aesthetics.
The D-grade plywood is also unsanded and has unrepaired and untreated snags.
What are the commonly used Plywood Thicknesses and Sizes?
In addition to plywood grades, it is also important to know the plywood thicknesses and sizes as they determine its flexibility and strength. Using the wrong plywood thickness will result in poorly built furniture. Therefore, you must know all about plywood sheets and their thickness. The most widely used plywood thicknesses are:
3-ply:
These plywood sheets come in the thickness of 2-3mm. This is the most common plywood thickness for home interiors. As a result, it is a preferred furniture building material by most interior designers.
This 4mm thickness plywood sheet is the most versatile. It is the best plywood thickness for outdoor and indoor furniture and decorative boards.
The plywood with more than 7 layers of plies is strong enough for permanent structures such as roofing.
Building construction type of applications require 4 ft (W) X 8 Ft (L) sized plywood sheet. Next common size of plywood sheet is 3×5 feet
Plywood is an exceptional building and furniture material. However, if purchased from a low-quality manufacturer, the quality degrades greatly. Hence, it is important that your plywood company should be good. There are many international and regional plywood companies in India that manufacture excellent quality plywood.
This mega plywood manufacturer makes durable, long-lasting, termite-proof, BWP plywood for home and commercial uses. Some of the CenturyPly plywood products are:
Firewall Plywood
Century Club Prime plywood
Architect Ply
Sainik Plywood
Teak Plywood
The CenturyPly Plywood price ranges from Rs. 50 to Rs. 150 per square feet.
Specialized applications require the usage of Greenply plywood. From automobile to building constructions, Green plywood comes for a wide range of applications. The brand manufactures plywood thicknesses from 6mm to 40 mm. It also manufactures plyboards of various widths and lengths. Some of the Greenply plywood sheet types are:
The Greenply Plywood price ranges from Rs. 37 to Rs. 150 per square feet.
Another popular plywood brand is Kajaria. The Kajaria PLYis manufactured from premium quality hardwood. As a result, the material is stiff, strong, and durable. Kajaria PLY materials come in the following categories:
Platinum
Gold Maxx
Silver
Kajaria PLY Pro-710
Pro-Build
The Kajaria plywood price ranges from Rs. 60 to Rs. 100 per square feet.
One of the most popular plywood companies in India, Merino manufactures plywood laminates with dual hot press treatment and selects good quality wood veneer for fine plywood.
Merino offers the following range of plywood:
Tuff Plywood
Superply plywood
Mandasa plywood
There are many popular and preferred regional plywood companies in India. They manufacture good quality plywood ideal of budget home construction and furnishing. As a result, they are extremely popular in India. Some of them are Ganesh, Kitply, Asian, Sainik, Magnus, Galaxy, Satyam, Balaji, Jain, Saburi, Archid, etc.
Conclusion
Plywood is a cost-effective, strong, and resilient building and furniture material. It has been in use for decades. Architects and constructors favour plywood over every other building material. Knowing all about plywood sheets such as its types, grading, sizes, and the best plywood companies will help you deliver the best services to your clients.
However, the material still undergoes several enhancements to become more eco-friendly and long-lasting. Using the right grade and types of plywood for your building will give it lifetime durability, style, and functionality. Therefore, always go for good quality plywood of the right variety, grading, and size.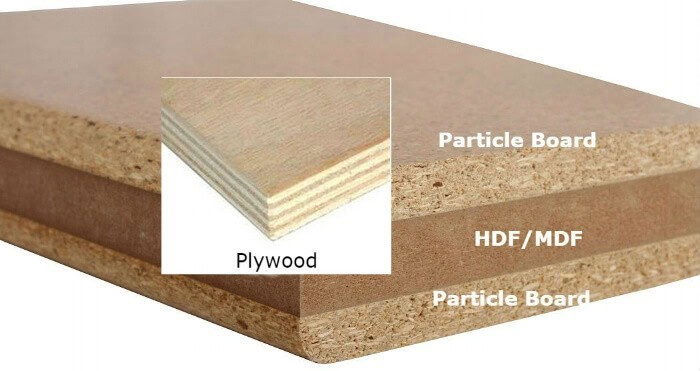 The COVID-19 pandemic has changed the dynamics of the world entirely. It has increased our…