The modern Indian kitchen must not only meet the stringent specifications of Indian cuisine, but it also needs to be aesthetically pleasing. Additionally, these kitchens must be simple to clean and maintain, taking into account the requirements for hygiene in an Indian household. In order to meet the requirements of eliminating air pollution and odour from the kitchen, we have been using exhaust fans for years. However, current technology has now finally replaced them. Due to this, chimneys are now a necessary component of modern Indian modular kitchen designs.
Every year, new trends provide a brand-new set of ideas for enhancing the usefulness and aesthetics of Indian kitchens. From using bold new colour palettes and accent items to including streamlined modular kitchen chimneys, the new ideas are inspiring and well worth embracing.
Modular kitchens are sleek and trendy. You need a modular kitchen chimney to keep them looking brand new. A kitchen chimney sucks all the fumes, grease, and oil released during everyday cooking, preventing kitchen tiles, cabinets, and walls from getting greasy and sticky. This is why it's difficult to picture a kitchen without a chimney in the era of sleek, modular kitchens.
Chimney: A must-have for Indian kitchens
Indian cooking involves a rich mix of spices and various heating methods which produce a lot of air-borne grease, odour, and smoke. If left unattended, all this build-up turns into grime damaging the walls, floors, and even the ceiling. It also affects the environment the cook and other family members live in. Given the high levels of noise and air pollution in India's kitchens, the electric kitchen chimney has proven to be highly beneficial. High suction capabilities and other advanced features have made it possible for chimneys to operate at incredibly low noise levels. Even installing and maintaining these chimneys takes less time now than it ever has.
As a result, kitchen chimneys are a great way to eliminate kitchen pollution and are unquestionably more effective than exhaust fans. They also halt any deterioration that would harm the kitchen's overall condition and quality. Additionally, they make cooking and working in the kitchen less strenuous.
Things to consider while choosing the best chimney for your kitchen
A sleek chimney exemplifies your modular kitchen's design. Before choosing any kitchen chimney, you must first ensure that it fits in your modular kitchen design, has the required suction power, possesses the appropriate chimney filter, etc. Be mindful of the following factors while selecting a chimney for your project.
Chimney type
With so much variety available in the market, we are spoilt for choice. What you pick will depend on the design of the kitchen, where it will go, and how high or low the cooking platform is. Moreover, the architecture of your kitchen, where you plan to install the hood, and where the cooking surface, hob, and stove are located will all influence the type of kitchen chimney you choose. A kitchen chimney can be broken down into 4 types based on the capabilities of the space where you can fit.
Wall-mounted chimney
These hoods can be mounted on walls, as the name suggests. To fix this kind of model, you must have the counter close to the wall. It is among the most prevalent and well-liked types in Indian houses and apartments. They come in a variety of sizes, shapes, and finishes.
Affixed to the wall directly above the stove, these stay on one side and contribute to keeping the place pleasant. The fact that you do not have to move your cooktop is a major advantage of wall-mounted chimneys. Additionally, the hood, which comes in a sleek straight-line or pyramidal shape, provides the kitchen with a contemporary appearance. To adequately cover the entire cooktop and absorb the smoke, make sure the hood's size is equal to that of the hob. In order to achieve the best suction of smoke and fine particles, the distance between the chimney and the hob should also be 26 to 30 inches.
Under-cabinet chimney
Since it saves space, an under-cabinet chimney best suits compact kitchens. Built into the kitchen's cabinetry, it remains fixed to the walls. In addition, it is attractive due to its sleek design and elegant appearance. You may also install this model in your small or large kitchens.
When installing a ducted chimney, place it in such a way that the piping connecting to the outside is short and has few to no bends. As a result, the chimney's suction effectiveness is improved.
Island chimney
A cooking island in a kitchen calls for an island chimney. Such kitchens have the cooking surface and hob in the middle of the room, away from the walls, and the ducts remain hidden inside a false ceiling.
In order to prevent cooking fumes from escaping from the sides, it is crucial that the chimney in this case is exactly 6 inches broader than the cooktop and sits directly above it. Also, keep in mind that a longer chimney over the hood will be necessary for higher ceilings.
Installing an island chimney cannot be a part of a kitchen remodeling project as it requires prior planning. Before installing the false ceiling and the electrical wiring, make sure the position of the cooktop and chimney remains aligned.
Downdraft extractor
The market for cooker hoods has recently expanded to include downdraft extractors. They are what is referred to as a "rise-and-fall extractor," which means that when you need them, you can use touch controls to raise them directly from within your kitchen counter, and when not in use, they can be tucked away beneath your kitchen work surface.
Owing to this unique feature, this appliance is an ideal option for people who favour a minimalist appearance. Since nothing blocks the view when it is retracted, it is also a popular choice for kitchens with cooking islands or more open-plan layouts. In addition, it is most advantageous for kitchens with high ceilings as installing a more conventional extractor fan with equivalent efficiency can be difficult and unsightly.
Chimney filter
A removable section in the chimney houses a modular filter that purifies the air by holding grease and dust particles. Three categories can be used to classify filters.
Baffle filter
For Indian cooking, a baffle filter is ideal. These filters modify the direction of airflow through the use of overlapping layers of steel and aluminium. Using a "cut-and-chop" technique, grease and smoke are separated. The nicest thing about baffle filters is that even when they are filled with oil and other impurities, the chimney's suction power is unaffected.
Cassette filter
A cassette filter is made up of several layers of metal mesh that is used to trap grease and oil-based contaminants and release smoke through a duct or PVC pipe. The mesh of a cassette filter gets clogged with grease particles, which has a significant negative impact on the chimney's suction capacity. Cleaning the filters with warm, soapy water at least once a week is advised for routine chimney maintenance.
Carbon filter
Ductless chimneys employ a carbon filter. First, the air passes through a grease filter, which captures grease particles, and then it goes through a charcoal filter, which removes gases, smoke, and odours. The purified air is recirculated into the kitchen. Depending on usage, this filter type has to be replaced every three to six months.
Type of ventilation
The two main types of kitchen chimneys are ducted and ductless (or recirculating) chimneys. Both of these varieties can be wall-mounted, under-cabinet, or island.
Ducted hood
A ducted chimney draws in soiled air, captures heavy grease and spice particles in its filters, and uses a PVC pipe to exhaust smoke, fumes, and odours from the kitchen. Although it is more expensive, it also does a better job of purifying the air.
In commercial kitchens, ducted hoods are relatively prevalent. However, depending on your kitchen and cooking preferences, this type of hood may be ideal for your new home.
Ductless or recirculation hood
The contaminated air is drawn into a non-vented or ductless chimney, where it is absorbed, cleaned, and deodorised before being released back into the kitchen. Since it cannot remove heat or moisture and returns the same air to the kitchen, a ductless hood remains less effective. It offers ease of installation in any kitchen and hence, higher flexibility.
Height of chimney from the kitchen countertop
We recommend placing the chimney 26-30 inches above the hob or the countertop. We recommend maintaining the same distance whether you have an electric stove, a built-in hob, or a conventional cooktop. Anything beyond that will not successfully draw in the cooking fumes since the chimney won't be able to totally eliminate all the smoke, heat, odour, and pollutants from the room. Similarly, anything shorter than 26 inches may make it difficult to use or see pans and other cooking utensils.
Cut-out for the chimney duct
For the chimney duct, create a 6-inch-wide circular cut-out in the exterior wall. Additionally, the cut-out must be built on the exterior wall so that the kitchen chimney is 7 feet above floor level or higher than the window lintel level. Hire a chimney installer to create a circular cut-out if your kitchen design doesn't already have one. You may also use the cut-out or position of the external exhaust fan for passing the chimney pipe through it.
Chimney size
The normal width in which ducted chimneys are offered is 60 or 90 cm. If the stove has two to four burners, choosing a chimney that is 60 cm broad should work just well. However, use a 90-centimeter-wide chimney if you require one for a stove with three or five burners.
It is crucial to remember that the chimney must always be either slightly larger than or the same size as the cooktop. This guarantees that no fumes escape into the kitchen and that the chimney sucks them entirely.
Suction power
It's essential to select a chimney with the appropriate suction power. The effectiveness of the chimney depends on its air suction capability. It is measured in cubic metres per hour or m3/hr as it is known in the industry.
The air in your kitchen should ideally be filtered about ten times an hour. As a result, depending on the size of your kitchen, different extraction rates are advised. Although the system is more expensive and the motor is noisier, the larger suction capacity performs better. Depending on the size of your kitchen, we recommend choosing a power range of 400 to 1000 cubic metres per hour for the Indian style of cooking.
Intelligent chimneys by Siemens
In recent years, large stainless steel chimneys have been popular in modular kitchens, but today we are witnessing a shift towards concealed or built-in chimney designs.
Small kitchens might look visually congested when you leave many appliances out in the open. Therefore, concealed chimneys are especially useful in these spaces. These chimneys suit any kitchen design and come in handy, especially when designing a modern, streamlined kitchen. Concealing the chimney results in a sleek appearance by maintaining clean lines and preventing disruptions to the uninterrupted flow of upper cabinets.
To cater to the changing lifestyle of the modern-day consumer, brands like Siemens are offering cooktops with integrated ventilation systems. Siemens, a manufacturer of exquisite luxury kitchen appliances, has developed the greatest chimney technology and designs to precisely meet the needs of the Indian modular kitchen.
Why Siemens kitchen hoods are ideal for modern Indian kitchens?
Typically, a cooker hood's power corresponds to its noise emissions. However, Siemens hoods offer optimum performance with the lowest noise. Some of their variants are incredibly quiet, only making 41 decibels during typical use and 53 decibels at maximum power. The type of installation, the pipework, and the filter are always determinants of the real volume development of the corresponding model.
The climateControl sensor adjusts the power level to the quantity of steam and grease in the air to help reduce noise (and energy usage) as low as possible. Due to its brushless construction, the iQdrive motor is not only incredibly quiet but also exceptionally powerful. With Siemens ventilation systems, you get superior performance as well as comfortable noise levels. Food odours are a thing of the past thanks to the cleanAir Plus filter, which removes smells from the air. Additionally, the filter also captures a very high concentration of airborne pollen and inactive allergens. In most cases, the cleanAir Plus filter needs replacement every 12 to 18 months.
Siemens long-lasting, regenerable odour filter eliminates more than 80% of odours while providing 10 years of full performance thanks to its feature offering easy cleaning in the oven at 200°C every four months. Moreover, the LED light in the Siemens kitchen hoods lets you choose a background light colour to match your mood. Their Wi-Fi-enabled cooker hoods use intelligent software and an intuitive app to offer a wide range of connectivity possibilities. So, you can easily select and start your hood from your mobile device whenever you want, from wherever you are. The HomeConnect App lets you check the status of the grease filter and carbon filter in your hood. It automatically reminds you when you need to clean, exchange or regenerate them, ensuring maximum performance.
Conclusion
The future of kitchens is smart and effective. Despite the fact that it is frequently disregarded, an extractor hood is one of the most significant kitchen appliances. It eliminates heat, smoke, and unpleasant odours produced during cooking. Thus, extractor hoods improve your kitchen's air quality.
In general, the mounting style classifies the many product varieties. There are four types available: under-cabinet, island, downdraft, and wall mount. On the other hand, based on the filters, this product is further divided into three types: cassette, baffle, and carbon. The shapes and sizes of the models with various mounting options differ from one another. It is ultimately up to you whether to use a ducted or ductless range hood. Although ducted hoods are frequently more effective, ductless hoods are also reliable and often even more adaptable. While domestic kitchens can operate either way, commercial kitchens are likely to require duct range hoods.
Modern extractor hoods possess additional lighting and intuitive features for cooking and food preparation. Therefore, in addition to being practical, an extractor hood or chimney may also add style to your kitchen design.
Looking for top-of-the-line kitchen hoods? Siemens built-in hoods can redefine your cooking experience and kitchen atmosphere. These can now be found in a huge selection of designs and styles to match your kitchen's decor.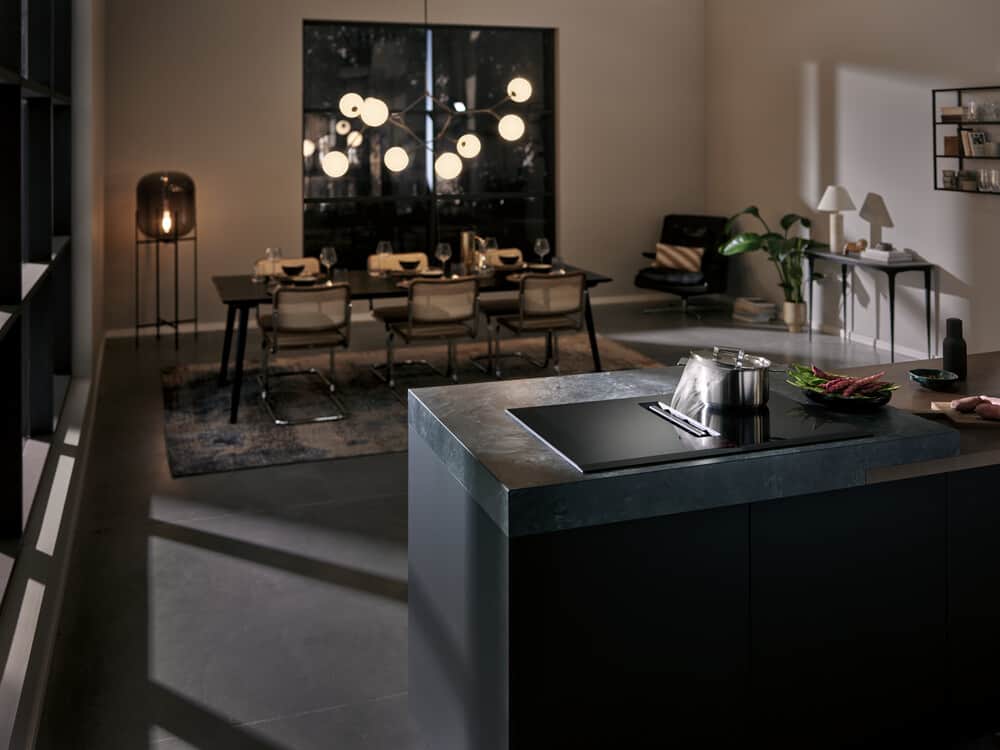 The effectiveness of the cooktop or hob we use influences how efficient the cooking area is. The term "cooktop" is a general term in India for a portable cooking range – the kind that has been used traditionally and is still widely used today. However, in urban Indian kitchens, built-in hobs are quickly replacing the traditional freestanding hob as a popular addition. As compared to free-standing gas stoves, these merge with the level of the ki
[cbxwpbookmarkbtn]