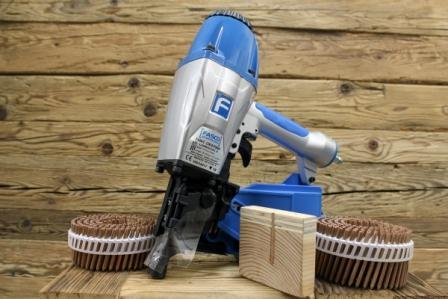 The LignoLoc® wooden nail system has been updated: Customers' opinions contributed 
significantly to development of the F44 System 2.0.
With the LignoLoc® F44 system, the BECK Fastener Group introduced the first collated wooden nail onto the market in 2017. The next generation, the LignoLoc® F44 System 2.0, will be available from May 2019. Many customer wishes have been implemented in this new edition, making wooden nail processing with a pneumatic nailer even easier. BECK is offering cost-effective upgrade options to existing customers of the F44 system.
With development of the first collated nail made of wood, the BECK Fastener Group proved that, even with a product as traditional as the nail, the opportunities for innovation are nowhere near exhausted.
LignoLoc wooden nails provide completely new approaches to fastening. Creative thinking is definitely permitted here. However, continuous further development of the product range is even more important. And this is a matter of course for BECK, as the new edition of the LignoLoc F44 system in May 2019
clearly shows.
"We take customers' opinions very seriously," explains CEO Christian Beck. "Particularly in the case of radical innovations such as LignoLoc, it is our obligation to gather and implement market feedback. Only this way can we further refine the new fastening methods and supply pure wood joints for even more application areas," the Managing Director of the long-established company emphasises.
Facelift also for the LignoLoc F44 2.0 nails with a diameter of 3.7 mm
Fine tuning for better handling
While the LignoLoc wooden nail system was in a class of its own from the very beginning thanks to its uniqueness, the BECK development team has achieved a masterly finishing touch with the new F44 System 2.0. The F44 2.0 pneumatic nailer impresses with its improved handling and simpler maintenance. In addition, nail guidance, depth setting and driving accuracy have all been optimised.
The LignoLoc wooden nails of the F44 System 2.0 have also had a facelift: The plastic band on the new F44 nails has been placed further down. This means that the nails are seated more firmly in the collation, which has a positive effect on both processing and transportation of nails. As with its predecessor, the new F44 System 2.0 is suitable for LignoLoc nails with a diameter of 3.7 mm, and it will be available on the market from 1 May.
Cost-effective upgrade options
BECK will be producing and supplying LignoLoc nails suitable for the existing F44 System 1.0 until the end of July 2019, thereby enabling a smooth and gradual transition. Furthermore, existing customers already have cost-effective options to upgrade their F44 1.0 tools. The LignoLoc Retrofit Kit allows them to perform the conversion themselves.
For Enquiries: Ph: +43 7724 2111-671 ;  email  – sales@beck-austria.com.