Painting is a typical component of renovation projects since it improves the appearance of buildings. Paints, on the other hand, have applications beyond aesthetics. These are used for a variety of reasons, including aesthetics, surface durability, chemical protection, and pest control. As a result, you can comprehend the many sorts of wall paints and then make an appropriate decision based on your needs. Nowadays, there are many types of paint available in the market to shop from. So, if you want to buy paints online, find the most suitable type at a reasonable price here!
The following are some of the most common reasons for painting:
1. Simple maintenance – well-painted surfaces and areas are considerably easier to clean.
2. Protects the surface from ultraviolet radiation, insects, rain, as well as other environmental influences.
3. Increasing the surface's aesthetic appeal
4. Increasing the longevity of the surface
5. Waterproofing
Components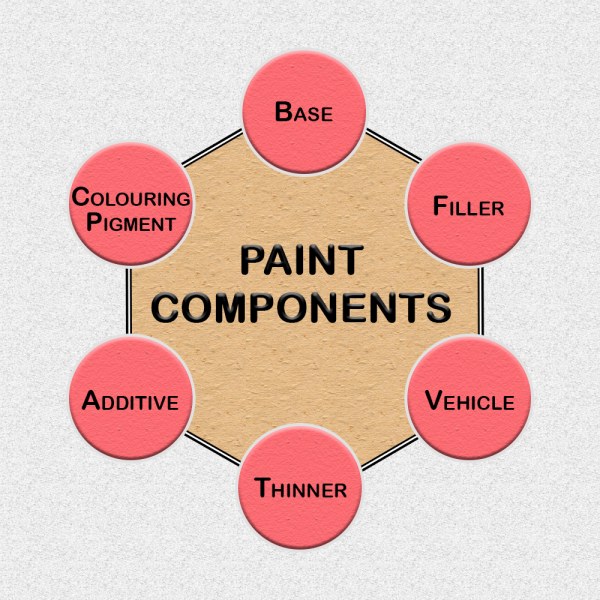 Image Source: gharpedia.com
Paints are made up of six separate components, each of which gives it a distinct quality. So, shop for paints online at a reasonable price here!
1. Base or the main constituent
2. Colouring pigment
3. Inert filler or extender
4. Vehicle or binder
5. Solvent or thinner
6. Additives
Types
1. Enamel
Lead or zinc is added to varnish to make this sort of paint. Moreover, to obtain a wide range of hues, pigments are applied. These are dry to a durable, glossy finish that is easy to clean. They are waterproof as well as chemically resistant, and they provide good coverage and colour retention.
2. Emulsion
These incorporate driers such as cobalt and manganese, as well as polyvinyl acetate and polystyrene as binding elements. Pigments are used to achieve the desired colour, and they can be water or oil-based. Emulsion paints are known for their quick-drying and hardening times, as well as the ease with which they may be cleaned with water.
3. Cement
It is sold as a powder that must be combined with water to produce the desired viscosity. White or coloured cement is used as the foundation material, which may additionally include pigments, accelerators, and other additives. So, it is a popular choice for rough internal and external surfaces since it is long-lasting and waterproof. Consider that cement paint takes a long time to dry, usually around 24 hours. So, to avoid moisture difficulties, it must be applied in two coats.
4. Oil paint
White lead is used as a base for these, which are applied in three coats: primer, undercoat, and finish coat. Oil paints can be used to create matte as well as glossy effects. Also, they are long-lasting and inexpensive. They are distinguished by their simplicity of application and the ease with which they may be cleaned. Walls, doors, windows, and metal constructions are all often painted with these. But, it is not ideal for humid environments and takes a long time to cure entirely.
5. Plastic
This paint uses water as a thinner, and it is available in a wide range of colours. In addition, it dries very quickly and offers high coverage.
6. Bituminous
It is made from dissolved asphalt or tar and available in black colour. This is waterproof and alkali-resistant. However, if your place is exposed to the sun, this paint is not suitable for you as it deteriorates in sunlight.
7. Aluminium
It is made by mixing aluminium particles with oil varnish. This type of paint is corrosion-resistant, electricity, and weather resistant also. So, it is used on metals and wood, gas tanks, oil tanks, water pipes, and radiators.
8. Anti-corrosive
It is manufactured from linseed oil, zinc chrome, and fine sand, and is chemically resistant. Moreover, this is available in a black hue and is built to last. It's easy to carry in your pocket and can be used on metallic surfaces and pipes.
Popular paint finishes
1. Flat/Matte: With the least amount of shine.
2. Eggshell: Slightly more lustrous than flat finish.
3. Satin: With a velvety sheen.
4. Semi-gloss: Having a shiny and reflective surface.
5. High-gloss: The shiniest paint finish of the bunch.
Top brands in India
Asian Paints
Berger
Nerolac
British Paints
Indigo
Nippon
Dulux
Before you head to the store and pick out a finish, consider the following to find the right paint: traffic of the room, sheen, and surface imperfections.
Call us now to shop for wall paints online by top brands!