Kitchen appliances transform the modular kitchen, kitchen platform design, and by extension the entire house into a fancier, more functional, and more convenient version of itself. Also, there have always been great innovations in this sector but they have increased exponentially over the past few decades. So, brands such as Bosch, LG, etc. have transformed the game of smart in built kitchen appliances. This article offers an exclusive list of smart home appliances for the kitchen.
Today, the kitchen has expanded into dining rooms and has become more like a common area of the house. It has become essential to upgrade the aesthetics and functionality of the cooking area with the latest innovative smart appliances. Also, the coronavirus pandemic has further changed the dynamics of life. It has taught us the importance of a functional home. So, to make your home effectively functional, you need to have a smart kitchen with smart appliances.
Modular kitchens have always been in trend for their spaciousness and class. Moreover, there are several appliances that make cooking easy, quick, and interesting. Also, these appliances are commonly used in all kinds of kitchens and add to their look and utility. So, some of the best Indian home appliances brands offer competitive ranges of these products.
Common Kitchen Appliances List for Home
Gas Hobs
Gas hobs allow open flame cooking which is convenient. Moreover, their attractive designs and intelligent features such as quickstart and other electronic controls make cooking safer and enhanced. Also, gas hobs come in different variants with multiple flame burners. Bosch, Miele, Siemens, and Hafele are some popular brands that manufacture smart gas hobs and other ideal home appliances from the list in India for both big and small house modular kitchens.
Chimneys
Kitchen chimneys are for modular kitchens. They keep the air pure and fresh. Moreover, elegant chimneys make your kitchen look beautiful. Also, chimneys purify the air and trap minor particles such as spices and oil to prevent the wall and kitchen furniture from blackening. Faber, Kaff, Bosch, Elica, Prestige, etc. are some famous chimney brands.
Dishwasher
Another important kitchen appliance for a fully functional kitchen unit is the dishwasher. It comes in various types and features. A dishwasher is an ideal product for washing dishes and utensils. Also, intelligent dishwashers reduce water and energy consumption to a great extent and offer smart dishwashing. Bosch, Miele, Elica, Hafele are some popular dishwasher brands.
Ovens
Built-in ovens and freestanding ovens are the most sought-after ideal home appliances from the list. Moreover, the latest ovens come with smart technology to make baking more convenient and quicker. Also, a highly functional oven is extremely important for a commercial kitchen as that of a bakery or restaurant. So, Bosch, Elica, Kaff, Fabes, Hafele, and so on offer wonderful ovens with smart features and variations.
What are Smart Kitchen Appliances?
With the changing and evolving times, it is important that our appliances get smarter and more intelligent too. Thus, designers have come up with innovative smart appliances with the latest technologies and hi-tech features for smart cooking areas.
Smart kitchen appliances are nothing but your normal home kitchen appliances from the listlaced with the latest technologies and intelligent features. Also, a smart kitchen appliance makes cooking easier and delightful by using innovative and intelligent features such as Artificial Intelligence, Wi-Fi connectivity, voice control, scanners, etc. Moreover, smart appliances understand your preferences and communicate with each other to transform your cooking experience and take it to next level. So, you can multi-task  – watch videos, cook multiple dishes, talk to friends, and so much more – without any stress and putting in any extra effort.
List of  Smart Home Appliances (& Brands)
Buildingandinteriors.com presents to you handpicked list of smart home appliances that will just blow your mind.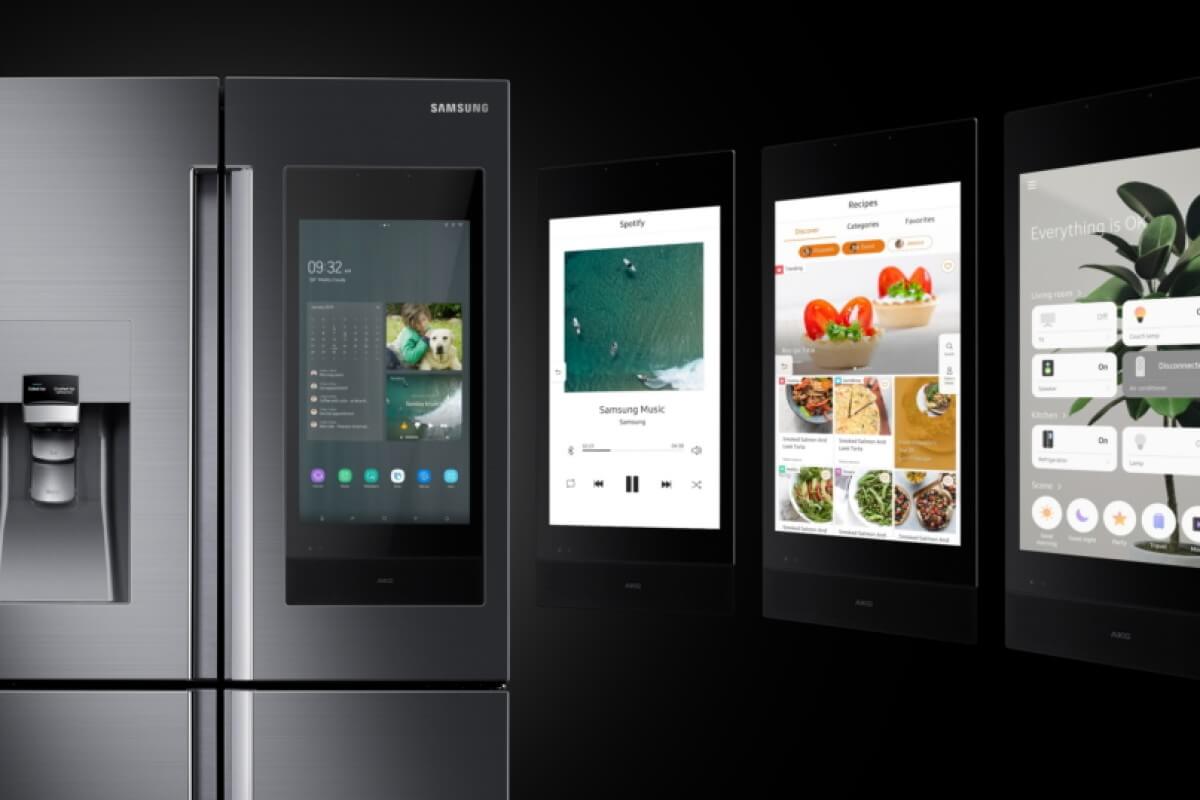 Samsung's latest Smart Fridge is Wi-Fi enabled. It comes with an LCD screen. Also, you can watch TV, browse videos, and even answer or make calls through your refrigerator. In addition to that, its unique physical attributes such as counter-height drawers, French doors, and stainless body make it strong and durable. Moreover, Samsung also makes a wide range of ideal home appliances.
The GE NextGen Kitchen Hub offers a tech-savvy cooking experience. The Artificial Intelligence Technology of this hood makes it one of the most innovative smart appliances. Moreover, it comes with cameras to record, view, and share your cooking recipes. You can also watch recipes and videos. Furthermore, the AI helps detect the doneness of food, temperature regulation, and much more. Also, the kitchen Hub comes with a 27-inch smart touch screen for the kitchen platform design and an in-oven camera as well. This is a perfect product for parallel platform kitchen designs.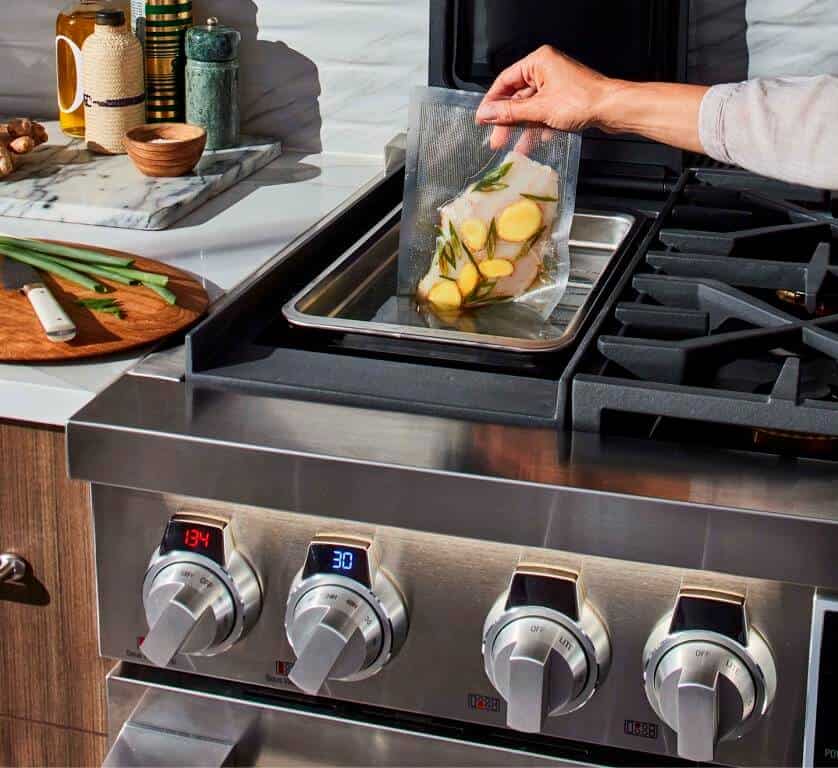 The Signature Kitchen Suite is the perfect smart kitchen appliance for the cooking technique called Sous Vide. Also, it requires slow-cooking in controlled heat and temperature to bring the perfect doneness to the food. This product is the first built-in Sous Vide range. Moreover, the Kitchen Suite comes with LCD screens, Wi-Fi, and Bluetooth connectivity for the kitchen platform design. So, you can easily connect it to your smartphone and monitor your food from afar. This Kitchen Suite goes best with luxury modular kitchen design and parallel platform kitchen designs.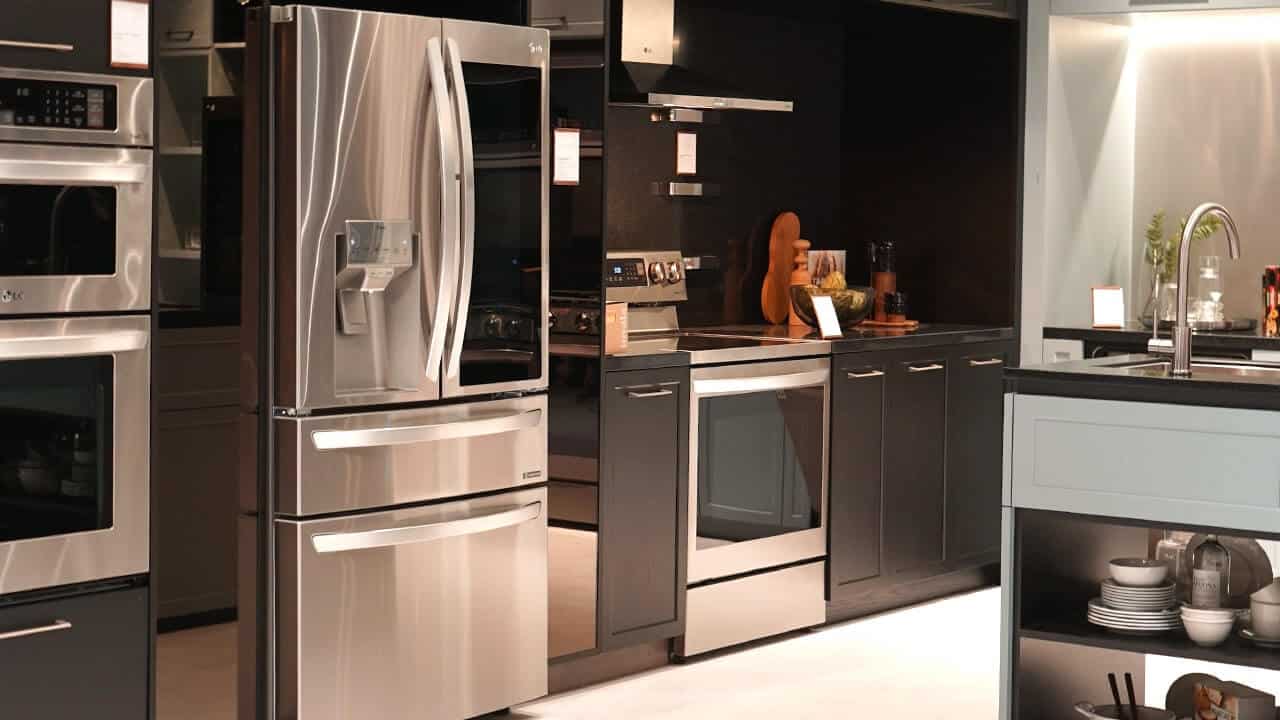 LG's ThinQ range uses AI which makes communication between appliances possible. LG smart fridge has been in the game for a while but this new AI addition adds to the innovation. So, if you have an LG InstaViewThinQ refrigerator and an LG InstaViewThinQ dishwasher, the fridge will be able to inform the dishwasher that a huge load is on the way. Amazon Alexa reads out the recipes and lets you add items to your shopping list. Also, touch sensors, LCD screens, and running webOS are the additional features that make the range extremely intelligent. LG is undoubtedly one of the leading Indian home appliances brands.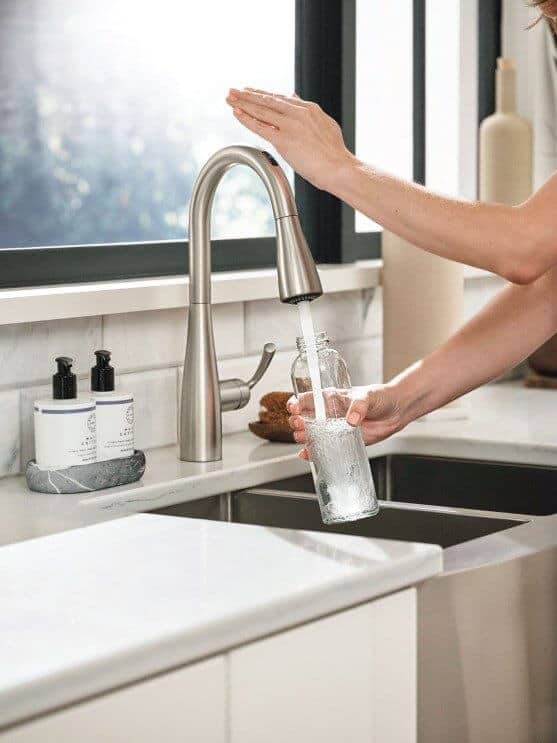 It is a smart kitchen appliance that works on sensor technology and voice control for a fabulous kitchen platform design. Also, the product is the winner of the 2020 KBIS Smart Home Technology award. Its voice control feature allows you to regulate the flow and temperature of the water using voice assistants such as Amazon Alexa and Google Assistant. Moreover, the Wave Sensor lets you turn on and off the faucet with a simple hand movement. You can also adjust the flow and temperature of the water manually.
Smart Kitchen Appliances #6 –

 Amazon Smart Oven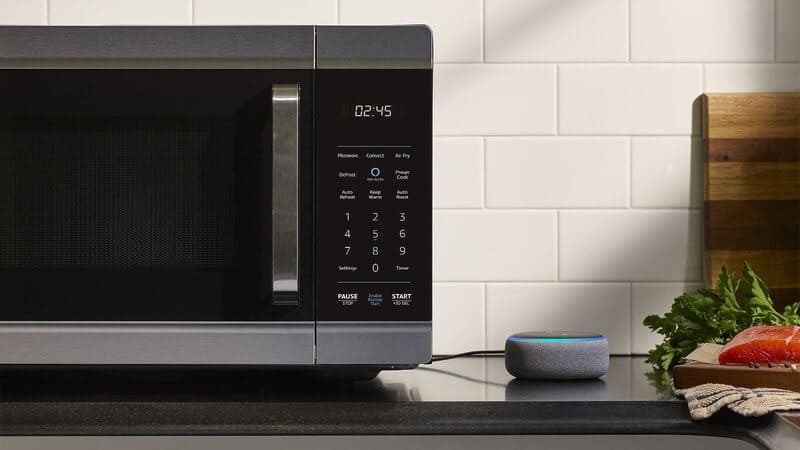 This smart oven eliminates the need for any other countertop smart kitchen appliance such as a microwave or OTG. It is multifunctional. It comes with Alexa and a free third-generation Echo Dot. Also, the oven comes with scan-to-cook features. It is highly energy-efficient and has many smart features. Moreover, you can scan the Amazon packaging of Amazon's food range and the oven will tell you how to cook it.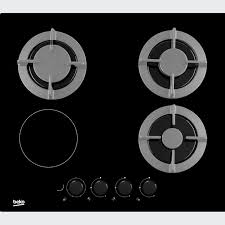 This duel power gas hob, Beko Mixed Gas Hob works both on gas and electricity. It has 4 hobs, 3 of which are gas hobs, and 1 works on electricity. Also, another unique feature of this gas hob is that it detects the release of gas and cuts off the supply. This safety feature makes it an ideal in-built kitchen appliance. So, the burners consume very little gas and cook much faster than a traditional burner.
This exceptionally smart dishwasher by Miele has redefined the dishwasher unit entirely. Also, the unique AutoDos system laced with PowerDisk Technology dispenses the right amount of detergent for perfect cleaning. You have full control of the kitchen appliance from your smartphone. Moreover, the 3D-MultiFlex trays provide incredible space and flexibility. So, the M Touch Display gives easy and quick control.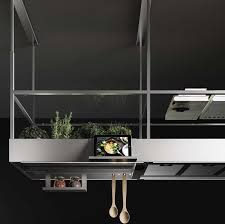 The product is a revolutionary cooker hood. This suspended hood is equipped with USB ports and electrical sockets. Also, the smart kitchen appliance comes with Circle Tech technology that filters and purifies the air without affecting the internal temperature. Moreover, the Carbon Zeo filter uses activated charcoal and zeolite to reduce odour and absorb steam produced by cooking.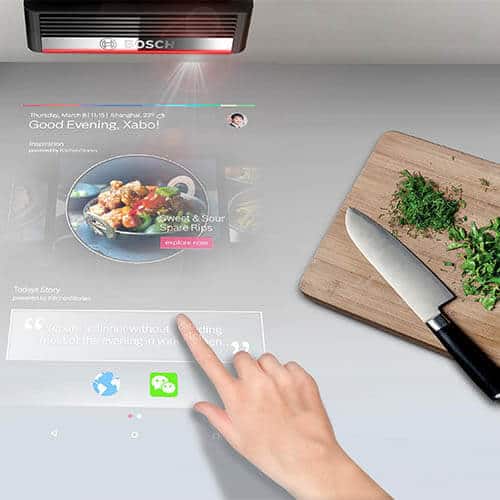 This ground-breaking Bosch in-built Kitchen Appliance is mounted over the kitchen counter. It transforms the entire worktop into a touchscreen. This projection and interaction smart in-built kitchen appliance integrate digital media into our daily kitchen life. Also, PAI is a smart projector that can be wall-mounted or fixed underneath the kitchen wall cabinet. It projects a fully-fledged GUI on the kitchen worktop with 3D sensors and multi-functionality. Moreover, you can connect your ideal in-built appliances with the smart projector and learn new cooking recipes simultaneously.
Mykie is a unique product from Bosch's Home Connect range. The digital robot Mykie, short for 'My Kitchen Elf' uses voice control feature to communicate. Also, it connects and controls all other Bosch smart appliances such as ovens and dishwashers. It also projects videos on the kitchen wall and makes it a perfect smart kitchen.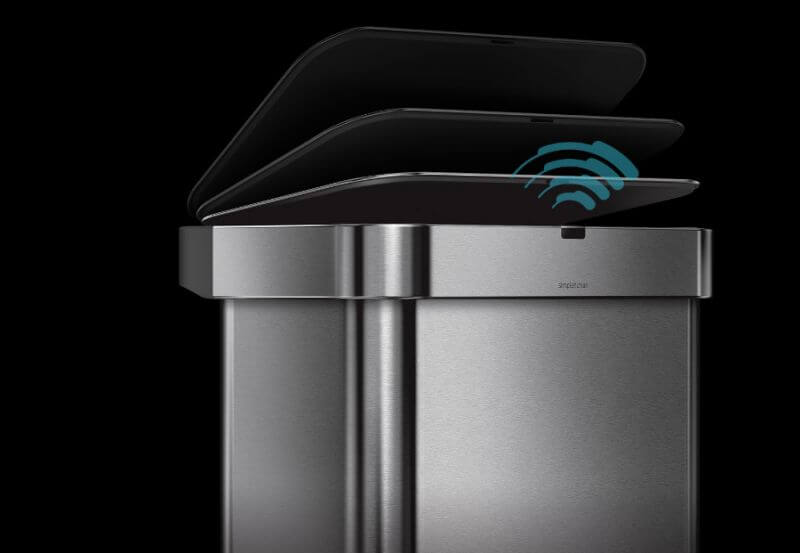 This voice sensor trash can is the best kitchen appliance for hygienic waste disposal. The hi-tech can comes with three microphones for voice recognition accuracy. You can command the can to open and close. Also, the fingerprint-proof coating of the trash can is infused with Agion anti-microbial agent, which inhibits the growth of microorganisms.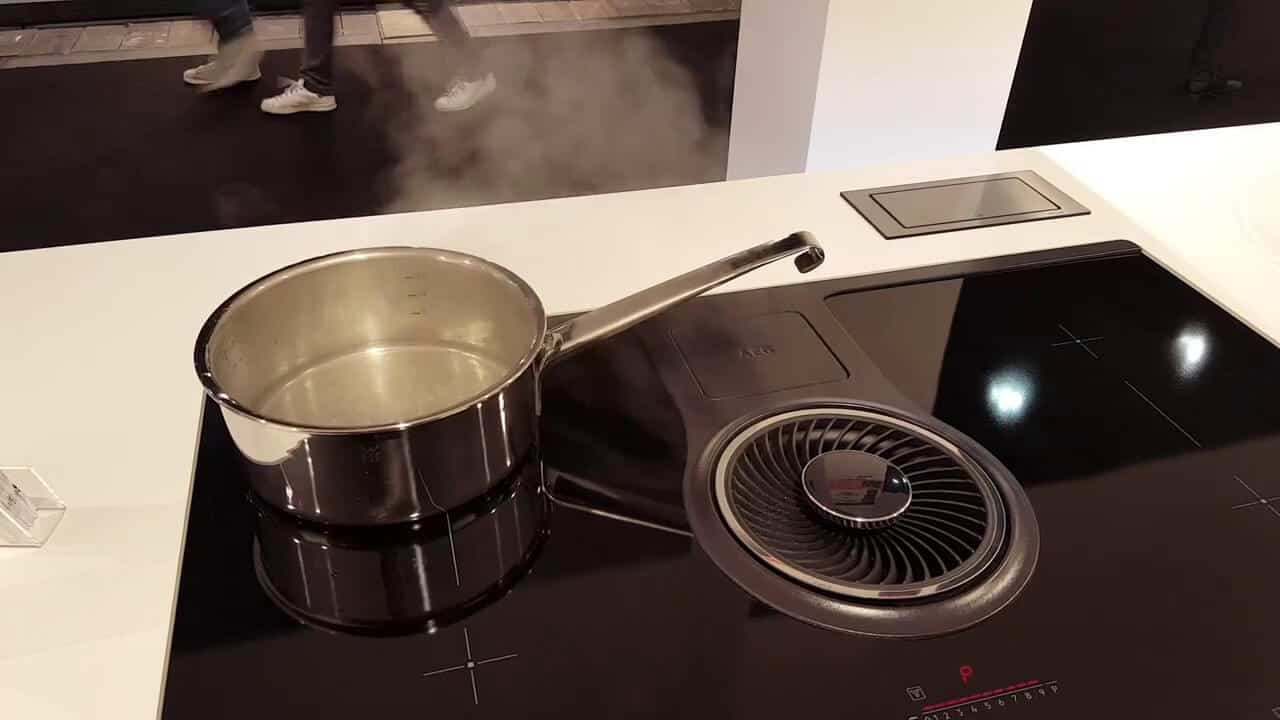 The ComboHob Bridge is a smart induction hob in built appliance that comes with an extraction fan. This kitchen appliance eliminates the need for overhead hoods. Also, the touch sensors allow you to manage the cooking zones, temperature, extraction options. The extraction grid is removable.
Conclusion
These smart in built kitchen appliances are ideal for a luxury modular kitchen and convert them into a smart modular kitchen. The blend of technology and kitchen appliances is the future of smart kitchens in India. Moreover, these ideal smart kitchen appliances make cooking more exciting and enjoyable. Also, these innovations remain a blessing for people who have a knack for both cooking and technology. Also, the fast-moving and the advancing world is all about time management. So, with these smart appliances, you can save a lot of time and effort in your luxury modular kitchen effectively.
If you want to buy top-quality smart kitchens appliances from the best brands, click on the link given below to check your options and submit your inquiries:
For more details, contact below:
WhatsApp Number: +91-9967632127 (Only message; no calls)
Email: support@buildingandinteriors.com