Appliances make life easier. Nowhere is this more evident than in the kitchen, where large and small, electronic and smart appliances save people time and effort every single day. You can make cooking more enjoyable and easier with the correct list of basic kitchen appliances that suit your price point & budget available at the store near by. These appliances might also inspire you to come up with unique and inventive meals that surprise and delight your loved ones. Modern appliances, in addition to standard utensils and storage containers, are an important feature of an Indian kitchen.
Unfortunately, because there are hundreds of distinct kitchen equipment that may be considered important, the kitchen is one of the most difficult and intimidating rooms to stock.
To make this difficult chore a little easier for you, below is a list of the absolute must-have kitchen appliances available at a varied price range at the stores near you for a properly functioning kitchen.
1. Refrigerator
2. Gas hobs
3. Chimney
4. Food processor
5. Microwave
6. Dishwasher
7. Blender & mixer
8. Coffee maker
9. Electric kettle
10. Water purifier
11. Electric grill
12. Air fryer
13. Toaster & oven, and more.
To accommodate varied activities, the best kitchens include distinct parts based on their location and size in your home. The following are components of a kitchen:
1. Main area with microwave, refrigerator, and gas stove.
2. Baking area or the bread room or region where bakery items including cookies, biscuits, bread, and cakes are prepared.
3. Cooking area for cleaning and washing kitchen utensils, containers, pots, plates, and other kitchenware.
All these areas use different kitchen appliances for better functionality.
Smart kitchen appliances
With the passage of time, it is critical that our appliances become smarter and more sophisticated. As a result, designers have created unique smart appliances for smart cooking areas that incorporate the latest technologies and high-tech features.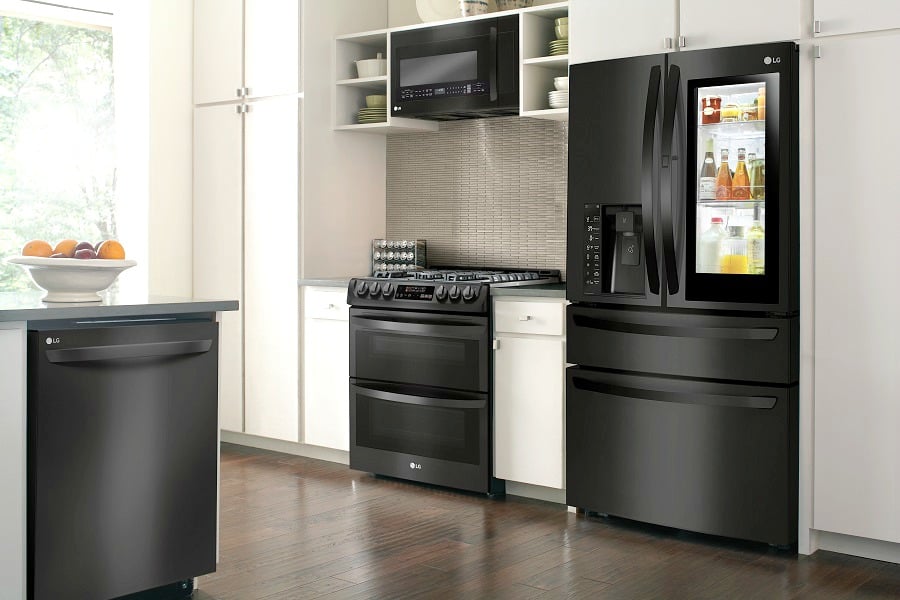 Image Source: Our Family Lifestyle
Smart kitchen appliances are ordinary electronic kitchen appliances that have been enhanced with cutting-edge technology and intelligent capabilities.
This industry has long been a hub of invention, but it has exploded in recent decades. The game of smart in-built appliances has been altered by brands like BSH, LG, Hafele, Samsung, Liebherr, and others. So, to make your home effectively functional, you need to have a smart kitchen with smart appliances.
Kitchen Appliances Subcategories
---
Kitchen Appliances Products