The way cleaning utensils is conceptualized in India has altered thanks to Siemens dishwashers. Being one of the top kitchen appliances brands, Siemens' state-of-the-art technology combined with German precision ensures that even the most greasy and oily utensils can be cleaned with utmost ease.
About the Product
Siemens' built-in dishwashers are revolutionizing contemporary kitchens. Fitted flush into the kitchen cabinet, the dishwashers add a touch of class to your modular kitchen while seamlessly integrating with your decor. Equipped with top-of-the-line features, such as Zeolith drying technology, rackMatic basket, and HomeConnect, these make a powerful statement in modern premium kitchens.
[vvsmustread]
Product Description
In addition to their apparent practical benefits of clean and hygienic washing, dishwashers are essential to the modern kitchen since they complete the modern home. The Siemens studioLine built-in dishwashers offer cutting-edge smart technology that makes washing and drying faster and more convenient than ever before. They blend in seamlessly with the rest of your kitchen thanks to its streamlined built-in design. Moreover, they can scrub nearly every sort of dish, even when loaded to its maximum capacity, thanks to their exceptional load capacity and remarkable performance qualities.
Siemens fully integrated dishwashers are best suited for smart kitchens with continuous counters. Their flush-closing front and adjustable base allow them to perfectly integrate into your kitchen cabinet. Additionally, convenience, effectiveness, and ideal dishwashing are achieved due to the cutting-edge technology and unique features. They come with a variety of advanced features, such as app-enabled control, emotionLight Pro, remote access, and sensor-controlled automation, that make cleaning up more practical and environmentally friendly.
Fully integrated dishwashers by Siemens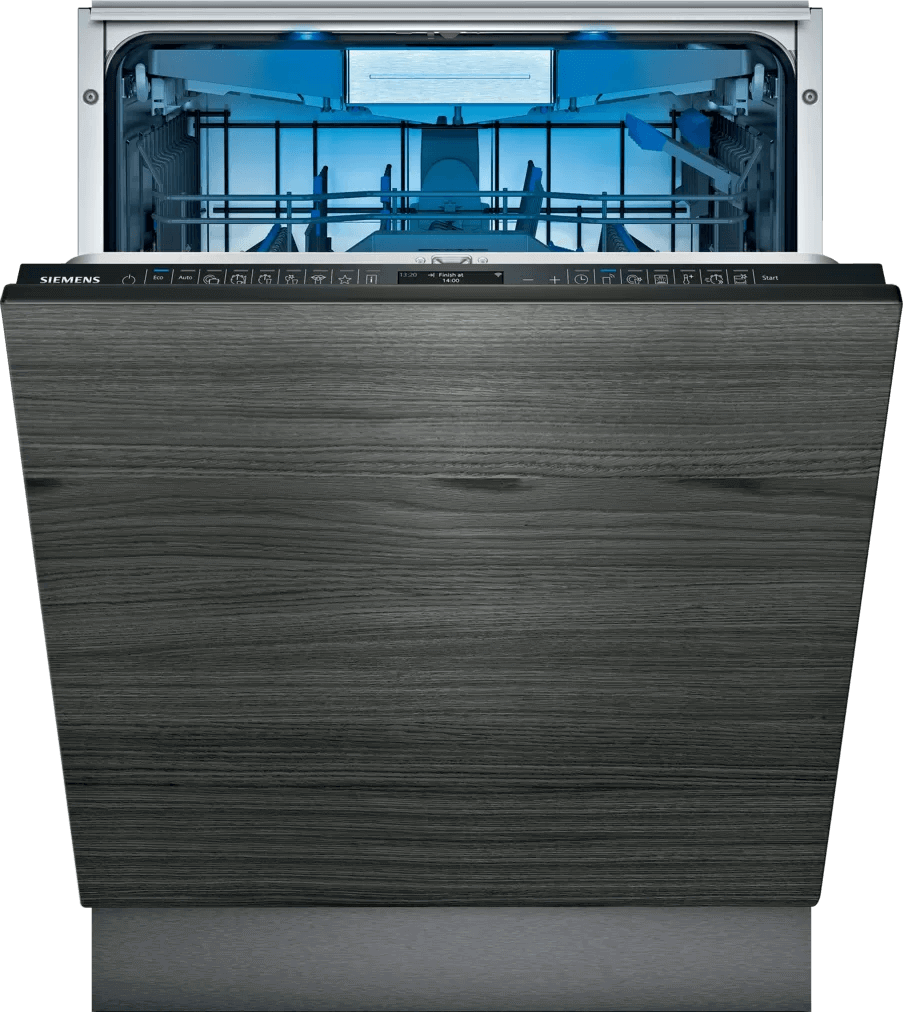 Key highlights
The Siemens Fully Integrated Dishwashers feature a pristine, smart, and clean design. Essentially invisible, they emphasize the layout of your kitchen. The entire front of the appliance remains hidden by the front panel, which complements the kitchen cabinetry. Only when you open the dishwasher will you notice the control and display components situated on the upper edge of the door.
Thus, the Siemens dishwasher is an ultimate space saver. It gives a lot more organized kitchen design and enhances the aesthetic appeal of the space. It seamlessly integrates into your decor, and its understated and classy finish enhances the look of your kitchen.
The revolutionary Zeolith drying technology included in the premium line of dishwashers optimizes water usage to improve the convenience of your kitchen for your urban lifestyle.
Touch Panel
The touch panel is not only attractive, but it is also simple to operate, has an intuitive design, and is practical in every way.
Control your Siemens studioLine dishwashers with the HomeConnect eco system, and you can use it to control it from any distance with just a few touches. You can quickly access the status of your dishwasher while on the go with a few touches. This includes the ability to start and stop a programme, receive alerts when the washing is finished, and change the settings from a distance.
dryingAssist
During the drying process, the door opens automatically and gently, allowing the dishes to dry naturally without using extra energy.
rackMatic
With its three levels of vertical adjustment and smart clip, the 3-Stage rackMatic basket has space for various types of utensils, even tall glasses, and big pots.
openAssist
The fully integrated dishwashers from Siemens now have a practical door opening system. To open the dishwasher door with openAssist, just softly press on the front of the door. It is really simple and can be integrated into any contemporary handle-free kitchen.
dosageAssist
The dosageAssist feature places the tablet into a tray that has been particularly made to ensure that the water jets accurately target the tablet, resulting in an even dissolving that allows you to use the detergent effectively and get your dishes shining clean.
Special glassZone
All types of glasses can be cleaned thoroughly and gently in the Special glassZone. Moreover, you can now put even your most priceless glasses in the dishwasher with perfect confidence. A steady but gentle water supply is ensured by six integrated nozzles, enabling thorough cleaning without harming delicate materials. Additionally, built-in soft anti-slip components offer a firm grip while defending against mechanical stress and avoiding glass rim damage.
Additional features
14 Place settings
Integration with: Google / Alexa voice assistance, IFTTT, Fitbit / Apple / Andriod smart watches, etc.
IoT Enabled Remote Access
Dimensions (HxWxD): 81.5 x 59.8 x 55 cm
The integrated design of the Siemens dishwashers allows the architectural aspects to pop without compromising the function of the appliances, which is definitely advantageous in the eyes of the designers and architects! As a result, there is more flexibility when planning the room's layout and space is saved along either side of the appliance. Their minimalist, streamlined appearance is an extra bonus. These serve as stunning design objects and their innovation and sophistication make them ideal for modern premium homes. Equipped with innovative features, such as Zeolith drying technology, rackMatic, openAssist, dosageAssit, etc., the Siemens dishwashers are a game changer. Their ingenious design, aesthetic appeal, and cutting-edge technology help the architects achieve their goal of balancing functionality with style and meeting the critical requirements of their clients.
So, click here to view the entire product range of Siemens fully integrated dishwashers.
Contact Details
M: +91-9967632127
Email: support@buildingandinteriors.com
Brand Info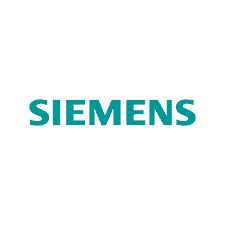 Siemens
Siemens has been a renowned German industrial and technological brand that serves the entire spectrum of the electrical engineering sector for more than 174 years. With a number of innovations that have genuinely transformed human life, Siemens has become one of the leading built-in appliance companies in India and the entire world. Consumers get complete access to a seamless world of innovative possibilities thanks to Siemens' collection of smart products. The product line comprises freestanding models for cooking, laundry, refrigeration, freezing, and dishwashing, as well as coffee machines and vacuum cleaners, in addition to high-tech integrated home appliances.
With the introduction of coordinated and intelligently designed appliances, the brand is setting new standards for innovation, technology, and design worldwide.
Siemens StudioLine range of built-in appliances offers functionality and technology without compromising on design and sophistication. The StudioLine appliances are more than simply very efficient equipments; they represent an aspirational way of life and a symbol of individuality. In addition, the HomeConnect technology connects your appliances with the services of different partners – turning your house into a connected home. Therefore, Siemens products are designed for those who wish to make every day extraordinary.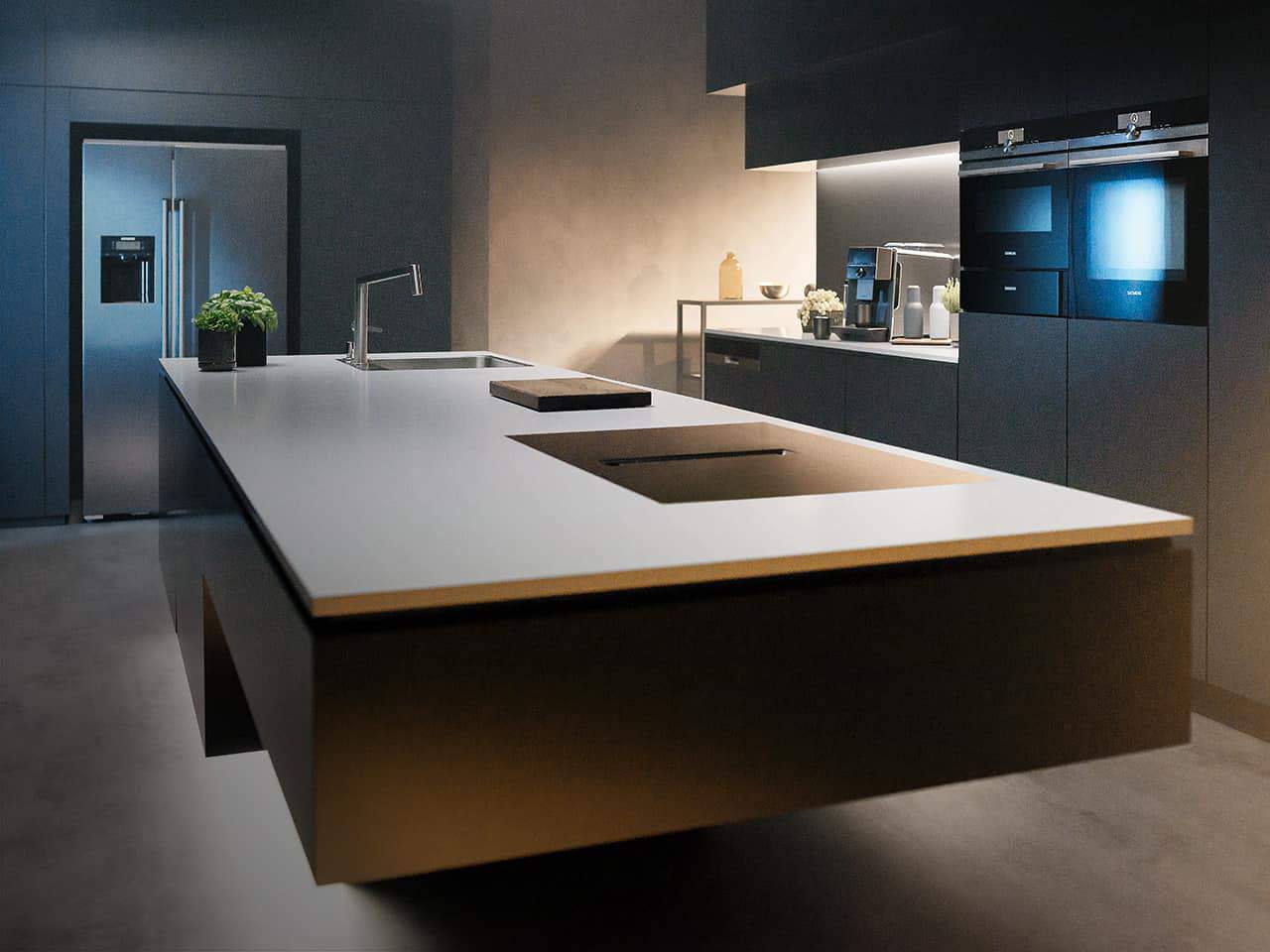 The intelligent innovations and renowned German Engineering of Siemens Home Appliances are well known. The brand's technologies are also top-of-the-line and meet the high standards of customers. Siemens contributes to the metropolitan way of life with its contemporary yet timeless design making the company's products and services dependable and well-thought-out.
In addition, the brand's appliances range includes the following:
Siemens India – Contact Details:
Call: 1800 209 1850 (Monday to Saturday, 8:00 AM to 8:00 PM)
E-mail: service.in@siemens-home.BSH-Group.com
Video