New kitchen concepts have emerged all over the globe. Kitchen is no longer merely a part of the house; it is a window into people's lifestyles. Classic design and architectural characteristics from American and European styles persist in traditional kitchens across the world. Curves and organic shapes, as well as a variety of colours and materials, characterize them. Traditional kitchens favour luxury and elegance, combining natural elements such as stained wood and patterned stones. Modern kitchens, on the other hand, are all about optimising utility, efficiency, comfort, and ease of movement while preparing food. They are well-organized and provide ample storage space. A modern kitchen's colour palette is vibrant. It may also feature glossy laminations, straight lines, and block shapes in its design and modern built-in kitchen appliances such as hobs, refrigerators, dishwashers, etc. for enhanced functionality.
Current kitchen setups require modern appliances because trends are still evolving along with shifting worldwide preferences. Individuals have spent an unprecedented amount of time in their kitchens, and more user experiences paved way for more user demands. From the conventional random arrangement of necessary kitchen components to precisely structured modular setups, kitchens have evolved significantly.
With constant innovation of appliances and ever-changing global preferences, modern kitchens reflect the evolution of our habits and lifestyles. Due to the constant exposure to global trends, Indian kitchens are transforming too and built-in appliances are the norm in modern Indian kitchens. These appliances provide a better level of utility and convenience. Built-in appliances are the top choice for kitchens nowadays due to their ergonomic space-saving design. They also provide kitchens with a clutter-free, sleek appearance.
In this article, let's explore the latest trends in kitchen appliances, the benefits of employing built-in appliances for superior aesthetics and functionality, and the ideal appliances for any kitchen design.
Latest developments in kitchen appliances
The greatest kitchen design developments are more symbolic of a year spent indoors than genuine, transient trends—think: ditching traditional design concepts in favour of more colourful, utilitarian, smarter cooking environments that lean heavily into the craftsmanship.
Aesthetics is unquestionably important in kitchen design. However, efficiency and mobility remain equally important concepts. Therefore, by adhering to a few fundamental design concepts, you can have it all: a beautiful kitchen that is efficient as well as functional. In today's multi-functional kitchens, it is of utmost importance to strike a balance between aesthetics and utility to make the most of your kitchen area.
The style of the kitchen is determined by simple colours, clean lines, and a classic and minimalist appearance. Metal embellishments and high gloss fronts are frequently used in the design. Additionally, appliances are supreme in the kitchen in today's quick-paced society when everyone is racing against time. Refrigerators, blenders, ovens, etc. have become an indispensable part of modern kitchens.
Drivers of innovation
Due to rising disposable income and a growing consumer base, there is an increase in the demand for kitchen appliances. The expanding upmarket urban consumer has travelled the world and looks for the same calibre of high-end products offered in international marketplaces. Given that consumers' lifestyles are changing and that urbanisation is on the rise, the potential for kitchen appliances is enormous, and consumers are prepared to spend even a little bit more for better items to bring about the desired benefits in their lives. In addition, due to the rising cook-at-home trend and health-conscious food choices, people are ready to experiment in their homes. Apart from the need for faster cooking, media exposure has played a significant role in bringing about the latest trends in the market.
In an era when everyone focuses on going forward with maximum productivity, it remains crucial for people to finish their work on time and with excellent precision. Utility and design have evolved in a way that offers maximum flexibility to people, especially women, trying to balance domestic and professional life at the same time. Therefore, it has become crucial for a machine to perform some of the work independently and to some extent conserve human time. This is where kitchen appliances come in handy. From managing morning routines to reaching the office on time, every task seems achievable with the right appliances.
Some of the biggest trends observed in the past few years
Panel-ready appliances that come ready to accept a custom cabinet panel to cover the front of the appliance, thereby creating a consistent, streamlined look across the whole kitchen.
Built-in appliances that complement the cabinetry to suit the most extravagant kitchen aspirations and to make a powerful design statement.
Built-in refrigerators, dishwashers, and ovens for streamlined, clutter-free kitchens where the appliances fit flush into the cabinets.
Combination steam and convection ovens to address the need for healthy cooking.
En vogue smart appliances to cope with emerging food trends and dietary requirements.
Dual or multi-purpose ranges for a faster and uninterrupted cooking experience.
Decorative chimneys that complement any design concept for people who want their kitchens to look less commercial and more stylish with a personalized touch.
Under-counter refrigerators for easier access to stored food and to use the space smartly and accurately.
Why choose built-in appliances?
The ideal kitchen appliances offer practicality, smoothly integration into your well-designed kitchen, and optimum energy efficiency. The choice between freestanding and built-in appliances is one of the most important ones you'll have to make. There are many reasons why freestanding units are excellent, but if you want to go the extra mile to create a seamless and elegant design, built-in appliances can be the best option for your kitchen.
Appliances that are permanently fixed in a kitchen are known as built-in or integrated appliances. A built-in oven is permanently installed inside its cabinet, a built-in refrigerator is permanently fixed to its location, and a built-in hob is anchored to the countertop. Built-in appliances are effectively concealed from view while still being functional by being tucked inside cupboards.

We have outlined the key points to take into account when comparing the benefits of custom, integrated appliances to your typical, standalone ones so that you may choose the option that is ideal for your home.
Seamless look
To best complement the overall design of the kitchen, customize the built-in appliances in any way. Contained in cabinets, they are unobtrusive in design and provide an immaculate look to the space. The kitchen has a smooth and exquisite appearance thanks to the continuity of the cabinetry employed throughout. The appliances merge into the design scheme to create a clean and seamless appearance rather than battling the interiors. This gives the kitchen a smooth, upscale, and fashionable look that improves the overall ambience.
Maximum space utilisation
Built-in appliances don't make your kitchen appear crowded and give you extra floor and counter space. Installing built-in appliances is the best way to expand the usable area in a kitchen while also clearing out clutter.
Standard dimensions
Built-in appliances come in standard and universal dimensions that practically all global companies adhere to. The dimension will never be absolute as a result. If you decide to replace your kitchen at some point in the future, you can easily include these items in the new module. Take the following built-in reference as an example: No matter what brand you choose or where you live, you may use the same refrigerator in a new kitchen or with any other layout due to the standard size of a 300L unit fitted within a 24″ cabinet with 5 ft. 9 inches.
Multiple options
Customised positioning and layout of built-in appliances offer consumers the greatest flexibility in usage while keeping all ergonomics in mind. The act of putting food in and out of an oven not kept at the right height can be laborious. Avoid this problem in the design phase by using built-in appliances in the kitchen.
Customized for design harmony
Integrated appliances also provide you more design flexibility because you can choose what goes where and how big each item should be, rather than relying on predetermined sizes.
Ease of maintenance
While built-in appliances might not be as adaptable as their traditional free-standing counterparts, cleaning and maintaining them is simpler. Neatly hidden in cabinetry, the appliance doesn't gather as much dust as free-standing appliances.
Loaded with the latest technology
Modern built-in appliances are typically high in features and quality. A few features to mention include an oven with pre-programmed recipes, refrigerators with separate compartments for tropical and non-tropical fruits, hobs with safety features, and dishwashers with self-cleaning cycles.
List of different built-in appliances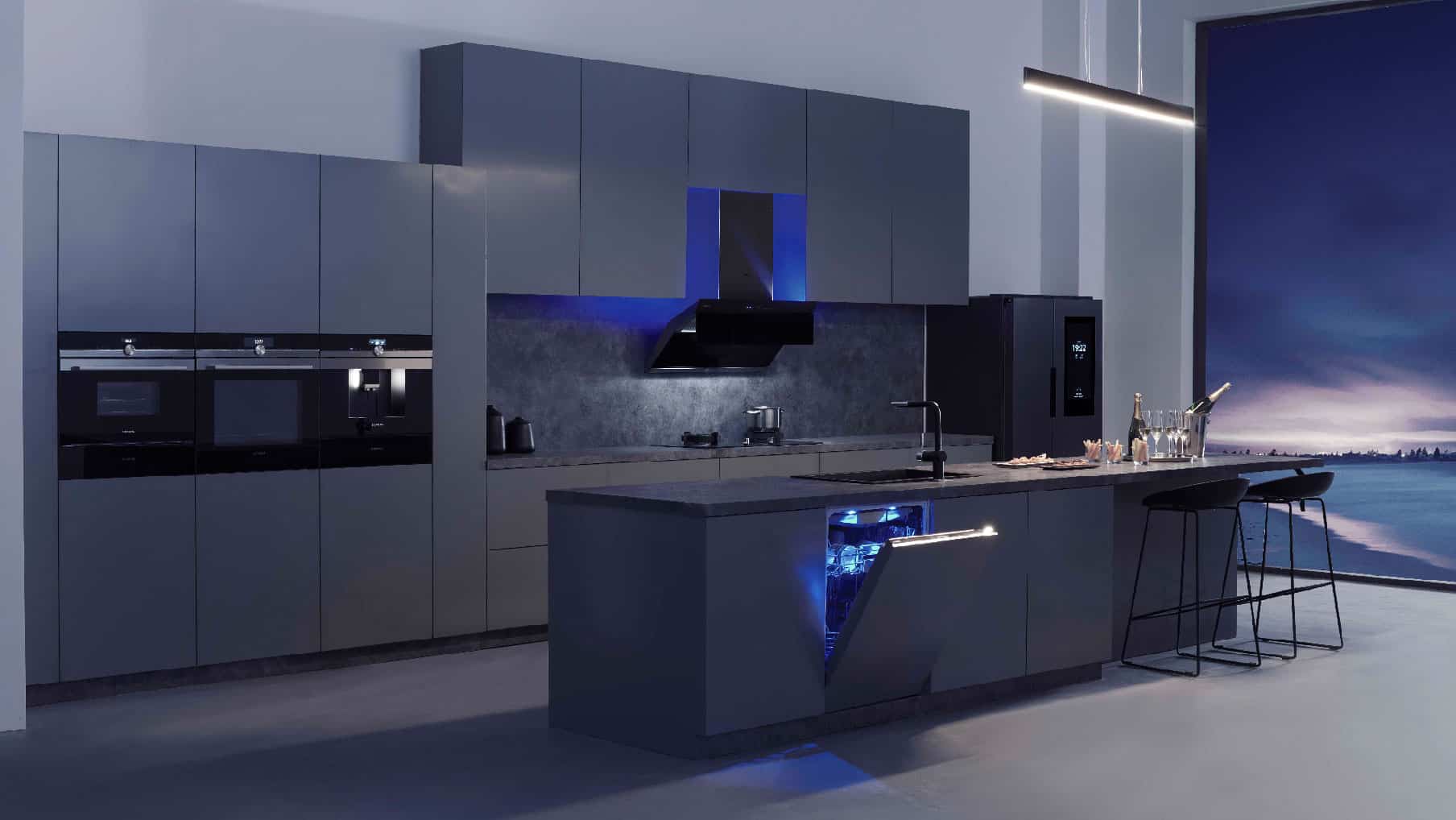 Built-in oven
A built-in oven or a built-in microwave is the best way to get a fully streamlined appearance. Ergonomics play a vital role in their design. No more stooping to check on the food or attempting to remove hot, heavy plates from the oven. Wall ovens, mounted at eye level, provide cooks with the best convenience possible while in the kitchen. The built-in microwave is streamlined, sophisticated, and blatantly futuristic. The additional cooking capacity and innovation it brings, in addition to its versatility, only improve the already excellent cooking experience.
Usually situated at a user-friendly height, built-in ovens specifically take ergonomics into account and offer ease of usage. Additionally, these save space and impart a cleaner and more organised look to the kitchen.
Furthermore, they are modern in both look and functionality thanks to additional capabilities like touch control and automatic programmes. These ovens are exceptionally hygienic thanks to the self-cleaning mechanism and the fact that they are totally enclosed also protects them from dust and other external harm. Also, built-in ovens are available in different types, such as single ovens, double ovens, full-size conventional ovens, compact ovens, microwave ovens, and steam ovens.
Built-in refrigerator
The versatility in capacity is one of the main benefits of having a built-in refrigerator. The depth of the built-in refrigerator is confined to the depth of the surrounding cabinets and can only go as deep as 24 inches, but the width can be adjusted to produce a configuration that best meets the user's needs.
Additionally, since these units are tall, there is flexibility for modifying functionality to fit the unique lifestyle of the user, such as adding more space for the freezer compartment or extending the fresh food section.
To prevent a space between the top of the built-in refrigerator and the cabinets, they are taller than standalone refrigerators. Built-in refrigerators are hence incredibly functionally adaptable and svelte in design.
Available in a variety of styles, be it the bottom freezer, fridge-freezer, fridge-freezer-wine cooler, four-door, three-door, under-counter fridge-freezer, or side-by-side, built-in refrigerators offer a sophisticated and opulent elegance that standalone models simply cannot match. Therefore, these built-in appliances are essential components of a luxurious kitchen design.
Built-in dishwasher
Customised based on usage, built-in dishwashers offer great versatility in terms of capacity and cycle options.
Dishwashers that are built-in naturally have more advanced features than freestanding ones. These include multiple sprays, specific wash cycles, and targeted sprays for tough-to-clean objects like pans or baking utensils. It fits flush to your kitchen cabinets and underneath your countertop. This creates a tidy, refined appearance that many homeowners enjoy. Built-in dishwashers typically measure 24 inches wide and may accommodate 12 to 14 regular place settings.
Additionally, they are probably planned such that they are virtually undetectable. This suggests that they remain acoustically isolated and surrounded by cabinetry, making the process nearly noiseless. Fully integrated, semi-integrated, and built-under dishwashers provide your kitchen with a contemporary appearance by blending into the kitchen design seamlessly.
Moreover, built-in dishwashers typically include a separate water line, allowing the usage of the sink at the same time.
Built-in hob
These are quite popular for a variety of reasons, but perhaps one of the most important is the sleek appearance of the equipment. Built-in hobs, which give the impression that the burners emerge from the kitchen counter itself, significantly increase the style factor of the kitchen. Fitted flush with the kitchen countertop, a built-in hob gives the room a cohesive appearance. These are available in three different styles – gas hobs, induction hobs, and domino hobs.
Induction-based heating, which ensures the creation of heat only where needed, results in shorter cooking times and less energy use. Additionally, two cooking zones link into one cooking zone, making it simple to use big pots and pans for batch cooking.
Also, a built-in hob requires less maintenance because food does not adhere to its glass surface.
Built-in chimney
This built-in appliance, also known as an integrated chimney, blends with the design by being hidden underneath the overhead cabinet. All shapes and sizes of wall cabinets may accommodate built-in hoods, which are also simple to install, use, and maintain.
The extractor hood can be put immediately over the stove or close to the ceiling and range in visibility from barely visible to almost completely hidden, depending on the model type. They seamlessly merge into the kitchen's structure and integrate into the cabinets. Additionally, the smooth disguised surface eliminates contact with the motor and electrical components, making maintenance simpler and extending shelf life. This chimney's additional parts are all concealed, giving the room a seamless appearance. This style of chimney is quite opulent and ideal for those with an eye for design who want to make the most of their space.
Modern cutting-edge ventilation systems and cooker hoods bring clean, fresh air into the kitchen, whether wall-mounted, suspended over an island, built into a stove, or tucked away under the counter.
How appliances from Siemens are ideal for any kitchen design
Siemens kitchen appliances offer the perfect balance between modern design and innovative technology. For even more flexibility and time-saving solutions which help support increasingly busy lifestyles, the brand offers products with eye-catching design, cutting-edge technology and big, bright and more intuitive displays.
The wi-fi-enabled home appliances by Siemens can be controlled via the Home Connect App. Moreover, this technology connects your appliances to services provided by other partners, transforming your residence into a connected home. This connectivity opens up new possibilities in your living space, like changing the colour of your kitchen hood to change the ambience of your kitchen or setting up your oven using Amazon Alexa voice control, both of which are technological advancements that enrich your life and give you more time and flexibility.
Following is a list of built-in appliances by Siemens offering intelligent technology, elegant design aesthetic, and practical yet impressive functionality.
Hobs
Siemens gas hobs are stylish, sophisticated, and equipped with stepFlame technology offering precise flame control with 9 levels. You can create your own cooking center as per your need along with domino hobs.
Their new flexInduction hob, allow you to move pots and pans of various sizes and shapes around the entire hob without any constraints of predefined cooking zones. In addition, the freeInduction hob allows you to cook with significantly more space and flexibility by accommodating up to six pots and pans simultaneously.
Hoods
Without a reliable rangehood to guard against grease, moisture, and cooking odours, a kitchen is incomplete. Siemens range hoods offer silent yet effective extraction while integrating perfectly with the rest of the range.
You can create the ideal ambience in your living space with emotionLight Pro, which is only available on studioLine models and delivers 256 customizable ambient background colours via the Home Connect app. These also come with advanced features, such as Cooking assistant, Dual lightSlider, Hob Hood Sync, FlexMotion, etc.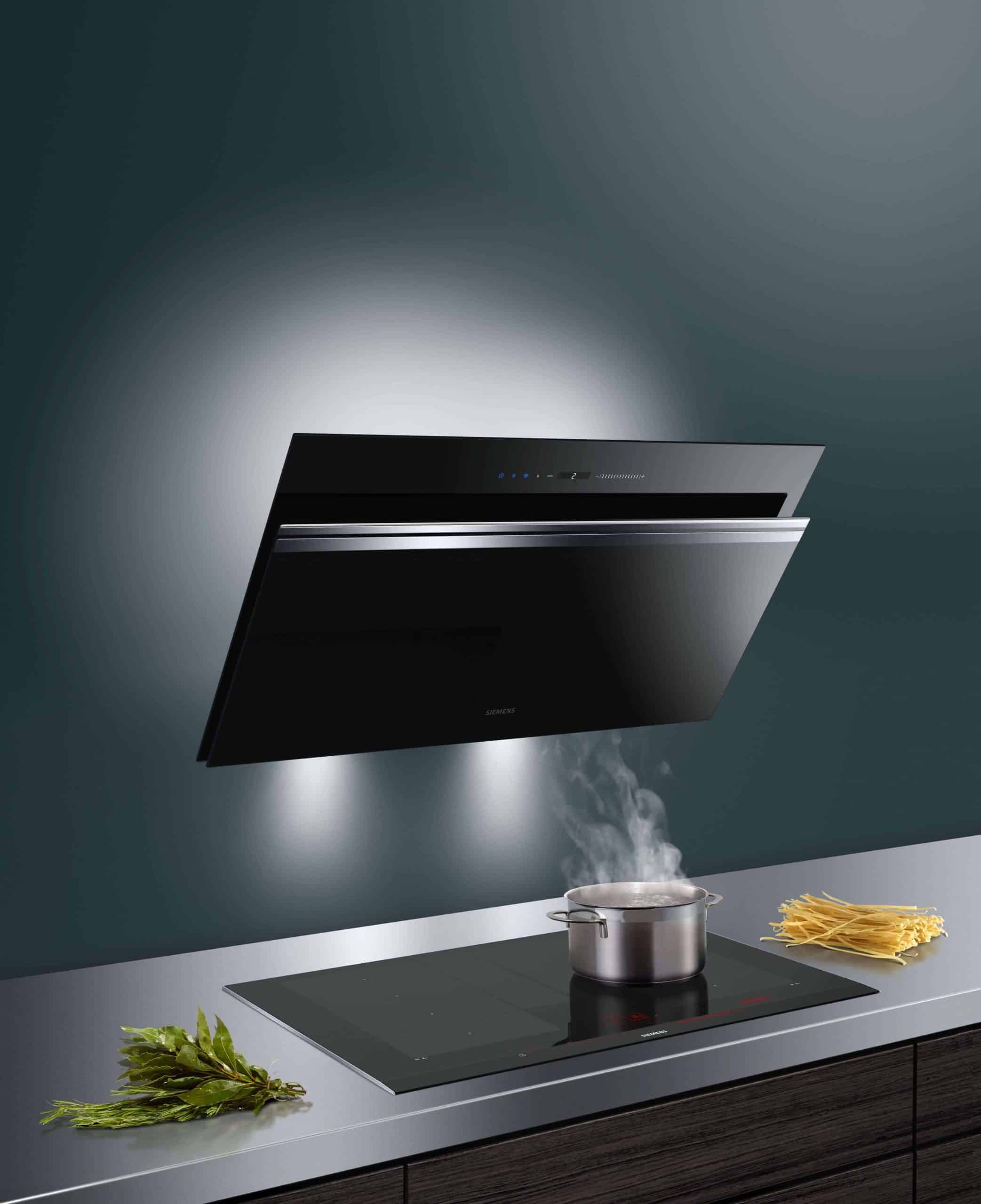 Ovens
The oven is one of the most crucial pieces of kitchen equipment for cooking. To ensure that whichever oven you pick is as simple to use as it is attractive, cutting-edge cooking technology and advanced automation have been presented in typical Siemens style.
It increases your culinary possibilities while the design aims to reduce your work. There are countless options available, including roasting, baking, grilling, steaming, and using microwave functions. The studioLine built-in ovens have a distinctive appearance that combines clean lines with intuitive controls and cutting-edge technology for an unmatched experience. These come with innovative features, like varioSpeed, 4D hotAir, fullSteam, Remote Delayed Start, and more.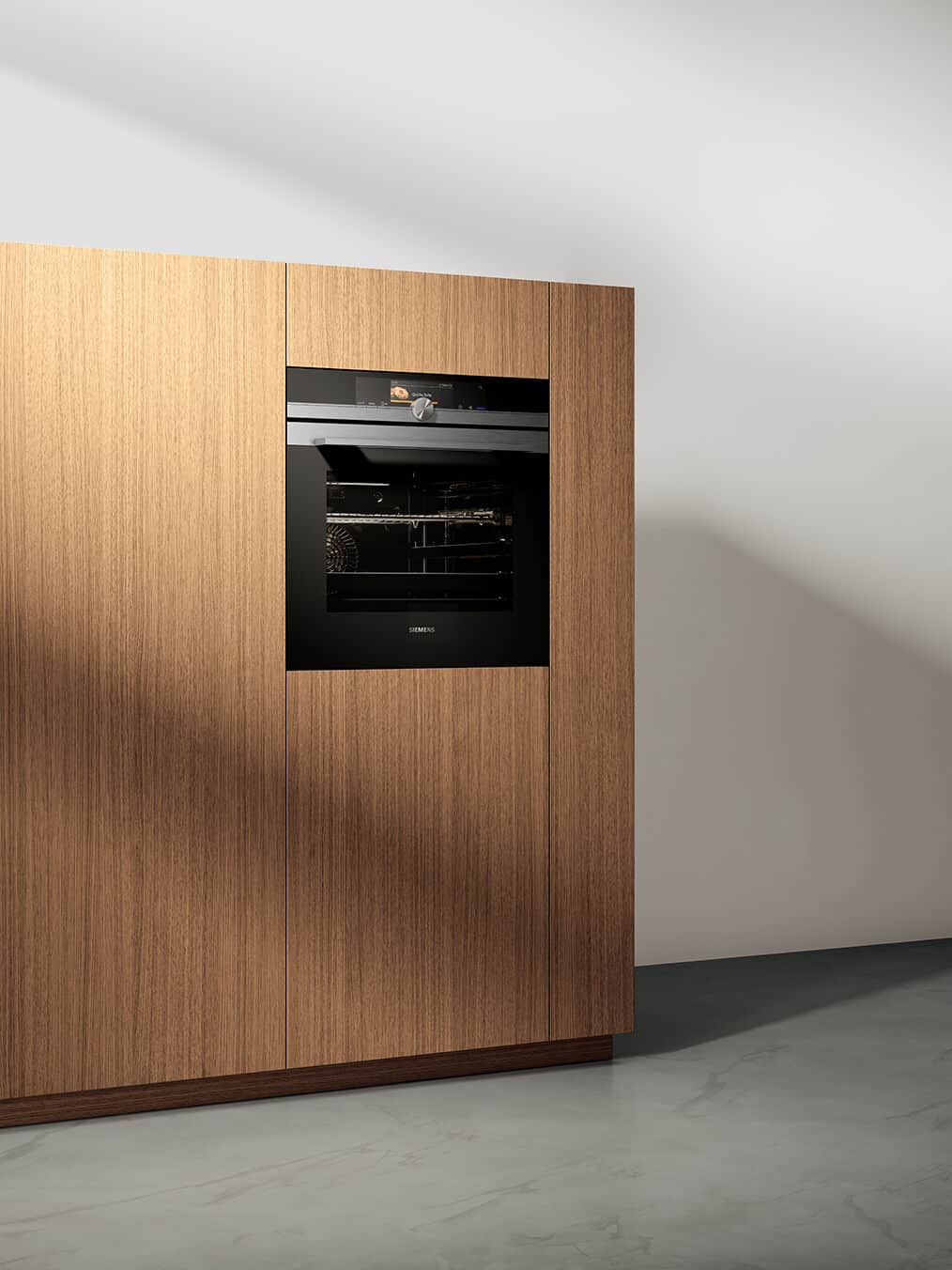 Refrigerators
A stylish front door panel that mixes in with your kitchen cabinets imparts a sleek appearance to the kitchen.  Siemens offers the perfect built-in cooling appliance for you, no matter your kitchen layout or design concept.
Additionally, the brand offers cutting-edge innovations like built-in refrigerators precisely adjustable to each of the four climate zones, smart technology that ensures that stored fruits and vegetables stay fresh and extremely high outside temperatures do not impact them, and refrigerators that maintain cooling close to zero degrees, mimicking modern refrigeration units. Siemens built-in refrigerators also feature TwoCooling system, SuperFreezing, SuperCooling, FreshSense, FreshProtect Box, etc.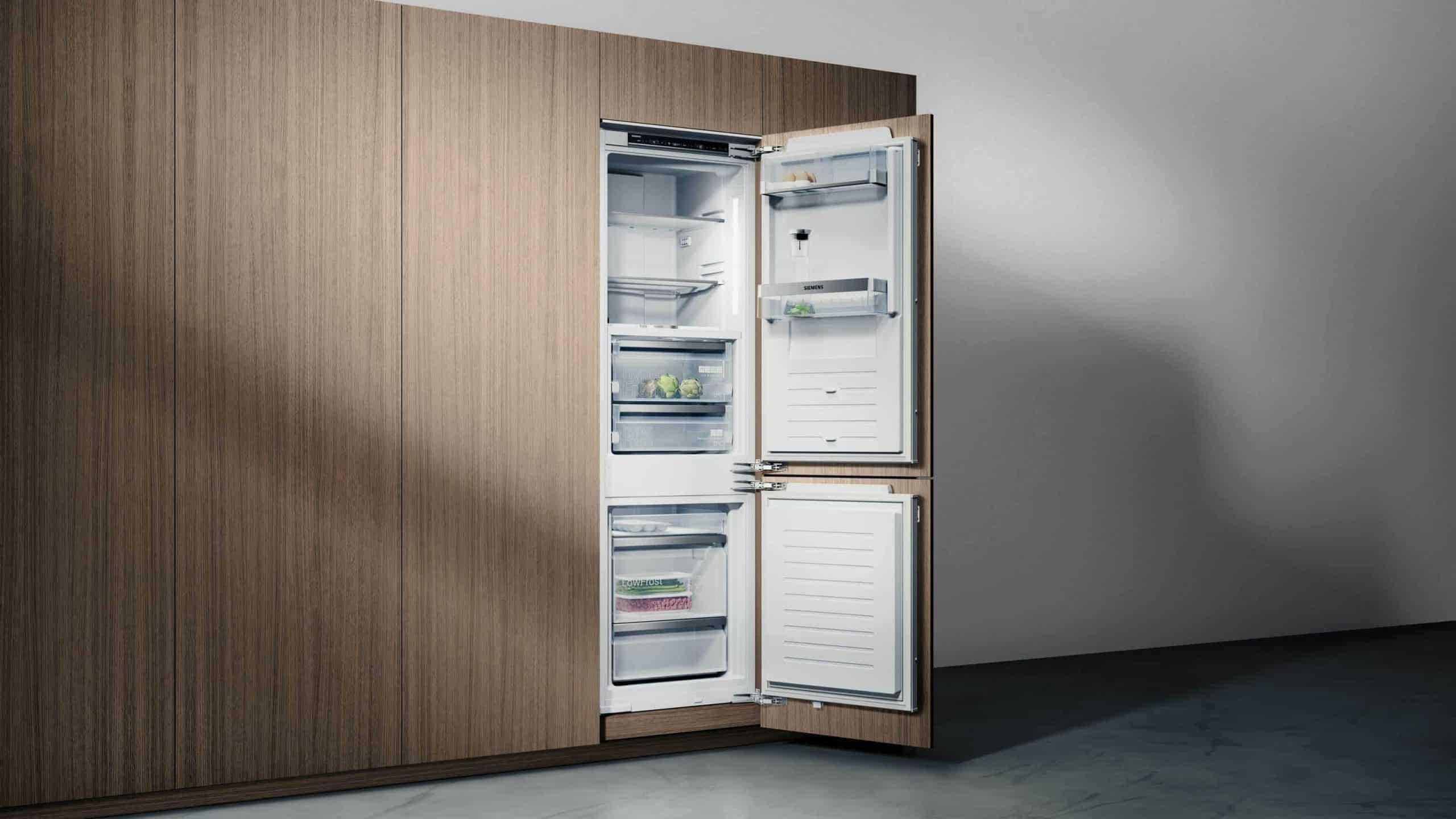 Dishwashers
With technologies like Home Connect, Touch Panel, and rackMatic basket, the new line of built-in dishwashers by Siemens makes washing dishes more flexible and convenient than ever before. The revolutionary Zeolith® drying technology used in these built-in dishwashers minimises water usage to improve the convenience of your kitchen for your urban lifestyle.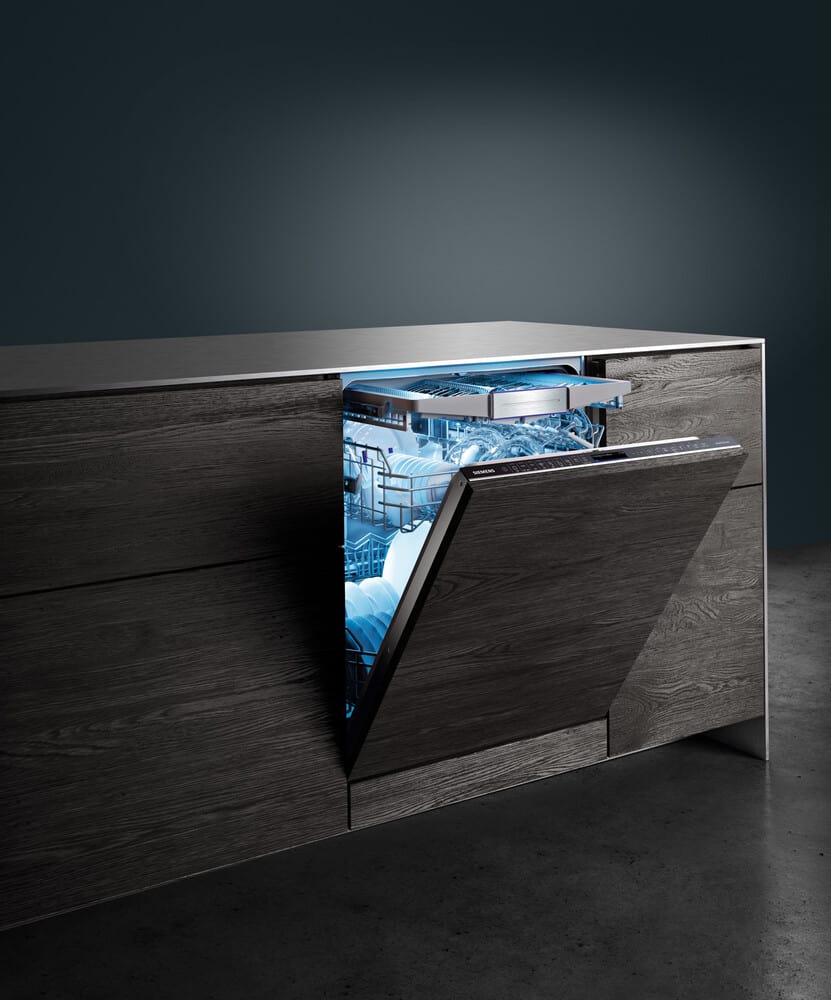 Conclusion
In the past few years, the kitchen has performed a variety of functions. Some people have used it as a place to express themselves creatively or unwind. However, others use it frequently to host family members, and perhaps even set up a temporary workspace.
Additional food storage space, easier-to-clean surfaces and tools, and appliances that cater to individualized—and now experiential—interests are becoming increasingly popular.
Various factors drive the expansion of the kitchen appliances market in India. These include an increase in nuclear families, growing urbanization, an increase in the number of women working in cities, a surge in the number of people adopting the open kitchen concept, and increased online channel penetration.
There is no doubt that integrating kitchen appliances results in a far more streamlined, cleaner aesthetic. From hobs to refrigerators, built-in appliances are an essential part of the modern Indian kitchens of today. Easy to maintain and loaded with the latest technologies, they offer a seamless and clutter-free look.
In terms of built-in appliance offerings, Siemens is one of the leading names. So, take the in-built plunge with the innovative and technologically advanced appliances by Siemens.
[vvsmustread]