Siemens has a wide selection of kitchen appliances, and they are well known for combining state-of-the-art engineering, useful functionality, and stunning design to create appliances of the highest caliber. One of the last innovations by the brand is the Siemens 38cm built-in microwave oven with grill.
About the Product
For an unmatched experience, the built-in microwave oven with grill mixes sleek lines with simple controls and cutting-edge technology. A guaranteed design statement is created with a coordinated look and a large, vivid TFT touch display. Delivering a strong, high-quality aesthetic and features such as cookControl, stainless steel interiors, auto-programmes, etc., the appliance perfectly matches your coffee machine, hob, and hood.
[vvsmustread]
Product Description
The oven is one of the most crucial kitchen appliances for cooking. The classic Siemens flair is offered in the built-in microwave ovens that offer a balanced mix of cutting-edge cooking technology and smart automation. These are aesthetically pleasing and ensure a smooth finish when paired with other Siemens appliances. Moreover, the 38cm built-in microwave oven with grill is highly intuitive in function as well as attractive in design. You can keep an eye on the food inside the oven as it cooks thanks to the LED lighting and the transparent glass door. The front glass finish on the door blends in beautifully with your upscale kitchen decor and the push buttons with touch controls and TFT display provide for simple operation and show the set temperature.
So, if your busy schedule leaves you with less time to prepare meals, you don't have to give up on eating delicious food. You have faster, more flexible cooking options with the Siemens microwave, allowing you to manage your time as you like.
BE634LGS1I – 38cm Built-in microwave oven with grill by Siemens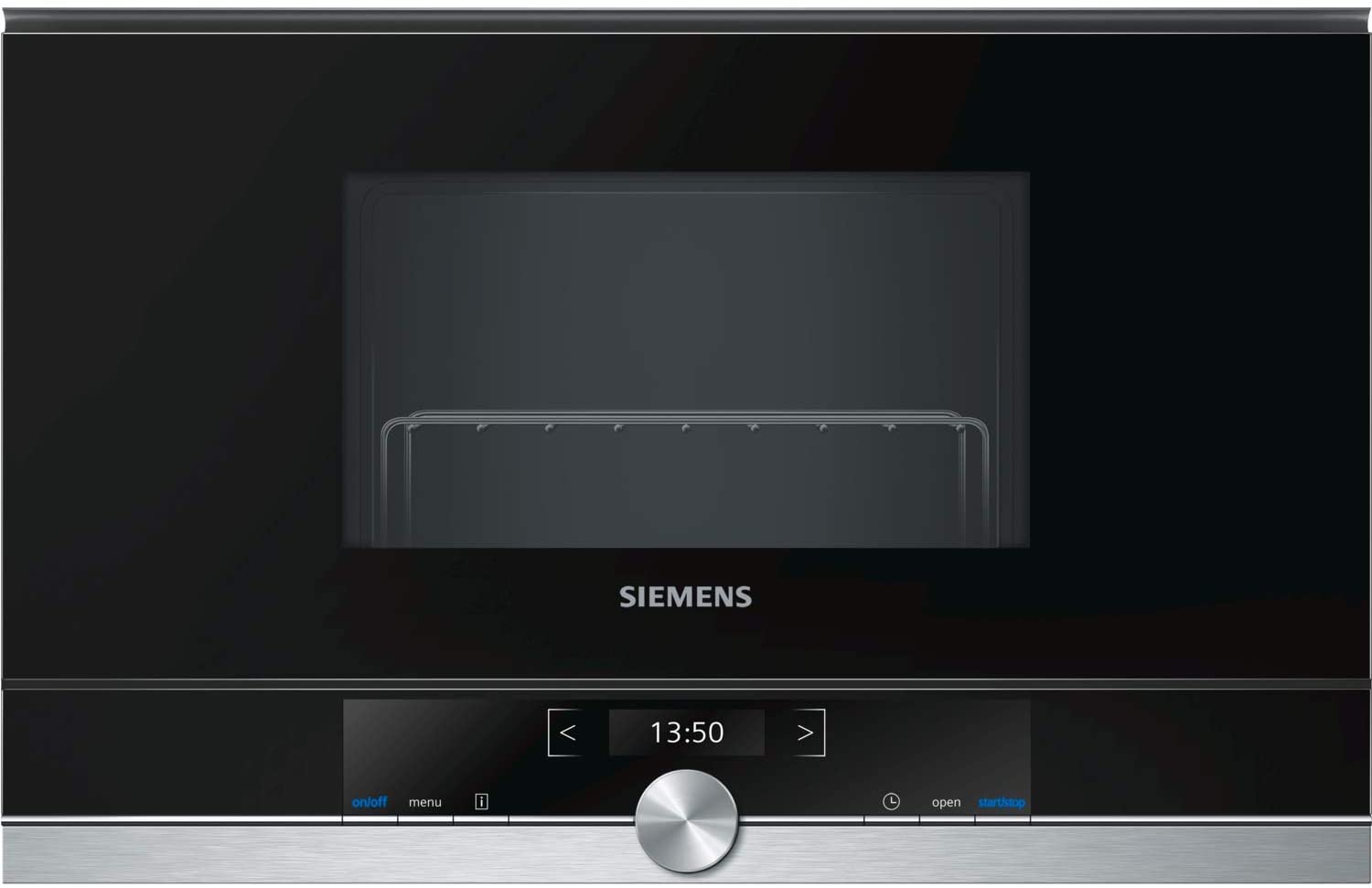 Key highlights
Two cooking functions
This built-in appliance by Siemens beautifully combines two different cooking functions and eliminates the need for a separate appliance. It uses the same cooking method as a regular microwave and has several benefits. This microwave oven with grill is ideal for cooking a variety of dishes, defrosting, thawing, grilling, and reheating the food more quickly and effectively. Combining both methods allows for faster cooking, browning or crisping the outside whilst cooking the inside.
TFT display with direct touch
The TFT display offers good readability from any perspective. Moreover, the touch panel is not only visually appealing, but it is also easy to use, has a clear design, and is incredibly practical.
cookControl
This feature lets the user choose their preferred dish, then input the weight. After that, the oven offers specific setting suggestions for the best preparation of the food, guaranteeing the best outcomes for a variety of dishes, every time. The built-in microwave oven with grill by Siemens comes with 10 pre-set cooking programmes for a user-friendly experience.
LED illumination
The Siemens built-in microwave's contemporary LED lighting makes sure the appliance is evenly and clearly lit throughout the cooking process. Thus, this function provides the appropriate lighting for the best vision and atmosphere both during cooking and after for the best results.
Stainless steel oven interior
This built-in microwave oven has an interior cavity made of stainless steel, which guarantees simple maintenance, durability, and reliability in addition to making cleaning easier.
Easy door opening
The left-hinged side opening door opens to a maximum of 160 degrees, making it perfect for higher installations. Therefore, it is simpler to reach all dishes because of the wide opening angle. Additionally, the oven door may be opened with simply a button touch thanks to the push opening feature.
softMove
With this feature, when you open or close your oven door, the intelligent dampers make sure that it does so quietly and gently for seamless functioning.
Automatic cooking programmes
This innovative feature enables the user to choose the food they want from a variety of alternatives that are already loaded, such as roasted beef, steamed artichokes, Choux pastry, etc. If you're using the intelligent functions like cookControl Plus, the appliance will automatically suggest the mode, time, and temperature for your cooking.
Additional features
Microwave Oven capacity: 21 litres
Appliance Dimensions (HxWxD): 38.2cm x 59.4cm x 31.8cm
Cutout Dimensions (HxWxD): 36.2cm – 38.2cm x 56cm – 56.8cm x 30cm
5 microwave power levels: 900W, 600W, 360W, 180W, and 90W
Connecting cable: 200 cm
Total connected load: 1.99 kW (16 A plug connection)
With this Siemens built-in microwave oven, which ensures free countertop space, give your kitchen a creative touch.  It has a side-opening hinged door, push buttons, touch control, LED illumination, cookcontrol, 900W power, and many other features. With a 21-litre capacity, the Siemens built-in microwave oven with grill is ideal for small to medium-sized families and people who frequently use ovens for cooking. In addition, with its 10 automated programmes, satisfy the desire for a variety of mouth-watering flavours. The cookcontrol function offers personalised setting suggestions for the best possible meal preparation.
So, click here to view the detailed technical specifications of the product!
Contact Details
M: +91-9967632127
Email: support@buildingandinteriors.com
Brand Info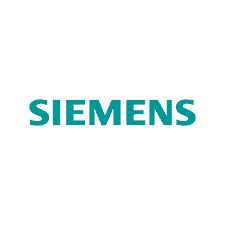 Siemens
Siemens has been a renowned German industrial and technological brand that serves the entire spectrum of the electrical engineering sector for more than 174 years. With a number of innovations that have genuinely transformed human life, Siemens has become one of the leading built-in appliance companies in India and the entire world. Consumers get complete access to a seamless world of innovative possibilities thanks to Siemens' collection of smart products. The product line comprises freestanding models for cooking, laundry, refrigeration, freezing, and dishwashing, as well as coffee machines and vacuum cleaners, in addition to high-tech integrated home appliances.
With the introduction of coordinated and intelligently designed appliances, the brand is setting new standards for innovation, technology, and design worldwide.
Siemens StudioLine range of built-in appliances offers functionality and technology without compromising on design and sophistication. The StudioLine appliances are more than simply very efficient equipments; they represent an aspirational way of life and a symbol of individuality. In addition, the HomeConnect technology connects your appliances with the services of different partners – turning your house into a connected home. Therefore, Siemens products are designed for those who wish to make every day extraordinary.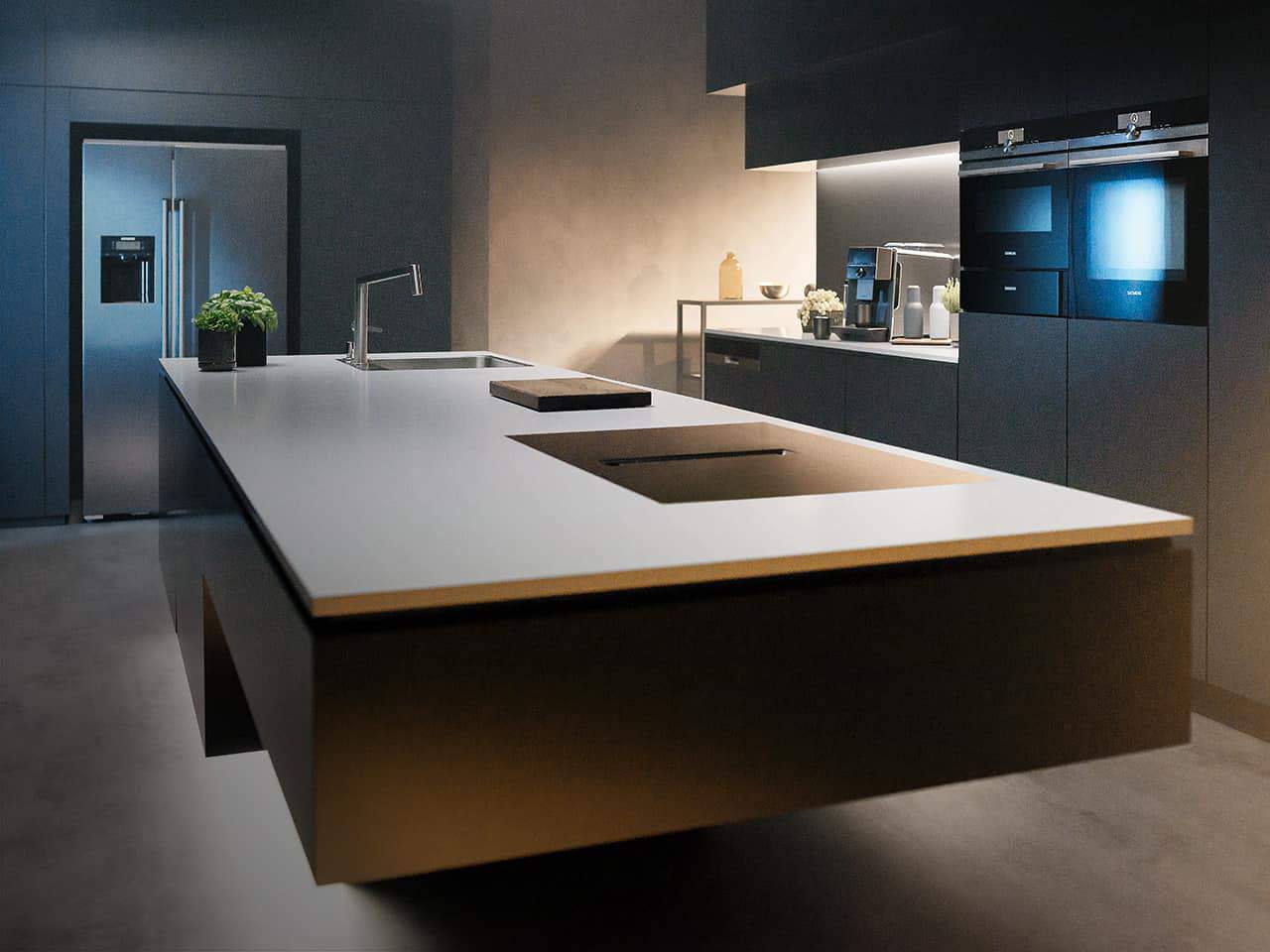 The intelligent innovations and renowned German Engineering of Siemens Home Appliances are well known. The brand's technologies are also top-of-the-line and meet the high standards of customers. Siemens contributes to the metropolitan way of life with its contemporary yet timeless design making the company's products and services dependable and well-thought-out.
In addition, the brand's appliances range includes the following:
Siemens India – Contact Details:
Call: 1800 209 1850 (Monday to Saturday, 8:00 AM to 8:00 PM)
E-mail: service.in@siemens-home.BSH-Group.com