Bosch Home Appliances is committed to delivering intelligent, dependable, and appealing solutions that make life a little easier on a daily basis. The company Bosch manufactures one of the best home & kitchen appliance products and the most effortless customer care service in India.
This exemplifies Bosch's desire to build technology that is always useful: our products are there when people need them and blend in with their surroundings when they aren't – always helpful, never obtrusive.
Bosch is a significant technology and service provider in India in the areas of Mobility Solutions, Industrial Technology, Consumer Goods, Energy, and Building Technology. Furthermore, Bosch maintains the largest development facility for end-to-end engineering and technology solutions outside of Germany in India.
Bosch Product Range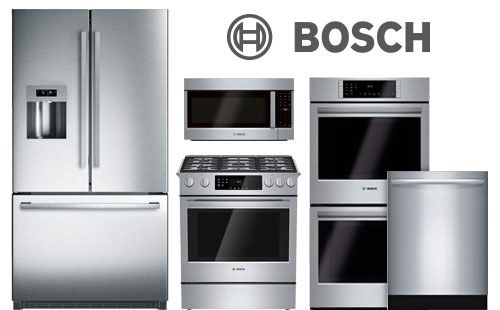 The Bosch chimney is made to withstand long cooking sessions and a lot of frying. Also, it is designed specifically for Indian kitchens and delivers maximum suction to keep smoke and odour out of the kitchen.
The Bosch Built-In Hob transforms your kitchen into a modern and elegant space. Also, it's tough, long-lasting, and easy to install. Our directed flame technology allows you to cook with ease and get flawless results.
Cooking, baking, and grilling are all simple tasks with Bosch ovens. Moreover, Bosch's oven can handle everything from continental to Italian cuisine, sweets to Indian cuisine. You may also attempt a range of classic recipes with ease while maintaining their authenticity.
If you need something done quickly, a Bosch microwave is ideal. Also, whether you want to reheat a cup of tea, bake a pizza using the grill mode, or thaw frozen meals, it can do it all.
Built-in ovens
Built-in hobs
Freestanding cookers
Steam appliances
Microwave
Chimneys
Warming Drawers
BOSCH Dishwashers
Free-standing dishwashers
Built-in dishwashers
Dishwasher product finder
Fridges & Freezers
Fridge product finder
Top freezers
Bottom freezers
Side by Side
French Door
Accessories
BOSCH Mixer Grinders
Beverage & breakfast
Food Processors
Hand blenders
Hand mixers
Juice extractors
Bosch India company has introduced a new top-load washing machine series with advanced German technology & the best customer care service that will take additional care of your favourite items and improve your washing experience.
The brand's innovative VarioDrum technology will gently clean your new and pricey clothing without causing them any harm. Even after numerous washings.
The brand's one-of-a-kind dryer is designed to save time without sacrificing quality. It includes moisture sensors built in to detect the level of wetness. It uses controlled heat to keep your garments soft and wrinkle-free for as long as possible.
Integrated solutions from Bosch are always a sensible choice, never a compromise: our washer dryers not only clean wonderfully, but also dry perfectly and fast, all in one solid appliance. As a result, they are an excellent choice for anyone who values outstanding performance and efficiency.
Top loading washing machines
Tumble dryers
Washer dryer
Washing machines