With a 25-year legacy, KAFF has garnered trust in India's kitchen appliance sector. They are celebrated for seamlessly blending advanced technology and stylish design, offering a wide range of built-in and free-standing appliances. The Series Nordic built-in hobs exemplify this commitment, marrying innovative technology, sleek design, and exceptional performance to elevate the cooking experience.
About the Product
KAFF's Series Nordic built-in gas hobs are celebrated for their luxurious design and premium aesthetics. Featuring high-efficiency full brass burners and the Flame Failure Device (FFD) for safety, these hobs seamlessly blend elegance and security. Their decorative stainless steel molded strip provides front edge protection, and the thick rock glass and crystal black glass finish add captivating charm.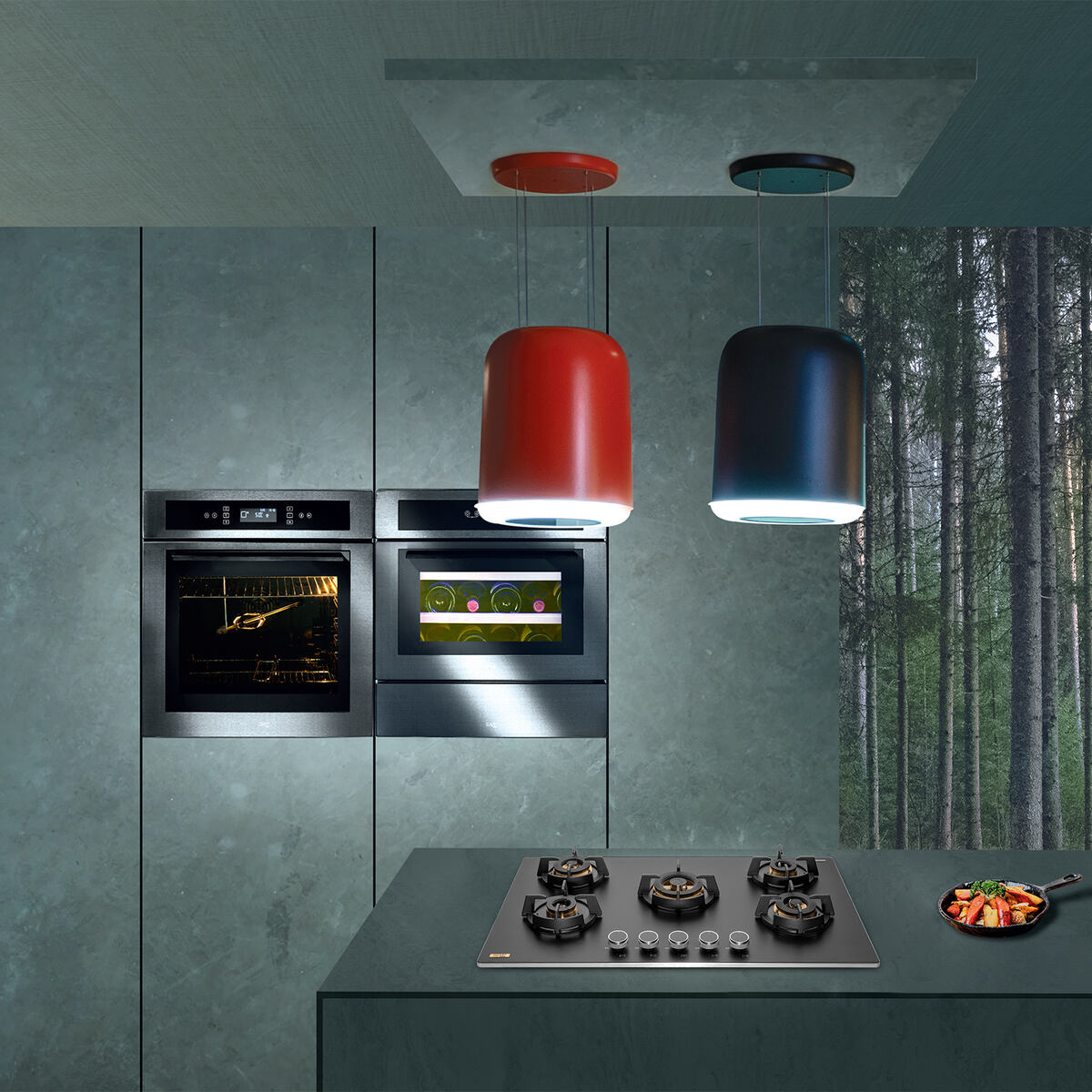 Experience culinary excellence like never before with KAFF's exquisite range of built-in hobs. Crafted with precision and a
Product Description
The KAFF premium built-in gas hobs from the Nordic Series provide your kitchen with much-needed elegance and functionality. Offering a choice of 3 or 4 full brass high-efficiency burners, these hobs ensure precise heat control and efficient cooking. The premium frosted rock glass finish hob exudes sophistication, while the crystal black glass finish adds contemporary allure to your kitchen. Safety and durability are paramount, thanks to the stainless steel molded strip protecting the front edge. With the full Flame Failure Device (FFD) integrated into the hob, you can cook with peace of mind, knowing that the gas supply is instantly shut off if the flame is accidentally extinguished. The dual-colour metal knobs on the hob offer a sleek and convenient control interface.
Available in two sizes, KAFF built-in gas hobs cater to diverse kitchen spaces, providing an exquisite blend of style and performance for your culinary adventures. Upgrade your kitchen with KAFF's Series Nordic built-in hobs, where aesthetics meet functionality seamlessly.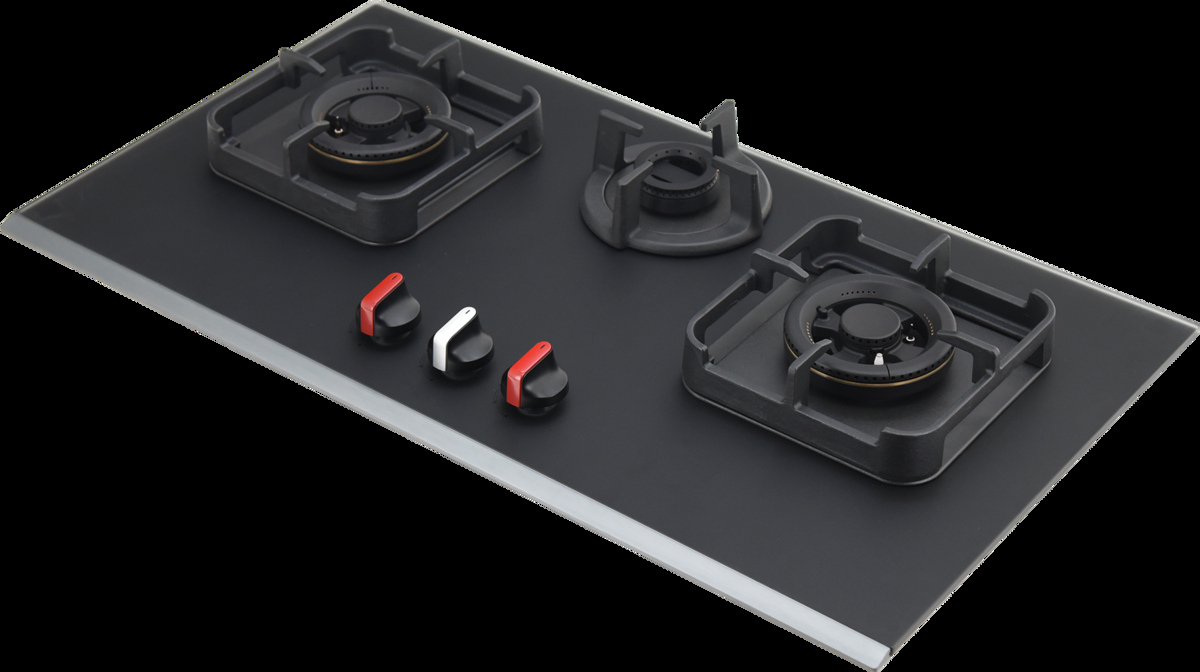 Key highlights of KAFF Series Nordic premium built-in gas hobs
Full brass high-efficiency burners: KAFF's Nordic Series built-in hobs feature high-efficiency burners made entirely of brass. This not only enhances durability but also ensures efficient and even heat distribution for precise cooking. Consequently, these hobs are perfect for culinary enthusiasts seeking top-notch performance.
Premium finish: These hobs stand out with their premium finish, combining rock glass and crystal black glass. This luxurious combination not only enhances their aesthetics but also makes them easy to clean, adding both sophistication and practicality to your kitchen.
SS moulded strip for front edge protection: Equipped with a stainless steel molded strip at the front, KAFF's Series Nordic built-in hobs offer extra protection against damage and wear. This thoughtful design detail not only adds to their durability but also contributes to their sleek and modern appearance.
Full Flame Failure Device: The Flame Failure Device (FFD) in the hob ensures that the gas supply is cut off if the flame accidentally extinguishes. This provides peace of mind for users, making a hob with FFD a secure choice for your kitchen.
Heavy-duty cast iron pan support with integrated flame protector: KAFF's hobs feature heavy-duty cast iron pan supports that can bear the weight of your heaviest cookware. The integrated flame protector adds an extra layer of safety and prevents accidental flare-ups while cooking.
Dual-colour metal knobs: These hobs offer a stylish and practical touch with dual-colour metal knobs. Furthermore, these knobs combine sleek aesthetics with precise control, allowing effortless flame adjustments to match your cooking requirements.
Electric ignition: The hobs in the Series Nordic feature electric ignition, eliminating the need for external lighters or matches. With a simple knob turn, you can effortlessly and safely ignite the burner, ensuring convenience and a seamless cooking experience.
Product dimensions
| | | |
| --- | --- | --- |
| Model | Inner cutting size | Outer size |
| MARMOR 1104 | 965 X 390 mm | 1100 X 456 mm |
| MARMOR 823 | 680 X 380 mm | 820 X 452 mm |
| CRYSTAL NOIR 1104 | 965 X 390 mm | 1100 X 456 mm |
| CRYSTAL NOIR 823 | 680 X 380 mm |  820 X 452 mm |
KAFF's built-in gas hobs offer a harmonious fusion of aesthetics, utility, and security. Furthermore, their exquisite design, efficient burners, and premium attributes are a testament to KAFF's dedication to delivering exceptional kitchen appliances.
To explore the entire product range of the KAFF Series Nordic, click here!
Contact Details
WhatsApp Number: +91-9967632127 (Only message; no calls)
Email: support@buildingandinteriors.com
Brand Info
KAFF
KAFF has established itself as a leading company in India's built-in and free-standing kitchen appliances category, boasting 25 years of excellence. The brand has gained a strong reputation for its extensive range of products, which are known for their exceptional technological capabilities and elegant design. In addition to kitchen appliances, it also offers a comprehensive range of solutions for modular kitchens, including hardware, accessories, and sinks.
Their product lineup includes high-performance kitchen chimneys, energy-efficient built-in hobs, exquisite built-in ovens, microwaves, built-in refrigerators, user-friendly dishwashers, and stylish wine coolers. They also provide a variety of kitchen hardware and accessories, such as tall pantries, corner storage units, and soft-close drawer systems. By incorporating these offerings, KAFF significantly enhances the aesthetic appeal and convenience of kitchens.
KAFF is dedicated to delivering the highest quality kitchen appliances and products in India. Their range of products is designed to optimize convenience and elegance, providing a highly satisfying kitchen experience. With a focus on innovation, design, style, and versatility, KAFF consistently introduces groundbreaking solutions to the market in India. Choosing KAFF for your home brings a touch of sophistication and refinement to your kitchen.
KAFF Appliances
Elevate your culinary experience with KAFF's innovative appliance designs and cutting-edge technologies.
KAFF Accessories
Elevate your kitchen experience with premium and functional product accessories by KAFF, designed to enhance efficiency and style.
KAFF Hardware
The hardware offers a seamless fusion of functionality and style, transforming any space into a haven of elegance and practicality.
KAFF – Company Contact Details:
Call: 0124-2873000
WhatsApp: 9811204868, 9999182717
Email: customercare@kaff.in