Commercial spaces have their own sets of requirements when it comes to flooring solutions. Raised access flooring (RAF) has been gaining a meteoric rise in popularity in commercial spaces. Unitile is one of the leading manufacturers in the raised access floor system. Unitile prides itself on being India's no. 1 raised access floor brand, providing intelligent flooring solutions across the globe.
BuildingandInteriors talks to Mr. Idris Rajkotwala, Executive Director, Unitile on this specialized yet practical floorings solution.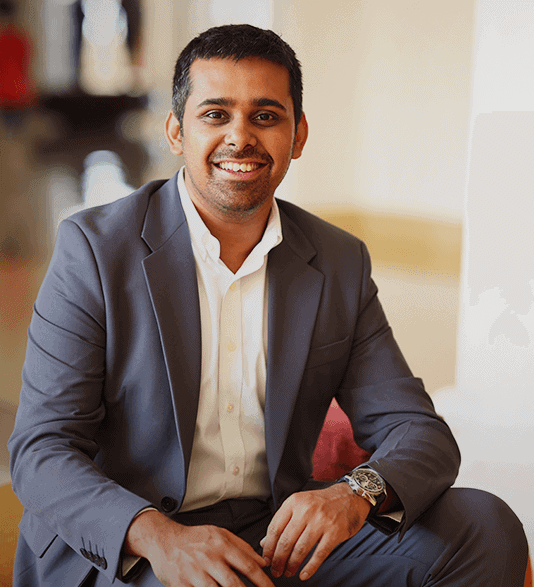 B&I: You are an established player in the Raised Access Flooring market. How has this market evolved over the last decade in India?
IR: Unitile has been growing over the last two decades and has positioned itself as the number one raised access floor brand. Also, we have been recognized as the prestigious rising brand of Asia 2021. We have successfully carved our niche in the highly specialized production and execution of raised access flooring solutions.
The market over this period has significantly evolved leaps and bounds. Back then, the product manufacture aimed to service the large mainframe computer rooms. In 2000s the product's application made-shift to general offices, primarily in the banking and finance sectors led by clients like JP Morgan, Deutsche Bank, Citi Bank, Barclays, and many more. Finally, in the late 2000s, the raised floor concept started stemming. From general office spaces, it moved to other applications- understanding the needs of flexibility and a more environment-friendly concept.
From 2012, Unitile cemented its approach to promote the concept of flexibility. Moreover, it promotes the need for having an evolving and intelligent workspace to adapt to ever-evolving fast-paced technology. As a result, we started reaching out to various clients that were building offices, data centers, control rooms, casinos, etc.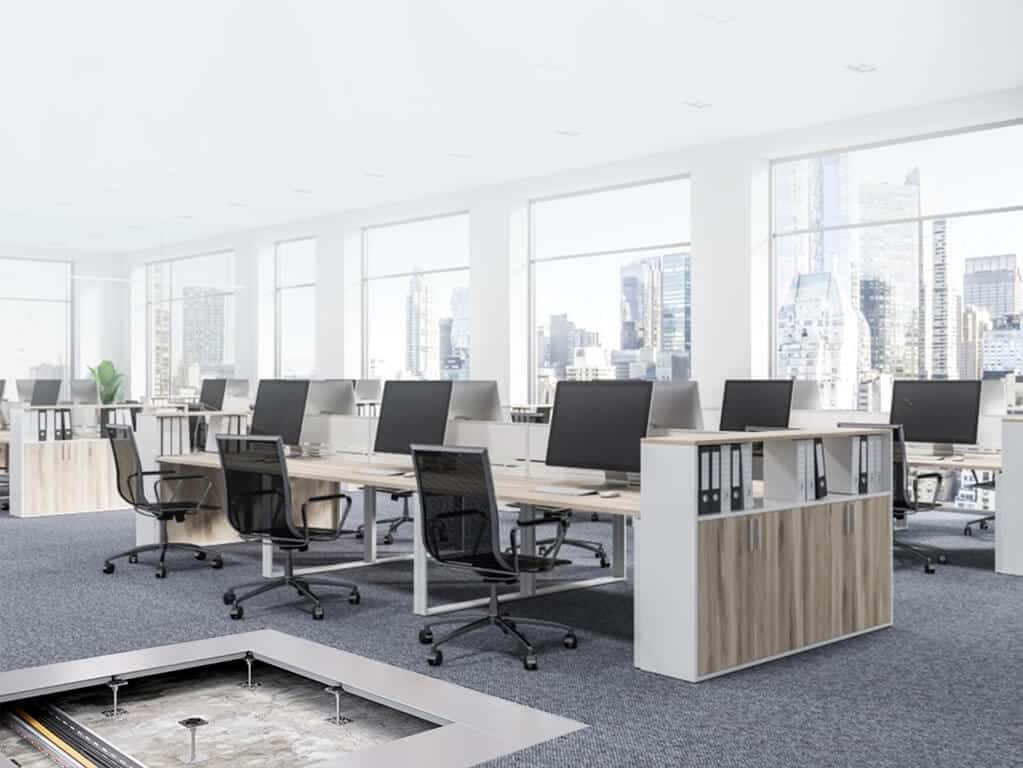 We introduced India's first-ever noise-neutral raised flooring technology – Unifold in 2012. Additionally, we expanded our
manufacturing capabilities by introducing automation for faster production. Thus, the standard lead-time of the delivery (10000 sq.mt.) dropped from 6 weeks to 15 odd days. This further fostered to gain confidence and reach out to more customers. Post-2016, demand for servers and cloud databases rose, increasing the number of data center projects in India.
B&I: Your solutions across product categories – Raised Access Flooring, Data Centre Accessories, Underfloor Air Distribution, and United Pestwatchers, are commercial project-based solutions. Who are all your primary connections on the client-side for business? What are the various tools/methods your teams use to communicate with this audience?
IR: At Unitile, it is imperative for us to get in touch with all the key influencers who understand the functionality and value adds of the product and would further propose it to the end-user to have a dynamic and flexible office for the facility's lifecycle.
We deal with influencers such as:
Project management consultants
We look at multiple ways to connect with the target audience, with a strong sales team across the country and branch offices in the metro cities to meet the client personally and demonstrate the value adds that the product and the concept have to offer.
Also, we have designed a channelized approach through various digital marketing platforms undertaking email marketing and social media management. Remaining active on LinkedIn, Twitter, Facebook, and Instagram, we show regular updates on our products, key projects, etc. It includes the features, USPs, value adds, and so on. During the covid lockdown, we also remained connected to our audiences via webinars, virtual presentations, etc.
Having an experience center at our factory enables the clients to see us working and the manufacturing process.
B&I: To an Architect or a Consultant looking at your solutions, what are the key advantages?
IR: Architects and consultants will have a significant advantage over traditional flooring if they choose a raised access floor solution for their project. First, when installed in a facility, this flooring solution ensures a future-ready workspace. It evolves and adapts to future changes influenced by technology or business demands.
Second, I would like to highlight one of the most critical factors here: high-speed construction. Being a dry construction, we can ensure that we meet the project timelines faster. The tenant can enjoy a free rental period by occupying the facility early. However, the developer can take advantage of early revenue generation. The concept of using raised floor allows for flexibility at any point during the lease term. The tenant/client can reconfigure their workspace without demolishing to adapt to these changes with minimal downtime. This seems like entering the office on Friday, completing the churn on Saturday, and delivering it back on a Sunday. As a result, there is no downtime in the existing office. In addition, the other clients occupying the subsequent floors have minimum disruption.
Third, we offer sustainable solutions; the dead load of the panel on the mother slab is far less; 1/3rd as compared to that of a 3 inch of concrete. Fourth, our product has a lifecycle of over 25 years, so the tenant can easily dismantle and relocate the entire flooring system from one facility to another. Overall, the product is a tangible asset for the client and qualifies for accelerated tax and depreciation-related benefits. The Singapore Green Building Council accredits our products, and they contribute to the client facility's green building rating. These are undoubtedly the most important benefits we highlight to architects and consultants: the value addition of using raised access floors over traditional concrete flooring.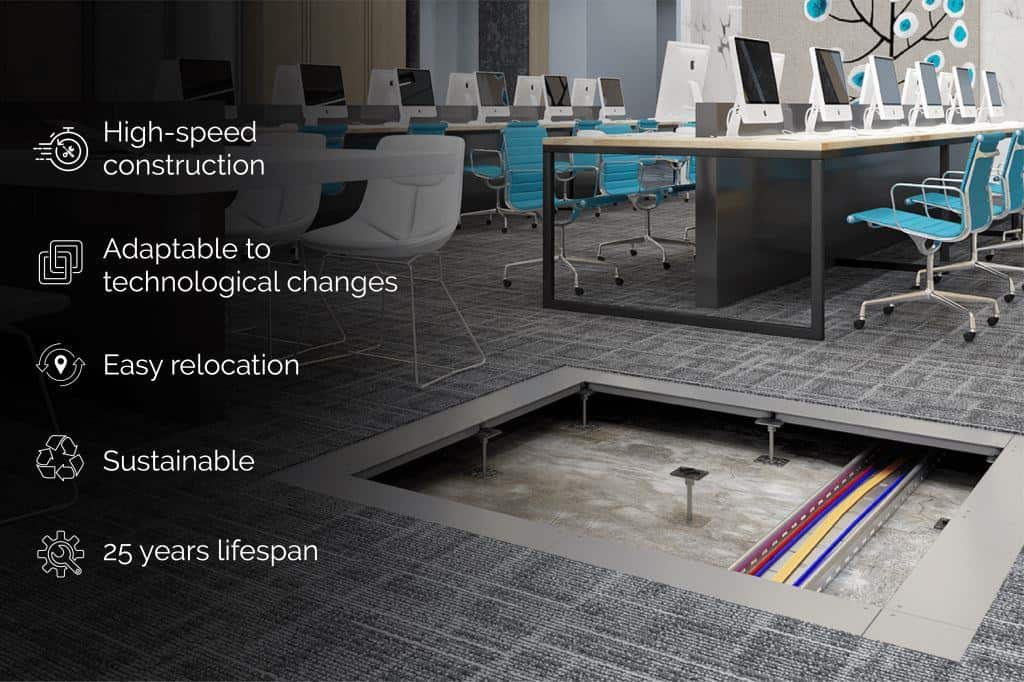 B&I: What impact do you see the post-pandemic market having on your solutions? What are the opportunities you see in the market?
IR: In 2008 – 2009, workstations were about 100 sq.ft. apart, which eventually narrowed to 75-80 sq.ft. in 2018. Enter the co-workspace concept; individual workstations now confine to about 45-50 sq.ft. We certainly see steadfast growth with the concept of raised access floors in the post-pandemic workspace. Apparently, we believe that all commercial workspaces will look for future-ready facilities. During the pandemic, authorities issued mandates for 6-feet social distancing, and workspaces remained liable to follow them.
There is a need for a faster solution to adapt to changes brought by ever-evolving technology. People want to depend less on intensive labour in comparison to concrete and screed. Thus, being a faster dry-construction, RAF aids in ease of maintenance post-construction, and the overall increase in the facility's lifecycle. Architects and Consultants will be able to reduce their engagement with one specific client with faster and dry construction. They will have room to take on more projects in a fiscal year to demonstrate performance. So, we are confident that demand will increase.
Multinational corporations are keeping a close eye on the uncertainty that Covid has created with the work-from-home culture. The Indian lifestyle evolves around interpersonal relationships; we believe that the work-from-home culture will not be pertinent. With larger families and lack of proper work infrastructure at home, individuals need a work-life balance. They opt to work in fully equipped offices. It is far easier to operate and increases efficiency.
India is a culture-oriented society. Here people want to engage and establish a bond that increases productivity. Our work is trust-based, which remains difficult to establish through virtual calls. Once there is normalcy, multinationals will want to develop workspaces that are accommodating, fast, and future-ready. This will be the way forward to grow the raised access floors in India.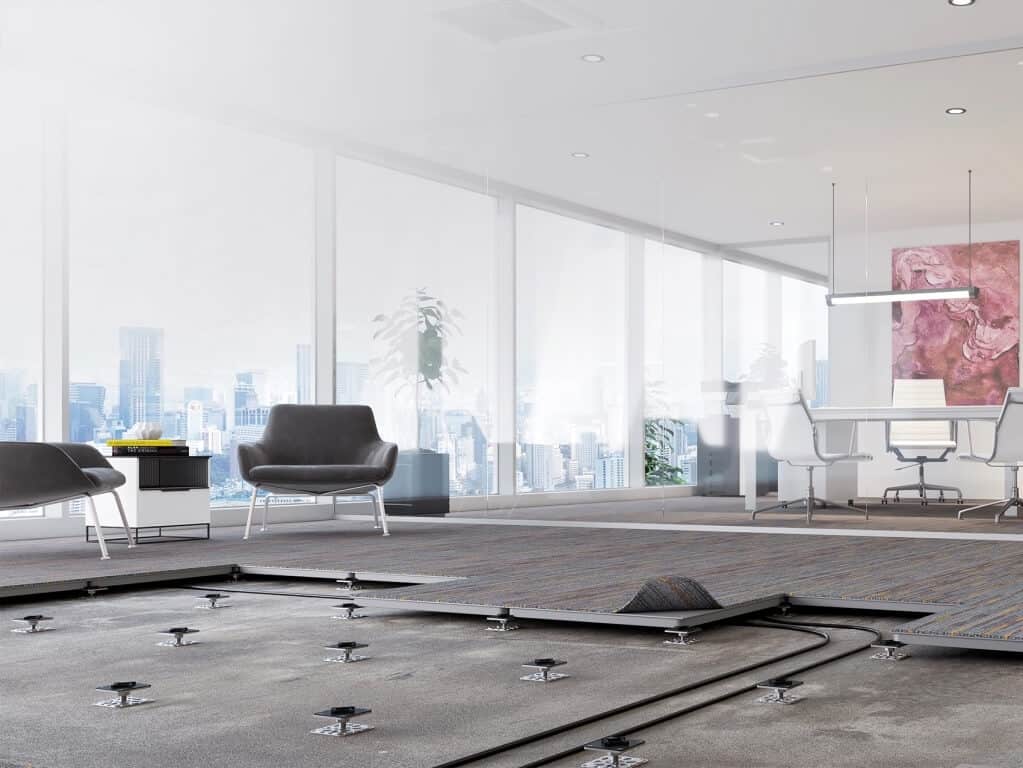 B&I: There is a strong demand that exists in the Tier-2 and Tier-3 towns and cities across India. What is your take on that, and how do you see this shaping up for Unitile?
IR: There is a rising demand for commercial estate infrastructure in tier 2 and 3 cities like Lucknow, Jaipur, Gurgaon. We witness many multinational companies expanding their offices and data centers in these locations and view this as a significant business opportunity for a product that fits into this segment. To ensure that we can service these requirements on time and as per the desired expectation of the customer, we have set up a dealer distribution network pan India for quick turnaround times.
In addition, we have trained local experts to install the product as per Unitile standards and guidelines. Moreover, a local marketing or service agency can meet the local architects, customers and educate them about the concept, its benefits, and our existence in these regions. As we advance, we believe there is an excellent business opportunity for multinational clients to absorb spaces in tier 2 and 3 cities as the cost is cheaper. As a result, they can buy more space, and more importantly, many customers are looking at these cities to consolidate their offices and back-office operations.
B&I: We would like to touch upon your Underfloor Air Distribution solutions. For an HVAC Consultant, what is your message?
IR: After the pandemic, commercial building occupants are more concerned than ever about indoor air quality. In India, many modern office buildings use raised access floors to provide voice, data, and power wiring flexibility. The space under the raised floor acts as a duct to deliver fresh cool air to every workstation. These systems are called UFAD (Underfloor Air Distribution) systems. UFAD can give each person control over their ventilation and cooling air to adjust to their own comfort. Because the air enters the office from the floor and slowly rises to be exhausted at the ceiling, it is like everyone has their own personal AC system. Other alternative systems mix air to all the occupants in the entire room, potentially sharing contaminants.
UFAD systems provide a better environment for workers, which has been shown to increase productivity and satisfaction.
B&I: Going forward, what role do you see flooring pedestals play in the outdoor space solutions?
IR: At Unitile, we continue to focus on flexibility, innovation, and speed in an indoor environment; we decided to switch that up and look at how to cater to the significantly large market, specifically in outdoor spaces. As a result, we developed Unitile All-Weather Pedestal, suitable for outdoor areas such as swimming pools, fountains, outdoor gardens, terraces, decking areas, restaurants, etc.
As the name suggests, it's an all-year-round solution that can be used in any weather with multiple outdoor finishes. With this solution, services and the drainage system can be concealed beneath the floor; the pedestals are engineered to endure heavy equipment load and foot traffic. We view this as an exciting product with a variety of applications that offers maximum functionality.
We recently completed projects where terraces are converted to cafeterias, and fountain areas have been used with a drainage system below the floor. In addition, we have residential projects where high-end bungalows and residential spaces with terraces are aligned to the slab instead of a step down; these are some significant advantages of this product.
We look forward to business opportunities in the said product vertical.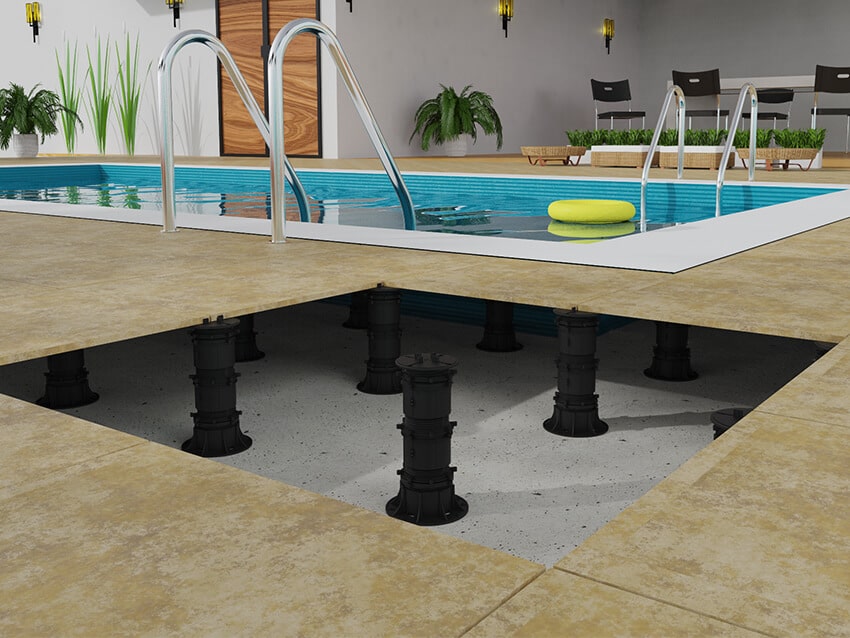 B&I: There's a strong demand forecast for raised access floors in data centers applications globally by 2025 from around the globe, what is your approach and value add to service?
IR: Yes, we are witnessing a surge in India's growing demand for hyper-scale data centers. India has the capacity and infrastructure for multinational companies such as NTT, Singapore telecom, Adani, Sify, Ctrls, Colt, Equinox, Print Screen Digital to build scalable centers for clients like Amazon, Oracle, Google, Microsoft, Flipkart, and more.
We view this as a huge business opportunity as all data centers demand raised access floor systems. Unitile has developed an innovative solution for this market. The Nex-Gen System (1200×1200 mm) is a value-engineered system, integrated with a multi-layer cable tray framework. This solution brings tremendous advantages to the development of the facility or a client renting out a space for future maintenance. The solution has numerous benefits ascertaining flexibility during and after the facility's lifecycle. We are optimistic and will continue to focus on a separate data center vertical with a dedicated team to manage this business sector and the future demand for a raised access floor, particularly in data center applications.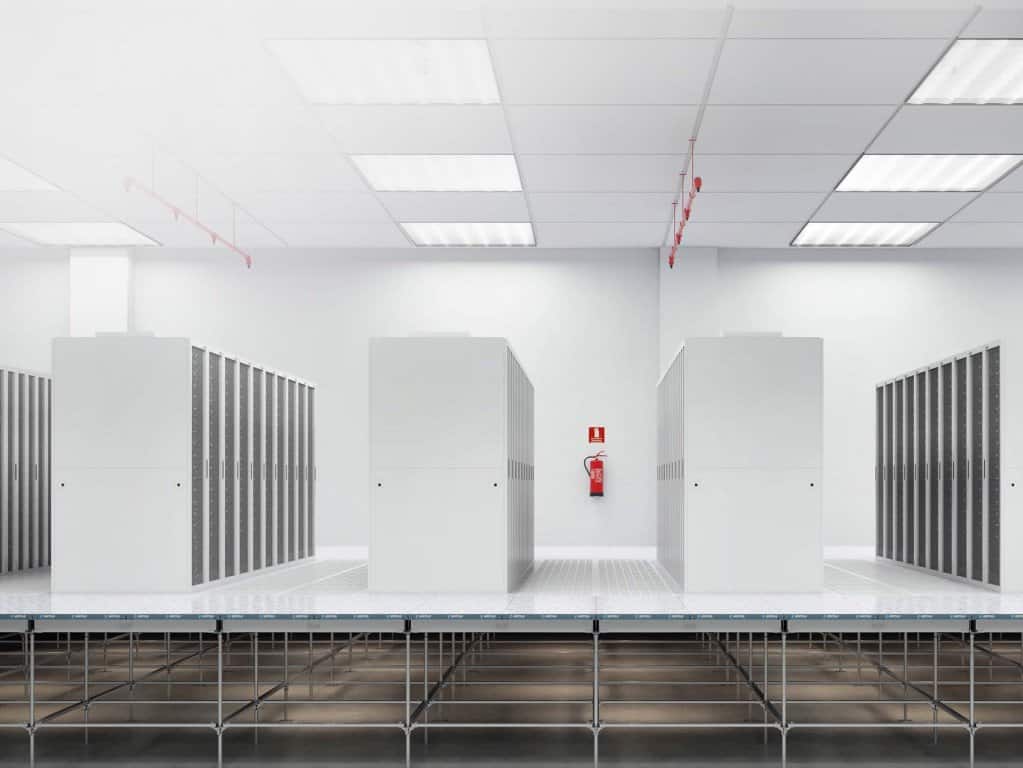 B&I: Would you like to elaborate on the international business of your Indian subsidiary?
IR: Yes, absolutely. Now, Unitile is not only India's No.1 raised access floor brand but also recognized as the Rising Brand of Asia. Being a brand with a positive market reputation, we've been acknowledged by our Indian clients for future expansions around the Asia Pacific. We have a dedicated team focused on the Middle East, East Africa, and the Asia Pacific, including the Philippines, Vietnam, Malaysia, Singapore, etc. We are prepared with the right certifications and documents to get pre-qualified in terms of scale and quality for very large reputed projects worldwide. Having a fantastic opportunity to capitalize on, we look forward to reaching out to new countries in the future.
B&I: What are your growth plans for the next 2-3 years?
IR: From India's #1 raised access floor brand and aiming to be the world's best, Unitile is working onwards and upwards. The introduction of an all-new manufacturing facility is on its way, scheduled to be inaugurated in Q1 2022. This brand-new facility will help us set a global footprint with our innovative products in the offering. In addition, we are transitioning to the usage of the latest technology driven by automation to bring a new range of product designs and solutions that will differentiate Unitile from other international brands.
We look to expand our sales, marketing, and distribution team to penetrate new geographies in the Middle East, Europe, South Africa, and the Asia Pacific. Our teams and partners across the globe will continue to focus on brand and concept awareness to increase the market's overall potential, educating users on the short and long-term advantages of the system. We will also explore opportunities to expand our manufacturing operations into other countries to provide us with competitive advantages in servicing our customers' needs and other locational benefits.
[vvsmustread]