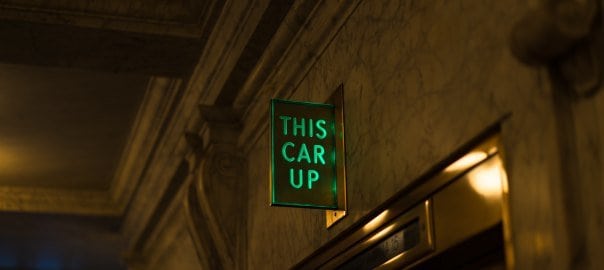 The number of elevators required in a building has a lot to do with many factors that may not be known when a building is in the planning stages and the first thing that gets dropped into the architect's plans are the ways to go up and down in a building. So do your best with the list below, so you can take the rough numbers that this article provides and tweak them closer to your needs.
Here are things to consider:
Elevator use. Just people going to work is one thing. Furniture is another. Don't make the mistake of getting too small a unit. The weight an elevator can hold (larger loads) can change the number you may need. One for passengers one for heavy items.
Who is going to be using the elevator? An elevator that just meets government requirements is too small for a gurney. The DJ and caterers going to an upstairs dance hall will need more capacity and apartment complexes may need a larger/taller elevator cab.
Total number of floors. That goes without saying.
Total travel distance overall and between floors. You can have two floors a hundred feet apart. That would require more speed or multiple stops close together where the elevator will never reach full speed.
What is a reasonable wait time? Some buildings like hotels and offices want a time as close to 25 seconds. Apartments can have a time of up to a minute. Are you willing to pay to keep that number short?
Peak times of use will always slow people down. Will you be willing to foot the bill for another elevator to handle heavy traffic in the mornings and evenings? Do you have peak times at all?
Will there be a known traffic pattern? For instance, the world's fastest elevator only travels from the ground floor to a hotel lobby 95 stories up. It was built to accommodate a known traffic pattern.
Square feet of the floors. If a building is very small, the footprint of the elevator may eat up more space than practical, and the distance to walk from the elevator to an apartment will be short. In a hotel with multiple wings, many elevators may be needed.
Building codes! These are more influential than most of the above. You must know what is allowed and what is required in your city, state, or other jurisdiction.
All of the above will ultimately influence your decision-making process. Just keep in mind the point is to serve the maximum number of people with the most minimal waiting time at the highest peak times to disperse the population as fast as possible.
So with all that stuff to consider, here are rough numbers for your consideration. Keep in mind that these are a very rough number to consider.
No. of Elevators required in an Office building:
One elevator for approximately 50,000 square feet in use. For every two floors or two and a half floors consider adding one more elevator.
Try not to exceed eight total elevators in a single grouping. No group should serve more than 16 or more floors.
Consider a special service elevator if you are going over four floors. When you get closer to ten it is probably must logistically.
Remember some floors may increase the number of elevators. A common lunchroom contained on a single floor room may force the need for another elevator due to traffic.
No. of Elevators required in a Hotel:
Provide one elevator for every 75 rooms or so, with a minimum of one elevator
up to three floors and add one more for four floors. Don't go past 150 feet from farthest room to elevator.
As you build up and add rooms, remember to add elevators for every 75 rooms.
To help room service and maid service add a service elevator for every two passenger elevators.
Ballrooms, meeting rooms, or expanded lobby areas above the entry-level can increase the number of elevators.
No. of Elevators required in a residential building (Apartment / Condo / Dormitory):
There should be one elevator for every 90 units. A maximum of 150 feet from
the elevators to the farthest elevator is a must.
City apartments and really high priced units can require an elevator for every 50 – 60 units.
Always have an elevator with higher ceilings (9 feet) and higher weight capacity (3500 lbs) for moving furniture and heavy items. If you are over 10 floors, a service elevator or small freight elevator should be considered.
Four stories or more above grade a gurney sized elevator is required.
No. of Elevators required in a Medical Facility:
In buildings with consistent staff and visitor traffic, consider separate passenger elevators for staff and patients.
Two elevator minimum and one for every 100 beds after that, that patients can access.
Additional elevators may be required if visitors are higher depending on the location of the medical facility.
Dirty elevators may be needed. Moving medical waste sometimes requires a special elevator.
Additional elevators may be required if operating areas, cafeterias, laundry, central supplies, etc. are on upper levels.
Keep in mind that these numbers can and will change based upon the factors above and other variables not listed or not even thought of yet. The elevator world is still grappling with large mixed-use projects that incorporate several of the above categories into one facility. So be thoughtful, ask plenty of questions, and if you need help contact a qualified consultant.
(Source: www. easyupblog.wordpress.com)