Hafele Sliding Wooden Doors (Fold 50 EF T) | Folding doors | Sliding door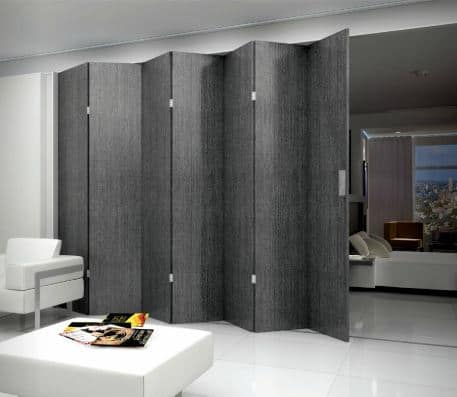 Architectural sliding doors function as discreet room dividers by facilitating effortless transitions. The installation of a wooden sliding door augments a touch of classiness to your interiors. Hafele's range of wooden sliding solutions not only adds emphasis to your interiors but also serves as a lavish gateway to the world outside.
About the Product
Hafele's range offers you the application options of straight, Synchro and slide-fold sliding solutions. It caters to varying weight capacities ranging from 50 kgs for internal doors and room dividers to 500 kgs for external heavy-duty doors.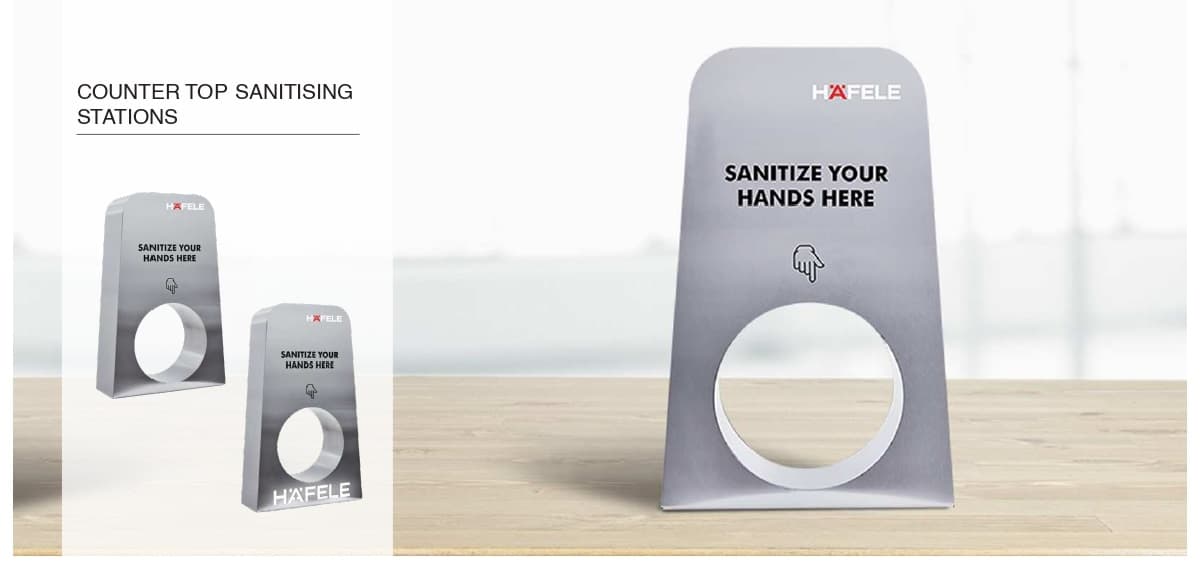 Here is the product description of the Hafele Countertop Sanitizing Station or sanitizer stand with the liquid disinfectant at the best price: Hands-free solution. Has placement flexibility; provides 360° personal hygiene and sanitation. Matt Stainless Finish Dispenser element - Liquid disinfectant Battery Operated Capacity - 1000 ml Dimensions - V1.1 : 305 x 123 x 485 mm (WxDxH) V1.2 : 305 x 123 x 533 mm (WxDxH) W
Product Description
Hafele Sliding Folding System for wooden doors – Fold 50 EF T is the best design for internal doors as sliding partition doors and room dividers in residential or commercial applications with up to 6 panels folding in one direction.
Hafele's Range of Wooden Sliding doors Solutions also includes Retractable Pleated Insect Screen which helps you retain your view and the fresh air while you keep the bugs out. The Insect screen is simple to operate and stacked neatly away when not in use. It is suitable for application in windows, folding doors, sliding and patio doors.
The insect screen is available in 66 standard kit options with 13 standard height ranges and 6 standard width ranges to choose from.  The screen is designed and assembled in Australia. A 5-year warranty and tested to over 150000 cycles. They offer unconditional access and optimal functionality coupled with distinctive designs and the latest technologies.
Details of Hafele Fold 50 EF T Sliding Folding System for Wooden Doors:
Quiet running action is possible by the use of precision ball bearings and special plastic wheels.
Plastic wheels have higher anti-wear performance.
Lower profile with hidden lower pivot
Max Weight of wooden doors- 25 Kg
Max. Height- 3000 mm
Max. Width- 600 mm
Min. Thickness- 32 mm
Image Source: Hafele.com
Call us to know more about  Sliding wooden doors design and many more.
Contact details
M: +91-9967632127
Email: Support@buildingandinteriors.com
Brand Info

Hafele
Hafele – the home improvement brand has its origins in Germany. It all started in 1923 as a specialty store for joinery needs in Aulendorf, Germany. Also, today, Hafele has subsidiaries all across the world, including one in India – one of the company's top-performing markets. Thus, check out Hafele India products, appliances, and modular kitchen fittings along with the customer care number here.
Hafele India
The Hafele Germany HQ wholly- owns the India subsidiary and offers products in the categories of:
Hafele offers you fresh and unique trends in the shape of its holistic range of door hardware and accessories, which is backed by an established and worldwide known quality-with-functionality concept. Also, these advancements are backed by a solid service package. Thus, they include total help from the project's selection phase through installation and after-sales care. For our customers, Häfele's 'functionality' details the knowledge, convenience, and solution-based services.
Hafele Sanitising Station
Sensor-operated Sanitising Stations for Countertops, as well as Wall Mounted and Floor-Standing Stations (with/without Anti-bacterial Wipes and Bin) are available from Häfele's Stay Healthy Range. It also features The Foot Pedal Sanitising Station, an easy-to-use, mechanically controlled type. Also, these Sanitising Stations enable cross-contamination prevention as well as protection against hazardous microorganisms and infectious viruses on surfaces.
Hafele's furniture fittings remain underpinned by years of research and up-to-date technical experience, including only the most current global trends and developments. Thus, Hafele presents to you our capable assortment of furniture fittings that comprehensively covers every requirement of any home. Häfele's solution-based approach is backed up by a robust service package, with our experts on hand to assist and guide you through every stage of the process, from design and selection to installation and after-sales support.
Systems for architectural applications (i.e. interior and external doors – be they wooden, glass, or profiled doors) and systems for furniture applications are the two primary types of sliding systems offered by Häfele (i.e. cabinets, wardrobes, and other such units).
Innovative storage solutions from Hafele help you organize your kitchen essentials the way you desire. Also, Hafele now has an organized room for anything you need in your kitchen, whether it's big food products, cooking vessels, or even the day-to-day needs. Thus, make your kitchen a pleasure to use every day by combining these creative storage spaces with stylish and durable worktop surfaces.
Two unique product lines matched to different market groups make up the Häfele Appliances range:
Häfele's international line of luxury appliances: It includes world-renowned brands such as Asko (a Swedish designer range of cooking and cleaning appliances) and Falmec (A technologically advanced range of extraction hoods from Italy).
Hafele's In-House Premium Appliances: Häfele's in-house premium built-in, free-standing, and counter-top appliances remain designed with Indian cooking and cleaning patterns in mind while maintaining the company's well-known German quality and innovation.
Hafele has grouped all goods for kitchen sink units and bathroom fittings under its Sanitary Solutions Range. Also, they remain in line with how the Indian industry works. Thus, typical sanitary merchants also sell sink units and faucets for kitchens.
The Loox range of light and lighting solutions from Häfele remains created and engineered with three main goals in mind:
flexibility
ease of use
reliability.
Every light in our collection gives you the most versatility in application. Also, it remains simple to install, and comes with the 'German Quality guarantee. Furthermore, Loox lighting fixtures and fittings were designed with modularity at the heart of all design. Thus, they offer you the freedom to plan your lighting requirements within your homes or interior spaces with simplicity.
Website: https://www.hafeleindia.com/en/
Hafele India Customer Care Number: +91 1800 266 6667
Video