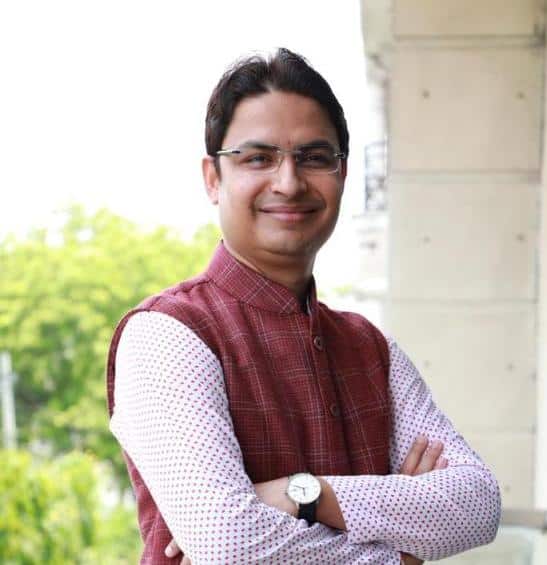 The origins of Surya Roshni Limited go back to 1973. Today, this NSE-listed (NSE: SURYAROSNI) Indian multinational is clocking a turnover to the tune of Rs.5,975 Cr. (USD 855 million) with interests in Ceiling fans, Steel, Led Lighting, Kitchen Appliances, PVC Pipes manufacturing to name a few. Surya Roshni is exporting its products to over 50 countries. Buildingandinteriors.com speaks to Mr.Raju Bista, Managing Director, Surya Roshni Limited on the lighting market in India and the roadmap for Surya Roshni.
B&I: As a Lok Sabha Member of Parliament and heading one of the oldest lighting companies in India, you are in a position to be a voice for the Indian lighting industry. Your comments.
RB: For me Surya is not just a company, but a family of highly driven, dedicated and hardworking individuals, who believe in the pursuit of excellence. I consider myself fortunate to be associated with the Indian lighting industry though Surya. Also, I strongly believe that our country is poised for a historical transformation, and that includes the lighting industry too.
I have been associated with ELCOMA as an executive since 2014. I have served the body as a Treasurer from 2014-16, as a Vice-president from 16-18 and as the President since 2018. In addition, I have always been vocal about the Indian lighting industry, and I do look forward to working closely with other industry leaders in transforming the lighting sector in our country.
B&I: Surya Roshni has been a part of the Indian lighting industry for a fairly long time. What are the challenges and opportunities you see for companies in the led lighting market today?
RB: As a leading player in both lighting businesses and steel pipes in India, we continue to define, refine and redefine our product mix, processes and solution providing capabilities by proactive innovation and research. However, not just for Surya, but for the entire led lighting industry in India, there had been a heavy reliance on imports in the past.
This situation, when contrasted with Hon'ble Prime Minister Narendra Modi ji's call for Aatmanirbhar Bharat, may seem like a challenge at first. But I can sense a golden opportunity for our industry, too, to become self-reliant.
At Surya, we have decided to enhance our capabilities so that we can be the torch bearers of Atmanirbhar Bharat by cutting-down our dependence on imports for electronics and look for opportunities to put into practice the vision of 'Make in India'.
B&I: Companies in the electrical space are launching products in an effort to control the full value-chain, right from conduits to automation. In which direction do you see the portfolios of the companies moving from here, if we see the trend over the next 2-3 years?
RB: The process of controlling the full-value chain in a manufacturing process will definitely help the unit to manage costs, as well as give the manufacturer full control over the quality of the product manufactured.
Over the next 2-3 years, and given the trend, I feel that altogether new kinds of smart technology will be leading the world including India. Hence, I see companies move towards smart living through more innovations, localization of manufacturing and solution driven products.
B&I: What are your plans on adding more products, especially in the led lighting market, to your portfolio?
RB: Since the very inception, Brand Surya has demonstrated the group's relentless commitment to performance, customer's need & satisfaction through best technologies and superior value.
We are at the forefront of providing cutting edge lighting solutions for our customers. We add 2-3 new products every month. Currently we are trying to popularize battery backup lamps, colour changing lamps, dimming lamps and improving LED shelf life. This is where my focus will be for the near future.
B&I: 'Make In India' has been gaining popularity over time. What are your thoughts on this initiative as an opportunity, especially when it comes to the Indian led lighting industry? What are the areas that the Indian industry needs to work on gain from this opportunity?
RB: Make in India envisioned by our Hon'ble Prime minister Narendra Modi ji is a step in the right direction and all measures taken by the Union Govt are to stimulate the demand for goods and services in the economy. Availability of modern and facilitating infrastructure is a very important requirement for the growth of industry. So, the Government intends to develop industrial corridors and smart cities to provide infrastructure based on state-of-the-art technology with modern high-speed communication and integrated logistic arrangements.
For the lighting industry, this presents an exciting opportunity to make our nation self-reliant. Till date, we are dependent on other nations for electronic components. So, a product like the LED panel light would have components that need to be imported today. So, there is an immense market potential in making the components and that includes possibilities in producing diodes, transistors, microcontrollers, transformers, resistors, capacitors, inductors and integrated circuits etc.
I think for our lighting industry, manufacturing of electronic components is the next frontier which we need to conquer, if we are to truly become world leaders in led lighting. I am confident that the Government will extend all help and support to those who want to venture into this very important field.
B&I: Many lighting companies internationally have seen an exit by the original stakeholders. The baton has now been passed to aggressive new owners. How do you see this development for the lighting industry in general?
RB: See, competition has always been the norm in our industry, as in the other sectors of the economy. Those who do not innovate and adapt to changing business climate, new and improved technologies and marketing practices are bound to be left behind.
I wouldn't call the new owners as the 'aggressive new owners' as it may not sound positive. I'd rather use the phrase 'highly driven new owners' who want to pursue the latest in technology and technique. The customers and the markets decide who will sustain and who won't. Today, the industry has to adapt to new technology-driven demands. Only the companies that are highly innovative will flourish. It will be a difficult road for the others.
At Surya, we believe in the philosophy of a 'Parivar' – a close knit family, which stands high on the pillars of trust, team spirit, mutual respect for one another and the most important of all adapting to changing times and market. We have invested in developing cutting edge products for our customers.
Counted amongst one of the top lighting R&D centres in India, the Surya Technology and Innovation Centre (STIC) at Noida caters to Photometric, Electrical, Mechanical, Environmental, and Endurance test requirements for development of latest generation energy-saving luminaires.
We house the best lighting R&D team in the country and are at the forefront of innovation. This is what has helped our company to do well, despite changing times. All this, while adhering to moral principles, we share an undivided spirit. This integrity is a virtue that is reflected in our personal lives, financial transactions and business deals.
B&I: How do you see international tie-ups as a tool to grow your business?
RB: International tie-ups are important, as they provide us an opportunity to work with the leading global companies. Surya has tied up with the best technology driven international companies. In addition, we are sharing our existing infra-technology based designs with them and vice-versa.
In the coming days, as the world recovers from COVID shock, I am expecting India's share of international business, which includes Surya and rest of the lighting sector to boom, as many countries are now looking towards India as a better alternative to China.
B&I: How much of your turnover comes from retail vis-à-vis projects business? How do you see an Architect/Consultant as a target audience? What technical support do you provide him to ease his working?
RB: Our strength lies in our retail and distributor network. With over 20,000 dealerships across the nation, the approximate ratio of business coming from retail business vis-a-vis projects is around 80% & 20%. This ratio changes amongst different categories. At Surya, our approach is to walk hand-in-hand with Architects and Consultants. We  consider them as an integral part of our family.
Our interaction with Architects and Consultants is on a regular basis. We believe they are the visionaries who can see what is yet to be created in a project. Their inputs and their feedback has helped us improve our products over the course of decades. We also reach out to them through various digital mediums and provide maximum possible support in all respects.
In addition to the Architects, we also interact with the electricians. We inform them about our products and how to get maximum benefit out of them. We value everyone who works in the lighting sector and their inputs and feedback help us make our products better.
B&I: Automation is seen as a big opportunity area. At Surya Roshni, how do you see this market?
RB: We already are a step ahead in terms of providing the most innovative smart lighting solutions. App based (like smart LED bulb) and RF Lighting are believed to be the current face of modern lighting. And in terms of project lighting, we are currently using and promoting project lighting with CCMS technology.
Like I have said before, to stay competitive in the market in the category of fast-moving lighting products, India needs to produce smart solutions. The significant expense of the venture might be a deterrent, however price financial savings are proving to be attractive for manufacturers. I see huge growth in this market.
B&I: Covid19 has changed the communication model for companies. Digital communication is the preferred route. What are your plans on using the digital space to communicate with your customers?
RB: Indeed, COVID has changed the way we think about business. Reaching out to potential customers, partners, next-gen innovators has been difficult in physical terms. But it has also opened up immense opportunities for collaboration online. Digital communication has made it easier to communicate, even in these difficult times.
Most marketing professionals are convinced that changes need to be made in how products are marketed. This also implies an increase in the work volume.  The use of digital marketing methods will allow negating the effects of COVID pandemic. This will help us in stabilizing sales, and quickly returning to pre-quarantine business performance indicators.
As far as we are concerned, both Electronic and Digital Media based marketing have started in earnest. We are getting appropriate responses from the customers too. Digital communications is where the future lies. Surya Roshni is already forging collaborations across leading digital players. This will enable us to provide our existing customers and potential customers with the best possible information about our products.
[vvsmustread]