Elements of modular kitchens is a very interesting subject – so well known yet understood so little. It's a combination of various components that are put together to give the customer a long-lasting experience. The challenge in the Indian market has been the lack of well-documented information on modular kitchens –from the understanding of various materials, manufacturing, to sales and installation. A new book by MrGopal Dwivedi, Assistant Vice-President, Livspace titled Modular Kitchen Planning & Designing Guide speaks to this market. Buildingandinteriors.com speaks to Mr Dwivedi on his new book and more.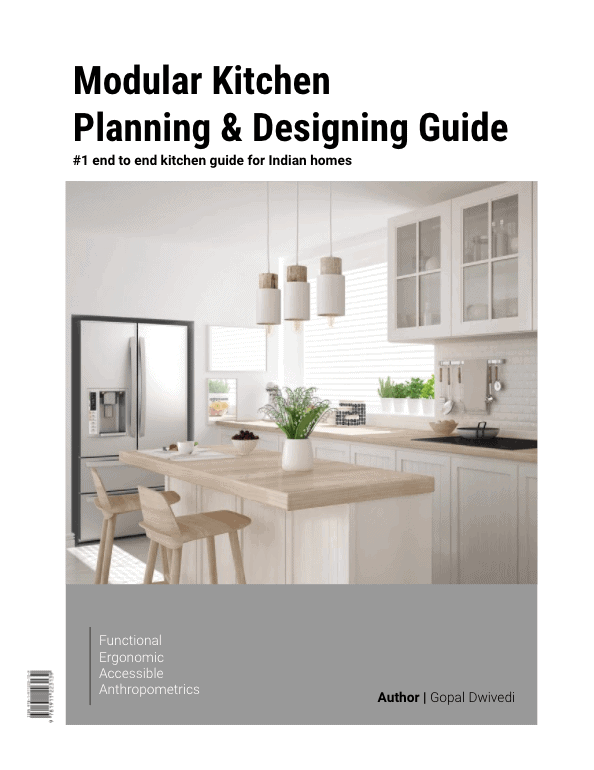 B&I: What kind of audience have you tried to address in Modular Kitchen Planning & Designing Guide?
GD: The Modular Kitchen Planning & Designing Guide is the only book in the Indian market which addresses modular kitchens as a category in detail. In addition to that, this book talks about the core materials used in making a modular kitchen, the manufacturing process, planning, designing, customer identification and designing solutions. So, the entire gamut of activities and processes involved in a modular kitchen business are discussed in this book in detail.
I would say that this book is useful for everyone who is dealing with modular kitchens – from draftsman to designer, manufacturer to the marketing guy. Additionally, going a step further, this book is especially useful for the institutes offering design courses. Such institutes and their students don't really have any text material available which is sensitive/tailor-made to the concept of modular kitchens for the Indian market from the Indian user perspective.
B&I: What are the major takeaways for the reader in your book on the elements of modular kitchens?
GD: After reading this book, I feel that the audience will get a bird-eye view of the complete modular kitchens business. This includes the core materials, hardware, accessories, construction of the kitchen, USP of modular kitchen v/s carpenter made kitchen, understanding the customer needs, space planning and developing the right-fit solution in a given customer budget.
B&I: How can the customer buy this book?
GD: This book is available on Amazon with the title Modular Kitchen Planning & Designing Guide. Alternately, one can search the same with author name (Gopal Dwivedi). Moreover, the book also can be ordered from the publisher website which is Notionpress.com
A special offer is for Buildingandinteriors.com readers at Notionpress.com website where they can get a 25% discount by using the coupon code "PROMO25" while placing the order.
B&I: Moving to the general subject of modular kitchens, what are the challenges and opportunities you see in the B2C space?
GD: Modular kitchens are a relatively new concept for the Indian user. Although Tier-A cities of India understand the concept better, it's not so when you move into Tier-2 cities and so on. The major challenge is education and product knowledge. A customer is not well aware of the features and benefits of the modular kitchen. The visual appeal, as seen in showrooms and photographs is all that they see. Now the problem is that a designer is also not so aware of the same as there is no structured education available on modular kitchens in India. No design school has a curriculum of this subject. Modular kitchens is a very big industry and the gap of knowledge is the main reason for not able to differentiate between a carpenter made kitchen and a factory-made kitchen.
B&I: When a customer goes to the market looking for a modular kitchen, he is often confused on the pricings available and in many cases ends up getting a kitchen made by his carpenter. Your take on this situation?
GD: The customer has to understand that even though both a factory-made modular kitchen and a one made by a carpenter, may 'seem' alike, in reality, these are to be seen as 'two very different' products. It's like comparing apples and oranges. Confusion is bound to creep in.
The other problem is the capabilities of carpenters in India. Even today, they use their old-school tools and techniques to do home interiors. Carpenters use the 'per-square-foot' pricing at the beginning of a project. The exact pricing is never disclosed – something which should be known to the customer right at the start of any purchase process. There are many hidden factors in that pricing, like the material quality and brand (or a lack thereof), no proper specification, no standard drawing, no final quote (price can increase any point of time) and there is no warranty and guarantee on the product. Now if you dilute the product on these parameters, the product 'appears' to be cheaper but it will never give offer the same experience, or the value for money.
B&I: What are some of the trends you see picking up over the next 1-2 years in the modular kitchen market?
GD: Nowadays, modular kitchens are moving towards smart kitchens. Customers are asking for more automated solutions. Furthermore, new materials are also in demand. There are many new finishes like the anti-fingerprint, soft touch and anti-bacterial. Additionally, the use of metal and glass in increasing in modular kitchens. The customer is showing preference towards synthetic surfaces over the traditional granite counter-tops. Lighting areas are increasing – as in the cabinets and dado area. Accessories are becoming more sophisticated. Customer is more focused on health, efficiency and ergonomics in the kitchens space. The post-Covid19 marketplace for modular kitchens is very different. The kitchen has become a new work centre. Designers are incorporating the changing environment to make kitchens an even more joyous place for their customers.
B&I: As an industry, what are the upsides you see in the industry with reference to the materials, sales process, installation, or in other words – maturity curve in the market?

GD: Modular kitchens are opening the doors for many new materials in the interior-fittings market. Indian modular kitchens now accept materials like MDF, HDF, Particle Board. Elements of modular kitchens use many new shutter finishes such as:
Membrane
Acrylic
Paint
Glass
Aluminium etc.
However, the interior contractors and carpenters used to avoid their factory-level use in modular kitchens normally. The brands manage the selling process of the elements of modular kitchens (at the retailer level). Moreover, most modular kitchen brands do their internal training for the designers, installers and sales staff. So what the market needs are structured training programmes. As a result, some initiative like Skill India and FFSC is seen as a ray of hope. But there's still a long way to go. The market is a very nascent stage.
B&I: You have now a couple of book titles under your belt. What subject areas are you exploring next?
GD: Writing is a hobby for me. Till now, I have penned 3 coffee table books – The Tea Trivia, The Salad Bar and Mocktails & More are recipe coffee table books. Moreover, I have been a chef to my family for over 15 years. I cook for the happiness of me and my family. Both my daughters – Hiya, aged 9 and Myra, aged 3 love my cooking.
The recent book Modular Kitchen Planning & Designing Guide is a collection of my 15-year experience in the modular kitchen industry. I have been involved in areas spanning across product development to product design with many kitchen brands in India. That made me realize the lack of information, which if available, could be of tremendous use for people involved with the elements of modular kitchens industry. That, I would say, inspired me to write this book.
A similar book on Modular Wardrobe Planning & Designing Guide is under development and will be ready by mid-2021. Moreover, I strongly feel that the next modular product is a wardrobe which will be going to generate demand similar to that of modular kitchens.
B&I: Do you see the elements of modular kitchens and furniture landscape changing with the entry of IKEA? How?
GD: Retailers like IKEA help to grow the market. With IKEA in the market, customer awareness will grow. Moreover, IKEA has a different kind of market in elements of modular kitchens. So, it's a win-win situation for the Indian market – the customers market and the modular kitchen brands.
B&I: How will technology impact the manufacturing and usage of modular kitchen in India?
GD: The use of technology ingrains quite well in the elements of modular kitchens – from manufacturing to selling, installation and usage. Furthermore, some areas that use technology are:
Module designing – CAD (Computer Aided Designing like iMOS)
Designing – 2D & 3D Softwares
Costing & Order processing – Automated pricing & ordering software
Manufacturing – CAM (Computer Aided Manufacturing) which control the cutting machine, drilling machines and edge-banding machines.
Installation of Modular kitchen has many motorised and automated tools.
In short, technology is playing a major role in the modular kitchens business – designing, manufacturing, sales, installation and usage. Therefore due to this reason, a carpenter cannot match the fit and finish of a kitchen made in the factory. The involvement of technology, precision, quality control and use of better material and hardware make the factory-made and fitted modular kitchen a very special product.
Once a person starts looking at the designs of the modular kitchen as a 'system', things start falling in place for a solution that not only looks good but works and lasts a lifetime. A perfect modular kitchen design remains perfect only until all its elements like kitchen storage, kitchen layout, countertop, flooring, etc. individually as well as collectively remain directed towards the efficiency of the modular kitchen. Moreover, for designs o