India has a long-standing wood culture, where solid wood has been predominantly used in re-man applications such as joinery, furniture, door/windows and mill work etc. whereas the use of wood in structural applications in recent times has been largely limited to posts-and-beams and roofing etc. However, country has historically been home to architecture with wood as can be seen in many eye-catching examples from the past that integrated this natural material in the design and built in the most innovative manner. These creations have endured the test of time over centuries in diverse climatic conditions. It is interesting to see the different construction methodologies adopted by regions to suit the varied conditions and local needs. Alas, over time the art of designing and building with wood was lost due to many factors including excessive deforestation.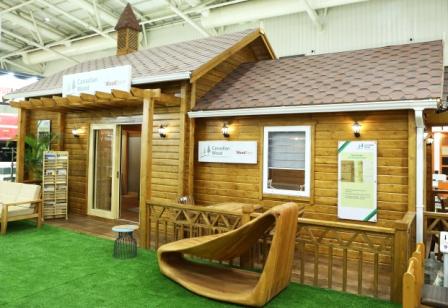 Interestingly, many present-day architects/designers, real estate developers and hospitality industry professionals in India are rediscovering this eco-friendly material for its beauty, benefits and ease of working, now that they are armed with the knowledge that certified wood is available easily from sustainably managed forests. Of course, the quality of the end-product depends on the understanding of the wood species, their properties and suitability to different applications. This is where 'Canadian Wood' – formally known as FII,  comes in with technical know-how and expertise in wood. FII's team works closely with the industry by connecting architects, designers, PMCs, real estate developers, hoteliers, structural engineers, manufacturers and contractors etc. with one another to facilitate projects involving wood.
In an exclusive interaction with buildingandinteriors.com, Mr.Pranesh Chhibber, Country Director, Canadian Wood, discusses the ways in which the company is devoted to creating awareness, imparting education and making information available on certified Canadian Wood species from sustainably managed forests, while supporting the industry though technical assistance and hand-holding during trials in the factory or at site.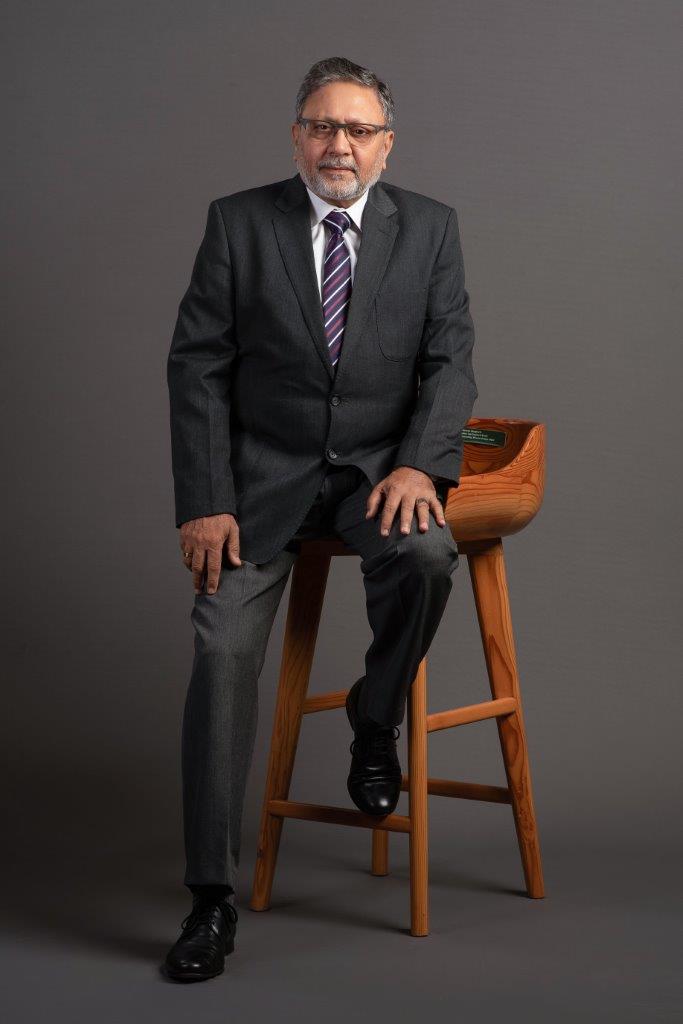 B&I: Please tell us something about FII and B.C. Canada.
PC: There are few places on earth that can match the diversity of Canada's vast forests and potential as a long-term source of supply of wood to fibre deficit countries such as India. It has roughly 10% of the world's total forest cover and zero deforestation for well over two decades. In particular, the province of British Columbia is home to 40 different tree species and bio-geo-climatic zones. From planting forests to harvesting and manufacturing lumber products, the forest sector in British Columbia is a sophisticated and interconnected network involving sustainable forest management and wood processing.
As one of the largest producer of softwood in the world, B.C. Canada's lumber products are used in a wide range of reman and structural applications globally, showcasing their aesthetic and versatile qualities that include strength and durability. FII, is a crown agency of the government of British Columbia (B.C.), the western most province of Canada, with a mandate to promote B.C. Forest Products in the offshore markets.
FII set up its India office and a display centre in 2014 at Elphinstone (West), close to Lower Parel in Mumbai. Later in 2016, we opened satellite offices at Gurgaon (Delhi/NCR) and Bangalore to offer a better experience to our target audience spread across India. FII, better known by its brand "Canadian Wood" is actively engaged in creating awareness in the market and educating the wood industry about the five species from B.C. Canada that it is promoting in India. As already mentioned, FII also provides technical support to the industry and facilitates connections with the lumber companies in B.C. Canada.
B&I: What are the challenges you face in promotion of Canadian wood species in the Indian market?
PC: India, like any other country in the world, has its unique set of challenges. Overcoming these is a part of the business. Most challenging was the long-standing tradition of using tropical hardwoods that are generally dark and heavy, whereas conifers, popularly known as softwoods are light in shade and density. However, softwoods are fast gaining market, with well over 40% share of the total quantity of wood imported into India and growing. This has been possible because the perception that heavier the wood, the better it is, has undergone a significant change and for good reasons.
Upwardly mobile nuclear families living in urban areas look for furniture that is easy to shift and move and/or not be too expensive to change when they upgrade home or want to catch up with latest trends. Similarly, preference for dark shades of furniture too is fast fading. Consumers prefer to match and coordinate their furniture shade with their interiors, which is eminently possible with softwoods due to their easy staining properties. Additionally, lighter shade of furniture adds to the feeling of space in compact areas, while looking attractive.
The other big challenge is the perception amongst many in the industry that the strength comes from the density of the wood, in fact it just makes the furniture unnecessarily heavy and harder to work with. This perception has also undergone a significant change through educational seminars and product trials conducted by Canadian Wood. Most manufacturers today acknowledge the high strength to weight ratio of softwoods despite lower density. Unlike hardwoods the softwoods derive their strength from the length of fibre which is approx. 2½ times in size compared to hardwoods.
Another challenge is the widespread confusion about durability which mostly gets linked to density, many a times it also gets confused with hardness and/or strength, and often these terms are used interchangeably. FII Team's efforts in this direction too is bearing fruit as a large number of manufacturers armed with this knowledge are choosing Canadian Wood's cedar species for durability despite being much lighter in weight, due to their proven ability to withstand natural elements and being naturally resistant to termites and fungus. It deserves mention here that these species are also commercially competitive against many hardwoods with similar or lesser durability.
B&I: What is the acceptance level of Canadian Wood amongst Architects and Interior Designers?
PC: Architects and Interior Designers play a vital role in selection of materials, often through specifications to strike the right balance between aesthetic, technical and commercial aspects. They not only make sure that appropriate species most suited to the application are used, but also ensure that the wood is certified and obtained from legal and sustainable sources. We thus engage with these stakeholders through seminars and on a one-on-one basis to share in-depth information and knowledge on Canadian Wood species. We apprise them of the critical details and provide technical assistance in selection of the right species and grades for their projects.
To answer your question – Yes! the architects and interior designers are highly receptive of Canadian wood species because Certification and Sustainability are very important criteria for them while selecting any material as socially responsible professionals. It is important to mention here that use of certified wood from sustainably managed forests qualifies projects for LEED points – and Canadian Wood species are Certified.
B&I:What are the various applications possible with Canadian wood species?
PC: FII largely promotes five wood species from B.C. Canada in India, i.e. 1) SPF [spruce-pine-fir], 2) Western hemlock 3) Douglas-fir 4) Yellow cedar and 5) Western red cedar. These species are available pan India through a network of Stockists across India, 35 strong and growing. Each of these species are known for their unique properties and are suitable for a variety of applications both in reman and structural use.
We assist the re-man industry by suggesting appropriate Canadian wood species and their grades for a wide range of applications such as furniture, doors & door frames, windows & window frames in addition to a variety of interior applications such as panelling, handrails and balustrades etc. Besides these, couple of our species are highly suitable for outdoor applications such as cladding, decking, pergolas, and gazebos, etc. amongst many other niche applications such as saunas.
Likewise, for structural applications, we extend technical support by suggesting appropriate species and grades most suitable to the type of construction chosen or preferred, i.e. T&G (Tongue & Groove); WFC (Wood Frame Construction) posts-and-beams or even hybrid in tandem with local stone/bricks.
Canadian Wood also helps put together the required technical expertise for a project upon request. Currently, we are working closely with leading architects and developers on several projects across India including villas, country homes, farmhouses, resort cottages and even public schools in the hills.
A large part of our success with manufacturers and contractors are the product trials under "Try Canadian Wood" program, where a small quantity of wood is made available free of charge for trials against no obligation. Needless to mention that successful trials result in happy customers for Canadian Wood stockists in India and suppliers in B.C.
B&I: Tell us about the educational and training programmes that Canadian Wood conducts.
PC: We create awareness about our brand Canadian Wood, its species and their properties through our communication / advertising initiatives across many traditional and new age platforms like digital and social media. We conduct road shows, seminars and wood colleges to educate and share best practices with our target audiences. Additionally, we participate in wood related conferences, exhibitions and other networking events to engage with our target audience and share our expertise in wood, for both reman and structural applications.
FII also supports the trade through Canadian Wood stockists by engaging with their customers through training workshops and one-on-one meetings to answer queries or address challenges faced at their factories, workshops or even at project sites, as per need of the hour.
B&I: What are the ways in which Canadian Wood helps with wood solutions in projects?
PC: We work closely with architects, developers, contractors and PMCs, assisting and hand-holding them on their projects with technical inputs and connecting them with experts in wood working in India and B.C. Canada. All this work finally culminates in suggesting the most appropriate Canadian Wood species and grades for their projects.
We also work as an interface between the above referred stakeholders and B.C. companies to see the project through to its conclusion. As mentioned earlier, we are involved in some prestigious projects with renowned architects and developers.
B&I: Suppose an architect or an interior designer has identified a species of Canadian wood for his or her project, what is the sequence of workflow after that?
PC: Upon study of the drawings and evaluation of the project, the approx. quantity of wood required is worked out and informed to the architect / interior designer along with suggesting the grade that works best for the application/s. Depending upon the wood quantity and timelines available, we either connect them with Canadian Wood stockists in India or with lumber companies in B.C. Canada.
We are happy to hand-hold where we find that the architect/interior designer requires technical assistance or support in connecting with relevant experts such as structural engineers, contractor/manufacturers or even wood coating professionals. We coordinate between them, till they are comfortable to take the project forward on their own. For large projects involving Glulam and CLT we are happy to coordinate and connect them with manufacturers and experts in India and in B.C. Canada as per the demands of the project.
To talk to Canadian Wood Team In India, call : 022-49221600, or Email: info@canadianwood.in
[vvsmustread]