False ceiling is a growing market in India. This has been a high-involvement category with Architects, Developers and Customers alike. The German-lineage brand durlum is a prominent player in the metal false ceiling market. In line with its belief and commitment to the Indian market, durlum metal ceiling has built a strong manufacturing base in India. With a wide range of durlum metal ceiling solutions, durlum India not only manufactures metal ceiling, wall claddings, lighting, and daylighting systems but also uses its an Indian manufacturing facility for exports to its markets worldwide. Buildingandinteriors.com brings you an exclusive interview with Mr.Deependra Singh, Director, durlum India Pvt.Ltd.
B&I: Tell us about durlum metal ceiling and cladding solutions. How has Durlum positioned in India vis-à-vis its international operations? Do you sell the full international range in India or you have India-centric ranges also?
DS: durlum India Private Limited is a member of the German-based durlum Group of Companies, internationally known for its innovative design and expertise in the manufacturing of metal ceiling, wall claddings, lighting, and daylighting systems.
At the global level, durlum's metal ceilings/cladding and lighting have an almost equal share of the business. However, in India, we have kept our focus on metal ceiling and cladding solutions only, though we do make some custom lighting elements as well.
We offer the same products to our customers here which we sell around the world. Our Indian manufacturing unit allows us to produce the majority of the metal ceiling in the group's product portfolio. However, our product range in India is driven by the need and necessity of Architects & Consultants and is tailor-made to the project requirements.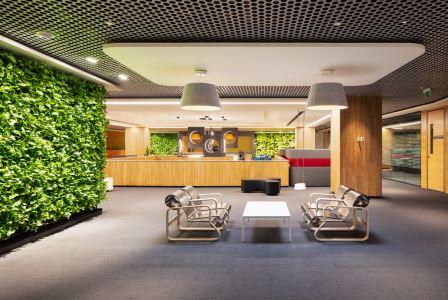 B&I: What are some of the latest innovative product ranges other than dulum metal ceiling that you offer in the Indian market?
DS: durlum India following the philosophy of group company, Inspiring Ceiling Lighting Ambience together makes the most of and improves, the natural qualities of metal to make metal ceilings as an architectural feature with ultra-high-performance acoustic qualities.
Our latest offerings combine custom perforated metal ceilings, digitally printed metal ceilings, curved baffle system and backlit ceilings to create rich, artistic visuals with depth and movement.
B&I: Renovation market, especially the home segment, is taking-up false ceiling solutions in a big way. Are you addressing this market?
DS: durlum India's primary focus has been in infrastructure, office and retail segments wherein sustainability is key criteria. The residential market has been using Gypsum board which have been the preferred choice for the interior designers. Metal ceilings have had minimal acceptance in the residential segment, and that too has been restricted to washrooms and entrance lobby of high-rise apartments. However, we are contemplating on introducing the modular range for the residential segment and are in touch with prominent Architects to explore the possibilities.
Metal ceilings are most suited for the renovation market in the commercial segment, it's possible to bring in modular metal ceilings and exquisitely transform the space in quick time.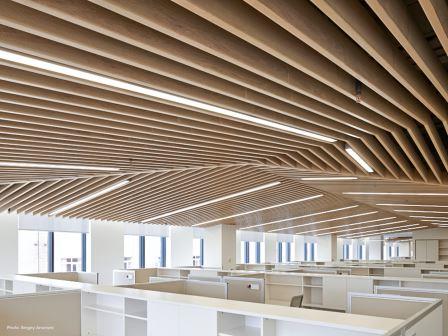 B&I: What are the challenges for a multinational player like durlum in a market like India?
DS: Although India's vast market potential is attractive, economic and logistical challenges persist. The biggest challenge has been in making your package locally relevant, at prices that reflect the purchasing power, of the local industry. The cost dominates the Indian client's discussion, instead of the product's features, quality and value.
Most of the time clients have high expectations from MNCs in terms of product and service quality but are not willing to pay more for it.  We have had difficulty in our early years of operations to make our product affordable as import component was higher in our product offering.
Over the last few years, we have been able to overcome this challenge by an adopting hybrid approach initially by importing key critical component from Germany and not so important component from local suppliers.
Gradually, we have made significant investments in India and are now successful in manufacturing most of the products here in India.
B&I: Architects and Consultants are an important stakeholder in the projects value chain. How important is this segment for durlum India? What is your support system to help the Specifiers in the project business?
DS: Yes, Architects and Consultants play a vital role in providing clients with a solution which is functional, yet aesthetic appealing. Our efforts have always been to offer solutions that give possibilities to harness their creativity and to help them achieve design and functionality objectives with our ceilings solutions.
durlum India has a dedicated Pre-construction Design Cell offering Architects and Consultants a support service. The process starts with the customer submitting a Project RCP file, design cell offers a completed ceiling design proposal with various ceilings options; visualisation, BOQ preparations etc.
We are currently working on digital platforms that can help Architects and Consultants visualize designs in a collaborative session where we explore panel colours, shapes, and layouts to help them achieve their design intent for each individual space. We then turn their ceiling design vision and project RCP into one efficient, convenient work package.
B&I: What are the typical concern factors for a supplier like you in the project's business? Are these factors typical to India? How do you address them?
DS: There is a long gestation period (from specifications to the award of the project). It doesn't stop there; there is also significant delays post-award; a long time for approvals of the proposed solutions; shop drawings; and most of the times since scopes are not clearly defined at the time of tendering;  as an expert, it's difficult to ignore such detailing, and you end up supplying more than the what was considered. We are lucky sometimes when the client understands and approves the variation; however, most of the time, we end up absorbing the additional scope.
Installation of metal ceilings are almost the last activity in any project; by the time client starts discussing, ceilings; they have already exhausted most of the funds, and then the value engineering discussion begins; compromising on the specifications or changing item altogether.
These problems are global but more prevalent in India. However, I must say there are Architects and clients who are extremely particular about the timelines and scope of work. As a matter of fact, we really enjoy working with them.
B&I: Your product range also includes luminaires and façade solutions along with durlum metal ceiling. Do you also need to connect with the Lighting/Façade Consultants for your project's business? Does it also involve collaborating with traditional lighting and cladding solution providers?
DS: As I said earlier, globally we have an equal share of business both in lighting as well as ceilings. However, in India, we are focused mainly on the durlum metal ceiling and off late we have started addressing the metal cladding segment as well. Yes, we need to connect with the Façade Consultants to explain to them the possibilities with durlum.  On the lighting side, we are addressing the specific requirement wherein the client is looking for lighting that can be integrated with our ceiling seamlessly. Otherwise, we restrict the supplies to our group companies only.
B&I: Make In India is a buzz-word these days. How does Durlum position on this front? Do you also export from your manufacturing facilities in India?
DS: Yes, 'Make in India' is one of the most relevant and powerful phrases today. Durlum India was built on a similar initiative. We have established a state-of-the-art manufacturing facility at IMT Manesar. Moreover, we have cemented a reputation for quality and innovation through our world-class engineered solutions.
'Make in India' is an enabler to accelerate our growth momentum. Today we can proudly state that through indigenous manufacturing, we are developing more products and creating more jobs locally in India.
Durlum's Indian manufacturing is primarily focused on supporting the projects in India. However,  our facility also caters to the requirements of our group companies across the world –  particularly for products involving high-level of customisation.
B&I: When you see India as a market for durlum metal ceiling, what are the regional challenges and opportunities? Tell us about your After Sales Support.
DS: India is a large country and is always challenging to cater to the entire market. We address the market centrally through our head office in Gurugram.
However, we have our representatives in major cities across India. Covid19 pandemic has made businesses realise the importance of digital mediums for communication within the organisation and with the customers.
At durlum, we are working quite efficiently with our customers across remote locations. Architects also prefer the addressing of their requirement without personal meetings.
We do not have many instances of after-sales service; as most of the ceilings offer simplified and easy handling by maintenance staff. However, we send our team to address such issues, if any.
B&I: What are your growth expectations from the India market over the next 1-2 years?
DS: As India moves towards the recovery phase of the Covid19 pandemic, the business might look uncertain at first glance. Infrastructure investments have proven precedence for a revival of the economy in the face of an impending global slowdown in the past.
We believe that current and planned infrastructure projects would bring respite to the industry and also to our business. We are definitely confident that next 1-2 years shall be much better than in 2020.
In fact, we have used Covid19 as an opportunity to build-up our production capacities. As a result, it will position us well to cater to the increased demand in the coming years.
[vvsmustread]