As the nation tends to focus on green growth and sustainable development, awareness about timber will quickly become a movement in the days ahead. Notably, along with the citizens, all the sectors in the country, from rail services to the property investment sector, have pledged to contribute to the country's objective of net-zero emission levels by 2070. As a result, India has embraced Canadian Wood in such a short period, given its high sustainability, certified sustainable wood species, and resilience quotients. Thus, Canadian Wood is preparing to exhibit at DELHI WOOD 2023, an international trade fair for the furniture, wood, and woodworking industry. 
Canadian wood species are obtained from sustainable and certified forests in British Columbia (B.C.), which are managed and monitored in an environmentally friendly manner while complying with strict laws. They have raised the bar by implementing sustainable forest management practices, which include everything from scientific research to strict forest laws. They also guarantee that only less than 0.20% of them are harvested each year and that native tree species are planted to replenish them. In addition, wood products from these well-managed forests have a carbon-locking quality that aids in curbing the effects of climate change.
FII India is a crown agency of the government of British Columbia (B.C.), Canada's westernmost province. Its mission is to promote wood products from British Columbia in overseas markets. Additionally, it focuses on promoting the use of environmentally responsible wood products from sustainably managed forests. Also, it brings awareness and spreads education through information and technical support on the wide range of timber products. These species have unique properties making them suitable for a range of reman and structural applications. Canadian Wood lumber is available duly seasoned, sized, and graded, almost ready-to-use across the country through a network of 41 stockists in all major towns.
Certification and wood species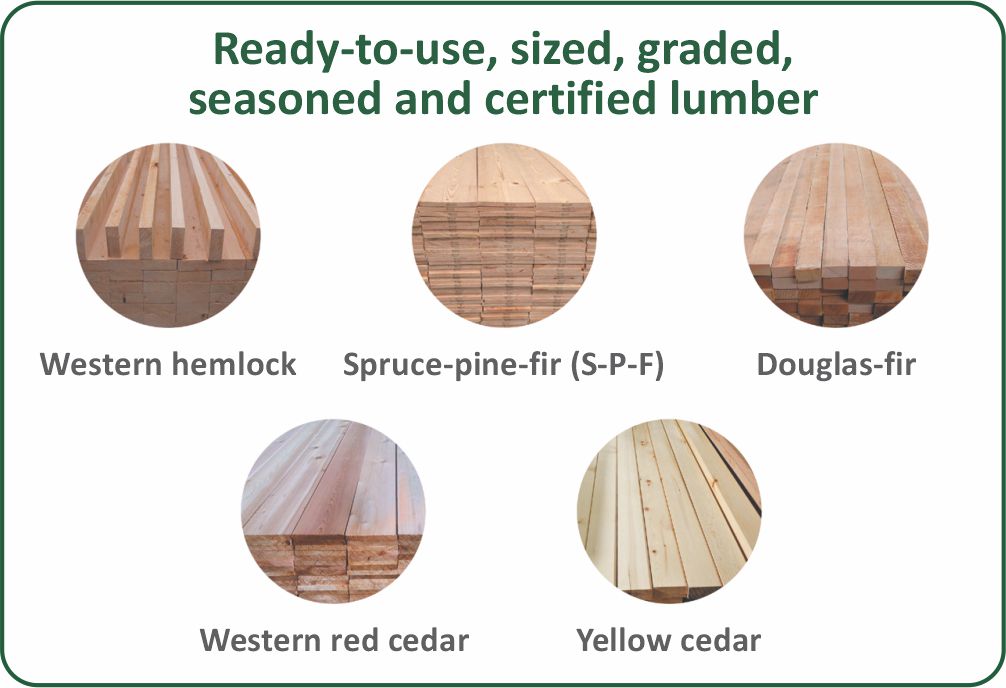 The brand gives a higher weightage to forest certifications and obtains them from 3 different systems which include:
Forest Management Standard by the Canadian Standards Association

Forest Stewardship Council (FSC)

Sustainable Forestry Initiative (SFI)
Canadian Wood provides a diverse range of wood species, including Western Hemlock, Douglas Fir, Yellow Cedar, Western Red Cedar, and Spruce-Pine-Fir (SPF). Each of these wood varieties has numerous uses, from building structures to furniture, and door frames to artifacts. Moreover, cedars are resistant to decay due to the presence of natural organic chemicals called extractives in them. 
Canadian Wood at DELHI WOOD 2023
It is important to realize that the Indian furniture market is gradually becoming a more competitive and organized industry. So, trends that emphasize this shift include:
The arrival of international brands into the market

The rise of major retail operators

Online direct-to-consumer sales
The 7th edition of DELHI WOOD will take place from 2-5 March 2023. The venue is India Expo Mart in Greater Noida (Delhi, NCR). DELHI WOOD is an exhibition for furniture production technologies, woodworking machinery, tools, fittings, accessories, raw materials, and products.
Therefore, at DELHI WOOD, Canadian Wood will also set up a booth to display its five unique species with a multitude of uses, including furniture, housing, etc. The brand will focus on all these species. In addition, the focus will be on the characteristics that make them the most sought-after sustainable wood alternative in India.
Click here to register for the exhibition!