Armstrong World Industries is a pioneer in innovative ceiling solutions. Ultima Plus is a part of their smooth white laminated range of mineral and soft fibre ceilings.
About the product
The Ultima Plus ceiling solution from Armstrong is equipped with better fitting edges, visual comfort, and scratch resistance. It is an acoustical ceiling solution for commercial spaces.
Size:
6cm x 6cm x 0.19cm

(LxWxH)
| | |
| --- | --- |
| View Datasheet: | |
Product Description
Armstrong Ultima+ fibre ceiling is a commercial false ceiling offering acoustic control.
The specifications of the product are as follow
The Armstrong Ultima+ ceiling solution offers Total Acoustics Performance [NRC+CAC]
It has high-light reflectance (87%) for a brighter space
Ultima Plus provides a DuraBrite reinforced scratch-resistant finish for easier handling
The smooth white surface is given "Vacuum Paint-Hard Edge" treatment for a longer life
False ceiling is soil-resistant, impact-resistant, and scrubbable.
The texture is aesthetically pleasing
Edges are hardened to improve handling durability
The false ceiling has resistance to the growth of mold
HumiguardTM

Plus sag-resistance: RH 99% at 0 to 40 degrees Celsius

ISO5 (Class 100) cleanroom performance
New MicroLook 90 edge detail for an improved visual finish
The edge detail is compatible with the standard and the silhouette designer grid
Overall improved appearance and durability of the false ceiling
Recycled content is 39%
Sustainable Contribution
– Global GreenTagCERT TM GreenRate™ Level A Certified for Green Star™
– Cradle to Cradle Certified™ Bronze for WELL Building Standard™
The panels are available in the following sizes: 600 x 600 x 19 mm, 1200 x 600 x 19 mm, 1200 x 300 x 19 mm, 1200 x 400 x 19 mm, 1350 x 450 x 19 mm, 1500 x 500 x 19mm.
Armstrong Ultima+ false fibre ceiling- Application areas
Armstrong Ultima+ false ceiling can be used in the following commercial spaces:
Grade 'A' Commercial Office
It provides Total Acoustics Performance for the flexible utilization of space. This noise-reducing ceiling solution improves concentration. Consequently, it increases the productivity of the employees or workers.
Call Center
This is an area with a lot of noise production. Less noise would reduce the stress of the workers.
Healthcare/R&D Laboratories
Sound-absorption improves patient comfort. Better acoustics create an ideal environment for recuperation by improving speech clarity and concentration. It also enhances the privacy of the patients.
Department Stores and Shops
Corridors
Educational institutes (Schools and colleges)
Contact Details
M: +91-9967632127
Email: support@buildingandinteriors.com
Brand Info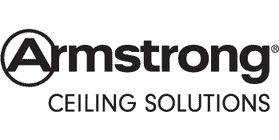 Armstrong Ceiling Solutions
Armstrong Ceiling Solutions provides false-ceiling and wall solutions to help in the design and construction of commercial buildings and residential spaces. It is part of Knauf Kips AG.
This group's history goes back all the way to 1932 in Germany. That very year, Knauf bagged mining rights to gypsum deposits in the Schengen community (Obermosel) in Germany. This venture proved to be a quick success for the company. Consequently, in 1933 Knauf set-up it's first gypsum factory in Perl (Moselle), Germany. And, this factory is still the centre of production technology for the worldwide Knauf Group.
Armstrong's product range includes:
Ceiling Solutions – Mineral & Soft Fibre Ceilings, Metal Ceilings, Wood Ceilings and Floating Ceilings.
Suspension Systems – Ceiling Grids, Trims, Transitions and Pelmets and Installation Accessories.
Armstrong's dedicated project teams are available to assist Architects, Designers and Consultants for their specifications, design and installation requirements. The company has a presence across India with it's sales and service support network. It is interesting to note that the false-ceiling market in India is seen by many in the industry as one that is slated to grow at a steady rate. The Indian market is maturing and quality acceptability is increasing.
Application areas include:
Education.
Health.
Office.
Retail.
Hospitality & Leisure.
Transportation.
Speciality Applications – Theatres, Auditoriums, Libraries, Clean Rooms, Language and Music Rooms.
Website: www.knaufarmstrong.com/en-in.html
Armstrong Ceiling Solutions Customer Care Number: 1860 266 7080